More than 6 million people live in the Potomac River watershed, but relatively few get the chance to wade into its waters on a regular basis.
That's why the Potomac Riverkeeper Network started RiverPalooza, a two-month-long series of events giving residents of all backgrounds the opportunity to get on — and even in — the so-called Nation's River, as well as its major tributary, the Shenandoah. 
Not to be confused with the many concerts and festivals that attach the word "palooza" to the name of the nearest waterway, almost all of the 12 events that make up this summer festival involve boating, fishing, wading — and even snorkeling — in the river.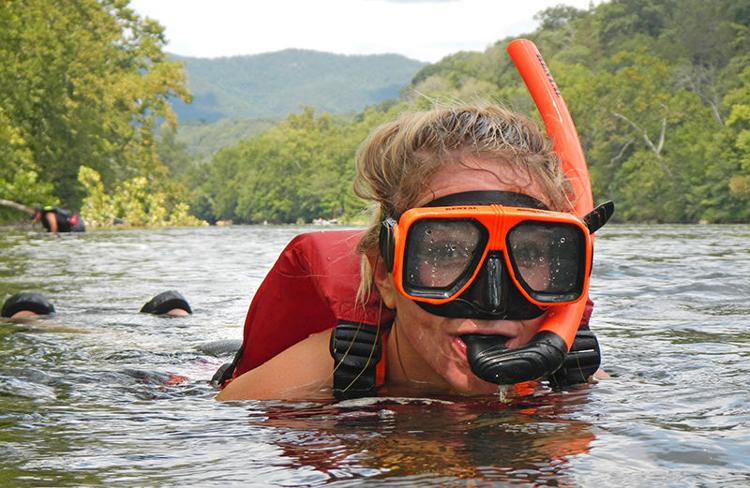 "We really try to get as many folks [as possible] out on the river that have never been before," said Shenandoah Riverkeeper Mark Frondorf, one of three riverkeepers in the network. "This is designed for people who are interested in doing something on the water but don't know where to go or what to do."
RiverPalooza's lineup includes a little something for everyone, with events scattered throughout the lengths of the Potomac and Shenandoah rivers. The 3-year-old festival has grown to cater the waterways' best experiences to a growing audience and will this year add RioPalooza to its offerings — an event geared entirely toward Spanish speakers. 
RiverPalooza kicks off on June 2 with a river-themed block party in Harpers Ferry, WV, where the historic town provides breathtaking vistas of the Shenandoah's confluence with the Potomac. 
The setting not only makes for good picnic views but also provides participants easy river access for tubing and for rafting and kayaking the area's acclaimed whitewater. 
Participants in the kickoff event, which has attracted around 200 people to the town in the previous two years, should bring their own food. Budget cuts to the National Park Service meant that food could not be included, so an informal picnic will take the place of free barbecue. 
"People will bring instruments, and we'll have more of a laid-back river experience," Frondorf said. 
But opportunities to paddle the river — with discounted rates and transportation — will be anything but laid back. 
Kayak and raft rentals for a four-hour ride with the Shenandoah and Potomac riverkeepers that day start at $65. The event contracts with a local outfitter to offer beginners seats in six-person rafts and allow experienced kayakers to follow along. The 7-mile trip begins at Millville and guides paddlers through the region's ominously named class II and III rapids — Bull Falls, the Staircase, Mad Dog and White Horse Rapids — before shuttling them back to the party. 
RioPalooza
The kickoff party and other events already appeal to diverse crowds drawn to the river for a variety of reasons. But RiverPalooza's organizers are tailoring outreach efforts to a subset of visitors who might feel left out by the existing outdoors literature — because very little is in Spanish. 
That inspired a new event in this year's lineup called RioPalooza ("rio" is the Spanish word for river), geared toward visitors who only speak Spanish or "those who feel more comfortable speaking Spanish," said Kimberly Winter, national manager for the U.S. Forest Service's NatureWatch program, which connects the public to outdoors resources and is a RioPalooza partner. 
The event is also sponsored by Corazón Latino, a Washington, DC-based nonprofit whose Descubre el Bosque ("discover the forest") program helps Latinos connect with nature and access public lands.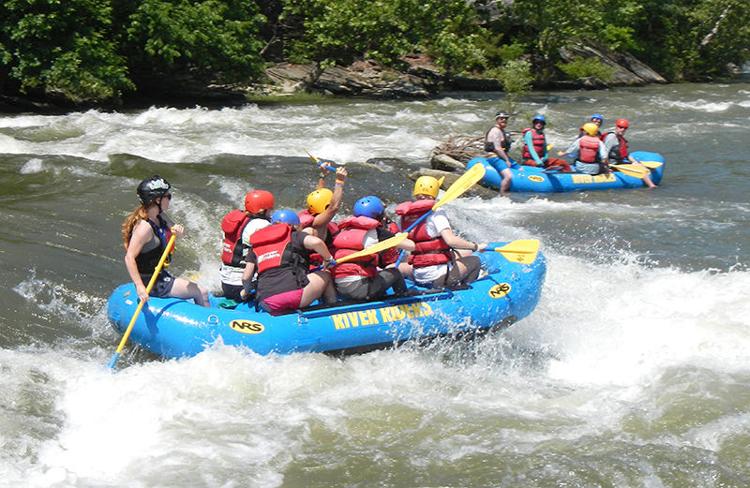 RioPalooza will take over the Low-Water Bridge Campground in Bentonville, VA, on July 22 and serve as an introduction to the region's many outdoors and water-oriented resources. RioPalooza will offer many of the same resources as the rest of the river festival, but on one day, in one place and in Spanish as well as English.
"We think the Latinos in the greater DC area really enjoy the environment, and we think they are underserved in most events like these," Frondorf said. "We wanted to make it more accessible."
For $20 a person (ages 12 and younger are free), attendees will have the chance to fish, raft and snorkel in the slow, S-curves of the Shenandoah River's South Fork. Booths on the shore will provide primers on the macroinvertebrates, fish and other organisms that live in the water. Experts from the Virginia Department of Game and Inland Fisheries will be on hand to help raft riders identify fish in the clear waters below or birds and wildlife in the forested environs. And picnic tables will provide spaces to enjoy the outdoors with family and friends.
Winter said the outdoors community is learning more about how public resources can better serve the growing Latino population in the country. Research has found that most advertisements intended to get Americans outdoors — the ones that often feature quiet mountaintop experiences or hikes focused on solitude — don't appeal as much to Spanish speakers. 
"People tend to focus on being out in the big outdoors as being away from people," said Winter, who learned Spanish as a Peace Corps volunteer in Bolivia and speaks it with her daughter. "But we find the opposite desire among Latin Americans. They might want to have their picnic tables all together and get out there to enjoy the outdoors with family and friends — together."
Snorkeling 
Another program, part of RiverPalooza's lineup for the second year, offers participants the chance to not only get on the water but in it. And Frondorf said it gets a consistent reaction from people who learn about it: "Snorkeling in the Shenandoah?" 
"People are just amazed at what they can see down there," he said. "We did this last year, and everyone had so much fun that we wanted to do it again." 
Though organizers have talked to local outfitters about offering snorkeling as an ongoing activity in the area, the snorkeling event on July 21 is currently the only event of its kind in the Potomac watershed.
The full-day program entails a 7-mile paddle down the Shenandoah's South Fork through both rapids and clear waters — with opportunities at several spots to get out and discover what's beneath the surface by snorkeling. As the river's current slows, ledges along its edge reveal habitat for smallmouth bass, walleye and carp, along with unexpected finds. 
The Shenandoah Valley's Civil War history has left behind bridge pilings and ironwork that held barges in place. Keith Williams, executive director of the outfitter NorthBay Adventure, will be on hand to point out places where iron was hammered into the rock to help the military move equipment, horses and barges across it. 
Williams will also help participants identify fish that might look different swimming through their natural environs than they do on a hook or plate. (RiverPalooza also offers the chance for fishermen to cast their lines from boats on the Shenandoah on June 29; participants older than 16 need a Virginia fishing license.)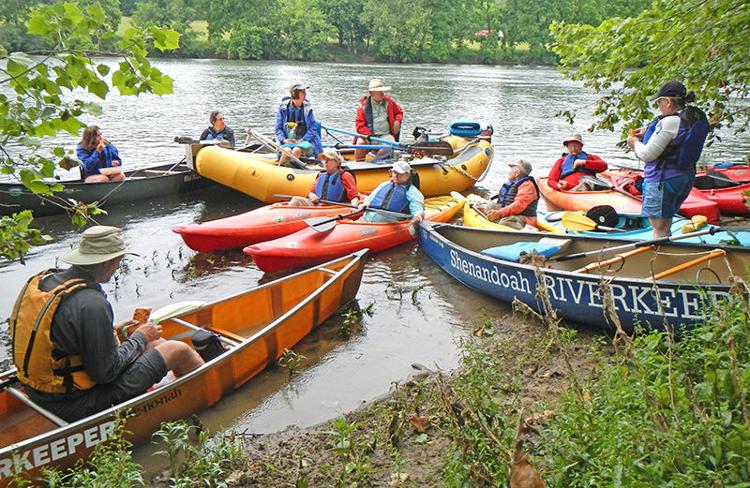 Winter, with the U.S. Forest Service, said that a snorkeling program at the Cherokee National Forest has demonstrated that snorkeling gives audiences both a unique recreation experience and a fresh perspective on why clean water matters. 
"The key for us is that, if the Forest Service doesn't take it into our hands to protect that forest, the water beneath it won't be clear enough to see in it or pure enough to swim in it," Winter said. "All of the messages that we tell people when we're out of the water really hit home when you're in that water and you're looking at it."
Nature & heritage
The two-month slate of events also includes quieter outings on both rivers. 
A midweek birdwatching paddle on June 13 offers an intimate, guided experience in one of the Shenandoah's wildest reaches. 
History buffs could get their fix with a trio of events on June 21-23, starting with a float down Antietam Creek with creekside views — and insights from a National Park Service guide — into Antietam National Battlefield. Mallows Bay's "Ghost Fleet" is the subject of a popular paddle the next day, led by the Chesapeake Conservancy. It sold out last year, so act quickly to reserve your spot. 
That's followed by a June 23 interpretive paddle down Piscataway Creek to the Potomac River, with members of the Piscataway Conoy Tribe pointing out cultural resources along the way. 
A float down the Upper Potomac's Paw Paw Bends in West Virginia will reveal some of the river's most scenic stretches during an overnight trip July 14–15. And a "Women on the Water" paddle on July 21 takes a group (of mostly women) down a lazy stretch of river, part of the Potomac Heritage National Scenic Trail near Poolesville, MD, not far from the city. 
"We really believe that the best stewards of the river are the users of the river, so we try to get as many people as possible to come out and experience the Shenandoah and the Potomac," Frondorf said. "Once they're out there, the rivers do all the work by being so beautiful."
For a full list of Potomac Palooza events, visit PotomacRiverkeeperNetwork.org/RiverPalooza-2018. Event prices vary and pre-registration may be required.