The year 2020 marks a century since women were granted the right to vote under the 19th Amendment, but the roots of female-fueled conservation run much deeper than that date.
Many of the protected landscapes surrounding the Chesapeake Bay owe their preservation to women — who "voted" with letters, articles and deeds of trust both before and after they could do so at the ballot box.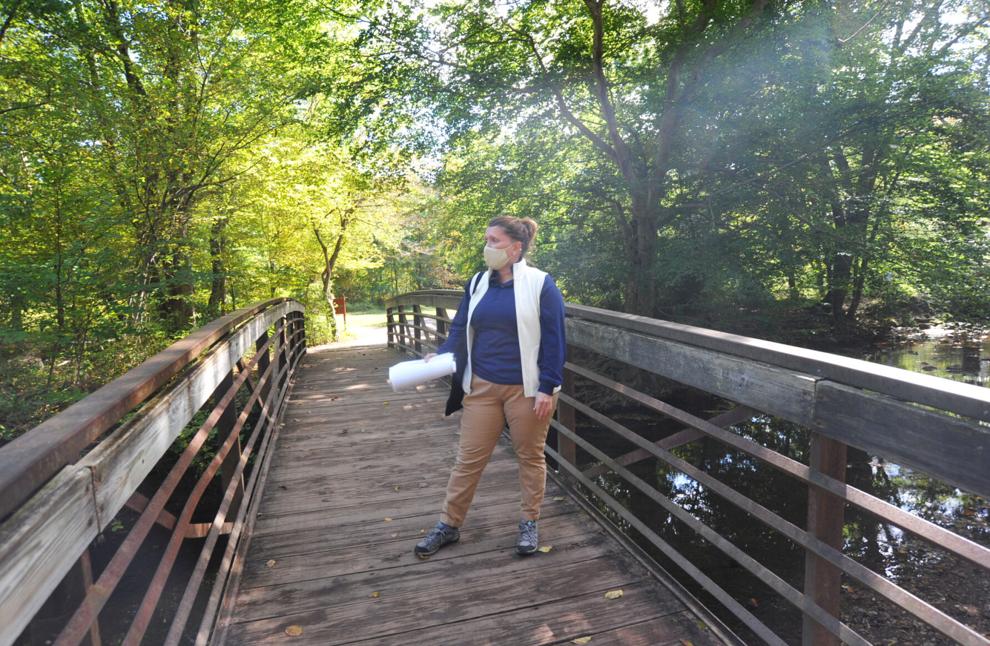 That inspired Kiersten Fiore, visitor services and operations manager for Ellanor C. Lawrence Park in Fairfax County, VA, to retrace the steps of a few of these "women of the wild." Her guided hike through the park, available on request for groups and individuals, uses trail landmarks to tell the story of a handful of women who have worked locally, regionally and nationally to steward the environment for future generations.
"A lot of women helped preserve and save these lands, houses, forests and meadows," Fiore said.
Ellanor C. Lawrence, for whom the park is named, had money of her own before she married the wealthy co-owner of the U.S. News & World Report, David Lawrence. She purchased the 650-acre property that is now the park in 1935 and, upon her death in 1969, Lawrence willed the property to her husband on one condition: that he would gift the land to a public agency.
He did so in 1971 — including a backup clause to guarantee that, should the county try to develop the land, ownership would shift to a local church.
Today, the park provides access to sprawling meadows, trail-filled forests, a pond with turtles and beavers and two sizable streams. A converted 1780s farmhouse, which served a tobacco-growing family before the Civil War and a dairy-farming family after, now functions as a visitor center.
"Ellanor gave us this park to preserve," Fiore said, setting off from the visitor center on a wooded trail. "But starting back in earlier history you have women who were doing that, too, striking a movement to save land and resources but also to protect people."
Near the middle of the park's forest, a vigorous Walney Creek trickles beside a footbridge while countless birds rustle and chirp in the trees. It's a fitting spot to bring up biologist Rachel Carson, whose 1962 book, Silent Spring, raised the alarm about songbirds silenced by unrestrained pesticide use. Her work helped launch the modern environmental movement.
Born in 1907, Carson came of age at a time of chemical proliferation. During World War II, pesticides such as DDT were sprayed from airplanes to keep insects under control and prevent the spread of disease. Fiore said granules of DDT were even tossed into the air at weddings.
Research was revealing grave impacts to insects and birds exposed to DDT, so Carson proposed an article on the subject to Reader's Digest in 1945. The magazine told her such a piece would be too "unpleasant," but Carson continued to study and write about the issue.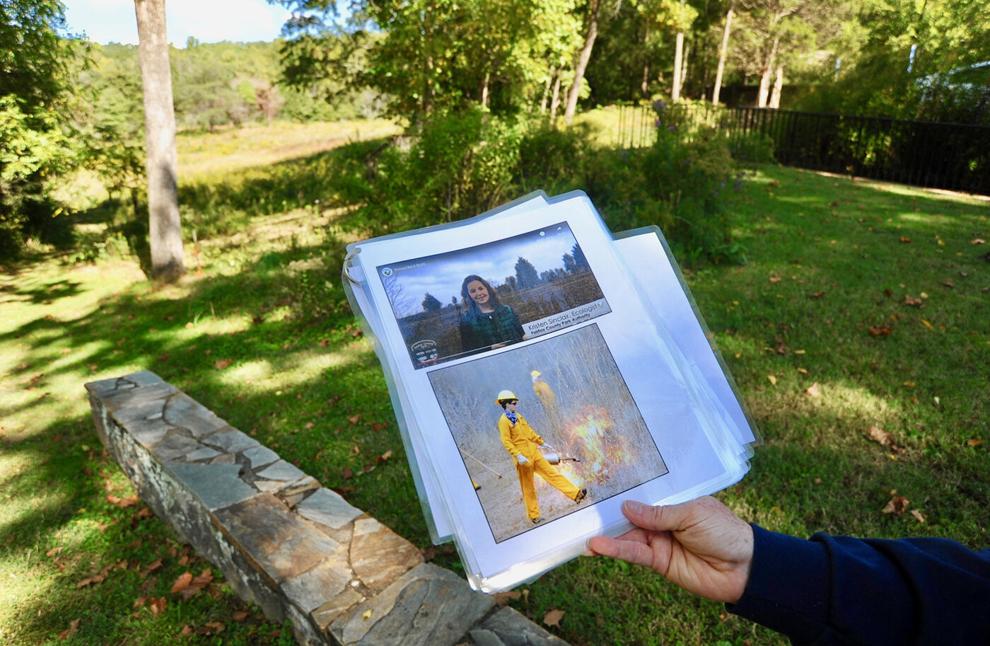 In 1958, a woman invited Carson to her home in Massachusetts where the spraying of DDT to quell mosquito populations had killed songbirds.
"Rachel went up and realized it would be one of the most silent springs she would experience," Fiore said, standing at the footbridge.
A decade after Carson's book was published, DDT was banned. The interim years saw the passage of the Clean Air Act and Wilderness Act. Carson died of breast cancer in 1964, before endangered species earned federal protections and before the 1970s ushered new environmental protections, many of which can be traced to Carson's work.
Though unmarried, Carson juggled the care of three children in her extended family, one of whom she adopted, while writing books in the 1950s. Still, Fiore said, Carson fielded jabs from chemical companies that labeled her a "spinster" who had little at stake in conversations about the impact of chemicals on future generations.
But her 1956 article, Sense of Wonder, later turned into a book, emphasized the importance of allowing children to be curious about nature, something Fiore said the park authority encourages daily today.
The creek running below Fiore's feet as she talks about Carson is one of the touchstones for such conversations with children at the park. Walney Creek originates on the grounds, trickling out of a stone structure near the farmhouse where it helped to keep milk and other goods cold for the dairy-farming family. Because it is contained entirely on protected, largely undeveloped property, the creek remains a source of discovery — and interesting animals.
Stopping along a densely wooded portion of the trail, Fiore said that many women got their start in conservation by bird watching or simply walking through nature, then finding an obstacle to its continued enjoyment.
Rosalie Edge was one. She was born to a wealthy family in 1877 and married a cousin of Charles Dickens. Dividing her time between England and New York, Edge was inspired by the suffragette movement in London and ready to find her own cause.
"The women who had power and money were educated, but to marry well," Fiore said. Still, "you have your own ideas, so what are you going to use them for?"
A 1929 pamphlet from the National Museum of Natural History in New York City provided the spark for Edge. It alleged mismanagement at the top levels of the Audubon Society, which the museum claimed was subverting its conservation goals by indiscriminately renting land to hunters. Edge took the organization to task, deploying her influence as a "society lady," according to Dyana Furmansky, who wrote the biography, Rosalie Edge: Hawk of Mercy.
"During her decades of dominance, Edge was considered the greatest woman conservationist, nature's most effective protector since John Muir," Furmansky wrote.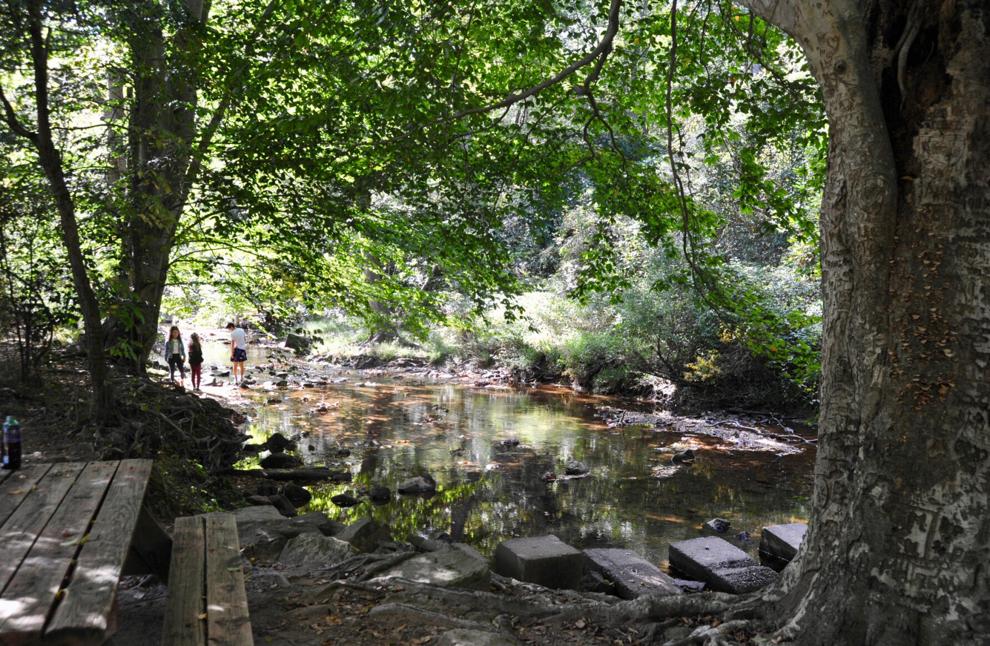 In 1932, Edge saw photographs of piles of dead raptors, killed by hunters both for sport and to protect their barnyard fowl in Pennsylvania. "Man hates any creature that kills and eats what he wishes to kill and eat," Edge wrote in response. "He does not take into account the millions of rodents and insect pests that hawks consume."
Edge went to create her own nonprofit, the Emergency Conservation Committee, to help protect land that was key to bird migration but did not find support, Fiore said. She then raised the money herself to eventually buy a section of a mountain in Pennsylvania in 1935 and permanently protect it as Hawk Mountain Sanctuary.
Edge also played an important role in creating Olympic National Park and Kings Canyon National Park and in adding acres of old-growth sugar pines to Yosemite National Park.
Women have played key roles not only in preserving lands but also in managing them well. That's the case at Ellanor C. Lawrence Park, Fiore said, as she reached an overlook with views of a golden meadow below, mostly hidden from the road by trees.
Here, prescribed burning has become a linchpin of the park's efforts to return the land to its former health. Kristen Sinclair, an ecologist with Fairfax County, helps to manage the prescribed burning program, which uses fire to help regenerate soils and plant species on 100 acres of county land.
Sinclair benefits from women trailblazers in her field, like Bequi Livingston, whom Fiore also featured on the hike. Livingston, who started working for the U.S. Forest Service in New Mexico in 1979, was the first woman to serve on the Sandia Mountains firefighting crew and one of the first two women to fight wildfires on the Smokey Bear Hotshot Crew. She now runs the Women in Wildland Fire Boot Camp to help women gain the knowledge and physical fitness needed to serve as backcountry firefighters or conduct prescribed burns.
Fiore said she finds women working in these smaller corners of the conservation movement just as inspiring as the household names.
"The Rachel Carsons and Rosalie Edges, they had the power to be visible, but most of the people who are fighting do not," Fiore said. "They're affecting change in their communities,  in their neighborhoods and in their parks."