The road at Blackwater National Wildlife Refuge on Maryland's Eastern Shore curves through the marshes like a dark ribbon. Beyond painted turtles making their way from one wet shoulder to another, there's little traffic in this semi-submerged landscape. Overtaken by tides twice a day, and more often when the wind blows from the right direction, Blackwater is the domain of species that thrive in the soft margins of the water's edge — egrets, muskrat and osprey.
Most people navigate the tangle of creeks and ponds by boat. On the day I visited, there were people in several jon boats and fishing kayaks angling for snakeheads. But there's another, unexpected way to see the breath-stealing beauty of Blackwater. For an unforgettable ride through the Chesapeake's beating heart, explore the refuge by bicycle. With your two wheels threading a quiet road, you're wide open to a wild landscape shaped by wind and water.
Until recently, my relationship with Blackwater has been only surface-deep. I've briefly visited the Harriet Tubman Underground Railroad National Historical Park in the north part of the refuge, and crisscrossed Blackwater's interior driving to and from a Hooper's Island oyster farm, but I'd never really immersed myself. It's an oversight I intended to address with my latest passion — cycling.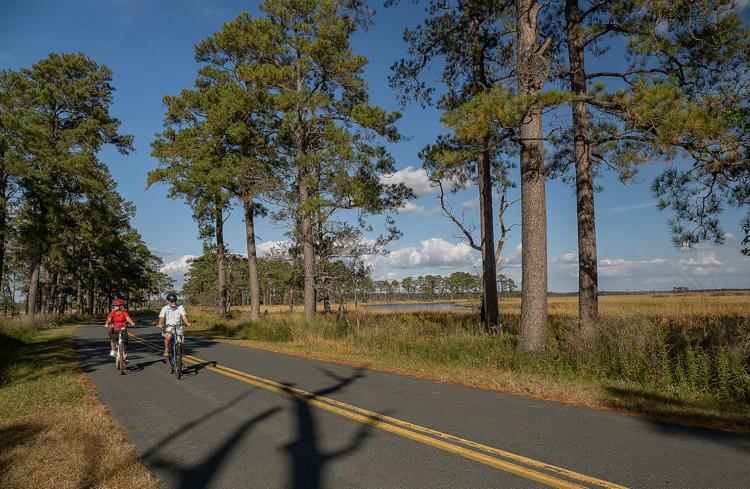 The advent of the coronavirus lockdown was also the beginning of my serious interest in bicycles. From my home base in rural Kent County, MD, it made adjusting to social distancing pretty easy. There, the shoulders are spacious, fields are vast, and I was left to pedal across the miles and through the seasons in an environment largely unchanged by the chaos in our human world.
I soon recruited my husband, Ben, to my new bike posse in search of longer rides with more landscapes to explore. We set our sights on Blackwater National Wildlife Refuge: Within its 28,000 acres lies two paved bike loops of 20 and 25 miles on flat, lightly trafficked roads. Shorter routes are available, too.
Annually, about 200,000 people visit Blackwater. An estimated 1,600 of those visitors are cyclists. It's puzzling, because the refuge has so much going for it from a cyclist's perspective. Along with having well-marked bike routes, it's remarkably beautiful. It's also an easy day trip from Baltimore and Washington, DC, with Cambridge nearby to satisfy all of your creature comforts (lodging, wood-fired pizza, stellar craft beer). Those comforts also provide excellent incentive the next morning to pedal off your sins from the night before.
Perhaps it's better this way. Cyclists have uncrowded access to arguably one of the most intense Chesapeake experiences the region has to offer. From vast salt meadows and hidden ponds to wooden bridges and small watermen's communities, the places you encounter while travelling Blackwater by bicycle reveal just how richly diverse this landscape is — and how quickly it is changing.
For our Blackwater experience, we chose the ambitious 25-mile loop, which starts at the visitor center on Key Wallace Drive. Other groups of cyclists were headed for Wildlife Drive, which provides a shorter, 8-mile trip through a lovely, paved route with plenty of water views and wildlife. But we were in search of history as well as nature. Heading east toward Maple Dam Road, we cycled deep into Tubman country — the fields and marshes where Harriet Tubman was enslaved, escaped to her freedom and later returned to free so many others.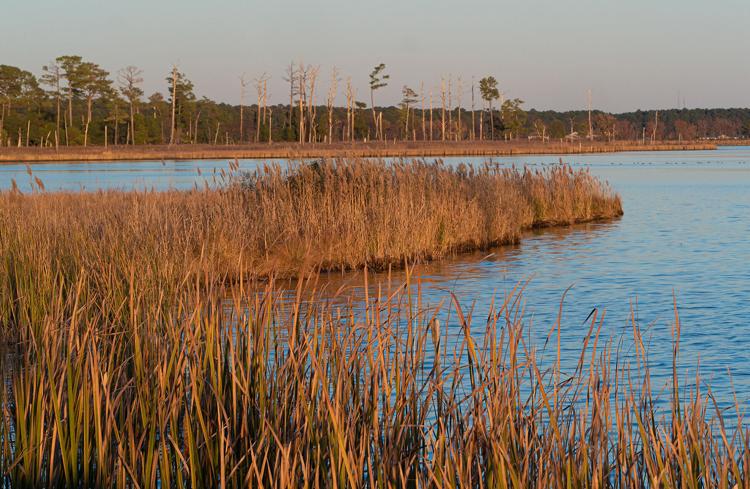 About 170 years ago, the fields and marshes along the Blackwater were plantations. Just a few miles into our ride, we approached the wooden bridge across Little Blackwater River, near the site of Atthow Pattison's tobacco farm. Here, Harriet Tubman's grandmother, Modesty, was enslaved and Harriet's mother, Rit, was born.
This creek was where Harriet began to build her deep knowledge of Blackwater's land and waterways. As a small child, Harriet was hired out here in winter to watch muskrat traps for James Cook and his family. Later, working on the local docks and timbering in the forests of lower Dorchester County, she honed her keen relationship with this landscape — expertise that would later be vital to her own survival and the survival of the others she led north.
Cycling through the farmlands of Harriet's youth that still dominate this corner of Blackwater, it seems that time is as thin as onionskin and just as layered. But the sense of untouched timelessness is a mirage. Though development has not transformed this landscape, it is nonetheless in transition. Since Blackwater was established in the 1930s as a refuge for migratory waterfowl, more than 5,000 acres of marshland have been claimed by the rising waters of the Chesapeake Bay. Forests have become wetlands, and wetlands have become submerged in the rising water. By the end of the century, scientists suggest that almost all of the marsh in the refuge will be drowned by 3 feet or more of rising sea levels.
As we turned from Key Wallace Drive to Maple Dam Road, those signs of change are unmistakable. Hardwood stands of oak and holly give way to loblolly pines and marsh grasses. Saltwater from advancing tides have killed many of the pines here, their wood gray and weathered: "ghost forests," they are called.
Riding deep into the spartina and salt meadows, the signs of this progression are hard to ignore — mostly because you're biking right through it. The skinny two-lane road that crosses the center of Blackwater's marshes gets unmistakably slimmer twice a day when the tides rise. Puddles take over the pavement, and pushing through them means a crest of water thrown up your back in a "rooster tail." After a few miles of this (word to the wise, check the tide charts), my rooster tail has joined up with my wet feet and wet legs.
It's a small price to pay for the glory I'm witnessing, though. Like a huge bowl, the sky extends in all directions, broken only by low-lying tumps of loblollies. Egrets, blown by the wind like great white kites, tumble and pitch over the swelling marsh grasses. The dark water, reflecting the sky, is a searing blue. "This is amazing!" I called ahead to my husband, in general if inadequate appreciation.
But it's fragile, this wild loveliness. As marshes are overtaken and transform into open water, the thriving ecosystem within Blackwater is also threatened. Tidal marshes represent some of the Chesapeake's most precious real estate, supporting immense biodiversity and acting as nurseries for many juvenile species. Their loss erodes the foundation of the Bay's enormous food chain, undercutting the populations of its most important and sought after resources.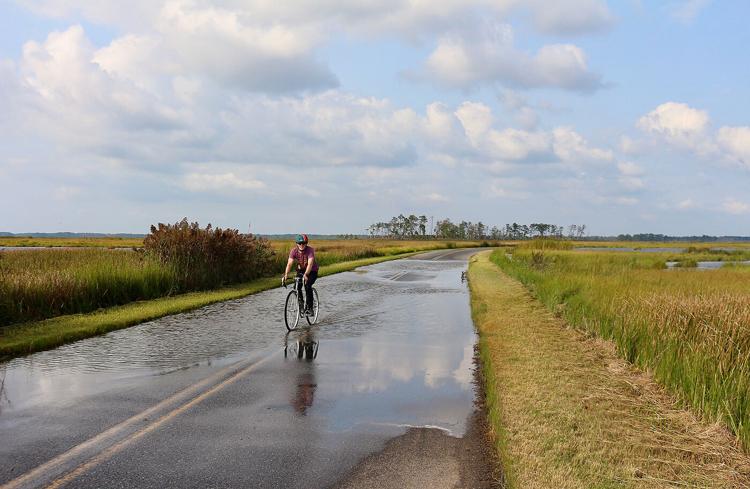 Drying out a bit, we approach another wooden bridge over Cole's Creek to Shorter's boat ramp. In the final push of our trip to Lakesville-Crapo Road and back to Key Wallace Drive, the ripple effects from Blackwater's transformation are everywhere. Empty houses, empty churches and empty schoolhouses sit in water up to their foundations. As the Bay consumes this low-lying place, many communities that made their living from its resources have dried up or been displaced. From our two-wheeled perspective, I see more than one boat tied up in a dry yard as a precautionary measure. The message is clear: the tide is coming. And who knows if this time it will fall again?
You don't need to travel to Venice to see a spectacular place threatened by water. Blackwater National Wildlife Refuge is here to experience now. Whether in winter, when waterfowl densely pack the ponds, during the spring chorus of frogs, or on a crisp fall day, there is no bad time to visit, unless you wait too long. Throw a bike on your carrier and head to Dorchester County to witness its otherworldly, fleeting beauty for yourself. Snap a few photos so in 50 years you can say, "I saw it before it was gone. And it was so incredible."