If Walt Disney had designed hiking trails, they might look something like the family-friendly footpaths along the Moormans River in central Virginia.
The trails have enough elevation to remind you that you're in the mountains but not enough to turn your little ones into tired, cranky little monsters. They have multiple river crossings, which are refreshing on a hot afternoon.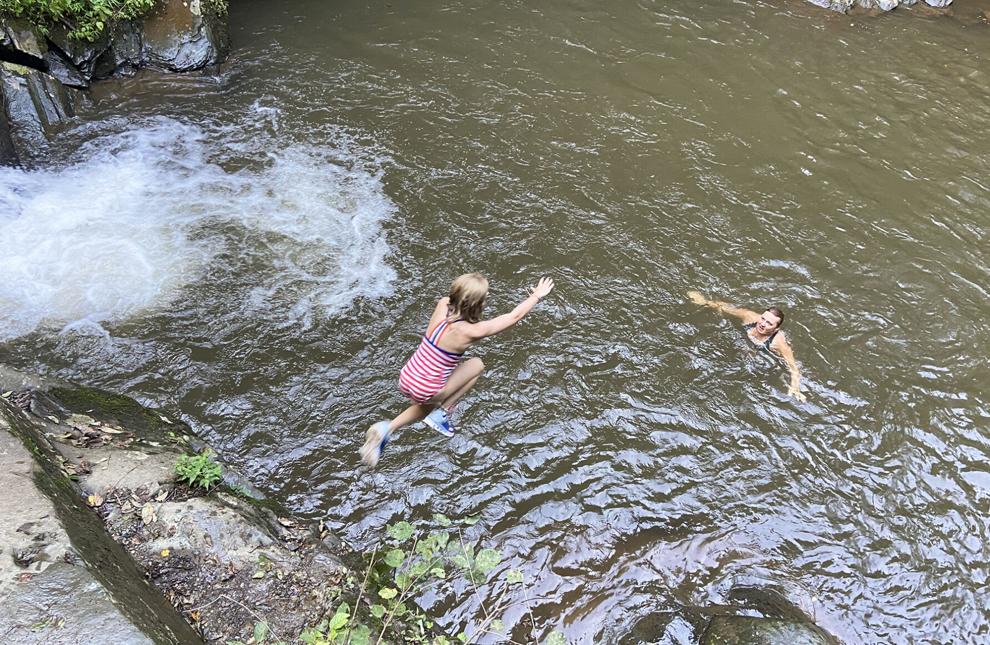 But none are so deep that you need to worry about spending the rest of your day in wet underwear. And if you don't mind getting head-to-toe wet, they have pools that bubble and churn as much as any upmarket jacuzzi.
My wife and I brought our 10-year-old daughter out for a hike late last summer during a family trip to the excellent wine country that surrounds Charlottesville. We had set aside one of the days for "outdoors time" with no defined itinerary. We did a quick internet search, which pointed us toward a swimming spot known simply as the "Blue Hole." And off we went.
We had an idea of where we were going. But we soon discovered that we didn't know exactly how to get there. Our GPS led us down a winding, two-lane road that paralleled the Moormans River but had to cross it three times over wooden, one-lane bridges.
The road was shrouded in tree canopy until almost the end, where the leaves parted onto a breathtaking view of the 77-foot-tall Sugar Hollow Dam. Behind the dam lies a 47-acre, trout-stocked drinking water reservoir owned by the city of Charlottesville, 20 miles to the southeast. We posed for pictures but continued to our true destination a half-mile ahead.
The wayfinding truly became a challenge once we arrived at the unpaved parking lot. One trail streams off toward the north and another toward the south. There are no kiosks or signs to guide the newcomer at this crucial junction. We had to guess, and we guessed that the Blue Hole was to the north.
We were wrong. But not disappointed. Far from it.
 As we subsequently learned, the parking lot is fortuitously situated near the western end of the reservoir, where the Moormans' North Fork and South Fork flow in. The forks approach from opposite directions but are hemmed in by the same rocky valley in this segment of the Blue Ridge Mountains. If you follow either the North Fork or South Fork trails upstream you'll eventually come to the eastern boundary of the Shenandoah National Park.
"It's not really a canyon per se, but it's a steep valley," said Evan Childress, a National Park Service biologist. "The river is just beautiful. There are giant boulders and big plunge pools."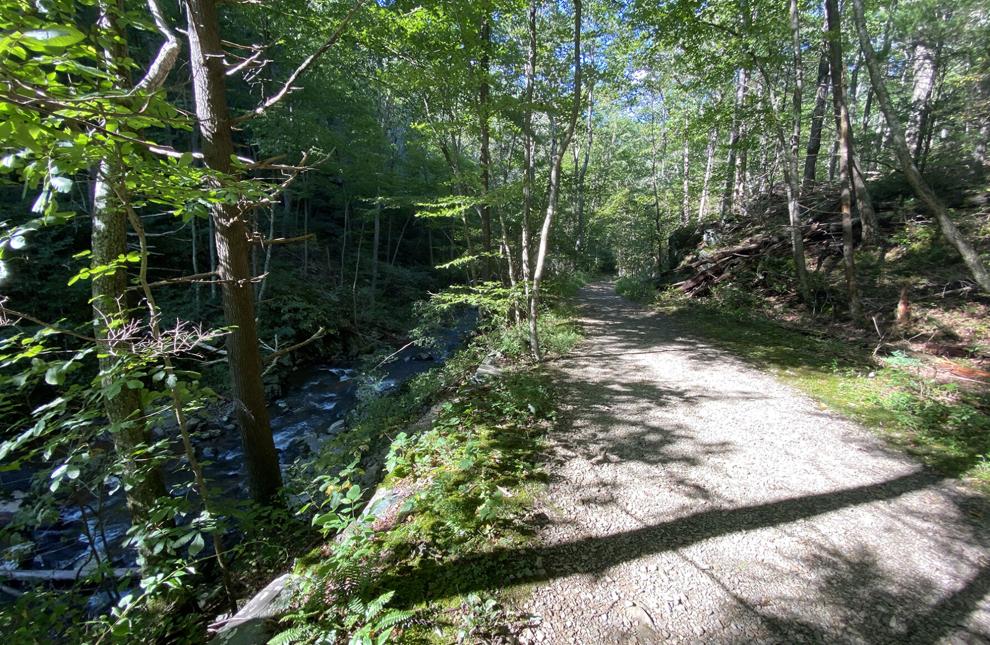 The Moormans River trails can get a little congested but nowhere near as crowded as some of the most frequented outdoor oases in the Chesapeake Bay watershed. The limiting factor for attendance here is the relatively small amount of parking. Barely a dozen or so vehicles can squeeze into the trailhead's unpaved parking lot, with room for maybe a handful more along a wide spot in the access road.
Best known for its Skyline Drive, the Shenandoah National Park was forced last spring to close several popular areas, including some hiking trails, to help prevent the spread of the coronavirus.
Every National Park Service employee I contacted about this article emphasized that people should enjoy the Moormans River — without loving it to death. Try to visit during off-peak times, haul out any waste and keep your dogs leashed, they advised.
The Moormans is a tributary of the south fork of the Rivanna River. The Rivanna, in turn, flows into the James River, one of the Bay's biggest sources of freshwater.
The Moormans North Fork trail is easy to follow. You don't need to strain to find the next blaze on a tree.
The path fords the river at various points. Despite its name, the river is little more than a stream. It is shallow and only about 20 feet wide. "The term 'river' is very broadly applied," Childress said.
As with any stream crossing, the biggest challenge is maintaining your footing on slippery rocks. I watched a man with two trekking poles wobble and nearly topple over repeatedly as he navigated one of the North Fork's deceptively tricky crossings.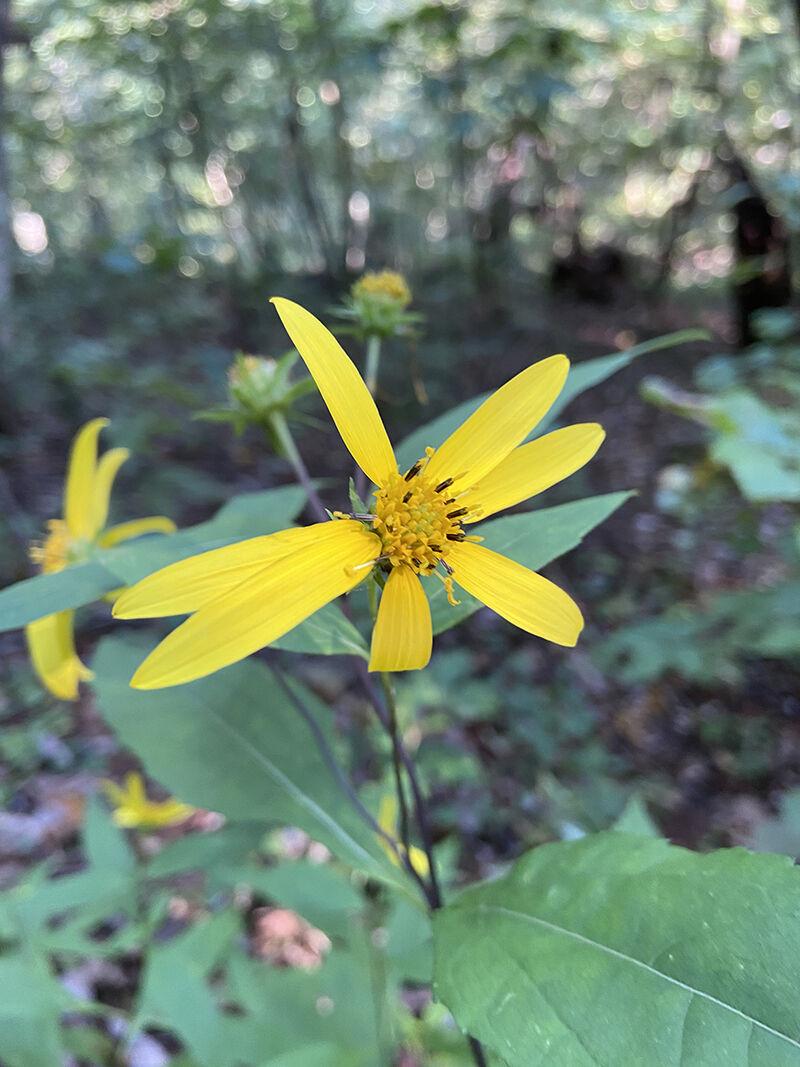 But the dangers, such as they are, are minor enough for even the most risk-averse parents to countenance a little adventure. We saw small, energetic children navigating the rocky trails in sandals. A mother read a book while her brood splashed in the shallows. In one of the bends deep enough for swimming, a family slid down rocks and hopped off ledges as if they were at a water park.
We hiked a total of 4 miles that day, returning to our car damp but refreshed. We immediately decided that we would return before our vacation was over to test our mettle against the South Fork trail. We had to conquer the fabled Blue Hole.
When we returned two days later on a Saturday afternoon, we were greeted by a fuller parking lot. But conditions were nearly idyllic once again — clear skies and temperatures in the 70s. And it was still August.
We followed the South Fork, as planned. The experience and landscapes mirrored those on the North Fork's side. The walk — I hesitate to call it a "hike" because that implies a level of exertion beyond what is called for here — was consistently pleasant as the trail slowly rose.
There were more stream crossings. During our earlier outing on the North Fork trail, I had plopped down on the flattest rock I could find before each crossing to tug off my shoes and socks. I repeated the ritual in the reverse order on the opposite side. But this time, I didn't bother. My shoes got wet, and I didn't care.
The hiking websites we'd consulted informed us that the Blue Hole should have been about one and a half miles from our starting point. When my wife's Apple Watch showed we had schlepped 2 miles, we knew we had missed it and turned around.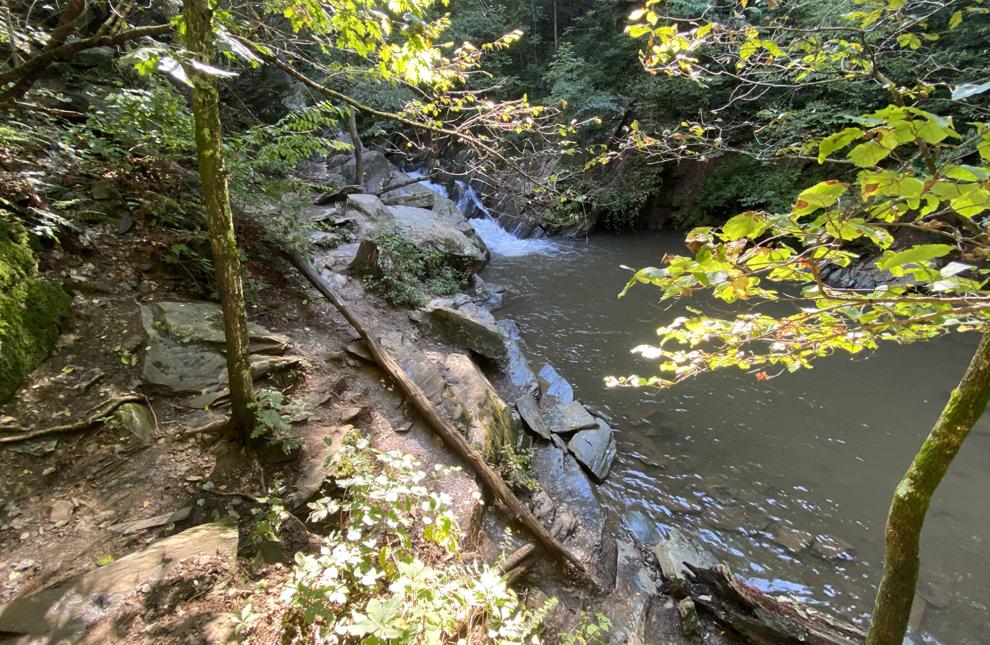 Finally, we found it. The Blue Hole isn't blue at all, at least not in the late-summer light. And we had been looking for something rounder. You know, hole-like. But the Blue Hole is really just a spot in the river where the elevation drops suddenly and a waterfall has scoured out a swimming hole. From the trail, it doesn't look like much. But once you've clambered down to water level, you get a better idea why it became name-worthy.
The North Fork has gouges sufficiently deep and picturesque for swimming. But the Blue Hole takes all those qualities — the ledges, the clear water, the tree-draped scenery — and wraps them up into one convenient package.
We spent about a half-hour plunging ourselves into the cool, inviting depths. It was one of those moments where, as a parent, you keep taking snapshots in your mind as well as with your camera. This is childhood; your numerical age doesn't matter here.
More than once, I found myself reminding my daughter how she shouldn't expect every hike to be this, well, fun. Normally, you should face hardships: getting lost, your way blocked by flooding, strength-sapping heat, ankle-turning boulders, plagues of insects.
The Moormans River trails were the opposite of all that. Now, I fear she will have a Disney-skewed perspective on hiking. I suppose we'll just have to keep visiting more places for her to get a complete picture.