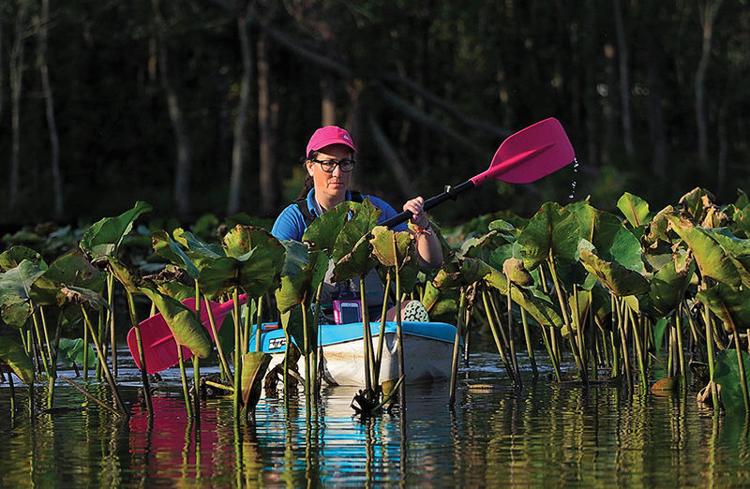 A street lined with homes built in the early 1900s slopes downhill to the fraying edge of town. A two-lane bridge carries traffic across a ribbon of flat water. There's a boat ramp on the opposite side with one of those newfangled kayak launches with rollers.
The ramp supplies the only public access to Barren Creek, so it is where most paddlers initially meet the waterway. It is not a breathtaking first impression.
To be sure, no marinas, condominium towers or trendy restaurants crowd the waterfront in Mardela Springs, population 347, on Maryland's Eastern Shore. But the signs of civilization along this stretch of Barren Creek are conspicuous: the residential roofs winking above the banks; the freshly clipped lawns; the rumble of old school buses, now laden with watermelons instead of children.
Paddlers, however, will be rewarded once they round the first bend downstream. Barren Creek is one of those riverine destinations — increasingly hard to find — where the physical trappings of modern life are so near yet seem so far away.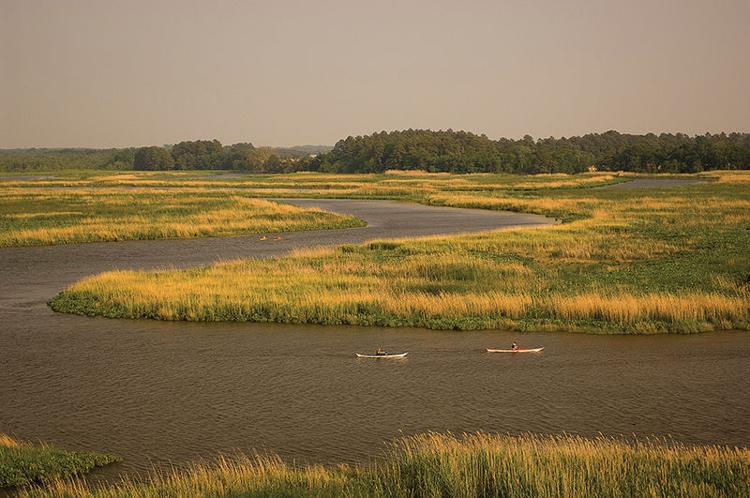 The creek drains into the Nanticoke River, a major Chesapeake Bay tributary that forms much of the boundary between Dorchester and Wicomico counties. But it by no means is in a hurry to get where it's going; the 4-mile journey from the boat ramp to the river twists and turns like an aquatic version of San Francisco's famous Lombard Street.
The snaking is a feature, not a bug, said Lisa Wool, executive director of the Nanticoke Watershed Alliance, a community-based conservation group.
"I sometimes get bored [kayaking] in a pond, but every 50 feet here [on Barren Creek] you have a brand-new view," she said. "Even if there's nothing around the corner, you're still wondering what's around the corner."
Wool joined me for a trip down the creek on a day when summer seemed on the verge of autumn. The morning air was cool but soon gave way to mild sunshine. With some notable exceptions, the summer's flowers had packed it in for the season. The broad, flaglike leaves of spatterdock, a type of water lily that grows abundantly along much of the creek, had gone brittle and yellow.
A few paddle strokes into our journey, a bald eagle, as if on cue, appeared overhead.
"I hired him," Wool joked. "There's a handler on the other side" of the trees.
It didn't take long for nature to take center stage. The growl of traffic on U.S. Route 50 — unseen but certainly heard near the boat ramp — gave way to a gentle hum of crickets and splashing of paddles. The occasional boom from a nearby rifle range was the only audible reminder of humanity's presence.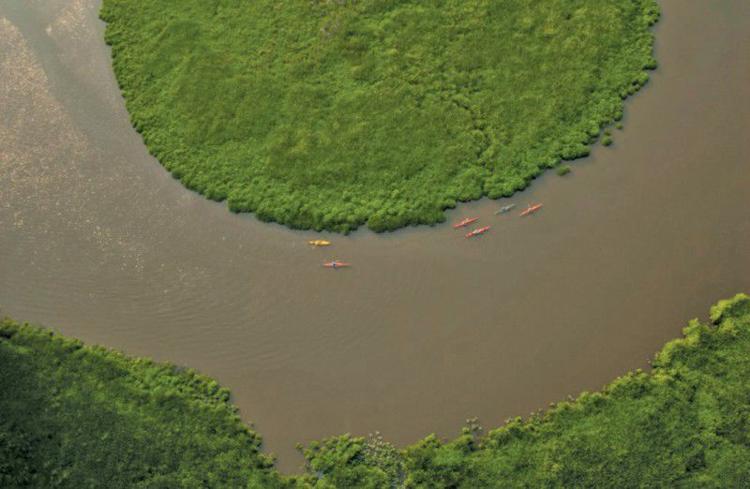 The wildlife made its presence known in ways alternately subtle and dazzling. Belted kingfishers darted around us, painting blue reflections on the surface of the rippling water. Great blue herons stood like statues, waiting for their meals to come to them.
At one point, something swished violently near the starboard side of my humble vessel. Because most of my outdoors experience hails from Florida, my brain quickly interpreted the eruption as an angry alligator, and I yelped like a scorned puppy. Rarely has someone gotten so worked up over a fish (in this case, probably a gar).
A mound of sticks suggested that beavers can be found in these waters. We lingered at the site, but, seeing no furry little heads pop up, we plied on. Around another curve, a flock of mallards took flight.
Barren Creek offers three distinct landscapes along its serpentine path.
From its headwaters just east of Route 50 to right around the boat ramp, the atmosphere is suburban. The waterway is wide, almost resembling a pond in places. And it's shallow. At low tide, expect to find too little water east of Mardela Springs to support even a kayak.
While the section upstream from the ramp is decidedly front country, there are no outfitters nearby. Exploring Barren Creek is strictly BYOB (Bring Your Own Boat).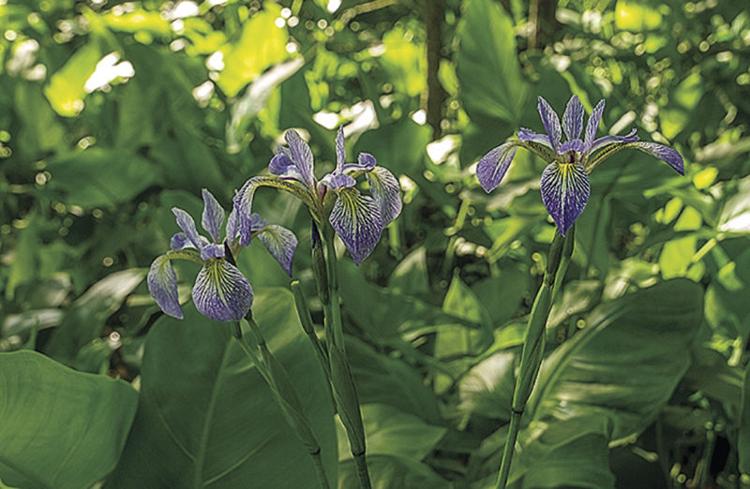 In the middle, where Wool and I spent most of our time, the banks shift inward. The homes are replaced by red maples and loblolly pines. It feels like a wilderness hike — on the water.
So, it was jarring when we were greeted on one bank by a cantaloupe patch instead of trees. Later, a Google Earth search betrayed broad sheets of cropland lurking within a few dozen yards of the creek for most of its length. The trees show up as a buffer of varying, dark-green widths.
The last segment finds the creek opening into a vast marsh.
Those who travel this far often continue onward into the Nanticoke, where they make a right turn upriver and paddle another half-mile to the quaint town of Vienna on the opposite shore. That is, if they're willing and able to fight the current in the much-larger river. Drop off a car here beforehand if you don't want to double back to Mardela Springs by kayak.
If Barren Creek's distinguishing trait is its contradictions — a celebration of nature amid town life and farms — it's not without consequence.
The water was a silty, brownish color during our trip, and, Wool said, that's pretty typical. Nutrients and soil tend to run off the surrounding land during heavy rains. Ten years of water-monitoring show that the creek's health is improving, but 2018's record-breaking rainfall reversed some of that progress, she said.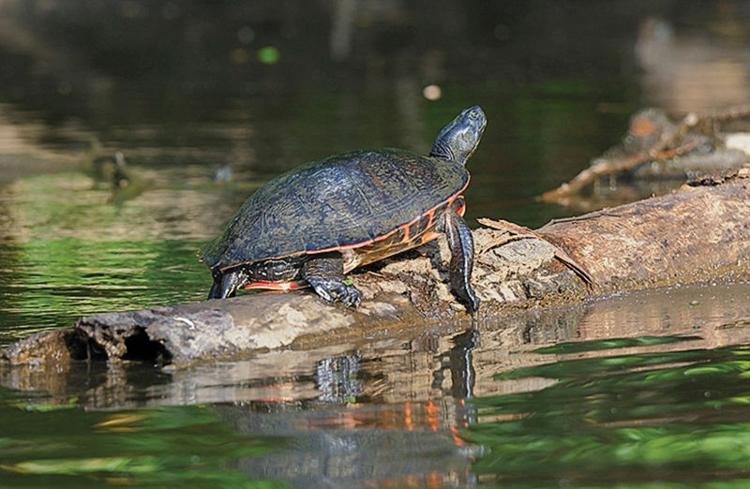 A change for the better may already be under way, though. In 2016, floodwaters washed out the only dam on the waterway. The privately owned structure, located just east of Route 50, had separated the upper end of the creek from the lower end for more than two centuries. County officials plan to replace the road that once topped the dam but allow the water to flow through culverts beneath instead.
In many waterways, dam removal can have myriad benefits, including the restoration of wildlife habitat and sediment flow. It's unclear whether Barren Creek is heading toward a rebirth, Wool said.
But she hopes so.
"Within five minutes of leaving the dock, it is so peaceful and so quiet," she said after we'd gotten back ashore. "It is still really pristine and so full of wildlife and so full of fish. You feel like you're in the middle of nowhere."
Paddling Barren Creek
Where to go: The lone public access point is a boat ramp at 500 Bridge St. in Mardela Springs, MD.
Distance: 4 miles from the boat ramp to the mouth of the creek (a one-way, 2-hour paddle)
Information: Barren Creek is part of the federally designated Nanticoke River
Water Trail. You can find details at PaddleTheNanticoke.com.