I have formed three distinctly different impressions of Fort Frederick, the 1756 stone fort that is now the centerpiece of a 585-acre state park in Western Maryland.
There's the Market Fair experience every year in late April, when acres and acres of white tents sprout in the fields around the fort and literally thousands of people — easily half of them dressed for the 1700s — spend four days buying and selling all manner of Colonial era products and demonstrating those ways of life.
Then there's the spartan, Colonial-frontier feel inside the fort, where I can easily imagine how safe it must have felt to an English settler inside those massive, 18-foot-high walls during the French and Indian War, which included more than a few civilian casualties.
And finally, there's down the slope of the fort grounds into the woodsy Potomac River bottomland and what feels like the very bosom of nature. Here you'll find the C&O Canal trail and the narrow strip of thin, second-growth forest that the former towpath runs through, skirting the south edge of Fort Frederick State Park for a mile or so. Big Pool, a long narrow lake, parallels the river. In the canal's heyday, the pool served as both a turning basin and a semi-natural mile-and-a-half of the canal itself.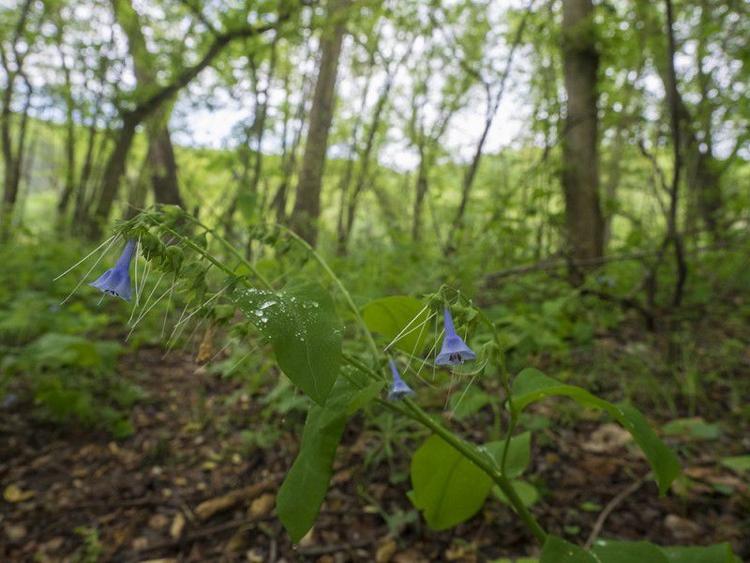 On a spring visit, I also found carpets of bluebells and the perfect, ineffable green of mayapple and wild ginger as well as brand-new river birch leaves. It was lush and green, so I struck out on the towpath, upriver. I made a pretty good jaunt of it, nearly 2 miles, past the upper end of Big Pool. There I came to a low steel railroad bridge, carrying what appeared to be active tracks over the towpath and then, my iPhone map revealed, over the Potomac River into West Virginia.
Resting on a patch of grass near the steel bridge, I struck up a conversation with a pair of hikers who were also taking a breather — outdoorsy 30-something women and three beautiful, happy, goofy Labradoodles named Moe, Larry and Curly (The Three Stooges live on!). From nearby Shepherdstown, WV, and regulars on the area's trails, they told me that if I had instead headed downriver from Fort Frederick, I'd have found a much quieter stretch of the towpath. "Quieter how?" I asked. And then, as if on cue, a tractor-trailer's engine brake burped rudely though the woods — no doubt from  Interstate 70, just a quarter-mile away.
"Quieter than that," said one of the women, nodding toward the sound. "If you go the other way from the fort, the highway gets farther away."
I filed away that intel for further investigation, perhaps in the afternoon or perhaps on another day.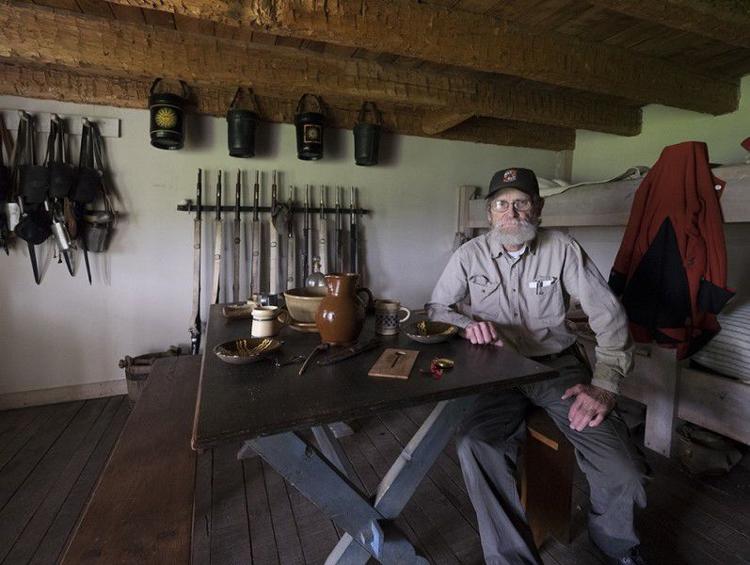 Back at the fort grounds, the 25th annual Market Fair was under way and bustling. White tents sprawled for acres, some of them large framed affairs holding rows of display tables, mixed with more modest setups and simple lean-tos or blankets on the ground. And all were open for business, selling Colonial wares and trinkets and products of every imagining. There were tri-corner hats, coonskin caps, buckskin clothing, handmade pottery, miniature wooden muskets, actual muskets, powder horns, wrought-iron hardware, native crafts, period maps, silver steins, copper pots, iron skillets, petticoats and bodices and bonnets, shoes and boots and stockings, and even animal pelts.
I only saw pelts briefly, through the swarm of breeches and petticoats passing on the thoroughfare — a small pile of former animals at the feet of a rugged-looking trapperlike man, dressed head to toe in buckskin. Before I could get a closer look, I was distracted by a passing formation of a dozen or so Colonial soldiers. They had come marching out of the fort's gateless sallyport with a fife and drum in front, setting the pace. They turned down the thoroughfare, trailed by half a dozen boys, convincingly dressed as period ragamuffins and shouldering wooden muskets.
From there I set off on a merchandise meander: period footwear at (Daniel) Boone Shoe Co., est. 1778; bonnets galore at Flying Heart Millinery; pewter and silver galore at House of Shine; Wm. Rudolph, Purveyor of Maps and Mathematical Instruments; coins, medallions and miscellany at Three River Trade Co., and much more. After a few hours, I decided to explore the site's historical centerpiece.
The 263-year-old fort has a truly interesting history, both in terms of how it was built and used (briefly, four times) and saved for posterity — nearly 100 years ago as Maryland's first state park. The walls of the fort enclose a square area of roughly 1.4 acres, with outsized arrowhead-shaped bastions at every corner. It was built between 1756 and 1758 (the early years of the French and Indian War, also known as the Seven Years War) under the direction, often in person, of Maryland Gov. Horatio Sharpe. In late 1758, British forces captured Fort Duquesne (now Pittsburgh), pushing the war much farther into the frontier and making Fort Frederick all but unnecessary, except as a supply depot and staging area.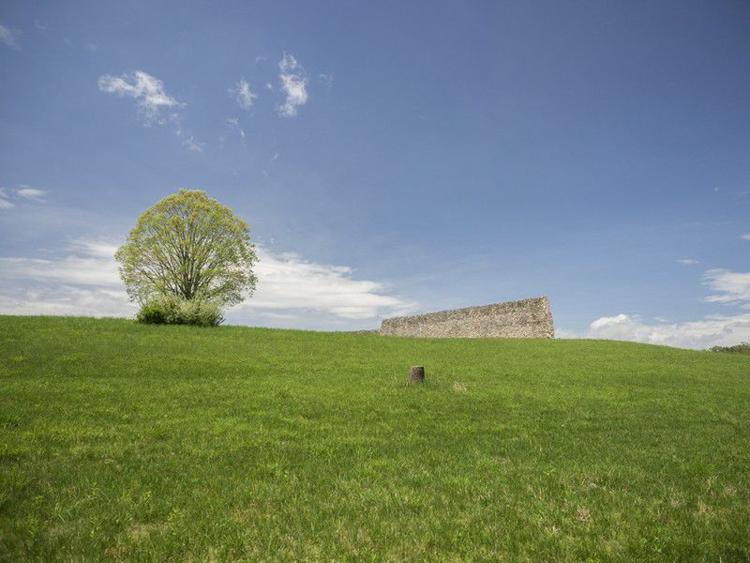 It didn't stay unnecessary for long. In 1763, the same year the French and Indian War ended, a native uprising known as Pontiac's War (or Rebellion) forced Sharpe to reopen Fort Frederick. About 700 British settlers took refuge there during the three-year conflict that killed many hundreds of soldiers, militiamen, natives and settlers, and altogether displaced around 2,000 of the latter. The fort then fell dormant again until 1777, when it became a prison camp for British soldiers captured during the Revolution.
After that it lay fallow for approximately 150 years, except for a brief occupation by Union troops during the Civil War. Fallow may be the wrong word, actually, because from 1860 to 1911 the fort and its surrounding acreage was part of a large and prosperous farm founded by a free African American named Nathan Williams. In 1911, Williams's descendants sold the property to a private owner, who in turn sold it to the state in 1922 — at which point, according to Park Service literature, it became Maryland's first state park.
Enter the Civilian Conservation Corps in 1934, which repaired the stone walls, sections of which had crumbled or been torn down to adapt part of the fort for farm use. The industrious CCC also turned the site into a proper park, building several of its trademark log structures outside the fort. Those included a superintendent's residence, now the park's gift shop; and the original visitors center, now a CCC museum telling the story of the fort's restoration.
Two re-created barrack-style buildings inside the fort were open during my visit, offering a deep dive into what life was like there in the 1700s. They were built in the 1970s on foundations unearthed four decades earlier by the CCC, and many of the rooms are furnished to reflect the period: enlisted quarters, officers' quarters, mess hall, armory, hospital, store rooms, etc. Other rooms hold modern-day exhibits with maps, photos and large displays covering the fort's history.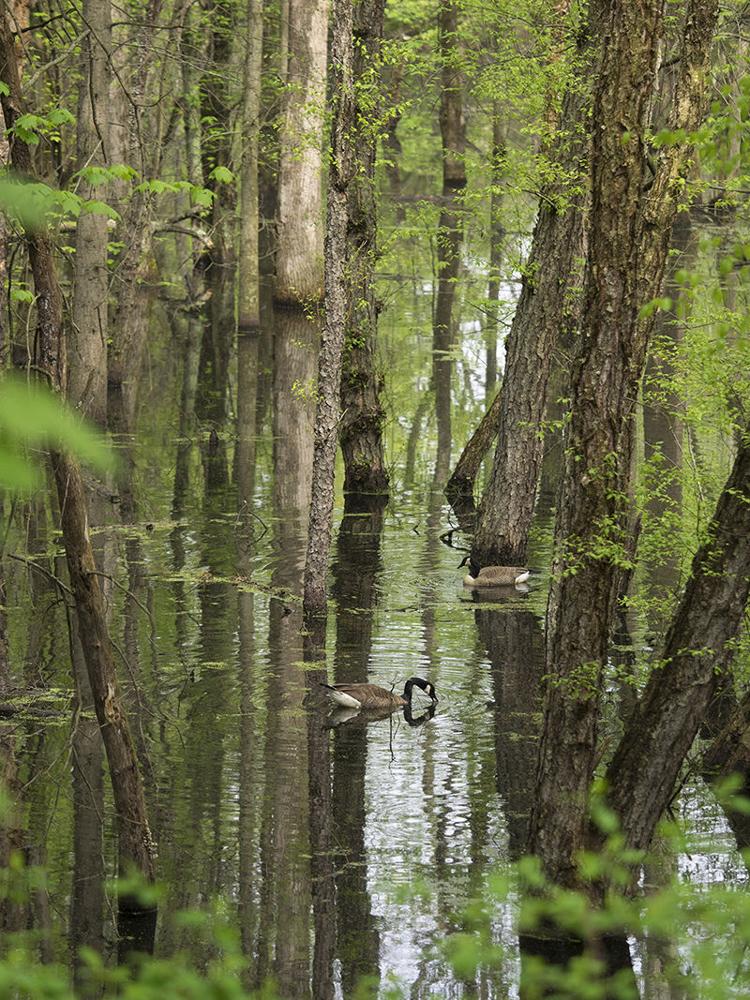 If I'd known the many layers of landscape and history that awaited me, I'd have given myself two full days to explore the park and fort, especially during the Market Fair. Unchecked items on my to-do list included not only the gift shop and CCC Museum, but also the park's modern-day visitors center and its mile-long Plantation Trail, which wanders through trees planted in the 1920s and '30s by the Maryland Daughters of the American Revolution. Also, less than a mile from the fort's entrance, is the eastern terminus of the 28-mile Western Maryland Rail Trail.
But there's always a next time. Having survived nearly three centuries, Fort Frederick isn't going anywhere.
Fort Frederick, 18 miles west of Hagerstown, MD, just off I-70, is open daily year-round: 8 a.m. to dark April through October, and 10 a.m. to dark November through March. For information, call 301-842-2155, visit dnr.maryland.gov and search under "Parks," or visit the Friends of Fort Frederick Facebook page. Special events this fall include a Provincial Muster weekend Sept. 14–15, a Militia Muster weekend Sept. 28–29, and an artillery and musketry demonstration Oct. 12–13. In observance of Veterans Day weekend, Nov. 9–10, the park will host "One Fort: Three Wars," examining Fort Frederick's role in the French & Indian, Revolutionary and Civil wars.