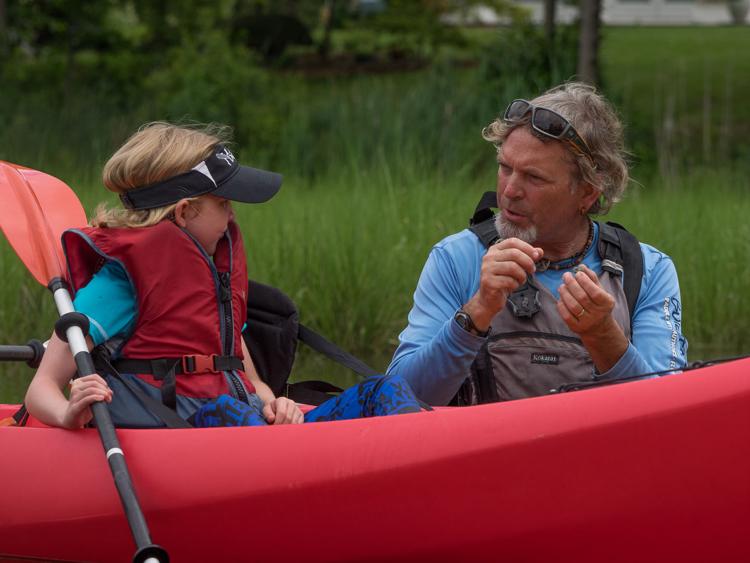 Four and a half miles from its mouth at the Chesapeake Bay, Onancock Creek diverges in three directions. In 1680, settlers transformed the banks of this branching stream into the town of Onancock.
The community on Virginia's Eastern Shore has borne witness to more than 300 years of U.S. history, a narrative recorded in its antebellum homes, sprawling cornfields and ever busy wharf.
Despite its deep harbor, Onancock was never destined for the types of development — seen in port cities like Baltimore and Norfolk — that have all but banished nature from the landscape.
As a result, Onancock serves up a living classroom in which the environment shapes history and vice versa all the way to the present. Its story is best told from the vantage point of the water, and one of the best people to tell it is Bill Burnham.
"The history and the present are very close," Burnham said, as he paddled his kayak upstream on a warm June morning toward the wharf where his outfitter business is headquartered. "The families you see from the Revolutionary War are the people you see in the restaurant."
Burnham maintains all of the mandatory trappings of an ecotour guide: sweat-wicking long-sleeve T-shirt, polarized sunglasses with a strap, wind-tossed blond hair and a ruff of gray hair on his chin. What distinguishes him becomes apparent within the first few minutes of a paddle: his seasoned storytelling ability, which can drill with equal depth into Onancock's ecological and historical highlights.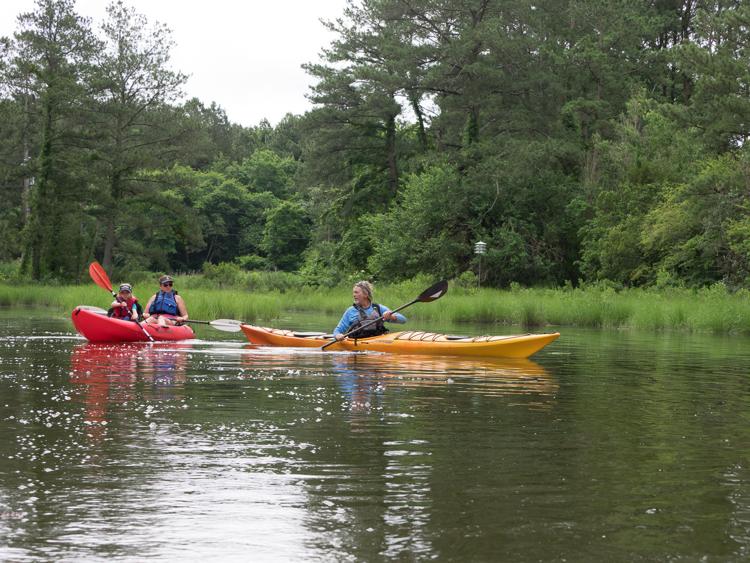 One moment, he is describing the daily habits of periwinkles, the marble-size sea snails that spend their lives on marsh grass near the shoreline; the next, he is recounting the tale of the ill-fated Commodore Zedekiah Whaley, a Revolutionary War figure buried off the creek's center branch — though no one knows exactly where.
Burnham's skill can be explained in part by his years as a history major, followed by time spent as a journalist. His wife, Mary, is a former journalist, too.
Together they operate Burnham Guides, a paddling tour company spawned by their passions for kayaking and writing. And that passion doesn't have time for a break. While based in Onancock during the summer, they give tours in the Florida Keys and Costa Rica during the winter.
They continue to write, having authored no fewer than six outdoor travel guides since 2007.
Onancock (pronounced with emphasis on the second syllable) lies at about the midway point of Virginia's portion of the Delmarva Peninsula — essentially a large, Ice Age era sandbar formed by melting glaciers. No interstates traverse its landscape, and its only connection with the state's mainland is a 23-mile network of bridges and tunnels.
Much of the region's urban scenery can be described most charitably as unspoiled by gentrification. A pair of geography scholars published a study a few years ago about the preponderance of abandoned gas stations found in the area.
Onanock is a diamond in the rough. Visitors to this town of 1,200 souls are greeted by a downtown of quaint antique shops, restaurants featuring cosmopolitan flavors and an old-fashioned movie theater. The town is one of the main drivers of the Shore's 31 percent increase in tourism-related tax receipts since 2010, said Kerry Allison, executive director of the Eastern Shore of Virginia Tourism Commission.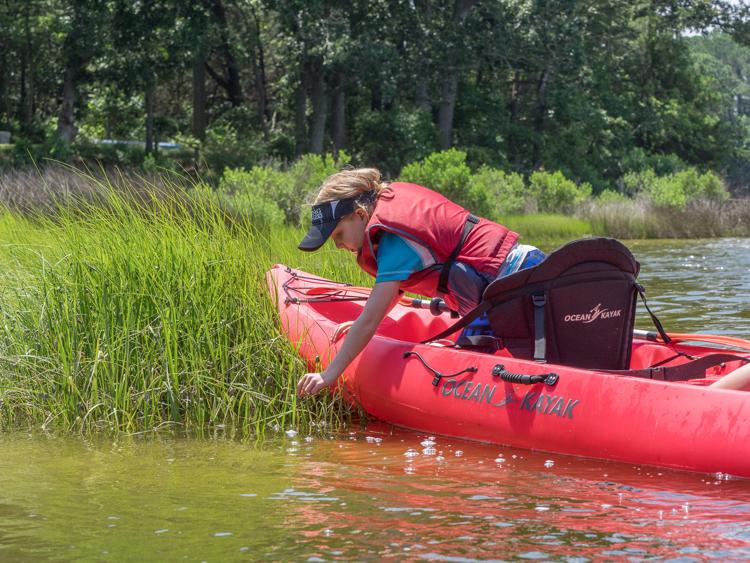 Its central location makes it a base camp for visitors looking to explore the entire shore, from Assateague Island's sandy beaches to Cape Charles' shopping district, Allison said. And Onancock offers plenty of experiences of its own, particularly for people interested in getting out on the water, she added.
"Seeing the Eastern Shore from the water is the only real way to understand it," she said. "People lived on the water. It was their only transportation artery at that time. And that has been erased from modern history."
The path of least resistance to that watery ideal is a two-hour excursion with Onancock Sailing Adventures. The company ferries up to five passengers per trip on a scenic journey starting and ending at the town wharf on a cat boat called Gratitude.
For something a little more hands-on, see the Burnhams. Their operation is nestled in an old steamboat ticket office on the wharf, leased from the Historical Society of the Eastern Shore of Virginia. The organization also owns the larger building next door, the 1842-built Hopkins Brothers Store, which has been transformed into the renowned Mallards at the Wharf restaurant.
Our booking included a single kayak for myself and a tandem for my wife and our 8-year-old daughter. The two-hour guided tour of Onancock Creek costs $45 per person, but it's a good deal considering that on most days it's likely to be a small group.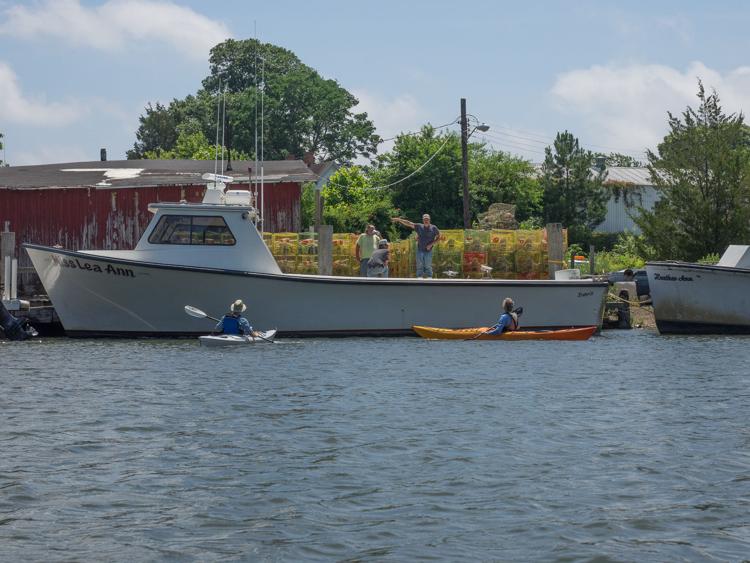 Patrons can save a little money by simply paying the rental fee and venturing out on their own. The professional accompaniment isn't a matter of safety; the surrounding waters are smooth and easy to ply in most weather regardless of paddling experience, and getting lost is nearly impossible with the out-and-back route.
Splurging on a guide, though, will prove valuable to anyone unfamiliar with Onancock's history or its flora and fauna.
The wharf looks over the broad pool of water where the three channels coalesce into one, broad waterway. After easing us into our plastic watercraft, Burnham steered us upstream into the creek's center branch. We immediately encountered the first of many anachronisms: a wooden-plank bridge that still carries car traffic.
The slow-moving branch, he explains, bisects the town into two eras of growth. To the north, stately homes built as early as 1830 are tucked back behind the grassy banks. To the south, the landscape is locked in the 1920s and 1930s, dotted with homes picked out of Sears catalogs.
A few hundred yards beyond the mouth of the branch brought us to the former Onancock School, where generations of local students graduated, including Virginia's current governor, Ralph Northam. In accordance with Onancock's cultured present, it is now an arts and community center.
After another bend, the water petered out into a thatch of salt marsh filled with spartina grass and, farther landward, groundsel bushes.
Now, I've known my daughter to become enraptured with scoring a minor league baseball game by hand, so I know she is made of different stuff than most 8-year-olds. But it was still striking to witness her become engrossed in Burnham's commentary on the tiny snails that clung to the waving stalks of grass.
"I call them marsh farmers," he said, plucking one from its perch to give her a closer look.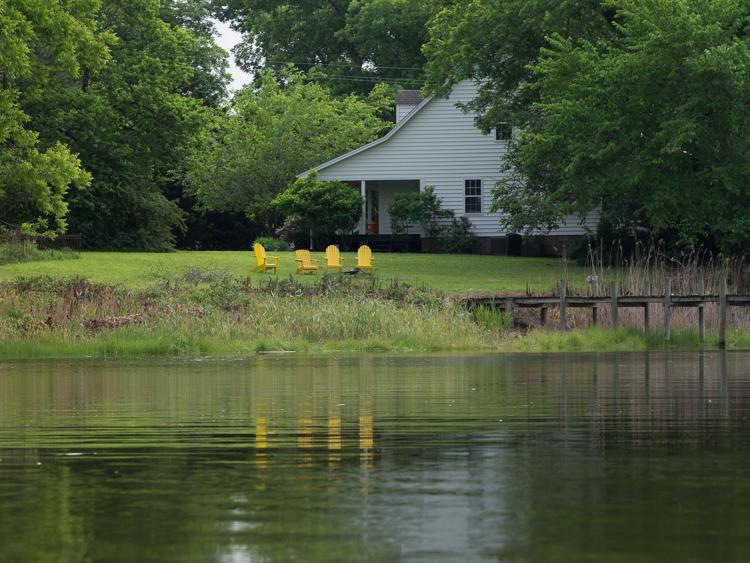 As the tide rises, a periwinkle climbs its chosen stalk to stay above the water. Along the way, it gnashes its teeth into the grass, leaving a groove that will become covered with algae once it's submerged. When the water falls, the descending snail feeds on the freshly collected algae.
"For a lot of people who are new to a salt marsh environment," Burnham said, "they say it pretty much all looks the same. But these little critters are doing something amazing every day."
Tacking naturally from habitats to humans, Burnham nudged our floating party toward the backyard of one of the grandest structures on the tour. Scott Hall, built in 1769, is known as much for its graveyard as for being the oldest house in town.
There lies Whaley, the Revolutionary War commodore, somewhere.
In 1782, after the British surrendered at Yorktown but before the Treaty of Paris formally ended the Revolutionary War, Whaley set off on an expedition to halt British plundering of Eastern Shore farms. He gathered more than two dozen volunteers in Onancock into his boat and, along with three allied vessels, sailed into the Bay.
In Kedges Strait near Smith Island, just across the state line in Maryland, the Battle of the Barges ensued. It was a rout. Three of his barges fled the fight, leaving Whaley's flagship to suffer heavy losses. Whaley was killed, and he was brought back to Onancock for a lavish funeral. His body lies within the cemetery at Scott Hall, but the plot's exact location remains a mystery, Burnham said.
Back out in the main creek, the view suddenly morphs from urban to rural. Here and there stand sturdy-looking houses, backed by acre upon acre of farmland that has provided the region with its wealth for hundreds of years. Our caravan startled an osprey midmeal, and it erupted from its branch with a fish clenched firmly in its talons.
Burnham led us back toward town but not before circling into the creek's north branch. A giant, gray barge loomed into view, having just off-loaded a fresh bounty of crushed rock bound for road construction or making cinder blocks. A few more paddle strokes brought us alongside a crab boat and its crew, chatting about the day's haul.
For Burnham, no sight is valued any more or less than another. Each is a story waiting to be told.
Exploring Onancock by water
Legend has it that Onancock translates as "foggy place," so let's clear some things up on traveling there. Route 13 provides the best (and only) access, but don't miss the signs pointing the way (Business Route 13 from points north or Virginia Route 179 from points south).
Burnham Guides offers a variety of kayak trips, including an overnight sojourn to a 1920s fishing lodge on an island near the tip of the Delmarva Peninsula. The two-hour tour of Onancock Creek is $45 per person. Visit the Burnham Guides website, call 305-240-0650 or email mary@burnhamguides.com.
Cruises with Onancock Sailing Adventures are available May–October at 9:30 a.m., 12:30 p.m., 3:30 p.m. or 6:30 p.m. Rates are $45 per person. Visit the website or call 757-710-3658 for information.