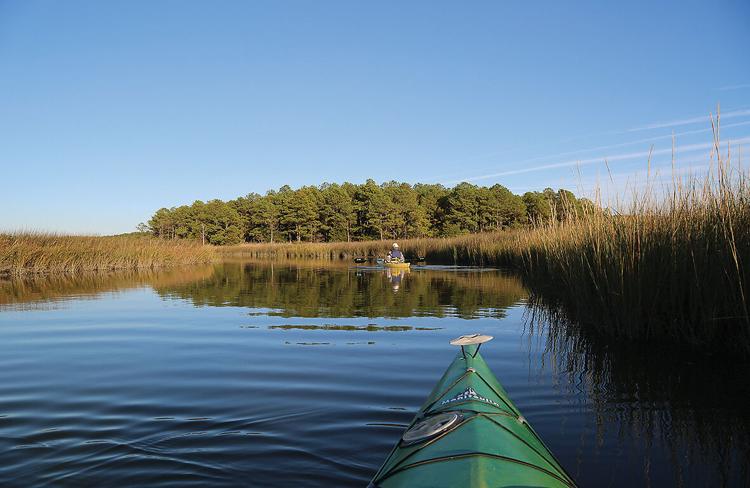 Midmorning, early November, and our walk-and-coffee ritual along Daugherty Creek Canal at Janes Island State Park in Maryland comes to an abrupt halt as a white-tailed deer leaps through the marsh across the canal. Bounding over shimmering saltmeadow hay and saltmarsh cordgrass, she's headed north, a full-racked buck in lively pursuit.
We watch the drama until they're out of sight, thinking that's the end of it — but moments later the doe is back in view racing south.
She jumps into the canal, swimming straight for us and a few other people who've been equally startled to a standstill. We yell at her to turn her back. The campground side of the canal is lined with a bulkhead as far as you can see, the tide is low, and there's no way she could climb out.
The doe reverses course, scrambles back into the marsh and takes off again, heading for the tufts of pines that mark higher ground and possible respite from the chase, though the buck follows relentlessly a quarter-mile behind.
Not your average morning coffee, but that is part of the surprise and wonder of this state park near Crisfield on the Eastern Shore of the Chesapeake Bay.
Though its mainland campground and facilities are
easily accessible by car, the park's jewel is its namesake island right across the canal from the campground and reachable only by boat. With 2,900 acres of saltmarsh island to explore by kayak and canoe, Janes Island offers that rarest of treasures in an increasingly noisy and populated region — the ability to go off grid for a couple of days or hours; immerse in nature, water and weather; and absorb with awe an untrammeled horizon and boundless sky.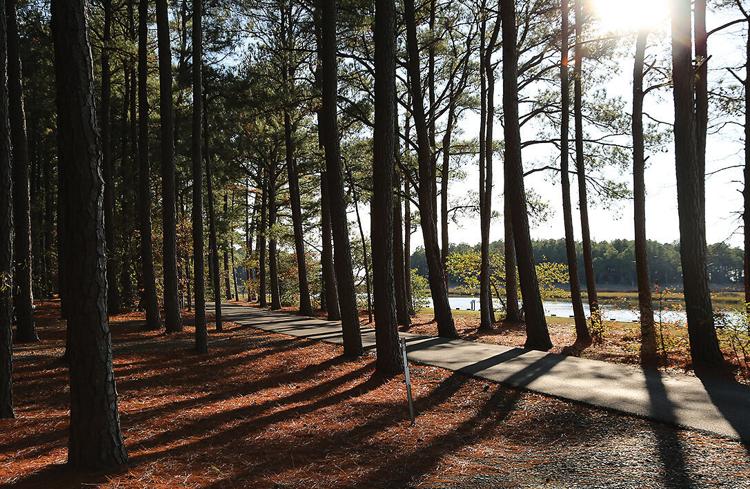 More than 30 miles of well-marked water trails perforate and circumnavigate the island. For those who make the 2-mile paddle from the park's boat launch to the island's western shore, the reward is a 6-mile white ribbon of beach along Tangier Sound. If you're lucky, you may have it to yourself.
 And with this solitude and natural beauty, you can have all of the comforts of home after a day at the edge of the wild — unless you want to camp in the wild at one of the island's three paddle-in sites.
In the mainland campground, about 100 sites are tucked within a loblolly forest, half of them with electrical hookups for RVs, as well as a handful of waterfront cabins, camp store, a small but informative nature center, boat ramp and fish-cleaning station, and canoe and kayak rentals if you don't bring your own.
Besides paddling, people come here to take their children crabbing or go fishing by paddle, powerboat or casting into the canal from land.
Birders check a variety of species off their "life lists." Meanwhile, you can climb the park's 24-foot-high observation tower to watch the setting sun fire the marsh in tones of gold, red and copper as it drops into the horizon beyond Tangier Sound.
For all of these reasons, Janes Island is an extremely popular park, and we felt lucky to snag a last-minute site twice last fall. Our first trip in late September included our Chesapeake Light Craft teardrop camper, a two-person kayak and two dogs. (Several sections of the park offer pet-friendly camping.)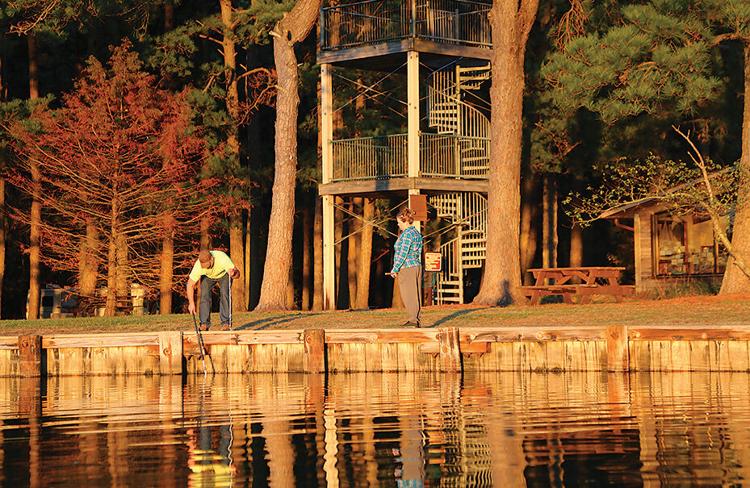 We left the dogs at home when we returned in early November to enjoy some solitude and paddling. The additional advantage of coming later in the season is to avoid the bugs — for which Janes Island is rather notorious.
The island has deep history. Peoples of the late Paleolithic period settled the area about 13,000 years ago. At that time, according to stateparks.com, sea levels were 350 feet lower than today, with mammoths, mastodons, horses and bison roaming across land that is now Maryland's Somerset County. As Tangier Sound shifted from a freshwater river to an estuary, humans moved into the area that became Janes Island. Among later inhabitants were Native Americans of the Annemessex Nation.
As recently as the late 1800s, Janes Island was still fertile and high enough above sea level to support farming and fishing communities. At Old House Cove — directly across from Crisfield — a thriving farming community in the 1800s grew watermelons, apples, peaches and other crops. In 1900, a fish-processing plant was built at the cove's southernmost point; today "the Stack," a 50-foot-tall brick chimney, is all that remains.
Like so many of the Bay's offshore islands, time, erosion and sea level rise have slowly rendered Janes Island from solid ground to something decidedly more sievelike.
I purchased a fold-out map printed on water-resistant paper from the park's store to guide our paddling adventures. On one side of the map, an aerial image shows Janes Island to be a loosely connected mesh of marshy islets, riven with guts, thoroughfares and meandering water paths, joining Old House Cove to the south all the way up to Rock Hole, Rock Pond and Acre Creek to the north.
Daugherty Creek Channel — dredged decades ago to provide Crisfield's watermen a safer, quicker way to the Big Annemessex River — is the only straight line amid the winding tangles of water that constitute the island's main body and make it a paddler's paradise. Seven marked trails range in length from 2–12 miles  and range in difficulty from sheltered canals to the open waters of Tangier Sound and the Big Annemessex River.
During our September visit, we provided entertainment (or at least suspense) at the boat ramp as we loaded ourselves and our two dogs into a two-person kayak and set off on the yellow trail into Ward Creek, which cleanly bisects the island. Fortunately for us, given our rather low waterline, the first section is fully protected to the south by loblolly forest and to the north by marsh that once was home to family farms called the Acre.
Once the trail opened out into Flatcap Basin, the breeze gave us a helpful push across the little bay to the landing on the backside of Flatcap Beach. Here, we pulled up the kayak and launched the dogs for a walk north up to Rock Hole, where a gut of water prevented us from going farther. This was part of the 6.25-mile green trail, which winds through the island, then up and around its northern tip.
We turned around and walked south for about 2 miles, then sat on a driftwood log and took in the stunning view across Tangier Sound. Though most of the osprey had already migrated south, we saw a few stragglers, as well as terns, gulls, herons, hawks and bald eagles. As for humans, we encountered about four. We looked for the northeastern beach tiger beetle (one of Maryland's endangered species that dwells here) but didn't spot one.
Later that evening at our campsite, I looked upward through the pines into an ink-black sky. It felt as if we were inside a piece of jewelry, the darkened pines like the long, elegant prongs of a ring, their dark tufted tops the setting, the stars glittering among the needles like diamonds.
About six weeks later we returned, this time ahead of a cold front that promised a blast of northwest wind but in the interim provided unseasonable warmth that made for ideal paddling. We had our pick of sites and chose one right on the canal, with one distant neighbor in a tent and another in a small RV.
Dogless this time, we set out up the yellow trail again, watching scores of small baitfish leaping and rushing along the autumn-gold marsh edge, undoubtedly being chased by rockfish. We broke off the yellow trail and off the chart (or at least, off the named trails). For about two hours we meandered in pristine silence, paddling open thoroughfares and straying off into branches that narrowed until we could touch the saltmarsh cordgrass. Now and then, we caught the call of a great-horned owl from one of the hummocks that still held small forests. We saw no other people.
That night, the cold front came in like a freight train and chased off our tent neighbors by dawn. Cozy in our camper, we emerged to go for a walk on the nature trail behind the campsites. There, we were sheltered from the wind among bright red sweet gums and golden persimmons, immense willow oaks and groundsel trees glowing with silvery autumn flowers.
For information on Janes Island State Park, visit dnr.maryland.gov/publiclands and click on "Find a State Park." Be sure to check for any closures or restrictions related to COVID-19 and recreate safely and responsibly.