It's embarrassing to admit this, but I worked in Annapolis for nearly 20 years — and lived there much of that time — but never once visited Historic London Town and Gardens in nearby Edgewater, about three miles away on the opposite shore of the South River.
Well, wait, that's not exactly true. There was the time I was looking for a bar on Londontown Road, but drove past it and had to turn around where the road ends, which happens to be the entrance to Historic London Town. So there's that.
It was fitting, therefore, that when I finally did manage to visit the Colonial era historic site, I was again looking for a bar. Don't judge me; this time it was a historic bar — or rather the place where a bar once stood, and will soon stand again, in the 18th-century William Brown House.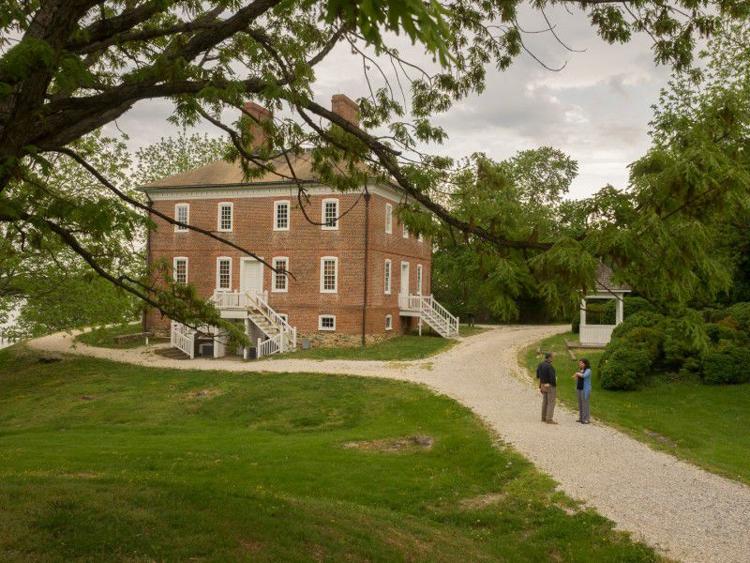 This square and stately two-story Georgian house, built in the 1760s, is the only remaining structure of the long-vanished Colonial town and, as such, its central architectural attraction. And, because it was built as a public house and tavern, the bar was no doubt a central attraction too.
That is not lost on the London Town Foundation, which, just days after my visit this spring, kicked off its "Build-the-Bar" campaign to raise the $15,000 it will cost to restore the tavern's bar. Within a week, the campaign reached its goal.
"It was a Colonial tavern, after all, so it really should have a bar," said Lauren Silberman, London Town's deputy director, adding that the original bar was removed some time after 1823. That's when the tavern and surrounding property was bought by Anne Arundel County and, within a few years, turned into a house for poor, homeless and disabled citizens — an almshouse, in the parlance of the day.
The era of the almshouse (later called the "county home") lasted nearly 140 years, far longer than that of the tavern, which lasted only a few decades. The county home operated from 1828 to 1965, when it was rendered obsolete — or at least less necessary — by then brand-new federal programs called Medicare and Medicaid.
Not long thereafter, local preservationists and gardeners joined forces with the county to restore the house to its Colonial era condition and to turn much of the surrounding 23 acres into public gardens. The house was designated a National Historic Landmark in 1970, and three years later the house and gardens — still very much works in progress — opened as a historic park.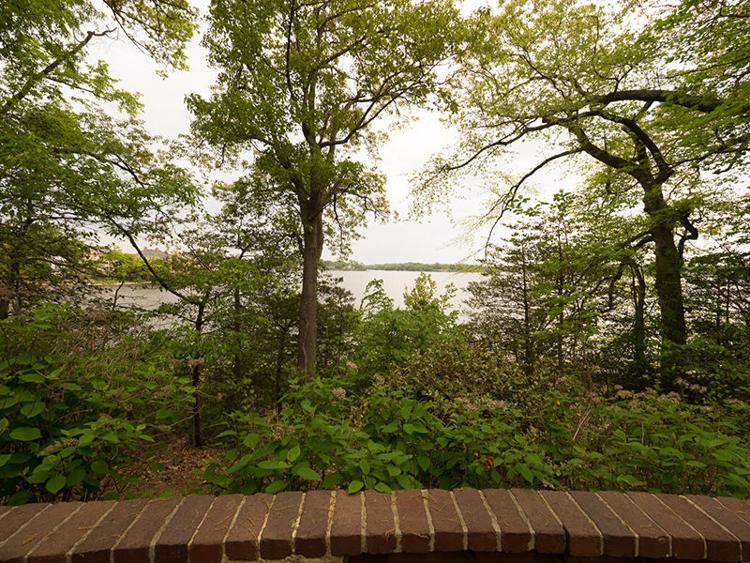 "One of the building's unique features," Silberman said as we began our tour of the William Brown House, "is the fact that [Brown] had the brickwork entirely done, all four sides, in what is called 'header bond.'" She was referring to the uncommon, "sideways" method of bricklaying, which has the short end or "head" of the brick facing out. It makes for a thicker wall, of course, but it requires more than twice the material and labor.
"It's not something you see anywhere else on the Eastern seaboard, as far as we know. We haven't encountered any other examples — except for the Upton Scott House in Annapolis, which we believe Brown also built. And there, the header bond is only on the front."
Why Brown chose such a comparatively painstaking and expensive method is anyone's guess, Silberman said, now shifting into historian-style present tense. "My theory is that he is trying to be impressive … He does this, I should point out, in 1760 — right as London Town is, unfortunately, on its way out. But he doesn't know that, of course. He doesn't have the benefit of hindsight."
What hindsight would have shown Brown — a carpenter, ferry operator, aspiring gentleman and "undertaker," which is what they called a general contractor in those days — is this: By the late 1700s, the tobacco trade was falling off, transportation routes were moving eastward, Baltimore was becoming the Upper Bay's dominant port, and Annapolis had matured and become less dependent on London Town as a mercantile satellite.
"When London Town was founded in 1683, which predates Annapolis, it was actually the county seat for about 10 years — until Annapolis became such, and became the [Colonial] capital," Silberman said as we explored the main floor of the house. "In a lot of ways, I think that's how London Town found its footing, being a mercantile hub, a place of trade and transport and travelers, to complement what was going on in Annapolis with the more elite, the governance and legislating. … But by the end of the 1700s, enough has changed that it's not relevant anymore."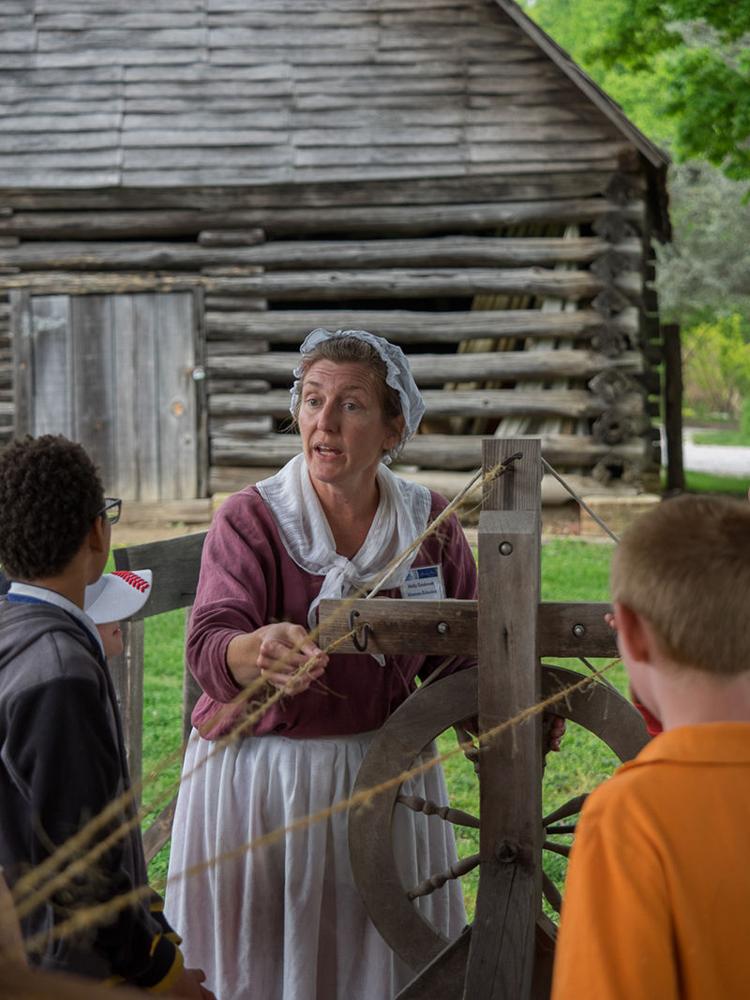 On the house's main floor, the tavern room dominates, displaying a massive fireplace and furnished as it might have appeared the mid-1700s. From the front door, the tavern room is visible beyond a sort of anteroom (where the bar was, and will be again). All around it are what used to be the guest rooms, though two of them are furnished to show what the Brown family's private quarters (originally on the top floor) might have looked like. The basement also reflects the period; as the tavern's kitchen, it was no doubt well-equipped. But as a living space, as it was for some of the tavern's workers, it was pretty grim.
The public-private arrangement that started in the 1970s continues today. Anne Arundel County still owns the property and even has its main archaeology lab there, alongside the visitors center, but the park is operated by the nonprofit London Town Foundation.
With the park's 50th anniversary fast approaching, there are a number of significant improvements on the drawing board — in addition to and in fact dwarfing the Build-the-Bar project.
"We're getting ready to do a massive, multi-year, half-million-dollar preservation project on the house, Silberman said. "The first phase is going to be combating some of the moisture infiltration. Being right here on the South River for over 250 years, you're getting a lot of water in."
Beyond that — well beyond that — the Foundation's 10-year plan is ambitious. It calls for extending London Town's dock on the South River into deeper water so that tall ships like the Pride of Baltimore II and the Sultana can add London Town to their itineraries; an expanded and improved parking lot; an expanded demonstration garden; new accessible paths through the gardens; a picnic pavilion with bathrooms; improvements and additions to the horticulture complex; and a period-faithful, original footprint reconstruction of a tavern even older than the William Brown House.
The latter, which will be called the Rumney-West Tavern, will join the two existing reconstructions that stand on the open ground next to the house — the Carpenter's Shop and the so-called Lord Mayor's Tenement (a working class rental property), both erected on their original foundations in 2014 and 2006, respectively.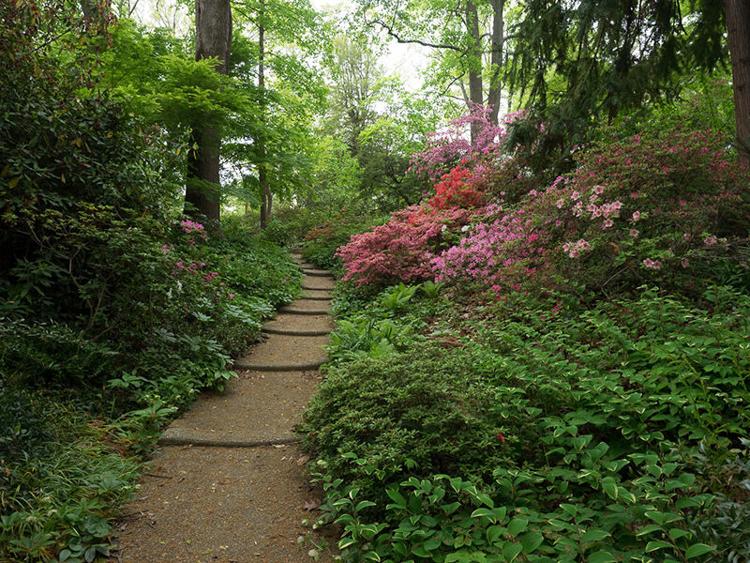 After leaving the William Brown House, we stopped briefly at the Carpenter's Shop, a comparatively primitive looking two-story structure sheathed in dark, unpainted, hand-hewn siding. Inside, a costumed guide was demonstrating a draw knife for a group of schoolchildren, while another guide prepared her group for the Carpenter Shop experience. "Okay, you guys," she said, "my goal is that everybody leaves with the same number of fingers and toes that they came in with." The children giggled, but I thought it a worthy goal.
Silberman pointed out that London Town's guides do what is called third-person interpretation. That is, they do not assume the personality and perspective of some fictional character or historical figure from the period.
"A lot of people," she said, "when they hear 'interpretation,' they think first-person — you know, 'Hello, I'm Thomas Jefferson and its 1799 and let me tell you, blah, blah' … Well, we don't really do that. … So, for instance, Kyle, with that group over there, he's in garb, and he can tell you a lot about the period, but he's still Kyle. You can talk to him, have a regular conversation, and, if he sees a cell phone, he's not going to go, "Oh, heavens, what is that contraption?" It just makes it easier [for visitors] to engage."
We wrapped up the tour with a walk through the Woodland Gardens, with its peaceful tangle of shady paths reaching west from the visitors center to the edge of Almshouse Creek. Magnificent holly groves, enormous white oaks, a dwarf weeping spruce, redbuds, dogwoods, hemlocks. A bald cypress by the water's edge, surrounded dozens of foot-high "knees."
All along the way I congratulated myself for coming here in May — when entire hillsides are covered in azalea rhododendron blossoms of every imaginable color. And, while I was at it, I congratulated myself for finally having the good sense to visit Historic London Town.
Better 20 years late than never.
Historic London Town and Gardens is open year-round, 10 a.m. to 4:30 p.m. Wednesdays through Sundays.
Admission is $12 for adults, $10 for seniors, $7 for children 7 to 17 and $3 for children 4 to 6. Children 3 and younger are free. It's also free for active military members and their families from Memorial Day through Labor Day.
For information, call 410-222-1919 x 200 or visit historiclondontown.com.