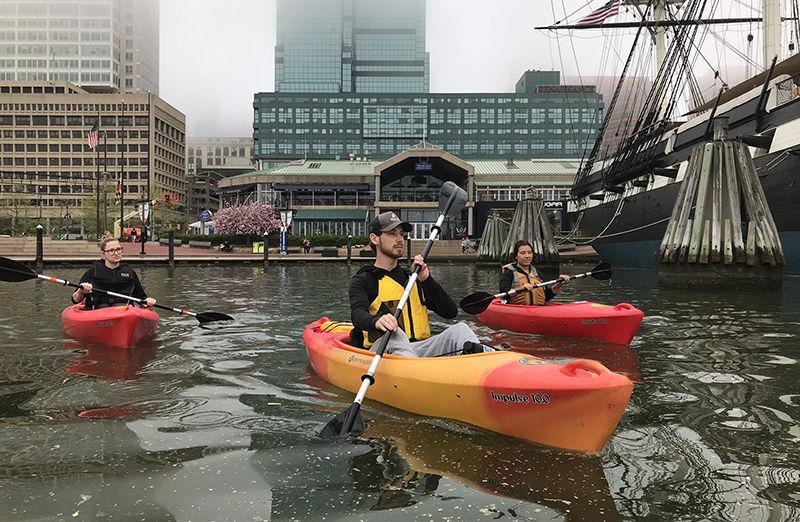 Baltimore's Inner Harbor might not make anyone's top 10 list of places they've dreamed of exploring by kayak. It can be a busy — and at certain times, funky — body of water in the heart of the second largest city in the Chesapeake Bay watershed.
In warmer weather, it's bustling with pleasure craft, tour boats and water taxis. It's also a working harbor, with freighters, tour boats and other large vessels moving in and out. And there's trash and debris littering the water's surface in places, especially after a rainfall — not to mention unseen contaminants from street runoff and sewage overflows.
Even so, it's a fascinating place to paddle, rewarding intrepid kayakers with intriguing sights and sounds not easily obtained by walking or driving around the harbor. It's a great way to get a different perspective on this historic port city and to witness firsthand the progress Baltimore has made in its ambitious campaign to clean up the harbor.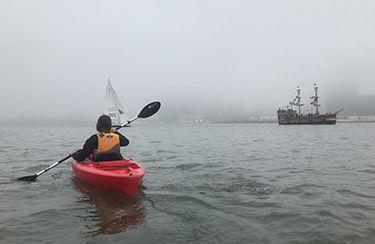 Members of the public who want a kayaking experience in Baltimore's harbor have a variety of options. I tried one of the two guided tours offered every Sunday from April through October by the city's Department of Recreation and Parks.
That morning in early April, a thick fog blanketed the city. It turned out that I was the only paying customer waiting in front of the Maryland Science Center when the Rec & Parks kayak team showed up. Lucky me — it meant we could tarry at times to take photographs and talk without worrying about the group getting strung out or someone (like me) being left behind.
Before setting out, my escorts and I spent a little time on a grassy spot by the science center previewing the tour and setting me up with a comfortable life vest and kayak. Then, we carried the kayaks and gear a short distance down to the water taxi landing.
Getting in the kayak required a bit of finesse because the water was about a foot or two below the landing's brick and concrete surface. But my escorts held the kayak steady as I climbed in and sat down. Once everyone was in, we set off, paddling along the promenade toward the pavilions of shops and restaurants. The fog had lifted a bit by then, but low clouds still obscured the skyline, shrouding the waterfront landscape.
The first few strokes were through a noisome patch of water covered with swirls of yellow pollen and cluttered with chip bags, candy wrappers and other litter — all of it probably pushed into that corner of the harbor by prevailing winds and tides. It didn't last long, but it was a reminder of the harbor's water quality challenges.
The city and its suburban neighbor, Baltimore County, are working under federal and state orders to clean up the trash, repair sewage leaks and overflows, and reduce other pollutants in the harbor. And, they are spending hundreds of millions of dollars to do it. In 2011, to give added impetus to the effort, the nonprofit Waterfront Partnership launched a campaign to make the harbor swimmable and fishable by the end of next year. It doesn't seem that deadline will be met, but water sampling in 2017 found bacteria levels improved enough to meet safe swimming standards from 50 percent to 88 percent of the time, depending on the location.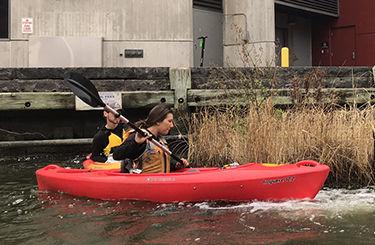 Those water quality issues are no deterrent for wildlife. We saw mallards paddling around, while sea gulls swooped overhead. A handful of resident Canada geese eyed us warily from piers, and one gave us a honking serenade. At one point, a big splash nearby punctuated the morning quiet, as some large fish broke the surface.
We got close looks at Baltimore's maritime heritage, paddling first around the USS Constellation, the last sail-only warship designed and built by the U.S. Navy. Joining the Constellation at Pier 1 that morning was the Pride of Baltimore II, a reconstruction of an early 19th-century Baltimore clipper ship. Crewmembers could be seen performing chores on deck and in the rigging.
Next up were other historic ships permanently moored in the Inner Harbor, including the submarine U.S.S. Torsk and lightship Chesapeake.
We ducked in between Piers 3 and 4 by the National Aquarium to check out its floating wetland, a small artificial island covered with marsh grasses. This and other floating wetlands in the harbor have attracted fish, including striped bass, spot, Atlantic menhaden and white perch, as well as blue crabs and grass shrimp. On our visit, white shells — likely either barnacles or oysters — could be seen just beneath the water's surface, clinging to the sides of the wetland platform.
Next we paddled around Pier 6 to visit Mr. Trash Wheel, the google-eyed floating janitor that's become an international media sensation. Since its installation in 2014, the wheel has scooped up 1,124 tons of trash and debris washed from suburban and city streets down the Jones Falls into the Inner Harbor. It spawned two other trash wheels around the harbor, and Adam Lindquist, coordinator of the Waterfront Partnership's Healthy Harbor initiative, said that funds are being raised to install a fourth.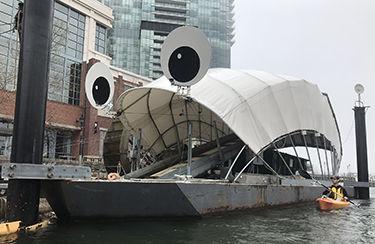 We proceeded past the built-up area of Harbor East, with its hotels, restaurants and offices. Then came Harbor Point, the former site of a chromium ore-processing plant that has since been cleaned up and is undergoing redevelopment.
Just past that came Fells Point, one of the oldest neighborhoods in Baltimore, now a dining and nightlife hotspot. Its past is recalled at the Frederick Douglass-Isaac Myers Maritime Park, which recognizes the contributions of African Americans in Baltimore's maritime industry. The site also is the campus and headquarters of the Living Classrooms Foundation, which offers educational and workforce development programs for city youth.
From there, we paddled across the Northwest Branch of the Patapsco River toward the Domino sugar refinery on the other side of the harbor. We peered up at a large freighter tied up by the hulking brick factory, which for more than 95 years has been processing sugar from imported cane.
As we paddled back up the harbor, we passed the Baltimore Museum of Industry, plus a stretch of marinas and waterfront condos before returning to the science center. My escorts held my kayak steady while I clambered onto the water taxi landing, in time for brunch. After paddling about 4 miles, I had worked up an appetite.
Since their start in 2013, the Inner Harbor kayak tours have proven increasingly popular, leading the city to expand its offerings. Last year, about 900 people picked up a paddle and tried it out.
"It's a great way to see what the city has to offer," said Kirsten Perry, boating program coordinator for the city Department of Recreation and Parks, "especially if you've never been to Baltimore city."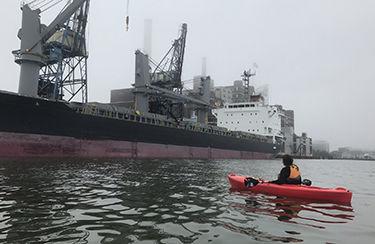 For those who have toured Baltimore's waterfront by land, Perry said, "it's just nice to be able to get out and see something different. … We have this awesome river that runs through [the city], and I would like to get more people out on it."
There are a variety of options for paddling Baltimore's harbor. The Department of Recreation & Parks offers these:
In addition to those city-sponsored excursions, a few other harbor paddles are planned this spring and summer:
4th Annual Baltimore Floatilla: 8 a.m.– 12 p.m. June 8. Escorted 5-mile paddle from Canton Waterfront Park at 3001 Boston St. to the Maryland Science Center in the Inner Harbor. Sponsored by the Waterfront Partnership to demonstrate support for cleaning up the harbor; previous events have drawn hundreds. Bring your own kayak, canoe or standup paddle board, or rent one there. Ages 13+ (13–15 must share a boat with parent or guardian; ages 16–18 must have a parent or guardian paddling in the event.) All must have experience paddling 5 or more. Fee: $40, plus kayak rental. More info here.
Ft. McHenry Paddle Project: On June 1, National Trails Day, and Aug. 25, National Park Service Founders Day, take a free guided paddle around the fort on the Patapsco River and learn about its history. Offered by Ultimate Watersports, a local outfitter, in partnership with the National Park Service. Details not yet available. Preregistration required. More info here.