We seem to be alone under the canopies of bald cypress and black gum. Hawks soar overhead. Leaves on the rose bushes rustle. Remnants of a beaver lodge hide among the brambles. An old truck, possibly from the 1950s, sits rusting on the water's edge.
There is much to look at in a six-mile paddle through the Nassawango Creek Preserve, a 9,953-acre ecosystem on Maryland's lower Eastern Shore. But what our group of five didn't see during three hours of paddling its meandering path were other humans. We encountered no other paddlers and heard no footsteps. Even though the creek backed to some houses, no one was in the yards. We didn't even hear a dog bark.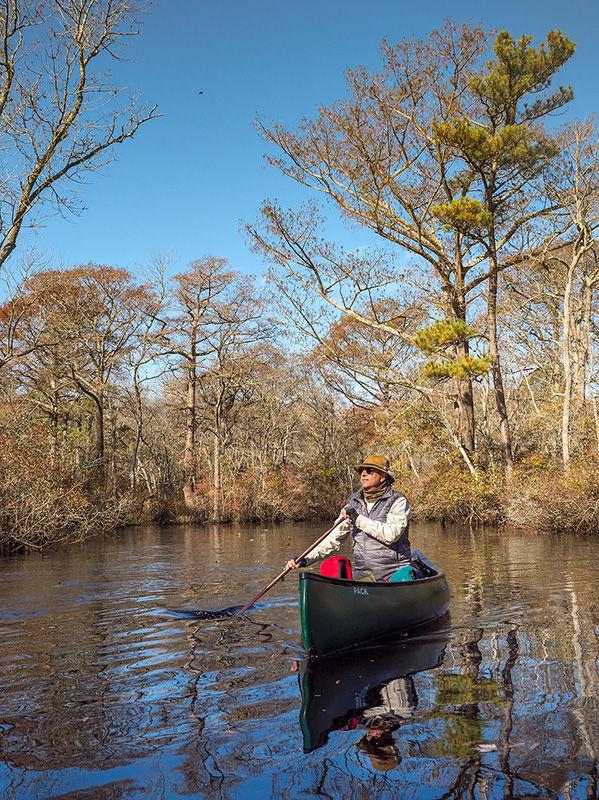 The Nassawango Creek Preserve has been protected by The Nature Conservancy since 1979. The creek's name derives from a Native American word thought to mean the "ground between the streams." It's the largest tributary to the Pocomoke River, brackish and narrow, with fallen branches and shallow spots that make for a tricky paddle along parts of its 15-mile journey. But it is a journey begging to be taken. The shade trees mean it's not too oppressive in Chesapeake summers, and the narrow, protected pathway keeps out fierce spring and fall winds. 
It is a place for solitude and reflection, to marvel at the aged trunks and swamp-like vegetation. And it's not hard to find if you know where to look. A public launch for paddle craft is located near a bridge along Red House Road in Snow Hill, and the Pocomoke River Canoe Company rents canoes, kayaks, paddles and life jackets, delivered and picked up. Like so many places in Maryland, it's wilderness near convenience; just a few miles from the busy interchange of Routes 13 and 12.
Yet Joseph Fehrer, the conservancy's coastal and lower shore conservationist, said maybe five people a week embark on the river trip. Most people who venture to this part of the Eastern Shore are taking the highway 20 miles in the other direction, to the beaches of Ocean City.
"The beauty of the area is that it was left alone. That was key," Fehrer said. "It was just forgotten, and it remained forgotten for 100 years."
But Fehrer's parents, Joseph Sr. and Ilia, never forgot that Nassawango was there, nor how special it was. As a boy, young Joe and his brothers would venture up the creek in a canoe, gathering wild rice for cooking. They'd splash among the spatterdock plants and play in the mud, coming home late and in need of a bath.
Long before Fehrer's boyhood ventures, the creek was a trading route for native peoples. Later, in 1828, it cemented its place in the Industrial Revolution, when the Maryland Iron Company built a blast furnace to smelt ore from the bogs and turn it into pig iron. 
Nassawango's iron was used to make bridges, factories and other products of the industrial age using a hot-blast technique pioneered in England. It was Maryland's only bog furnace; in its day, Fehrer said, like Sparrows Point in Baltimore — a focal point of culture and employment and a major source of air and water pollution. 
In 1849, after smelting an average of 700 tons a year for almost two decades, the furnace shut down because it was unable to remove the phosphorus from the iron, making it brittle and limiting its use in cold temperatures. The area was clear-cut and had no immediate purpose.
Thus, Nassawango entered its sleepy period. Large parts of the Pocomoke's shores were ditched to irrigate land for farming. Nassawango, on the other hand, didn't have much in the way of upland, nor was it a candidate for many ditches; it was simply too hard to access, and that isolation protected it. 
As a result, the forest regrew and diversified. 
"With that furnace out of operation, this [area] just sat, so it had time to grow itself out," Fehrer said. "This is second and third generation growth. Several trees are more than 100 years old. You have a few that are the patriarchs of the creek."
The preserve has six species listed as globally rare, including the seaside alder. The conservancy, with the help of others, has recorded 19 orchid species throughout the botanically rich wetlands and uplands. But don't ask Fehrer where they are; he likes to keep their locations a secret, lest poachers pounce. 
The creek also supports a rich benthic community, including the eastern lampmussel and the only current Delmarva record of eastern pondmussel, according to the conservancy. The eastern narrow-mouthed toad and the carpenter frog, both rare amphibians, have also been documented within the watershed.
The Fehrer children and other local families may have appreciated the Nassawango, but it wasn't widely known outside of the area. Therefore, when the elder Fehrer learned, in 1977, that the Worcester County Historical Society was planning to clear and flood 300 acres of the Nassawango corridor to create a lake, he called his friends at the U.S. Army Corps of Engineers in Baltimore and began asking questions.
A call from Fehrer was not easily dismissed. Born and raised in Baltimore, he had been chief of real estate acquisition for the Corps until 1965, when President Lyndon Johnson authorized the National Park Service to preserve Assateague Island and appointed Fehrer to do the job. It wasn't easy, and he earned the respect of colleagues across federal agencies for his success. Since their move to the Shore a decade before, the Fehrers had become instrumental in preserving land in the region, using their connections to form the Worcester Environmental Trust as well as the Maryland chapter of The Nature Conservancy, according to the Fehrers' personal papers, which are now part of Salisbury University in Maryland. 
The Corps was indeed surprised to learn that it would be approached for a permit to create the lake. The agency was even more surprised to learn that local officials had ordered prison labor to clear land for paved "nature trails" that were to bisect the land and wildlife habitat. A few years prior, the Smithsonian Institution had conducted a survey of important habitat areas in the Chesapeake Bay. Nassawango was in the top three, out of more than 200 surveyed, and it had no protections.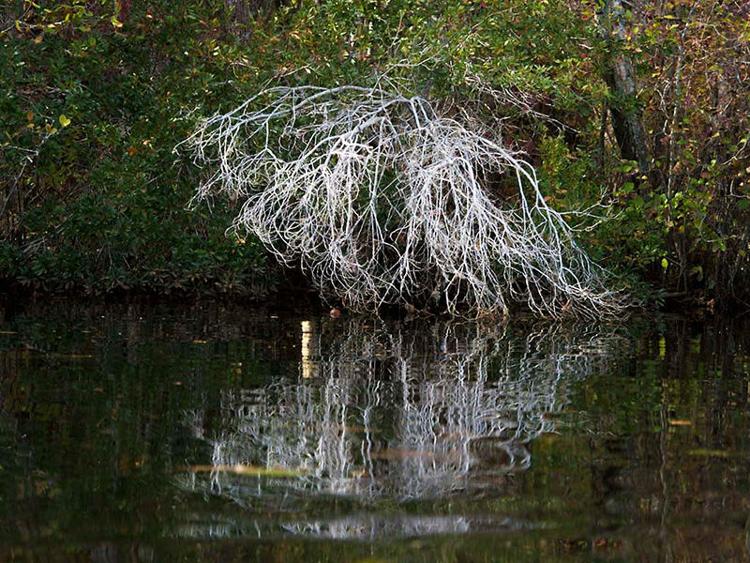 The Fehrers encouraged environmental groups to work with the historical society to preserve the land. His mother was the forceful one, Fehrer recalled, while his dad was often in a support role. Together, they prevailed and, in 1978, timber magnate and avid conservationist E. Stanton Adkins of Salisbury donated 154 acres of cleared forest land to create the Nassawango preserve.
Donating land to nonprofits or the state's Program Open Space became an attractive way for timber companies to divest land that was already cleared. So, over time, The Nature Conservancy acquired other parcels in similar ways. A map of the preserved area now shows a belt of greenspace in private conservation, nonprofit hands, rural legacy and open space programs as well as some under federal protection. But to the paddler, it all looks the same — deep, swampy wilderness where time stands still and the aged tree trunks seem to hold secrets.
Nassawango Creek is not immune from the troubles that other tributaries face. Fehrer said harmful algae blooms have been documented in the creek with increasing frequency. The wild rice is mostly gone. Sediment has caused some of the waterway to fill in. And the children of Snow Hill don't often play here unsupervised like the Fehrer children once did. 
Still, even as Nassawango adapts to modern life, it retains its wild, open qualities. The English explorer John Smith, who traveled the Chesapeake Bay in the early 1600s, might recognize it, complete with the cedar trees that could make canoes for dozens of men and the berries that could sustain them as they completed their journeys.
Over the last decade, both of Fehrer's parents have passed away. But the Eastern Shore is full of monuments to them — green canopies towering over paths, meandering creeks with beaver dens along the shorelines, areas to bicycle and walk without disturbance — in lands they helped to protect, including the Nassawango Preserve. 
Over time, these places will change from what they were in Ilia and Joe's lifetime, but they will still be wilderness — at least, as much wilderness as Maryland can manage when most places are no more than 10 miles from a convenience store.
"Oh, it'll change. It's changed since I was a kid," Fehrer says in a video about the creek's preservation. "But it will still be wild and open. And that gives me hope."
To reach the paddle craft launch, take Route 12 south from Salisbury toward Snow Hill, then turn right onto Red House Road. After about one mile, just before a small bridge, park along the shoulder near the parking sign. If you wish to rent a canoe or kayak, and have it delivered, contact the Pocomoke River Canoe Company. The Nassawango Creek Preserve website provides information about hiking trails and the local ecosystem, including audio tours. Information about the Nassawango Furnace Town Living Heritage Village is at furnacetown.org.