An easy 10-minute hike through towering oak and hickory brought me to an observation deck 25 feet above Bush Mill Stream on Virginia's Northern Neck.
Below, the stream meandered through straw-colored cordgrass, fringing dark mudflats that sparkled with ice from the receding tide.
A pair of mature bald eagles flew past at eye level, followed by a juvenile. Meanwhile, a kingfisher cried as it winged across the marsh in lilting flight. Terns cavorted above.
"I almost always see eagles here," said my guide, Zach Bradford, who manages eight natural area preserves in the Tidewater region for the Virginia Department of Conservation and Recreation.
Bush Mill Stream Natural Area Preserve, as well as the nearby Hickory Hollow, are two of the less-traveled gems on Virginia's Northern Neck, a western shore peninsula bounded by the Potomac and Rappahannock rivers.
But both preserves are worth a stop, with rewarding views and good birding, as well as unique plant life. Bradford introduced them to me on a late winter day, starting with Bush Mill Stream.
The 135-acre preserve is mostly forest, except for the low-lying marshy area where it hugs Bush Mill Stream, a tributary of the Great Wicomico River. Deep Landing Trail, the main route through the preserve, is approximately one mile out and back. It took us through an understory of mountain laurel and holly that greened the winter forest. A slight breeze ruffled the golden leaves that still clung to beech trees. The dark trunks and bare branches of oak and hickory rose above us.
"Bush Mill Stream is an often-overlooked preserve that has some great winter hiking opportunities and decent birding," Bradford said. "And if you want solitude, this is a great place to come."
The trail from the overlook descends to a boardwalk through cordgrass, with the tidal, freshwater creek on one side and a marsh rimmed with cattails on the other.
At the water's edge, pilings emerged from the low tide mud. These, along with the name Deep Landing, are all that remain from earlier centuries, when there was still adequate depth here for sailing ships loaded with tobacco and lumber.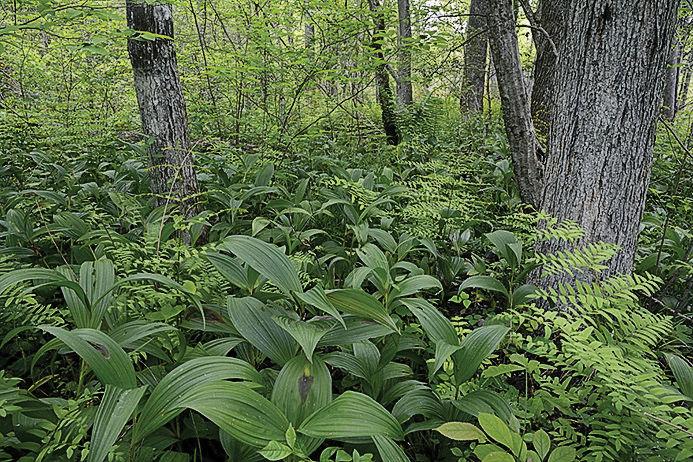 Only 10 miles away by car, the 235-acre Hickory Hollow Natural Area Preserve is draped over the steep slopes at the headwaters of the Corrotoman River. Co-managed with the Northern Neck Audubon Society, the preserve has 6 miles of trails and is also known for its rare species and diverse plant communities.
More than 250 different species have been identified on the preserve, including 10 species of native orchids. This variety makes Hickory Hollow a destination for scientists, master naturalists and native plant enthusiasts.
Most of the trails follow old logging roads with relatively gentle terrain, but some are steeper. At the bottom of a trail through a stand of rhododendron, water flowed through hummocks of grasses, like stepping stones through the dark wet soil that anchors Cabin Swamp.
This rare seepage swamp — fed mostly by calcium-rich groundwater — is the main reason the preserve is part of the Virginia natural area system. But throughout the preserve, springs and seeps also harbor the rare Tidewater amphipod, a blind, white, shrimplike animal that lives mostly below the surface in groundwater.
Hickory Hollow is busy with migratory birds during the spring and fall and is a host for the Audubon's annual Christmas Bird Count, a popular citizen science project.
Work is under way in preparation for the preserve's 20-year anniversary in 2018. Audubon member Jeff Wright said that installing new signs, creating a trail map and developing a native plant trail will make the preserve more user-friendly.
"We hope what we're doing here will motivate more people to public service," Wright said.
It may also encourage more people to explore the less- visited but well-loved delights of Hickory Hollow and its sister site at Bush Mill Stream.
Both preserves are located near Heathsville, VA, and open from dawn to dusk. You can also paddle past the shoreline of the Bush Mill Stream preserve; the closest launch is one mile downstream at Coopers Landing on the north shore of the Great Wicomico River.