David Conard of Asheville, NC, stood next to his bike in a grassy area carved from the base of a steep mountainside along gently flowing Pine Creek. His stop was near the midway point of the breathtaking Grand Canyon — in Pennsylvania, not Arizona.
Rippling past picnic tables and primitive campsites at this spot along the 62-mile Pine Creek Rail Trail, the eponymous creek (one of the largest "creeks" in the nation) sparkled in sunshine. A Baltimore oriole flitted in the overhanging trees and, as if choreographed, a mature bald eagle winged by.
"The peaceful beauty of it — you will not find that long a stretch on any rail trail that I know about," said Conard, a retired physician.
The tranquility at the ghost town of Tiadaghton, in the heart of the Grand Canyon, stands in stark contrast to the late 1800s, when this booming lumber and logging center boasted a sawmill, hotel, post office, two general stores and more than 20 homes. Except for a handful of structures that survive as camps, it's gone.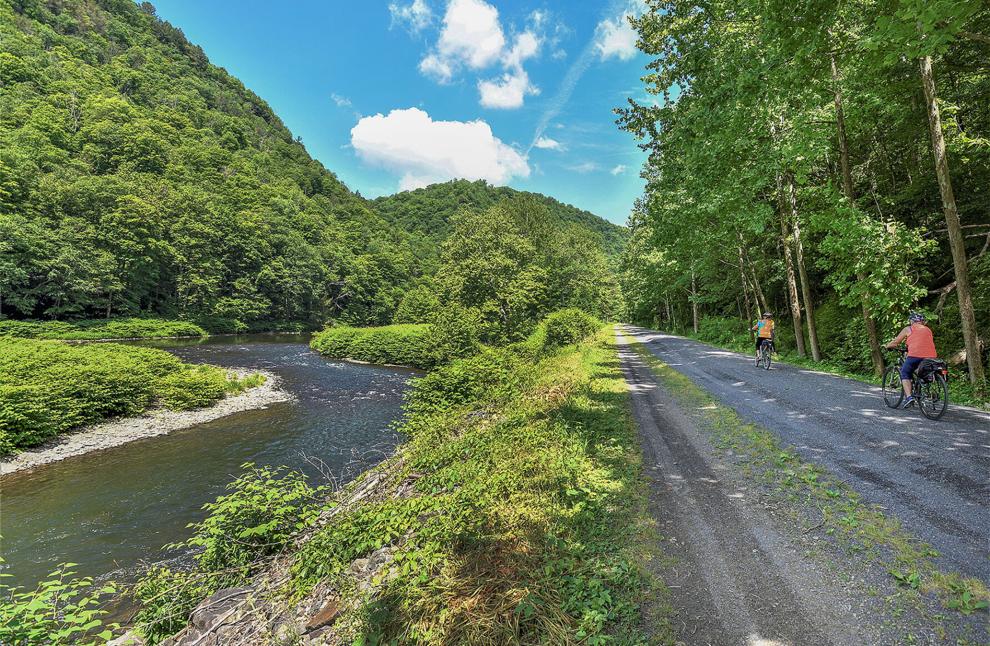 The latest transformation of Pine Creek Valley in the Allegheny Mountains thrives on recreation, not lumber. The nearly flat rail trail — never more than a 1% grade — parallels Pine Creek all the way to the West Branch of the Susquehanna River, and it has been called one of the best in the nation.
State recreation officials envisioned that possibility in 1988, when the New York Central Railroad abandoned the freight and passenger line that had operated here since 1884. The railbed follows what was once a Seneca path through the mountains.
After overcoming some wary pushback, the first section of the Pine Creek Rail Trail opened in 1996. Sections were added until 2006, and expansions at both termini are in the works.
The trail has become a hiking and biking destination for all ages with its pressed limestone surface, ample shade, spaced restrooms and a route that traces the creek. Mountains loom up to 1,500 feet on both sides of the trail.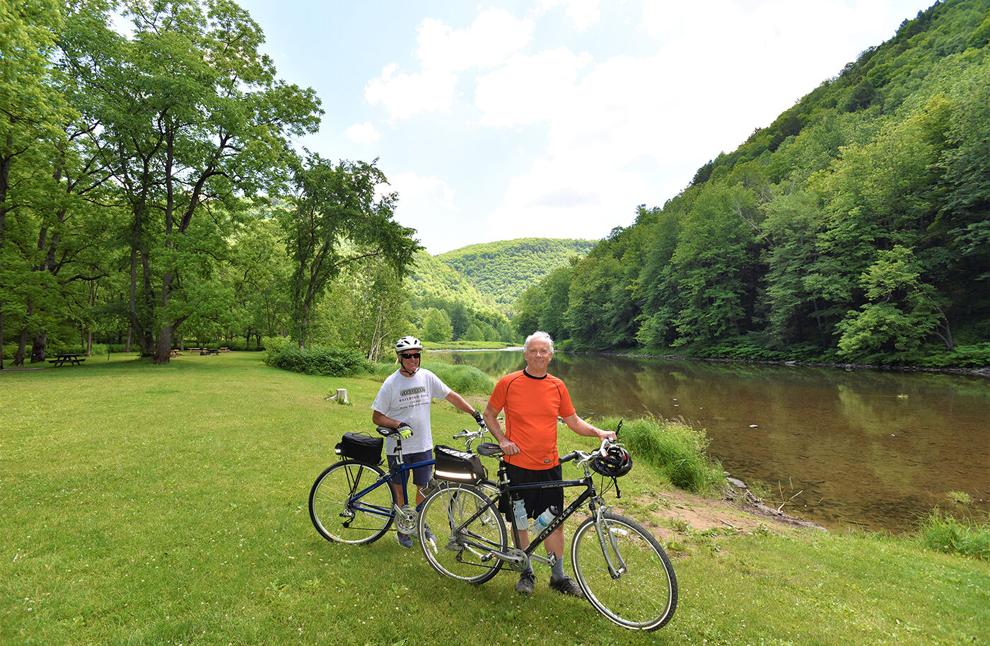 The 18-mile gorge at Pine Creek's rugged northern end has been dubbed the Pennsylvania Grand Canyon. It's almost completely roadless, meaning you must go on foot, bike, kayak, canoe or horse to enjoy its beauty and solitude. It was designated a National Natural Landmark in 1998.
"Besides the beauty itself, you have the lack of access, so it's mostly people that access it by primitive means. It's just a nice, quiet way to be away," said Chuck Dillon, who founded Pine Creek Outfitters in 1984 and has written hiking and history guides of the region.
With ample equipment rentals and shuttles available, the entire length of Pine Creek is a destination for whitewater paddling and rafting in the spring, and, when water levels ebb, leisurely floats in canoes, kayaks, tubes and stand-up paddleboards.
Riding or drifting amid birdsong and the gentle murmurings of the creek, it's hard to imagine how different the area once was.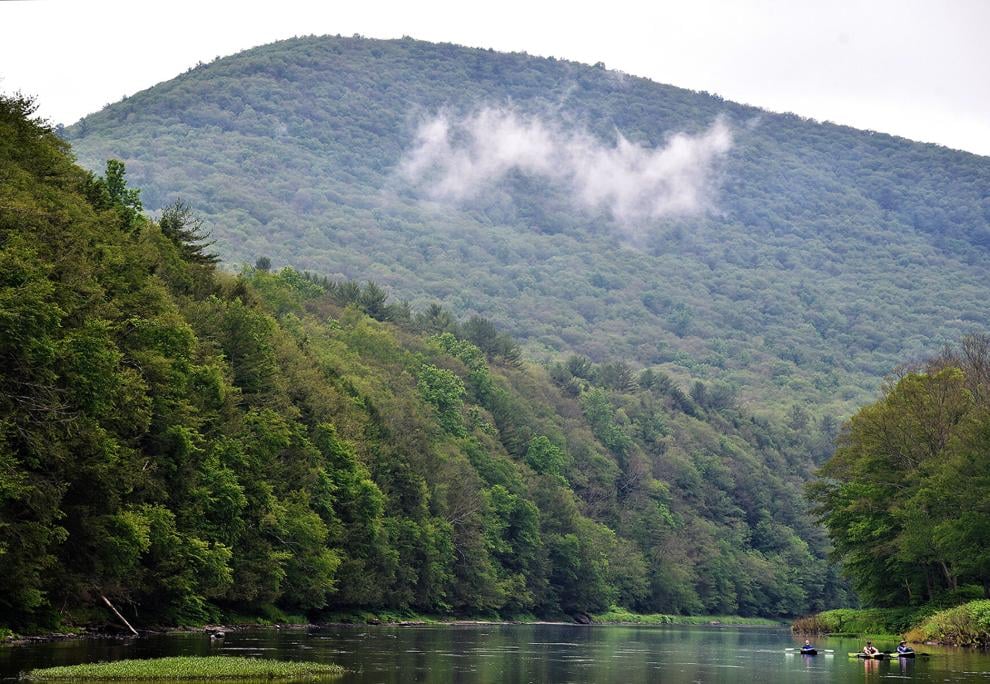 In the early 1800s, log rafts were the mode of lumber transport downstream. By 1845, 145 sawmills had been built along the creek's banks. Splash dams released water in surges that sent rafts of massive white pine and hemlock logs downstream. The last log drive was in 1909.
In Baltimore shipyards, the pines were turned into sturdy ship masts and beams. The hemlocks were used as lower-quality lumber and a source of tannic acid for tanning hides.
Later, with the building of the railroad, specially made Shay and Climax locomotives huffed and puffed on steep narrow-gauge railroads to get felled trees to the creek bottom. Black powder explosions echoed off the canyon walls during the construction of temporary switchback rail lines to haul trees down to the main track.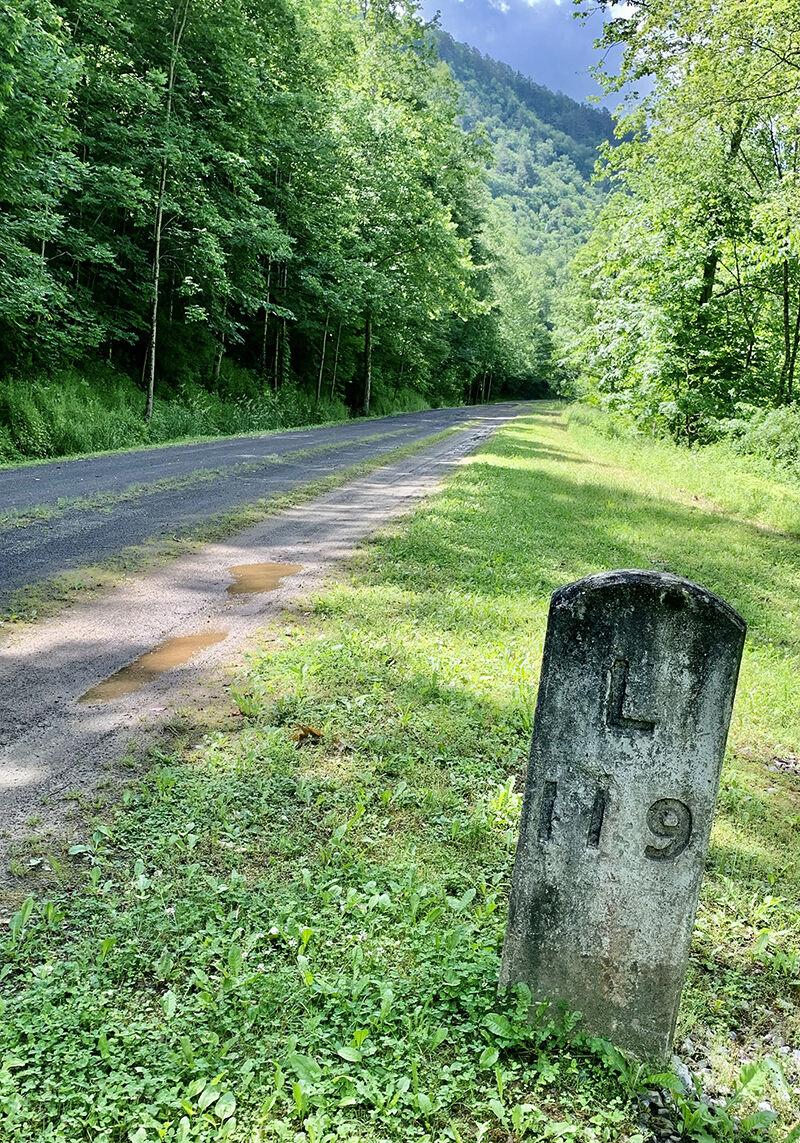 These days, the loudest sounds you are likely to encounter are the muted crunch of bike tires on gravel and the excited shrieks of rafters splashing through rapids.
But reminders of the railroad era remain. Many of the stream crossings are repurposed train bridges, and a few of the tombstone-like mile markers still stand trailside.
Eventually, the mountainsides were stripped bare of trees. The sawmills and tanneries closed and towns such as Waterville, Cammal, Slate Run, Cedar Run and Blackwell emptied out. Today, the remnants of those towns provide ice cream stops, inns and rental cabins.
Logging debris, known as slash, was prone to catching fire, and in many places nothing but ash and bare soil remained after the trees were harvested. Silt from bare hillsides clogged the native trout streams, and wildlife paid the price.
Later, coal brought another industrial boom. Acid drainage from coal mining still taints a few streams in the area, though they are slowly being treated.
Pine Creek Valley, broadly speaking, remains a place of few roads and human intrusions, in part because much of the bordering land is part of state forests, parks and game lands.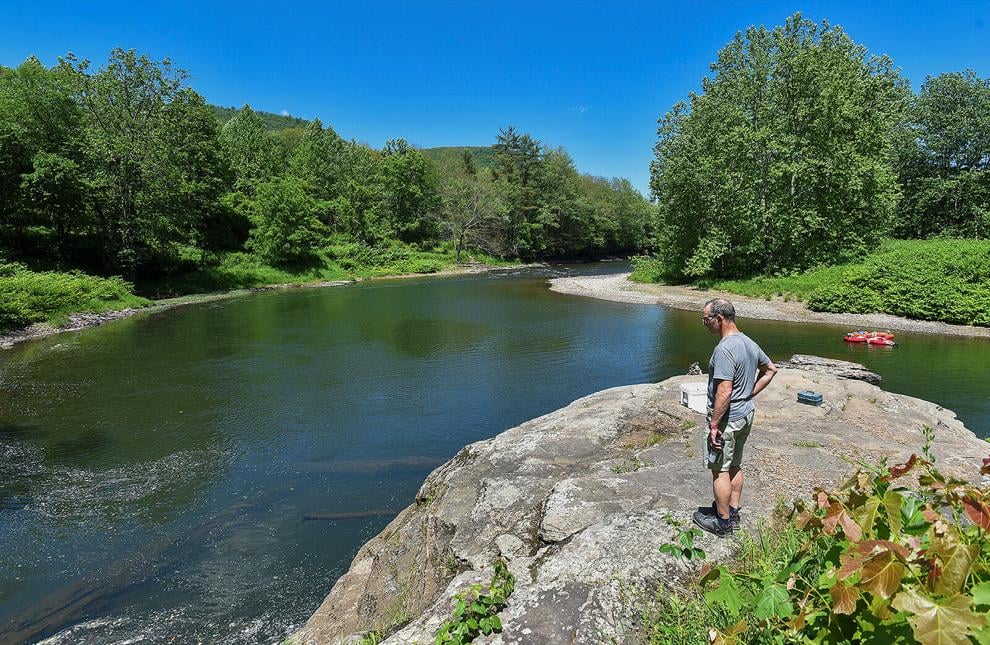 Whether you journey by foot, bike or on the water, Pine Creek sports an impressive array of sights and history. You'll find waterfalls dripping with coolness and ferns just a short hike up many side streams.
One of the most popular side trips is the Turkey Path, a steep, 1-mile climb (with several stairways, so not for bicyclists) on a trail that sidles past waterfalls on the way to the summit in Leonard Harrison State Park. There, to reward the effort, is a stunning vista of the canyon and the ribbon of Pine Creek cleaving the mountains.
Geologists say that Pine Creek used to flow north but reversed itself 15,000–18,000 years ago after a glacier caused a lake to form, and erosion created a new overflow channel.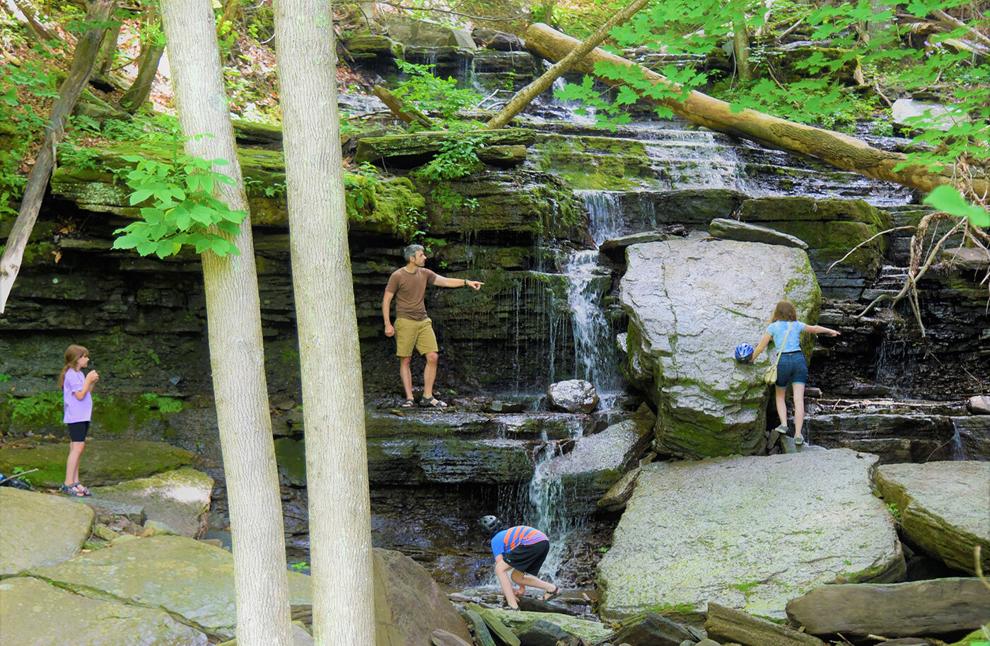 Landmarks along Pine Creek are steeped in more recent history. Barbour Rocks, a prominent outcropping, is named after a logger who died in the late 1800s while clearing a logjam in the creek. Deadman Hollow is named for a trapper who disappeared and was later found caught in one of his own bear traps.
One of the few dwellings found in the canyon is a stone cabin along Four Mile Run that Teddy Roosevelt visited multiple times to fish for trout.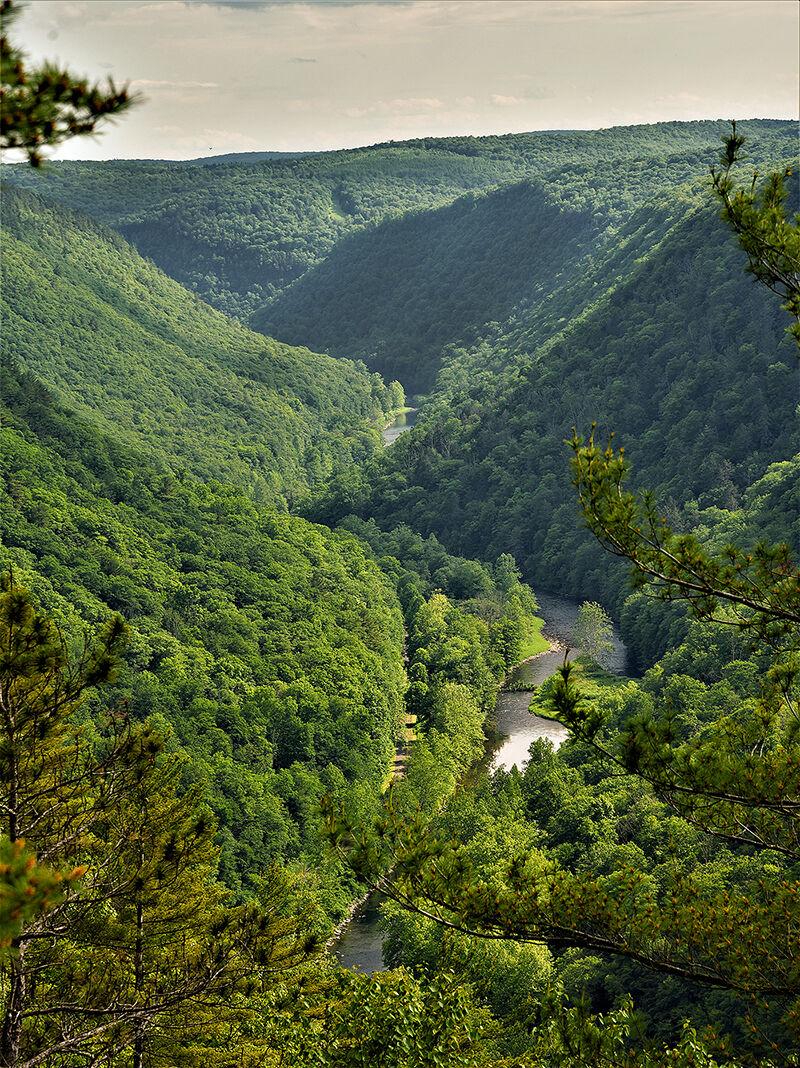 The nearby Algerine Natural Area is a wetland where log pirates, known as Algerines, would collect errant logs from drives and whisk them away.
Tom Boyer, a 71-year-old Ohioan who had brought seven other bicyclists to the trail, was reassuring them that the route would indeed be a piece of cake. "Every time I bring friends here they look at the mountains and question whether it's going to be flat," he laughed.
For Claudine Gartenberg of Philadelphia and her 10-year-old son Yoni, their first visit was by happenstance after a planned camping trip was washed out. They rented bikes and were having a blast using a phone app to identify birds by their calls.
"It's not busy," enthused Claudine as she marveled at a picturesque waterfall, "and it's gorgeous. It's like a perfect rail trail."
Cover photo: Pine Creek winds through the 18-mile Grand Canyon of Pennsylvania, a National Natural Landmark. (Ad Crable)