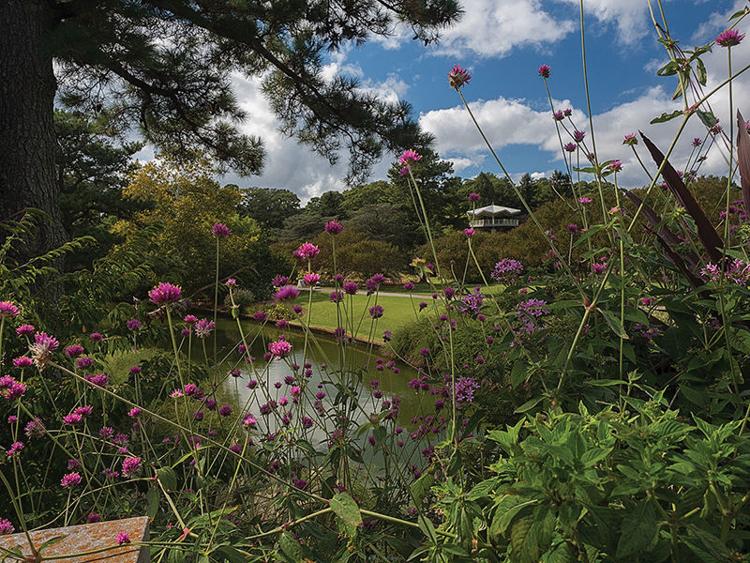 At Norfolk Botanical Garden, everything is just so. Horticulturalists deadhead roses in the summer to ensure visitors encounter a perfume-filled, technicolor display in the fall. Azaleas are arrayed for maximum visual pop in the spring.
Even the wildflower meadow is meticulously combed for undesirable upstarts.
This oasis of beauty is perched on a 175-acre peninsula in Virginia, less than 3 miles from the Chesapeake Bay. But what statements can such a manicured place make about the nature of this southernmost loop of the Bay's watershed?
Quite a few, I found on a recent expedition among the garden's leafy trails and dizzying variety of flora. But first, the experience needed to be reframed.
The Botanical Garden, which is celebrating its 80th anniversary this year, features plant and tree species from around world, ranging from scheffleras from China to flameberry shrubs from Argentina. It's all a bit much and, for the most part, not representative of what's to be found around the rim of the Bay.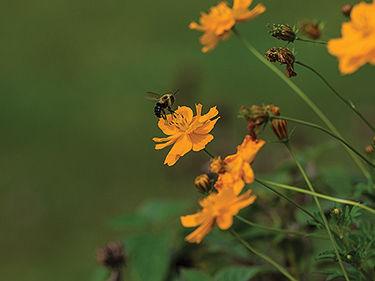 As I whirled from one colorful exhibit to the next, I found myself awed by the magnitude of human effort and imagination so clearly heaped upon this landscape. Try not to be moved by the 336 different flowering trees in the arboretum; the formal rose garden, brimming with more than 3,000 plants; the traditional Japanese garden seemingly transplanted from across the Pacific.
I also couldn't help feeling a bit lost. Part of me wondered whether I was still in southeastern Virginia or some Walt Disney version of it.
My malaise broke after I talked to Theresa Augustin, the director of environmental engagement and outreach. Her advice: "Dig a little deeper."
"Sometimes, this is a person's only exposure to nature — these very designed and manicured gardens," said Augustin, who has worked at the facility for 18 years. If you look below the surface, "you'll see pollinators are working there, the birds are eating the bugs. Our job is to showcase plants but to do that in a very responsible way."
To be sure, not every one of the garden's plants fit snugly into the Bay's ecology. But many do. Its 60 gardens include the wildflower meadow, an forest stocked with many indigenous tree species, a 2-acre butterfly garden, a fern glade and a Virginia native garden that explores four types of plant communities.
As I pondered Augustin's point, I was reminded of a concept from the wine industry: terroir. It is the "French concept of place reflected in the glass," as one Wine Spectator editor put it. Terroir emphasizes that a wine is shaped not only by the grapes it is made from but also by the place where those grapes are grown. The soil, elevation, sun exposure, climate and other factors make the products of one winemaker unlike any other.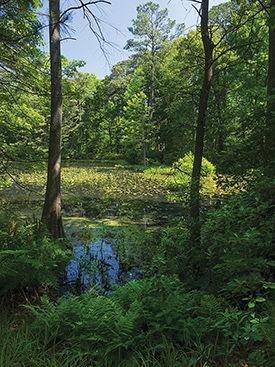 And while there are dozens of botanical gardens in the United States, none is quite like the Norfolk Botanical Gardens. The Norfolk garden distills the breathtaking range of life that can sprout from the soil in the southern Bay's watershed.
Augustin is cognizant of the Norfolk garden's special geographical setting.
"We're kind of the northernmost range for a lot southern plants and the southernmost range for a lot of northern plants," she said.
That lends to the grounds a tremendous variety of flowers, trees and shrubs that may be able to grow in separate places but rarely all in the same place. More than 250,000 plants call the gardens their home, not counting those grown in seasonal displays.
Some make for strange bedfellows. Crotons, which thrive as far south as the tip of Florida, wind up sharing the same grounds as maidenhair ferns, which would wilt in Florida but do nicely as far north as Ontario.
Given that flexibility, it may be surprising to learn that the botanical garden was originally developed largely with just one type of plant in mind.
Thomas P. Thompson, Norfolk's city manager from 1935–38, was impressed by the drawing power of the azalea gardens in Charleston, SC, and was convinced that his city could do the same. So, with the aid of the Depression era Works Progress Administration, the city launched an azalea garden project in 1938.
Much of the hard toil fell to a group of more than 200 African American women whose efforts are memorialized by a statue in the WPA Memorial Garden, depicting a woman sinking a shovel into the earth. By March of 1939, they had planted 4,000 azaleas, 2,000 rhododendrons, several thousand miscellaneous shrubs and trees and 100 bushels of daffodils on what had until recently been an unforgiving swamp.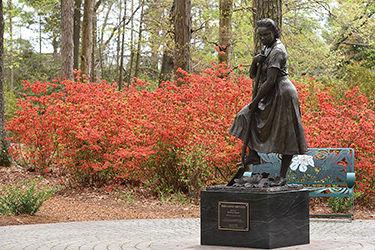 Over the years, the gardens continued to grow, and their stewardship was turned over to a nonprofit that today oversees a $6.5 million annual budget (although the city still owns the land).
Highlights include a vista festooned with eleven, 7-foot-tall marble statues of notable artists created by sculptor Moses Ezekiel; a 2-mile walk through a holiday light display (Nov. 9–Dec. 15 this year); a car-
oriented million-bulb light display (Dec. 16–31 this year); a children's garden featuring a large splashpad; and a cavernous butterfly house that flutters to life in the summer and early fall.
In recent years, the Botanical Garden has begun adopting more sustainable practices, Augustin said. In 2015, for example, staff stopped mowing the grass in the flowering arboretum, providing a wildflower meadow for butterflies and other pollinators. The café no longer sells single-use disposable plastics.
There's more to a garden, after all, than its visual attributes, Augustin said.
"That's more how we think now. What is the function of the garden? [The Botanical Garden's leaders] want it to be attractive but be a little deeper so that these plants are supportive of the local ecosystem," she said.
The Norfolk Botanical Garden is located at 6700 Azalea Garden Road in Norfolk. The garden is open from 9 a.m.-7 p.m. April 1-Oct. 15; 9 a.m.–5 p.m., beginning Oct. 16. The garden is closed Thanksgiving, Christmas and New Year's Day. Admission is $12/adults; $10/seniors and military; and $10/children ages 3-17. Entrance is free for ages 2 and younger.
A tram operates year-round. Boat tours are available at a cost of $6 for adults. The 45-minute tours follow the facility's internal canals and go out onto Lake Whitehurst. Walking routes travel 15 miles of paved trails and mulch-covered paths. For information, visit  norfolkbotanicalgarden.org or call 757-441-5830.