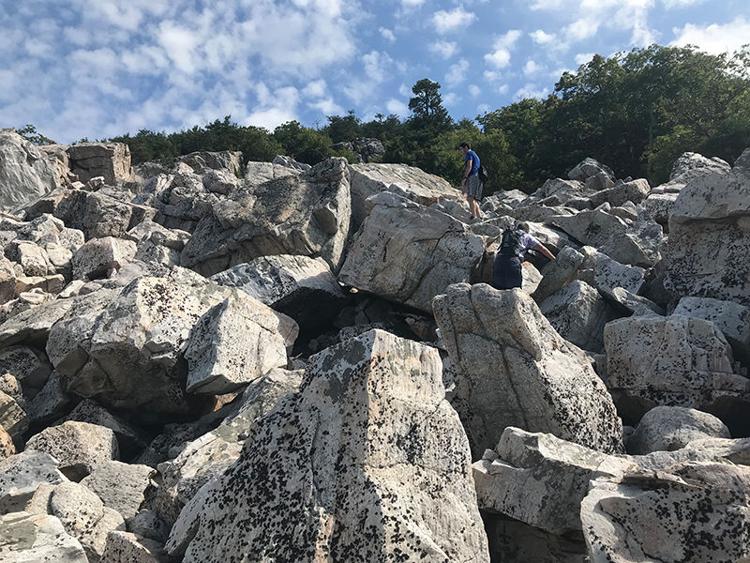 After a mile of increasingly pitched hiking through a dense forest, a strange scene unfolded. Quartzite boulders, ranging in size from La-Z-Boy recliners to school buses, reared up, blazing away in the sun. The absence of green was matched only by the audacity of white and its kindred tints: alabaster, ash, gray.
The well-tended trail continued upward, following the rim of woods along the outcropping's flank. But I didn't come all this way to take the path of least resistance. I came to explore one of the East Coast's singular hiking experiences: the Devil's Marbleyard, a rock slide of epic proportions and views.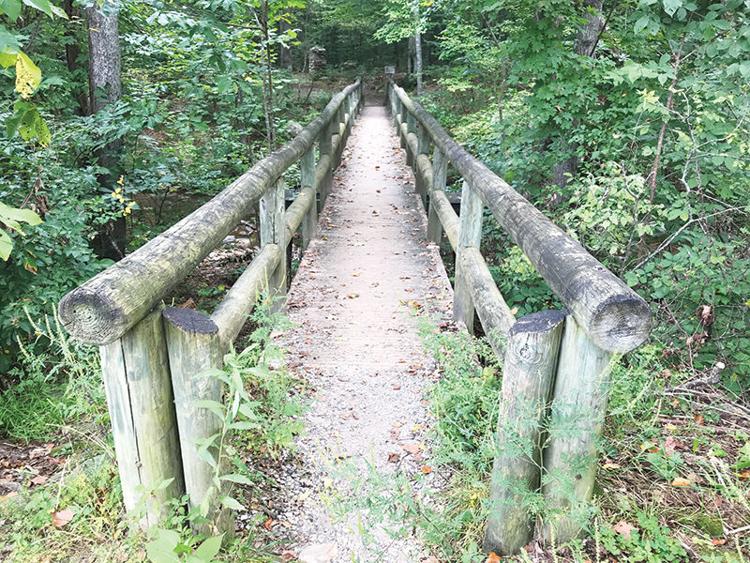 The boulder field lies along the 2.3-mile Belfast Trail inside the George Washington and Jefferson National Forest, about a 30-minute drive south of Lexington, VA. The out-and-back route is a haven among hikers, attracting dozens of elevation-seekers on a typical weekend day. But it's not nearly as popular as another outdoorsy destination I passed along the way: the Natural Bridge, a limestone arch that attracts 180,000 visitors a year.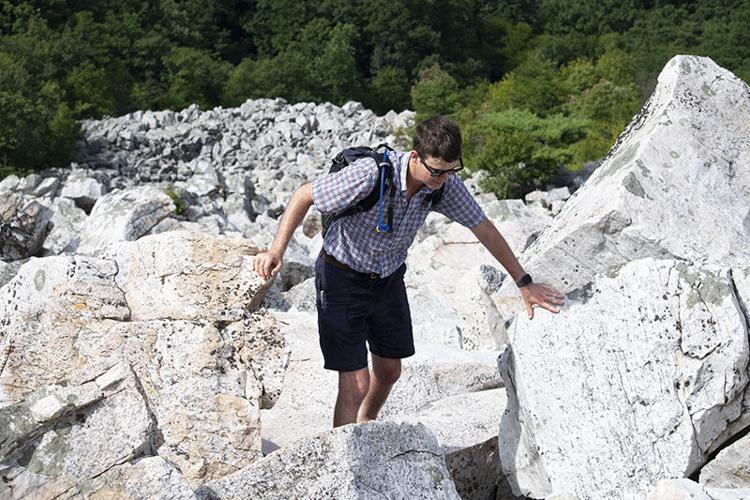 It would be inaccurate to refer to the Marbleyard as "off the beaten path," though. The trek from the parking lot to its base measures about one mile, making it relatively accessible to hikers of varying abilities.
At about 9:30 a.m. on the Saturday before Labor Day, my car was the third in a gravel parking lot big enough to contain about six vehicles. By the time I returned nearly four hours later, the lot was full, and several cars were parked along the shoulder.
Hiking at elevation — any elevation — is a bit outside my comfort zone. To see a hill in my native Florida or my current residence on the Eastern Shore of Maryland, visit a landfill. So, I had little frame of reference for the challenge of scrambling to the top of this roughly 8-acre rock pile.
Such formations are relatively common farther north, where glaciers upended the landscape during the most recent Ice Age. But glaciers never ventured into the area that produced the Marbleyard.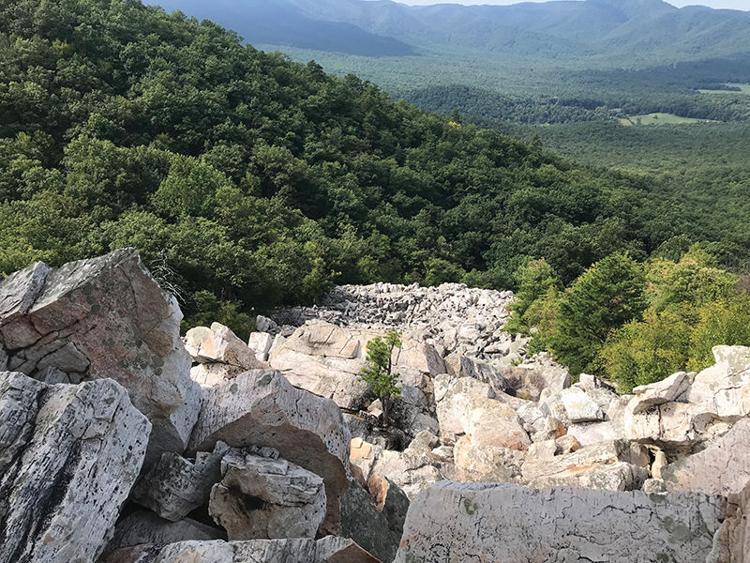 Geologists, though, think it may have been frigid enough during that period — about 18,000–30,000 years ago — to create periglacial conditions. That's when seasonal thawing of snow generates runoff that seeps into cracks in rocks. When the water refreezes, it expands, potentially breaking large rocks into smaller ones over time. This process, known as frost wedging, is what may have produced the Marbleyard.
Similar rocky masses can be seen across this portion of the Appalachians, wrote Edgar Spencer, a Washington and Lee University geologist, noting that the Marbleyard's boulders "are huge, many are several meters across and much of the accumulation, especially near the top, has apparently not moved very far down slope."
This remote part of Rockbridge County is otherwise covered with chestnut oaks, Virginia pine and red maples. Its jagged, soaring landscape can seem like a million miles from the salt-tinged air of the Chesapeake Bay. But don't be fooled. Just beyond the Marbleyard's ridge flows the upper portion of the James River, Virginia's largest tributary to the Bay.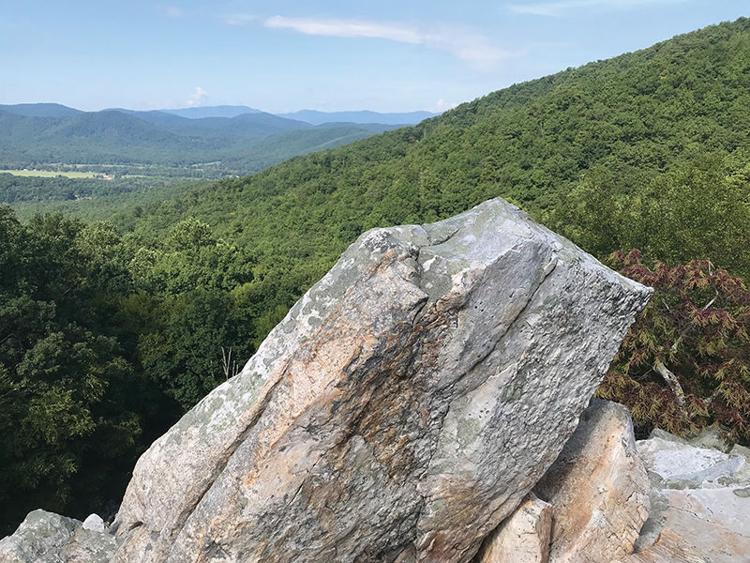 Up the rocks I climbed. Here are some things I learned along the way.
Camaraderie goes a long way. I had come alone — generally not the best idea for a challenging hike. To stay out of trouble, I wasn't planning on breaking too much of a sweat. But I can state unequivocally that I wouldn't have made it without the friendly support of two generous fellow hikers.
I met Ben Fulcher and Derek Warnecke along the shaded Belfast Trail, which leads to and skirts the Marbleyard. Fulcher was sporting a University of Florida T-shirt. My alma mater. His, too. Connection made. Off we went.
Time and again, as I was heaving myself over yet another boulder, I would think about withdrawing to the relative ease of the Belfast path just a few dozen yards to my right. Then, I would look at Warnecke and Fulcher, plying on, and think again.
Hiking spawns relationships. In his influential 2000 book, Bowling Alone, Harvard political scientist Robert Putnam decries the breakdown of social networks, pointing to plummeting membership in clubs and community organizations, such as bowling leagues. His critics argue that people may be still interacting, just differently. One example, I suggest, may be at the intersection of hiking and the internet.
Fulcher and Warnecke also had recently met. Warnecke, an electrical engineer just transplanted from Houston to Blacksburg, VA, had asked for trail suggestions near his new home using a hiking-themed hashtag on the photo-sharing social media app Instagram. Fulcher, an architect-turned-life coach, grew up one valley over from the Marbleyard and has hiked it several times, so he was quick to reply.
"I was just trying to come up with one [hike] that's good for pictures and an experience he probably hasn't had before," Fulcher said.
Connection made. Off they went.
Crawling over boulders is a slog. The first mile is deceptive. The trail is marked by blue blazes painted here and there on trees at eye level. It gets progressively steeper, the rocks larger. But the going is rather similar to any mountain hike: demanding but not exhausting.
Then the tree canopy gives way to that unbroken mass of white rocks, ascending skyward. Given the undulating slope, there are at least two horizons hikers must cross to make it to the top. The Devil's Marbleyard simply defies being taken in at a glance, not at ground level anyway.
"This isn't a beginner's course," Fulcher told me somewhere around the second horizon.
Mark that down as information that would have been useful earlier. The upward climb often requires the work of all four limbs. Sometimes, I found myself having to deadlift my entire weight with my arms to get over an obstacle. By the top of the slide, I was panting and so drenched with sweat that my clothes felt heavy.
Overall, the hike climbs from 1,000 feet above sea level to more than 2,500 feet.
It's worthwhile. The experience conjures a series of unforgettable snapshots: the jagged pine boughs contrasted against a seemingly endless blue sky; the green clearings in the valley below; the splotches of dried lichen on the rocks, ready to spring to life in the next rainfall.
There is the achievement, too, of having surmounted so many obstacles — real-life, knee-scraping obstacles that serve as good proxies for the metaphorical ones that pop up every day.
Keep nature natural. Is there anything as off-putting as climbing most of the way up a natural wonder only to find someone has tagged it with spray paint? Several rocks are sullied in this way at the Devil's Marbleyard.
That's one of the reasons why Josh Tao, a ranger with the nonprofit Southern Appalachian Wilderness Stewards, patrols these parts. We ran into him coming up the Belfast Trail after we rejoined it at the top of the rock scramble. The group, founded in 2010, serves as backup manpower for the U.S. Forest Service on public lands in Tennessee, North Carolina, South Carolina, Georgia and Virginia.
Tao said the Marbleyard is part of a federally designated wilderness area, placing it under the government's highest protection from development and other human impacts. For users, that means no motorized vehicles, chainsaws, drones or anything else that might distract from nature.
"The biggest thing is 'leave no trace,'" Tao said. "You can have hundreds of people in a place, and it would look the same" so long as they follow that precept.
Devil's Marbleyard Travel Trips
Directions to Belfast Trailhead: From Interstate 81, take exit 180A to head south on U.S. Route 11. Turn left on Buck Hill Road (State Route 689). Turn right onto State Route 608 and turn quickly left onto Virginia 130. Turn left onto State Route 781. The parking area is on the left after about a mile.
Trail difficulty: moderate to difficult. Scrambling over the boulders is optional and the most difficult challenge of all.
Bring plenty of drinking water. I brought two 16.9-ounce bottles and wanted more.
Wear sturdy shoes with good traction. I wore running shoes with slightly worn soles and fell twice on the steep trip back down the Belfast Trail.