In a black-and-white photo from a bygone era, a skipjack floats in space.
The sky on this day is a gray smear of clouds. Low light defines lightly rippled water in the foreground, where a lone, silhouetted oysterman works a dredge on an open boat. A series of receding skipjacks, sails raised in strong triangular lines, ride the water behind him. The horizon is lost in the haze, and the most distant boat seems to simply hover untethered on the whitish plain.
"Where's the horizon?" asked Pete Lesher, chief curator at the Chesapeake Bay Maritime Museum in St.Michaels, MD, where the photo is displayed. "It's just one of 'those days' out on the Bay. The horizon isn't there."
The 1970 image is part of a collection by celebrated Bay photographer Robert de Gast featured at the museum through April 8, 2018, and it's one of photographer Dave Harp's favorites.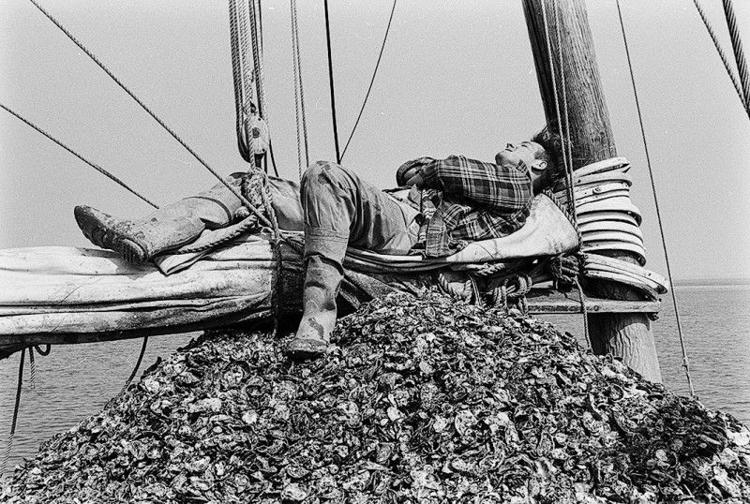 Harp, who has spent decades capturing Bay images himself, sees technique as well as weather behind the mystical effect.
"The grain in these older photographs helps make it disappear," he said. "The elements are left floating in space. Look at all the shapes, the geometry of it."
De Gast shot most of his Bay photographs in the 1960s, '70s and '80s. He was born in Holland in 1936 and immigrated with his family to the United States after World War II, at age 17. He joined the Army, which trained him in photography. He then worked briefly for National Geographic and photographer Marion Warren before becoming a freelance photojournalist.
"People assume that, being born in Holland, he grew up in a maritime country and was comfortable with boats," Lesher said. "But that wasn't true." Assignments in the Annapolis area provided repeat opportunities to gain his sea legs. When assigned to cover a sailboat race in the early 1960s, Lesher said, the boat heeled sharply, and de Gast was seasick. But he kept shooting, and the images he captured led to more assignments.
De Gast published three books about the Chesapeake, with both images and prose: The Oystermen of the Chesapeake Bay (1970); The Lighthouses of the Chesapeake (1973); and Western Wind, Eastern Shore: A Sailing Cruise around the Eastern Shore of Maryland, Delaware, and Virginia (1975).
Most of the images in the exhibit are drawn from these books. They fill two stories of the museum's Steamboat Building, with approximately 80 stately, framed prints and 50 more projected in large format on the wall. The texture and detail in the images is stunning, yet there is an emotional resonance to each photograph that communicates with simple elegance.
Harp attributes part of their power to black and white photography. "Black and white photography gets to a truth," Harp said. "You think differently when you shoot in black and white. You look for lines and shadows, and the simplicity gets to the essence of the subject."
De Gast's artistry in applying it was exceptional.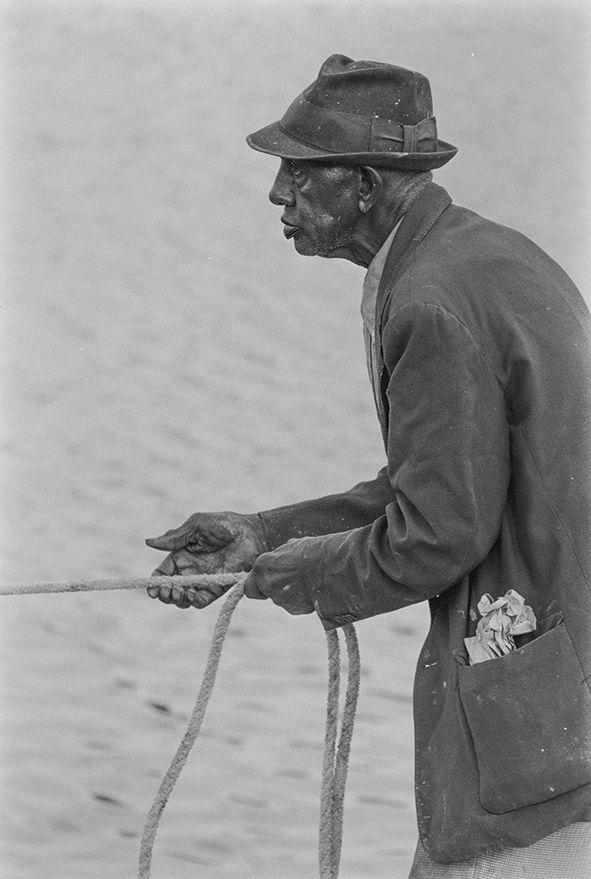 In the late 1960s, a publisher invited de Gast to create a book about skipjacks, which were projected to vanish or severely decline in the near future. De Gast agreed, but broadened the project to include oystering as a whole. He spent most of the 1969–70 oyster season on workboats, collecting images. Not one shot was posed.
"There's a saying among photographers: 'don't show me what you saw, show me how you saw it,'" Harp said. "De Gast was a master."
The resulting work is an expression of both drudgery and beauty inextricably mixed, and a deep reverence for the human experience. In one image, the long-poled handles of oyster tongs frame two men at the edge of a boat in near perfect symmetry. In others, angled light sharpens lines in the aged faces of men, both black and white. A younger man lounges on a yardarm, grabbing a nap while a heap of oyster shells rises up beneath him.
Hands are everywhere, and often the feature of photos. They pull ropes, raise sails, mend canvas and carve wood. Deliberately blurred hands knit a dredge bag.
One image is a familiar scene in Bay photography — stacks of hoops tied to a collapsed sail, ringing the thick base of a wooden mast. In de Gast's shot, a p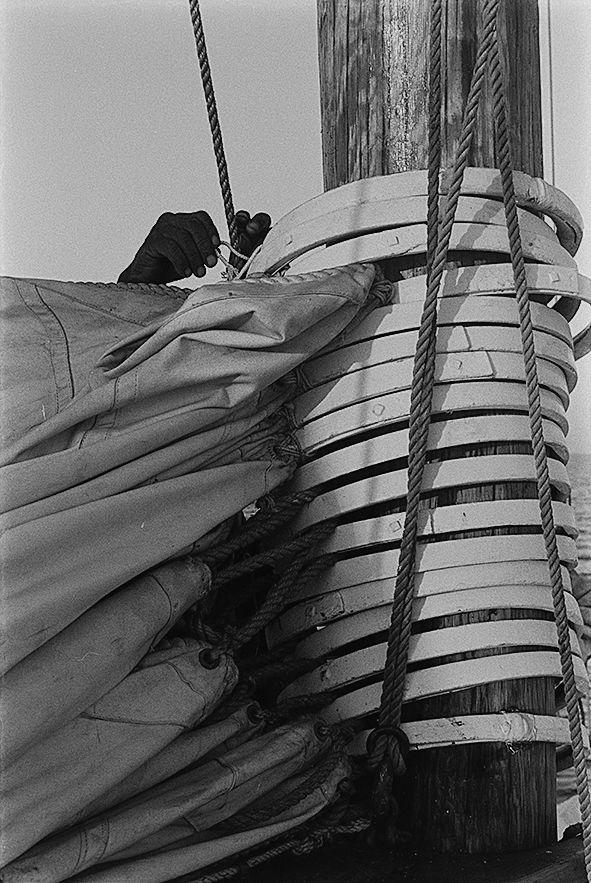 air of dark-skinned hands protrudes just above the massive canvas folds, working a delicate knot, in contrast to the pale sky.
"To me, that's when he was most alive as photographer," Harp said. "His people are real. They're working. They're smoking. They're tired."
They also speak. De Gast recorded their comments as he worked and included them in his books.
"Sailboats was thick as pine trees out there," reads one oysterman's quote, paired with a 1970 photo of densely clustered workboats at rest.
"There'll always be arsters,'' another said, "but there might be a time when there won't be neither arsterman."
Oystering photographs fill the second-floor gallery, while shorelines and lighthouses are featured below. At the famous Trumpy & Sons yacht yard in Annapolis, in 1965, a craftsman carves an elaborate trademark "T" into the scrollwork of a bow. A few years later, Lesher said, the yard suddenly closed down.
Photographs of lighthouses stress architectural lines and the texture of decay. De Gast captured the spiral geometry of stairwells and the web-like patterns of the lights; he recorded old, fractured paint on a lighthouse gone dark and a top-down view of a toilet seat framed by weathered wood. A vertical image frames a lighthouse as a smallish dark shape on the Bay's vast waters against an even larger sky.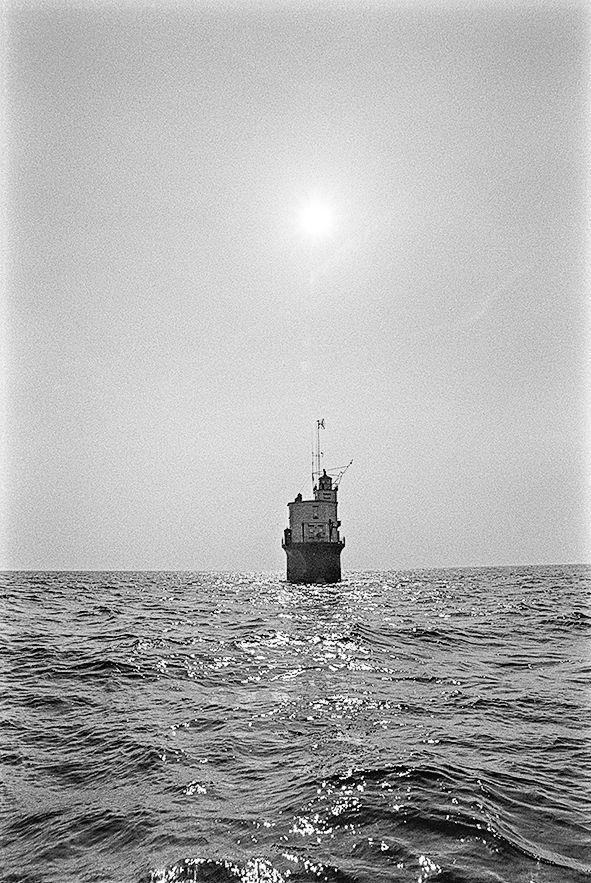 The exhibit taps only a fraction of de Gast's 10,000 images, which are permanently archived at the museum. His work landed in respectful hands, as Lesher, Harp and Richard Anderson, a Baltimore-based photographer and filmmaker, teamed up to select and print images for the exhibit.
"It was daunting," Lesher said. "One thing we chose to do was look at his original proof sheets to see what he marked and what he liked. So, in that way, we took his guidance as to images he thought were strong."
They aimed to preserve his artistic vision as well. Anderson insisted that the photos be printed as de Gast intended them, rather than mimicking the way they were cropped and sized for the books. "That was the book designer's work, not Robert's," Lesher said.
Anderson made high-resolution scans of the negatives and used software to reverse the negatives into a "positive" image for printing. He captured the full image to be sure that all of the exhibited photographs are uncropped. His work also captured the charcoal outlines of sprocket holes from the film which, enlarged, add a historically appropriate frame to many of the prints.
Lesher and Harp also spent time with de Gast himself, who passed away in 2016. They recorded several interviews with de Gast, excerpts of which are included in a short video in the exhibit hall and on signs sprinkled throughout the display.
In the video, de Gast reflects on his time among the oystermen and his lessons for fellow photographers. He speaks of investing the time needed to capture an authentic scene. He stresses the importance of observation and choosing a deliberate composition for the image.
"The viewer must see immediately what's going on," de Gast said. His legacy has been to share his vision for others, both of the world as he saw it and of a time now passed.
The de Gast exhibit is at the Chesapeake Bay Maritime Museum through April 8. For information and ticket prices, visit cbmm.org or call 410-745-2916. The museum's fall speaker series highlights topics related to his work. Cost per program is $8.
After de Gast: The Chesapeake Transformation since 1972, 2 p.m. on Nov. 29. Bill Dennison of the University of Maryland Center for Environmental Science will discuss how the Bay has changed since de Gast photographed its landscapes and people.
The Life and Work of Robert de Gast, 2 p.m. on Dec. 6. Chief curator Pete Lesher will explore de Gast's life and work as told through the museum's extensivecollections of his photography, writing and oral histories.