As I clawed my way west on the traffic-jammed outer loop of the Washington Beltway, it occurred to me that I should have scheduled my tour of the C&O Canal's Lockhouse 10 at noon or so. Not at 10 a.m., which, in this neck of the woods, is still rush hour.
It also occurred to me that I never really knew there were lockhouses along the C&O Canal. As fascinated as I've always been with that remarkable and ill-fated waterway, my focus had always been on the ingenious locks themselves, not the people who operated them. Or the fact that they needed to live there. In houses. With their families.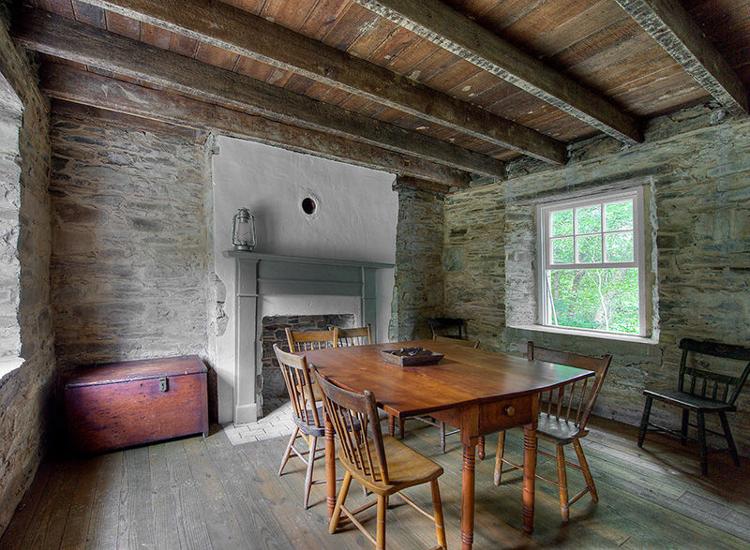 But of course they did, and I was on my way to see one of those houses. Not just any lockhouse, mind you, but one of six that have been refurbished and furnished to accommodate overnight guests. There to meet me was Heidi Glatfelter Schlag, director of marketing and communications for the C&O Canal Trust, which partners with the C&O Canal National Historical Park to run the Canal Quarters program.
Lockhouse 10, a half mile inside the Washington Beltway on Clara Barton Parkway, is one of the oldest of 26 lockhouses that still stand — in various states of repair — along the nearly 200-year-old canal bed, which hugs the Maryland side of the winding Potomac for 184 miles. 
Each house was built to preside over one or more of the canal's 74 locks: gravity-powered water elevators that lifted and lowered the long and narrow canal boats, 8 feet at a time, to and from the Appalachian foothills. All told, it's a 650-foot climb from the tidewater lock just below the District of Columbia's Georgetown riverfront to the canal's terminus in Cumberland, MD.
A guileless and handsome two-story stone house, Lockhouse 10 was built in 1830 (the same year that construction of the canal itself started), and it housed lock tenders and their families for nearly a century until 1924. That's when the canal was finally abandoned — rendered unprofitable by rail and road transportation and finally damaged beyond practical repair by the last of many ruinous floods.
Along with Lockhouse 6, a few miles downstream, number 10 is one of the "luxury" Canal Quarters. That is, it has bathrooms, running water, heat and air conditioning, a refrigerator and stove. Entries in the guestbook for Lockhouse 10 describe everything from romantic getaways and small weddings to birthday celebrations and reunions. And of course weekend getaways for families.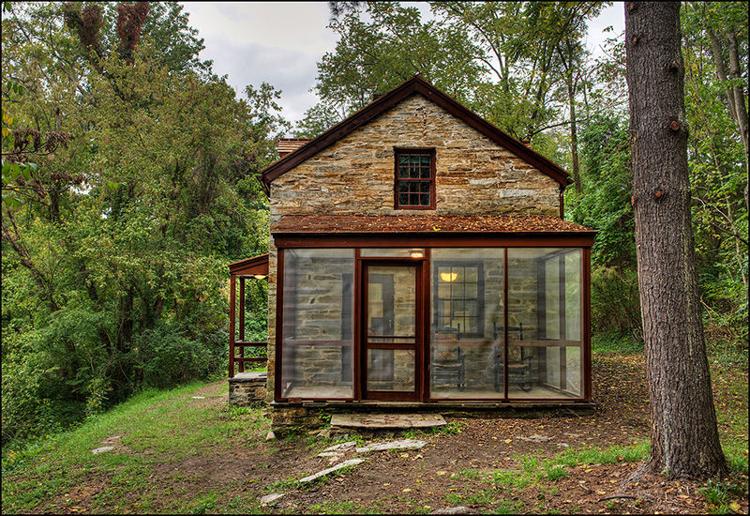 "We have a lot of parents write to us and tell us their kids didn't want to come here at first because, you know, there's no TV and no internet and nothing to do," Glatfelter Schlag told me as we flipped through the guestbook, "but by the end of the weekend they're running around outside and having a great time."
The beauty of the lockhouses is that they sit just feet from one of the best hiking and biking trails on the East Coast — the C&O Canal Trail, 184 uninterrupted miles of well-maintained and essentially flat former towpath. Indeed, it wouldn't be out of the question to hike or bike the roughly 50 miles from Washington, DC, to Point of Rocks, staying at lockhouses along the way. 
The other four Canal Quarters lockhouses — number 22 near Darnestown, 25 near Poolesville, 28 at Point of Rocks, and 49 west of Hagerstown — are described in the Canal Quarters literature as "rustic." And they mean rustic. Think indoor camping. The houses are well-tended and clean, but they have no running water, no bathrooms, no heat and no electricity (with the exception of number 49, which has electric baseboard heating). 
The amenities, and lack thereof, are meant to match the period that each house represents. 
I was surprised to hear that Lockhouses 6 and 10 were furnished to reflect the 1950s and 1930s, respectively, since that was after the canal had shut down. But, Glatfelter Schlag explained, the Canal Trust and National Park Service don't consider 1924 the end of the canal's story. Many of the homes and businesses along the route remained occupied long after that. And, just as important, the conversion of the canal and adjacent land in 1971 into a 20,000-acre national park is a big part of its history.
"We're still telling the story of the canal," she said.
Lockhouse 10 does have a spartan Great Depression feel to it, with a sort of mid-century farmhouse touch in the large kitchen that takes up nearly half of the first floor: a large fireplace on one wall, polished wood floors, a small round-cornered "ice box" in one corner, wood-plank cabinets and a black-and-white tile counter. The living room is also spare, with mission-style wood chairs and a pedestal table. And upstairs is pure 1930s boarding house — a narrow bathroom with a claw-foot tub and corner sink and two bedrooms with the plainest of wrought iron beds.  
Roughly 20 minutes north of Cabin John, the slightly smaller stone house at Lock 22, also known as the Pennyfield Lock, takes you back to the earliest days of the canal. Like Lockhouse 10, it was built in the 1830s, but it's furnished that way as well — unfinished wood floors, bare stone walls, simple wood furniture, exposed ceiling beams, and only one appliance: a fireplace (no longer in use). And, of course, there is no indoor plumbing, and therefore no toilet.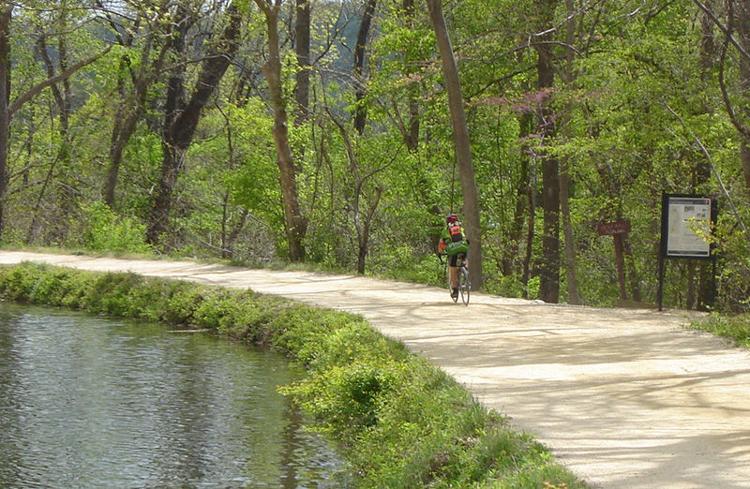 "So," I started to ask, "where do you, um… ?"
Glatfelter Schlag pointed out the front door to a Porta Potty just across the canal. "Just like the old days," she said with a wry smile. "It's not an outhouse, but it's as close as we could get to one."
"It's a different experience here, but still very cool," she said. "Not a lot of people stay here in the winter, obviously, but they're pretty busy in the warmer months, especially on weekends."
The rustic theme continues as you wind northwest up the canal. Lockhouse 25, about 10 miles upstream at Edwards Ferry, near Poolesville, was also built in the early 1830s, but it is furnished to depict the Civil War area. Number 28, above Point of Rocks, was built in 1837 and reflects that time period. It is also the most remote of the Canal Quarters — a half-mile hike from the nearest parking area. And finally, much further upriver, west of Hagerstown and Williamsport, is Lockhouse 49, which presides over several tightly spaced locks and depicts the 1920s.
Lockhouse 21 is being renovated and will soon join the Canal Quarters program, perhaps as early as this fall, Glatfelter Schlag told me. Just three miles below the Pennyfield Lock, it is more commonly known as Swains Lockhouse — named for the family that first occupied it and helped build this section of the canal. Swain descendants still live in the area and, until 2006, ran a concession stand and boat rental operation at the lockhouse. 
Built in 1832, the house will be furnished to represent the early 1900s. As with Lockhouses 6 and 10, overnight guests at Swains will enjoy an indoor bathroom, running water and electricity. And, as with numbers 6, 10 and 22, there's a compelling hiking/biking destination a manageable distance away. From Lockhouses 6 and 10, it's a fairly easy towpath bike trip to DC's picturesque, shoppy, foodie Georgetown neighborhood, roughly 5 and 8 miles, respectively. From Swains and Lockhouse 22, the obvious destination is Great Falls — about 2 and 5 miles downstream, respectively.
"[At Great Falls] we have a big historic tavern, and we have a lock system that, typically, if they weren't doing construction, actually works," Glatfelter Schlag said, referring to a $6.7 million repair and stabilization project on the lower canal, which began last December and is expected to wrap up in spring 2019. "And they do canal boat rides, so you actually get to be in the lock and have the water rise and/or go down as you get 'locked through.' "
After leaving Lockhouse 22, I headed down River Road for a quick stop at Swains. There's not much to see there at the moment — just a work truck or two, some heavy equipment, and a few men in hard hats coming and going from a trailer alongside the lockhouse. After examining the low whitewashed stone building from the other side of the chain link fence now surrounding it, I crossed the canal to the towpath and looked south, toward Great Falls.
I could do that, I said to myself. Even with my stainless steel hips, I could do three miles down and back, especially if there were a place to spend the night and rest my bones. If only there were such a place.
For information about the Canal Quarters, visit the program website or call 301-714-2233.
The Canal Quarters are closed Tuesday nights but otherwise available year-round. Rates are $180 per night at Lockhouses 6 and 10; $110 per night at Lockhouses 22, 25 and 28; and $125 per night at Lockhouse 49. 
The C&O Canal Trust suggests booking well in advance, especially for weekend nights at the "luxury" lockhouses.
Note: Clara Barton Parkway is closed to eastbound traffic weekdays from 2:45 p.m. to 7:15 p.m., the result being that you cannot access Lockhouse 6 by car during those hours.