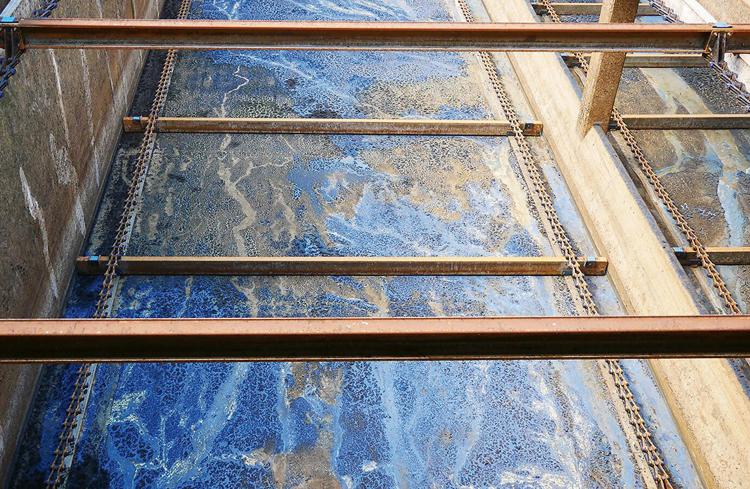 An exhibit at a waterfront art center in Northern Virginia is bringing new meaning to the term "crowdsourced." The only action residents of Alexandria, VA, had to take to contribute to the artwork was to flush their toilets.
sTo Len, a New York City-based artist who grew up along the Potomac River in Alexandria, said he likes to think that the work he has completed as the first artist-in-residence at a wastewater treatment plant is "endearing people to their own waste."
The collection of photographs, prints and found objects on display at the city's Torpedo Factory Art Center is something of a collaboration, after all, with the city's residents.
In the exhibit, a pair of prints featuring brownish swirls was developed by applying paper to the surface of a settling tank at the AlexRenew Wastewater Treatment Facility. The plant treats a mix of sewage and stormwater, running the wastewater through a series of settling tanks and treatment processes to remove nutrients before discharging it to tributaries of the Potomac River.
The brown-colored media? That was crowdsourced from thousands of area toilets (perhaps even the art center's). Safely contained behind glass frames, the prints Len produced with it are striking, even as their origins begin to sink in.
"As gross as that might sound, water has this amazing way of making things beautiful," said Len, whose exhibit also features photographs of swirling, multicolored wastewater before it's been treated at the plant. "People are like, 'This is gorgeous,' and they don't know what they're looking at yet. I like to show them that beauty and then educate."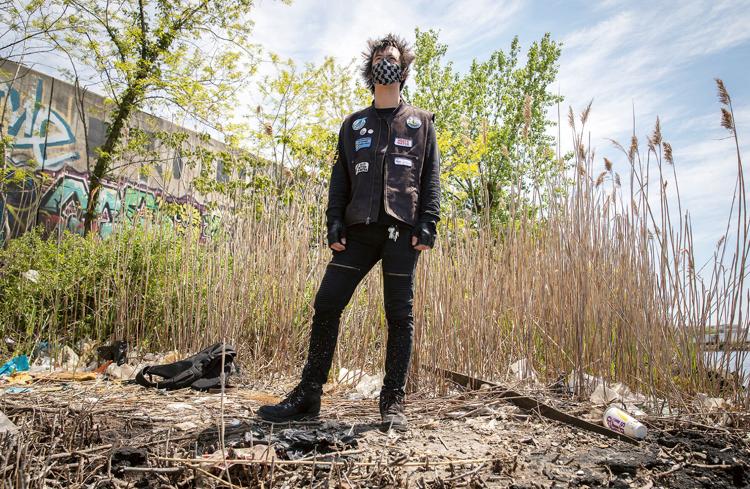 Len's unique perspective on wastewater fits right in with Alexandria Renew Enterprises, or AlexRenew, which has taken up the costly task of solving one of the city's biggest water quality problems in recent years.
Alexandria is among a handful of older cities in the Chesapeake Bay watershed working to turn off an unsightly spigot: sewage overflowing into local waterways. Like many centuries-old wastewater systems, Alexandria's was built to capture both sewage and stormwater in its pipes, diverting both to the nearest water body when wet weather makes it hard to treat higher volumes. This is known as a combined sewer overflow system.
To reduce the flow of raw sewage into waterways, the city is building massive underground tunnels that can hold the polluted water until it can be treated at the plant. Residents who have been oblivious to these overflows might not have that luxury much longer as the project, in addition to receiving some state funds, will cause utility bills to increase as well.
The city saw an opportunity for the water utility to work with its Office of the Arts to help engage people in the project — and inspire new forms of art.
"How do you connect people with infrastructure, which is normally underground and unseen?" asked Monica Billger, community outreach and education specialist at AlexRenew, standing in the space where Len's art is on display. "Art can help them develop that appreciation."
At the Torpedo Factory exhibit, photographs Len has taken over the course of his 18-month residency fill one wall of the concrete-floored space. Their subjects range from sprawling views of an iconic Potomac River to the concrete tunnels and tanks that help make it cleaner.
The most enchanting among them are closeups of the water at varying stages of treatment. Some feature vivid-blue oil slicks contrasting with sandy sediment. One showing water etching capillary-like lines through a layer of dirt looks like an artful interpretation of human lungs.
"It ties it back into [the idea] that we are bodies of water with these bodies of water around us," Len said. "I like to think of us as kin."
Len is not the first artist-in-residence at a wastewater treatment plant; a plant in San Jose, CA, hired a photographer to artfully depict its work in 2010. But he's part of a new crop of artists working to explain difficult concepts in creative ways. The U.S. Water Alliance, a national coalition of water utilities, this year hired a hip-hop musician as its first artist-in-residence.
Len was thinking about humans' relationship to waterways before he took up this project in Alexandria.
Since 2012, Len has been using a Japanese art technique called suminagashi, which works with ink floating in water to create unique prints. The technique, which Len also used in a public workshop earlier this year, was used by monks as far back as the 1100s. Participants describe it as contemplative.
"It's almost like you're collaborating with water in the process, capturing that moment," he said. "It teaches us that we can't control water, we have to work with it."
That art form set Len on a course to advocate for the water around him. He started expanding the art technique to collections from the natural world, capturing on paper the media floating on the surface of natural waters.
Len's New York City neighborhood of Queens is near one of the area's dirtiest canals, Newtown Creek, fouled for generations by oil spills and toxic waste. He's filled plenty of pages with interesting finds from the creek's surface — petroleum products, chlorinated solvents and oil residues among them — and realized how beautiful they can be on paper.
"I like the challenge of working with something ugly," Len writes on his website.
What Len makes of the waterways — and the pollution that fills so many of them — is surprisingly beautiful. For his Alexandria project, Len spent time hovering over the plant's settling tanks, where pollutants are filtered out in stages, carefully placing paper on the surface to capture an expression of its contents.
Billger said the plant urged the artist — who often does this sort of work from a boat that he pushes into New York City canals — to wear full PPE (personal protective equipment) for the work.
Also on display at the Torpedo Factory exhibit are a series of objects that Len found in the water or at the plant.
A glass case features several artifacts of modern life in their washed-up form: a piece of blue pool noodle, a foam food container, a giraffe baby toy and a dozen pieces of polystyrene at varying stages of degradation.
"All this stuff will potentially be [in the environment] for 500 years," Len said of the collection of mostly plastic items. "I kind of go at it pretending I'm an archaeologist archiving our strange legacy."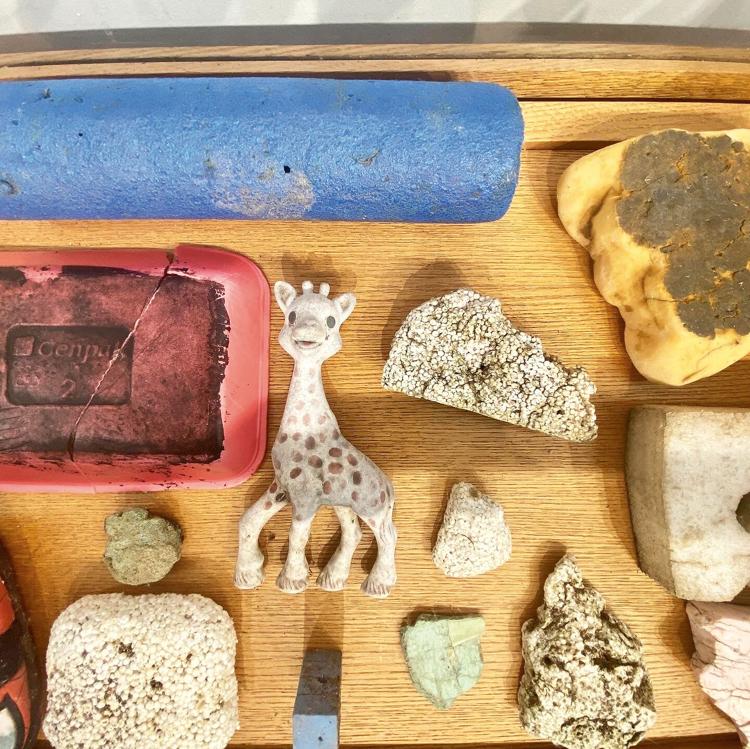 Len has particular interest in polystyrene, which is among the most common items found floating in waterways, and its ability to break down into smaller and smaller pieces over time. In one corner of the exhibit, he used varied chunks of the beady material as stamps, inking their shapes into stark black-and-white prints.
Another wall of the exhibit features a bright blue, floor-to-ceiling canvas print of an underwater photo. Floating in the center is discarded netting that, even in the still photo, looks as though it is dancing in the water.
The artist even devoted a book, published this year, to the subject of foam, which doubles as an acronym in the book's title: Future Of A Material. The book is a collection of art and musings on the confluence of pollution and inspiration. It's a window into the mind of an artist during a pandemic that has fueled even more trash (discarded masks and gloves) in waterways.
"Giving an artist a seat at the table gives that message another megaphone," Len said. "That can attract people to the subject in a new way."