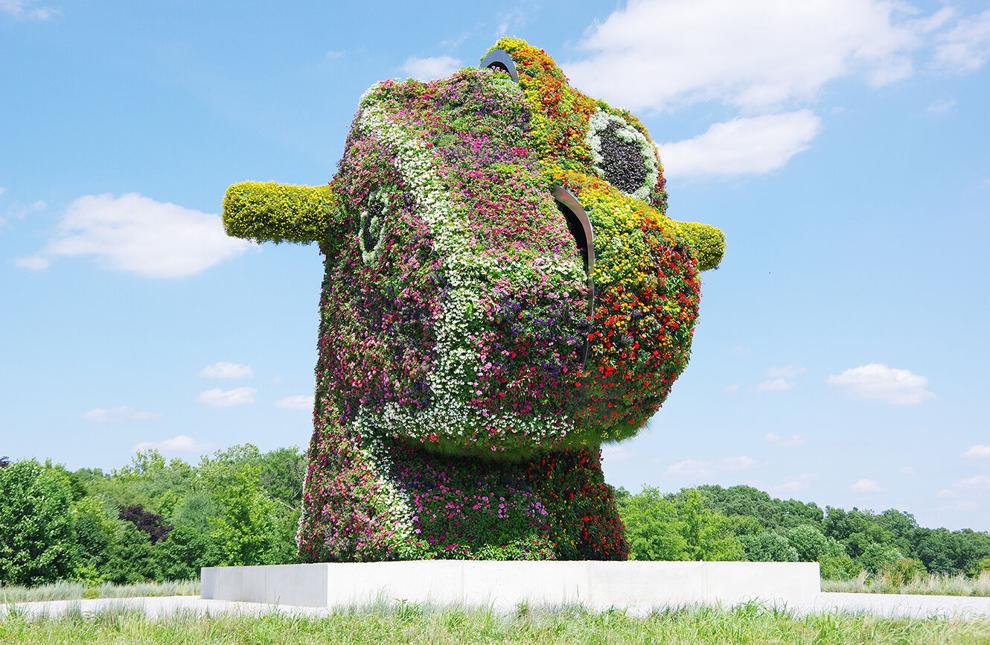 Soon after arriving at Glenstone — a world-class, contemporary art museum in Montgomery County, MD — the visitor faces a crossroads. "I call it the aha moment," said Paul Tukey, who, as the museum's director of stewardship, has put plenty of thought into how visitors experience the property. "The lines of sight here are highly intentional."
To the left, a narrow footpath leads uphill to the museum's beguiling and most iconic outdoor sculpture, Jeff Koons' Split-Rocker. The 37-foot-tall steel structure is half-pony, half-dinosaur and entirely floral — its surface painstakingly planted each April with plugs of 27,000 flowering annuals. To the right, a wider winding path gives a glimpse of the museum's pavilions. The square corners of the concrete-brick exhibit buildings stand in sharp contrast to the rounded landscape from which they seem to be emerging.
Signs telling you which way to go first would be superfluous in a landscape simply begging to be explored. They would also be against the spirit of a museum that "encourages you to generate your own interpretations about the works you encounter," according to the pamphlet provided at the entrance. Walking in either direction from this crossroads, visitors should be prepared to spend hours wandering and wondering.
After closing for a few months due to COVID-19, Glenstone's grounds reopened this spring. Its largest indoor exhibit reopens in May. Tickets, released online three months in advance on the first of each month, can be difficult to get, but are sometimes re-released throughout the month or available on a same-day basis.
The museum reopened its gallery in April with an exhibit by African American artist Faith Ringgold, best known for her narrative quilts featured in books such as Tar Beach.
But, indoor exhibits aside, it's easy to spend a contemplative half-day with the grounds and outdoor sculptures alone, strewn across 180 acres of the property.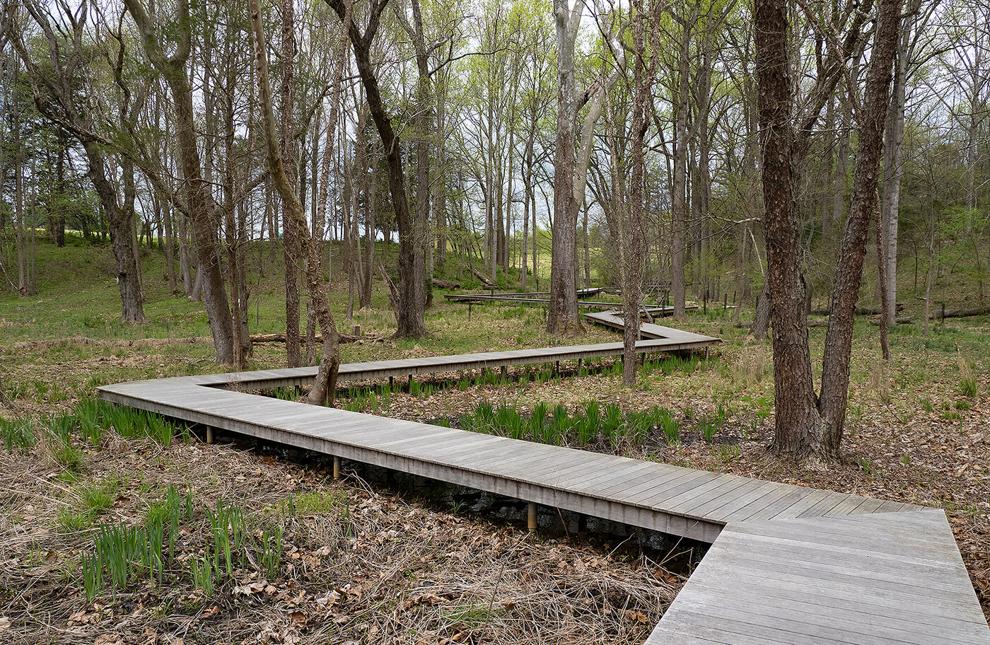 Most modern-art museums are situated on bustling city streets, where their inner quiet is a startling sanctuary from the surroundings. But Glenstone was created and expanded over the years to give visitors an entirely different experience.
A 2018 expansion of the museum's footprint also allowed for more imaginative play on the landscape, achieving a longtime goal for Tony Cerveny, the museum's chief operating officer.
Creating a lengthy walking path between the arrival hall and the pavilions "gave us more latitude," Cerveny said, and it sets the stage for "the slow reveal of the landscape and the architecture and sculpture."
Here, the interplay between art, architecture and nature is the main point. Time spent wandering long pathways between buildings not only "cleanses your palate" from the artwork inside, Tukey said, but also brings visitors face-to-face with the artistry of nature itself.
"We don't like to use the word 'peak,' " Tukey said as he walked past rows of flowering dogwoods, purple-pink redbuds and a carpet of golden groundsel, all in full bloom in April. "It suggests that you might be missing something" at other times of year.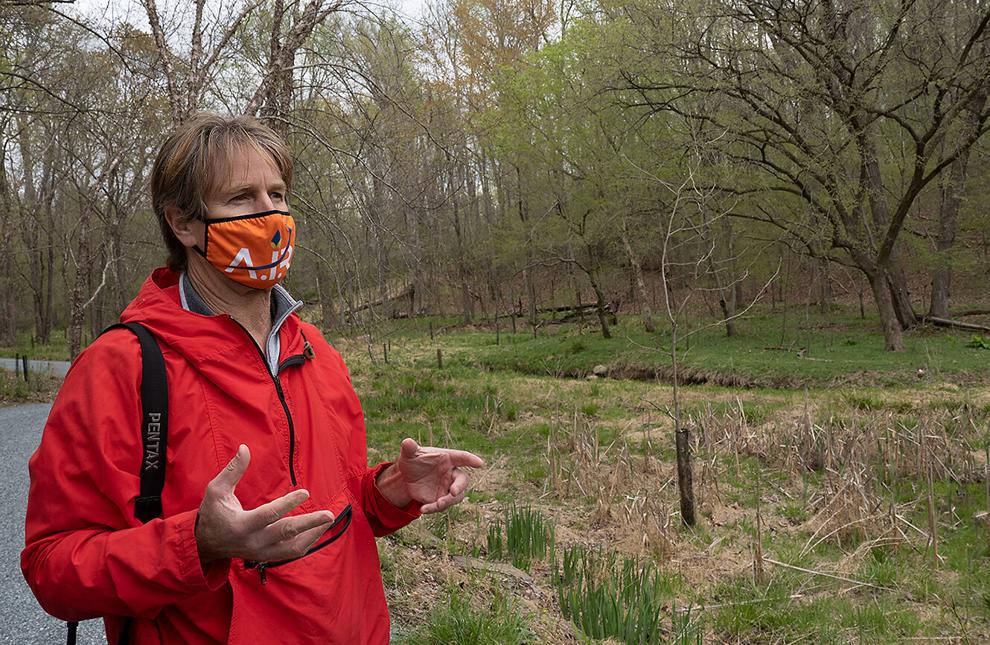 Tukey and 16 full-time groundskeepers work year-round to make sure that's not the case. Unlike a traditional natural area or park, these landscapes — along many of the paths, at least — are as curated and cared for as the art pieces. They are an homage of sorts to what this part of the Chesapeake Bay watershed might look like were it not plagued by invasive plant species and an abundance of runoff from the mansions that surround it in the town of Potomac.
But don't let the native and natural part fool you. Behind the scenes, it takes a lot of work.
"This whole view here was very much choreographed," Tukey said, following a stair-stepped path down to a stream near the museum's original art gallery. But, "if this looks like it was restored by the hand of man, then we've failed. If we haven't done this the way nature would do it, then we've failed."
To that end, Glenstone staff and longtime landscape designers Peter Walker Partners have worked with nature to curate undulating meadows, stream-crossed woodlands and thought-provoking vantage points throughout the landscape.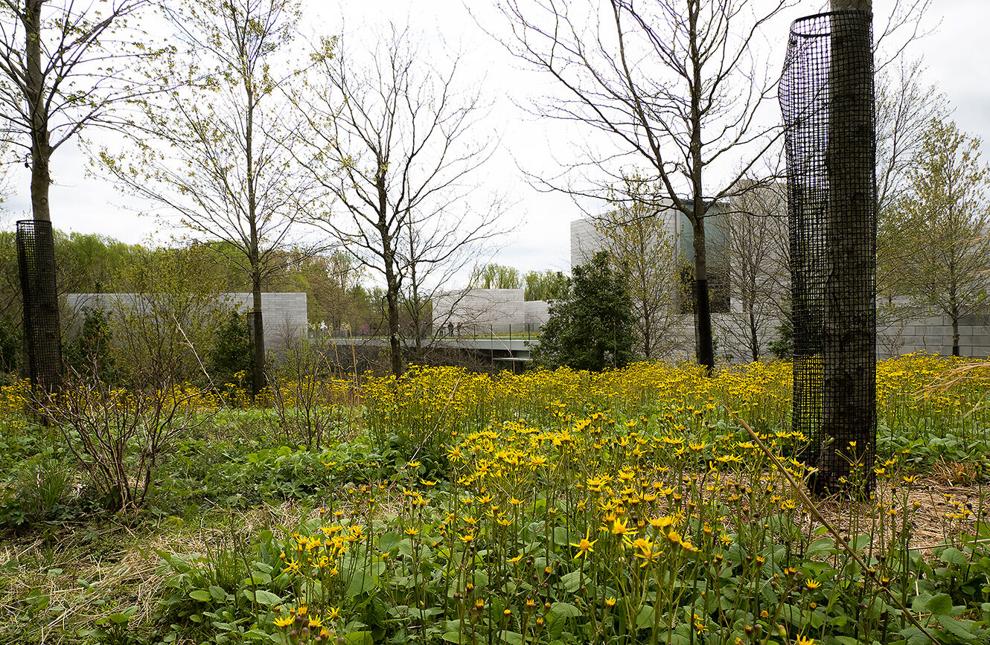 Credited with helping to lead the modern movement against synthetic chemical use on lawns, Tukey first came to Glenstone as a Maine-based consultant more than a decade ago. The museum's founders, billionaire Mitchell Rales and his wife Emily, hired Tukey — author of the 2007 Organic Lawn Care Manual — to transition what was at the time more than 15 acres of mown turfgrass into more organic management.
Tukey came on full-time in 2013 and since then has scaled back turfgrass to about 5 acres, making way for more planted areas and meadows.
Though Glenstone's original gallery opened in 2006, the private museum for years welcomed only a few thousand visitors annually to the property. The majority of the public didn't learn about what was considered one of the art community's best kept secrets until 2018, when Glenstone opened a cluster of buildings called the pavilions, dwarfing its original museum footprint, and made more daily tickets available.
Over the last decade, the Rales family purchased surrounding properties, including a dozen modern-day mansions, which were torn down and replaced with natural landscapes.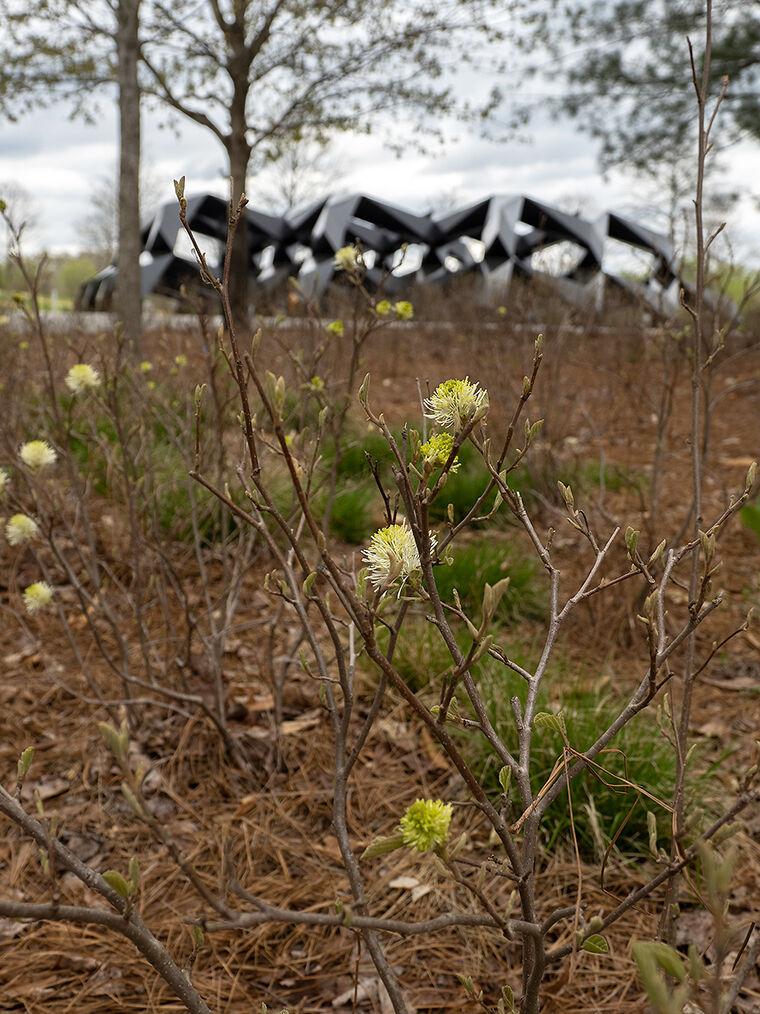 The original Glenstone property, previously the grounds of a fox hunting club, was destined to become another pocket of the sprawling sylvan estates that Potomac is known for when Mitchell Rales bought it in 1984. Alongside expanding exhibit spaces, Glenstone's outdoor experience has grown, too, from 35 acres to about 180 of the 300-acre property.
The grounds are not wilderness by any stretch, but neither are they coifed like a theme park.
A visitor with a keen eye — or plant ID app — could replicate much of this aesthetic at home, and that's part of the point. The gift shop sells a guide that includes not only background information on the art but also sketches and descriptions of plants that are plentiful on the grounds.
"All we did was walk around and see what was already growing here. We pulled it out into the landscaping and planted more," Tukey said.
The Rales family and Glenstone Foundation are stalwarts about using paid employees, not volunteers, to keep the museum running, and the same is true for the grounds. Glenstone has deployed that talent to plant more than 10,000 trees in the last six years, while transplanting several others to locations that made more sense aesthetically and environmentally.
Landscape maintenance often entails hand-pulling invasive Japanese stiltgrass and barberry plants from the woodlands and replacing them with native fox sedge where possible. The museum works closely with the state to manage 64 wooded acres placed under forest conservation easements, which limit their development.
Work on Greenbriar Branch, one of two named streams running through the property to the Potomac River, didn't start until 2015. Mitchell Rales suggested at a meeting that the team find a way to "turn an eyesore into an asset," Tukey said. The stream was badly eroded, with 8-foot-high mud banks in places. Tapping stream restoration guru Dave Rosgen to mastermind the project, work began to open up the flood plain and create a softer path for the stream. "We're trying to be regenerative," Tukey said. "We want to make it better than it was when we got here."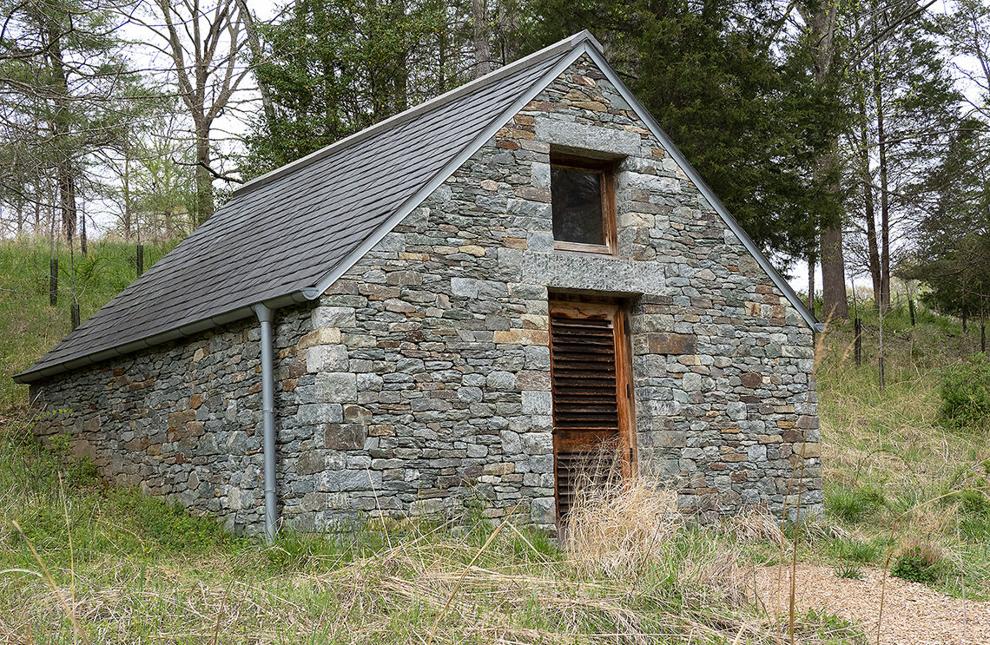 The now-peaceful waterway provides a fitting backdrop to a trio of stone one-room cabins built into the hillside, created by British artist Andrew Goldsworthy. Opened to visitors at noon each day, the cabins feature interior walls of entirely untreated, unfired clay that changes over time.
Near a lily pad pond along that same path — Glenstone also employs an aquatic horticulturalist — a zigzagging boardwalk floats over a wetland adjacent to the stream. The boardwalk was built on ground screws to avoid excavating the sensitive habitat and carefully arranged along sight lines with each piece of art.
Here, sculptor Robert Gober's Two Partially Buried Sinks pop out of the woods at a turn in the boardwalk. In the wetlands below, a small Jack-in-the-pulpit competes for attention.
Tukey says it's normal to get a little whiplash trying to take in both the natural beauty and museum pieces. But, for Tukey, these walks around the museum grounds have become as much about inspiring change as about admiring beauty.
"The focus was on just having an organic lawn, but it became, 'How do we make this the most sustainable museum we possibly can?' " he said. "Now that we've built it, we want it to be a model."