Years ago, Roberta Strickler, a kayaker from Lancaster, PA, stood on the Norman Wood Bridge across the Susquehanna River, transfixed by an odd assortment of rounded rock islands just downriver.
"It's one of the few places on the Susquehanna that still looks the same as when the Indians saw it," observed her companion, an area naturalist.
Indeed, the Conowingo Islands — "The Boulders" if you are a paddler — are unique and one of the most scenic river landscapes in Pennsylvania. They have become a popular yet uncrowded getaway for paddlers from novice to experienced, as well as those on foot who can often hop onto one of the islands.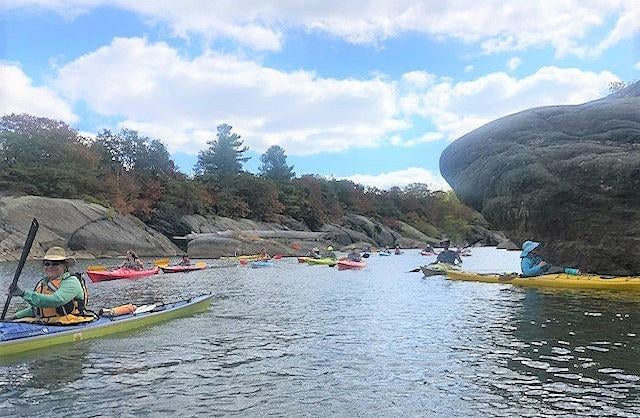 Just below the towering Norman Wood Bridge (PA Route 372) in southern Lancaster County, about 8 miles upriver of the Maryland line, the cluster of about 30 water-sculpted rock islands is like no other on the Susquehanna.
"It's just sort of a magical little getaway and you never know what's around the corner," said Amy Jo Mitchell, a Pennsylvania paddler who explores the labyrinth of islands and shifting currents in her homemade kayak.
Their uniqueness derives from being shaped by thousands of years of erosion from river bedrock. In contrast, most islands in the Susquehanna were formed from deposits of silt.
This difference has created a landscape both harsh and beautiful. Some are reminded of a slice of Maine.
Matt Samms, a two-time member of the U.S. Canoe and Kayak Wildwater Team, likes the islands and the nearby Holtwood Whitewater Park so much that he moved to a home within sight of the islands.
"It's an awesome spot," he gushed. "It's so moist down there, and the soil is so fertile. There are little ponds on the islands, and the islands are so dense and jammed with rich moss. It's like the Pacific Northwest."
The islands of varying sizes stretch from the base of the Holtwood Dam to 3.5 miles downriver. But the islands that paddlers head to are all below the Norman Wood Bridge on PA Route 372.
The islands range from small outcroppings to 65-acre Upper Bear Island. All of the islands are uninhabited except for several at the downriver end of the chain that have a few cottages
 "I definitely think it's almost an otherworldly feel. Certainly, it's like no other stretch of the Susquehanna," said Devin Winand, who guides paddlers through the islands for Shank's Mare Outfitters in nearby Long Level, PA.
For the kayaker, the Conowingo Islands are a playground filled with a maze of channels to explore amid towering rocks, hidden coves, vistas, sandy beaches and swimming holes. You'll also find huge river "potholes," created by a trapped rock grinding downward for hundreds of years, that can be 10– 20 feet deep and wide. Get out of your boat and explore.
"They looked like this mysterious wonderland," said paddler and photographer Seth Dochter of New Holland. "Every single island looks different. Every single channel is different."
There are weird currents to play in and excellent fishing. Cliffs are everywhere, some towering 200 feet above the water.
For the adventurer on foot, one of the large islands, Peavine Island, is usually accessible from the shoreline Mason Dixon Trail on the York County, or western side of the river.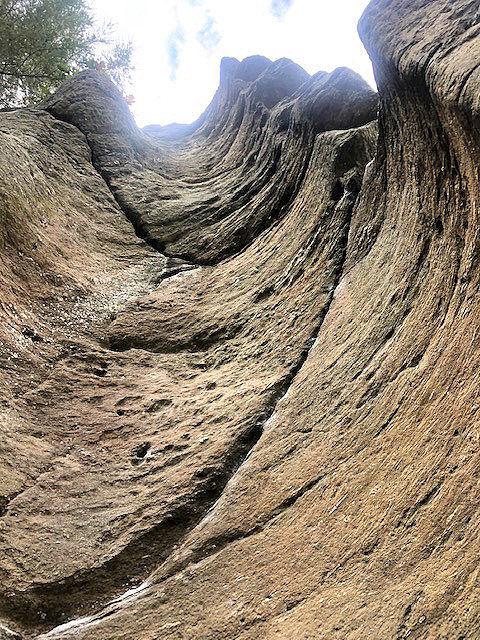 Bushwhack through thick forests to scale craggy summits for breathtaking views of the islands and explore little ponds and rare plants that have adapted to constant inundation and exposure. Deposits of soil filling in cracks, crevices and potholes in the schist and gneiss metamorphic bedrock sprout plants uncommon to Pennsylvania. Other plants such as Bradley's spleenwort, American holly and arrow-feathered three awn are found near the northern limit of their range.
Wildlife is abundant also. Look for beavers, otters, deer and all kinds of birds. Bald eagles are all but guaranteed. Jack Ridings, Jr., of Lancaster likes to cruise between the islands at night with a bow and arrow, looking for carp and catfish. He has arrowed carp weighing up to 46 pounds, and the state record flathead catfish of nearly 51 pounds was caught in the area. 
One of the pleasures of paddling the islands is that you rarely run into personal watercraft or large power boats because of rocks lurking just below the surface. It a retreat for quiet-water paddlers. "You don't have that noise or the smell of diesels when you're on the water," Mitchell said.
The islands' uniqueness extends to its many and fluctuating water levels and currents. Though paddling is usually in calm water in summer months, river levels can change abruptly and dramatically. The hydroelectric Holtwood Dam just upriver of the islands can release water at any time. So can the Muddy Run Pumped Storage Facility on the Lancaster County side. And the Conowingo Dam downriver can drain river levels.
Though not treacherous, changing water levels in the narrow channels between the islands can create changing eddies, swirls and currents that can slam you against rocks if you aren't paying attention. Paddlers who frequent the boulders emphasized the need to stay abreast of scheduled water releases, listen for the warning sirens at the Holtwood Dam and wear a personal flotation device.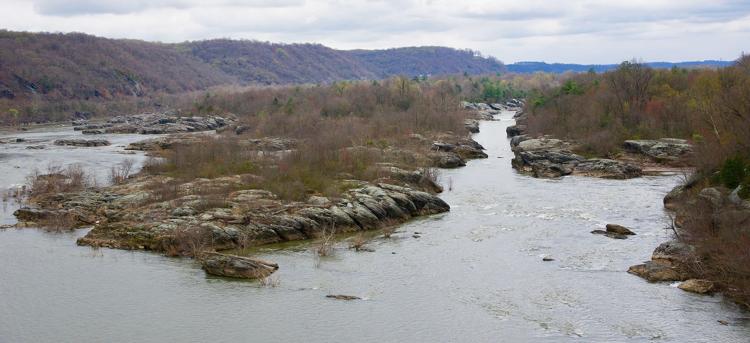 "I've experienced the water level go up a foot in a half hour to an hour, and the current changed considerably," said Joe Hainey of Dover. There have been water rescues for swimmers getting into trouble in the currents and for people stranded on the islands after sudden rises in river levels.
"If you have no experience with moving water, and if you thought you were going to be paddling on a lake all day, you can get pinned up against a rock," Samms advised. 
Most paddlers launch from the Pennsylvania Fish and Boat Commission's Muddy Creek Access off 534 Johnson Road in Delta or the adjacent Lock 15 Interpretive Park. The Muddy Creek boat launch has a 20-foot-wide ramp and docks, but you will need a PFBC unpowered boat launch permit sticker on your kayak. They cost $12 a year. Or, you can launch for free from the bank at Lock 15. It's about a half-mile upriver to reach the islands.
To check on scheduled releases and water levels at Holtwood Dam, go to safewaters.com/facility/10. If water is spilling over the dam, it generally will be rough paddling upriver for most paddlers. Kayakers should wear personal flotation devices.