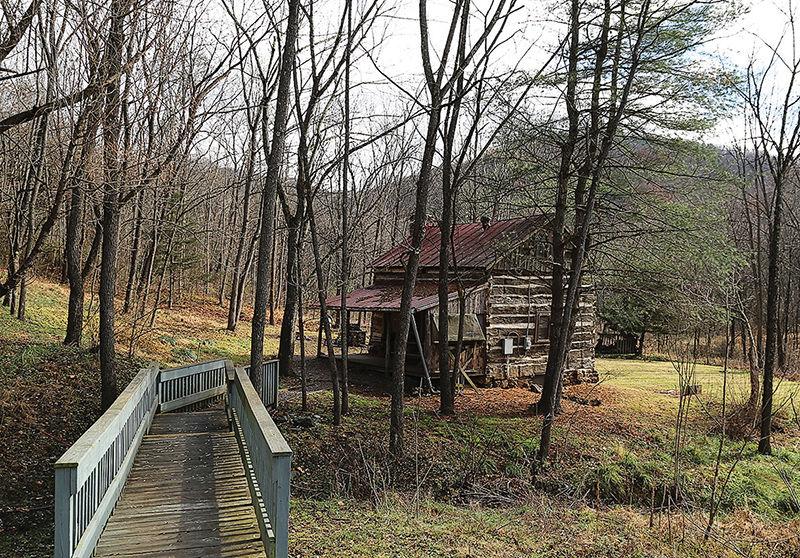 For years, my friend Alison has been telling me, "You've gotta rent a Potomac Appalachian Trail Club cabin! You'll love it!"
So here we were, my husband and I, on a late winter afternoon so dank and foggy we could have driven into the side of a mountain without knowing it. We were following the west branch of the Naked River, a tributary of the Shenandoah, traveling up a dirt road in what seemed like the Middle of Nowhere, VA, until we rounded a slight bend, and there in the woods was the unmistakable outline of a small, old log cabin.
This was it: the Robert Humphrey Cabin, built in the late 1700s and one of 42 dwellings that the Potomac Appalachian Trail Club maintains along and near the trail from southern Pennsylvania to Charlottesville, VA. From completely primitive one-room cabins that require a vigorous hike-in to the beautiful and commodious Highacre House in Harper's Ferry, WV, where Presidents Grover Cleveland and Bill Clinton have visited, the club's cabins are an extraordinary collection of dwellings that tell stories of the Chesapeake Bay's headwater region in a completely unique and personal way.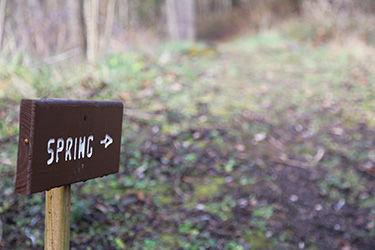 Some were built by Prohibition Era moonshiners, and others by the Civilian Conservation Corps, forest rangers, farmers, and even PATC members. They range in era from the late 1700s to the 1970s and encompass styles from one-room log or stone structures to traditional frame farmhouses. Some are nestled deeply in the woods along tumbling creeks; others, perched in high mountain meadows, offer stunning views.
Each has its own story and features, such as "an active and reliable spring that feeds into a cast-iron bathtub, which, according to legend, T. S. Eliot, W. H. Auden, Winston Churchill and Bertrand Russell bathed in when it was located at a guesthouse at the University of Virginia." That's at the Morris Cabin, according to the club's helpful guidebook, which provides a history of the cabin network, photos and details about each cabin, as well as practical information such as how to operate a woodstove, and certain caveats, all delivered through clear and occasionally wry prose.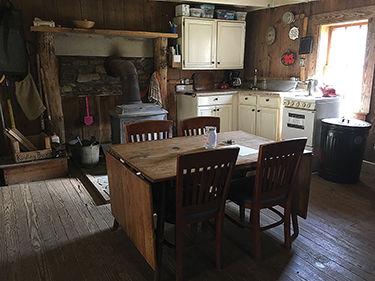 For example: "Most bathrooms are outside and don't flush. They don't smell like the toilet at home." And, "There will be games, but the deed for Park Place may be missing." And, "Those who fear snakes should not rent a cabin. Renters are not allowed to harm or kill snakes." (Snakes are not the only potential wildlife encounter. According to the history book in our cabin, a mountain lion was frequently sighted at dusk at the local spring in 1999 and 2000.)
Included in a $40 annual membership fee, all of the cabins are available to rent year-round to PATC members, while 17 of them are open to the public. Many are pet-friendly. The cost varies from cabin to cabin and depends on several factors, including how far in advance you make the reservation and whether it's for a weekend or weekday. Typically, the cabins cost from $35 to $65 per night, although some are more expensive (up to $155 per night).
My friend Alison, who is a member, takes her family off the grid every year to spend several days over Thanksgiving in one of a range of their favorite cabins in and near Shenandoah National Park. They schlep pounds of food and gear through the woods, sometimes through snow, to bunk together, play board games by candle and oil lamp, go hiking and exploring, blissfully ignore the "real" world, (there's no electricity or cell-phone coverage), and prepare a Thanksgiving meal using an open fire and, on occasion, a traditional cast-iron cookstove.
I was not so ambitious. I wanted a taste, not a full immersion, without extensive planning. And when I called the club's cabin coordinator, she agreed that the "semi-primitive" Robert Humphrey was a great choice.
"I call it a starter cabin," she told me. "It's great for first-timers, because it has electricity and a driveway." We wouldn't have to hike in, although, as at the majority of the cabins, we would need to provide our own water or purify water from a local source — in this case, the spring — use a privy and heat the place with the woodstove.
I made the reservation for a December weekend and about 10 days before the date, a packet arrived with my renter's form, the key, written directions, pertinent details about the cabin and a return envelope in which I would send back the key and my renter's report once we were back home.
All of this organization (42 cabins are rented year-round by hundreds of people) and maintenance is handled by the PATC, an all-volunteer organization formed in 1927 to build and maintain the Appalachian Trail from central Pennsylvania through West Virginia, Maryland and into Virginia. All told, the PATC oversees more than 1,000 miles of trails in all four states, including 240 miles of the AT, and more than 80 shelters and cabins.
According to its website, the club has more than 7,000 members, around 2,000 of whom volunteer annually for all kinds of work, from maintaining trails to repairing shelters, building or upgrading cabins, writing guidebooks and staffing desks.
The name and contact information of Dave Jorgensen, an Annapolis-based volunteer who tends the Robert Humphrey cabin, was provided in my packet. Jorgensen has stayed in nearly every cabin in the network. "Each one has its own special ambiance, which is the cool part," he said.
Jorgensen has been a PATC volunteer since he was a teen. He and his father, Thomas, now a regional supervisor for the club, worked for years to repair and restore the Humphrey cabin, which was "a complete mess" when they started.
"We've redone all the chinking, all the exterior wood on the front deck, built a new outhouse and the walkway to the outhouse," Jorgensen said. "The old chimney fell down. That's what the outdoor kitchen is pretty much built of. We redid the stone hearth inside."
Actually, that was a very short list, which I learned once we settled in to the cabin, lit the woodstove (no problem, because a primary rule is to leave a full wood bin and some kindling for the next renter), and dug into the treasure trove of history in the cabin's logbook and a couple of binders that Thomas Jorgensen had put together.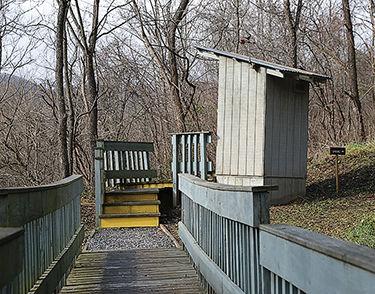 Made of chestnut, pine and oak (chestnut on the lower beams, to resist termites), the cabin has wooden-peg construction for its roof beams and dove-tail notches at the log ends. The adze marks made when the logs were first shaped are still plainly visible. Its original chinking was made with mud mixed with hogs' hair.
Sometime after the Civil War, the cabin was moved from a nearby original site to where it sits now, hard by the Naked River's west branch and sheltered under the shoulders of the surrounding mountains. For 140 years, it was the homestead of the family of Joe Lamm, who filed as a settler there in 1880, and the Weaver family.
After some restoration work in the 1980s, the PATC had been using the cabin for storage when Thomas Jorgensen arrived in 1995 with his then 13-year-old son, Dave, and found "the porch roof off its supports, rotten porch boards, snake heaven from the chimney rocks in the yard…birds, squirrels, and a raccoon (go figure) living on the second floor and five years of accumulated dust. Over the next 3 years, Dave & I became best friends for life … PATC and [this] cabin have provided a bond between my son and I that will go on for eternity."
Over time, they and a small army of volunteers have steadily worked to maintain and upgrade the cabin, working on projects ranging from the mundane — such as ongoing mouse battles and sweeping up ladybugs upstairs — to the complex, including building an excellent walkway to the privy (by far one of the nicest privies I have visited), an outdoor kitchen and a clever outdoor sink at the end of the porch with running water that in warm months is plumbed from the spring.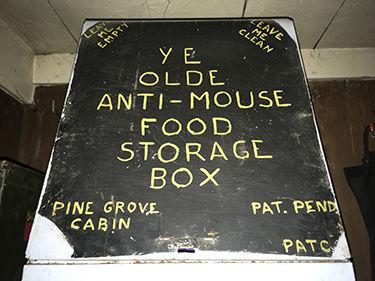 Tucked by the fire, we cooked our homemade tomato soup and grilled cheese sandwiches on the stovetop and read aloud from the cabin's logbook, to which each renter is encouraged to contribute.
Here, we learned about a nearby year-round neighbor who owns roosters and has a penchant for nonstop loud classic rock (we only heard the creek running during our visit), where to find good pie (at the IGA supermarket in the town of Shenandoah), the ongoing battle against mice ("P.S. There is mouse poop in the red kettle"), and what renters did for fun, which included hiking in Shenandoah National Park, tubing on the river, visiting neighboring Mountain Top Ranch to go horseback riding, touring Luray Caverns, fishing in Naked Creek, playing games, eating (lots of eating and drinking) and stargazing.
Entries ranged from short and businesslike to full-blown narratives, but one written in January 2016, by someone who seemed to be channeling their furry canine friend, seemed to sum it all up: "I rode in the back seat, staring at the deep vast of wilderness in the Shenandoah Mountains. I explored the Robert Humphrey cabin grounds, and I spied on the classic rock/rooster neighbors. I chased the mice in the cabin, peed on the trees, and enjoyed the roaring wood burning stove. When it snowed on Sunday, I ice skated on the Appalachian Trail. I wish I could live here forever."
For information about the PATC cabin network, visit patc.net.
Wendy Mitman Clarke is a freelance writer based in Maryland.