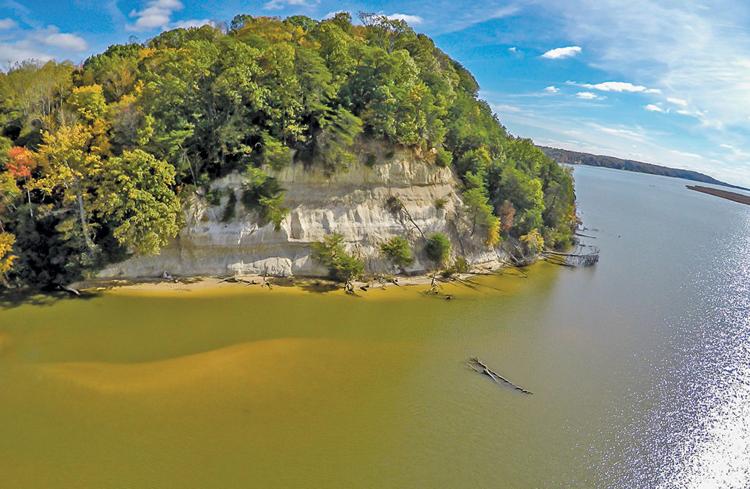 One provision of the act would provide full and permanent funding for the Land and Water Conservation Fund, which is the primary source of federal funding for national parks, national wildlife refuges and national forests.
In this time of crisis, Virginians are looking to our beloved outdoors for solace and recreation more than ever. The Chesapeake Conservancy's work to protect the Bay region's natural and cultural heritage continues urgently even as we cope with the same challenges faced by our neighbors, partners and supporters.
The need for a boost in land conservation funding is aptly illustrated by an iconic feature along the Rappahannock River that has a rich story to tell both of the distant past and the uncertain present.
Fones Cliffs stand prominently as a near pristine natural feature: striking 100-feet-high bluffs stretched along 4 miles of the river in Richmond County. The cliffs are cited as a priority for acquisition by the Rappahannock River Valley National Wildlife Refuge, and the area is listed by the National Audubon Society as "globally important" for migrating and resident bald eagles.
The cliffs were noted as a significant stop during Capt. John Smith's voyages in the early 1600s, and the National Park Service has identified several characteristics of the cliffs as having importance to the Captain John Smith Chesapeake National Historic Trail.
Chief Anne Richardson of the Rappahannock Indian Tribe recently stated that, "Fones Cliffs and the Rappahannock River are important to my tribe's culture, history and identity. Fones Cliffs is a sacred site, home to our ancestors for thousands of years and the site of key encounters with the English."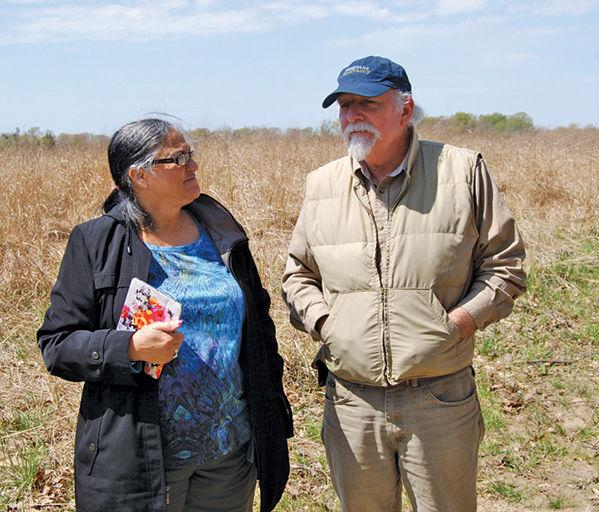 Chesapeake Conservancy has made Fones Cliffs the focal point of our land conservation activities in Virginia and, along with the tribe and other conservation partners, we have for years advocated for their permanent protection.
With appropriations from the Land and Water Conservation Fund, the first Fones Cliffs property was purchased and added to the national wildlife refuge in 2019. The Conservation Fund bought the 252-acre tract and sold it at cost to the U.S. Fish and Wildlife Service. Such transactions are often only made possible by the federal fund, which draws on the public's profit from energy development in federal waters rather than tapping taxpayer dollars.
In 2012, the U.S. Fish and Wildlife Service was poised to purchase a larger parcel of 968 acres at Fones Cliffs. The landowner signed a purchase agreement that was in place for 13 months before he grew frustrated at the lack of closure and refused to extend it.
His frustration is understandable, and not uncommon: The Land and Water Conservation Fund, despite being intentionally set aside for conservation, is raided every year by Congress to pay for other items. Historically, less than half of the total funds have been made available for conservation projects. Under those limitations, no funds were appropriated to complete the purchase, or even begin a phased approach, to which the landowner was amenable.
In the ensuing years, this same property has been embroiled in turmoil. In 2015, preliminary rezoning was approved that would have permitted more than 700 residential units, an 18-hole golf course, lodge, restaurant and other resort amenities.
In 2017, a newly formed corporation purchased the property and proceeded to illegally clear more than 13 acres of trees and other vegetation without obtaining the required land clearing and sediment control permits. In 2019, the corporation declared bankruptcy and the future of the property remains in question today. Will this remain a tale of lost opportunity, or could this be a once-in-a-generation conservation success story?
The answer largely depends on whether Congress will pass the Great American Outdoors Act in a timely fashion. Passing the act now would immediately stop the raiding of the Land and Water Conservation fund and ensure that the program's full $900 million is available every year for worthy projects like Fones Cliffs.
In this scenario, the Rappahannock refuge could be included on the Fish and Wildlife Service list for appropriations in fiscal year 2021.
The extremely challenging circumstances our society faces have also made evident just how important public lands and open spaces are to our health and well-being. There are battles being waged in our nation's medical institutions to save lives. The battle to save Fones Cliffs offers life support in a different kind of way, a permanent salve for an increasingly scarred landscape.
Adding this treasured landmark to our national wildlife refuge system will create a place for discovery and rejuvenation. Conserving Fones Cliffs is emblematic of the need to expand our public lands, where nature is allowed to do what it does best: heal itself — and us.
Passage of the Great American Outdoors Act is the key to Virginia finally securing protection for this icon, as well as countless other communities fighting to save their own beloved places all across the country. This legislation has broad bipartisan support, including a strong endorsement from President Trump, and was scheduled for a vote in Congress before the COVID-19 crisis hit in March. It should be included in a forthcoming package as soon as possible to aid in our nation's coping and recovery.
Joe McCauley is a Chesapeake Fellow and adviser at the Chesapeake Conservancy.
The views expressed by opinion columnists are not necessarily those of the Bay Journal.