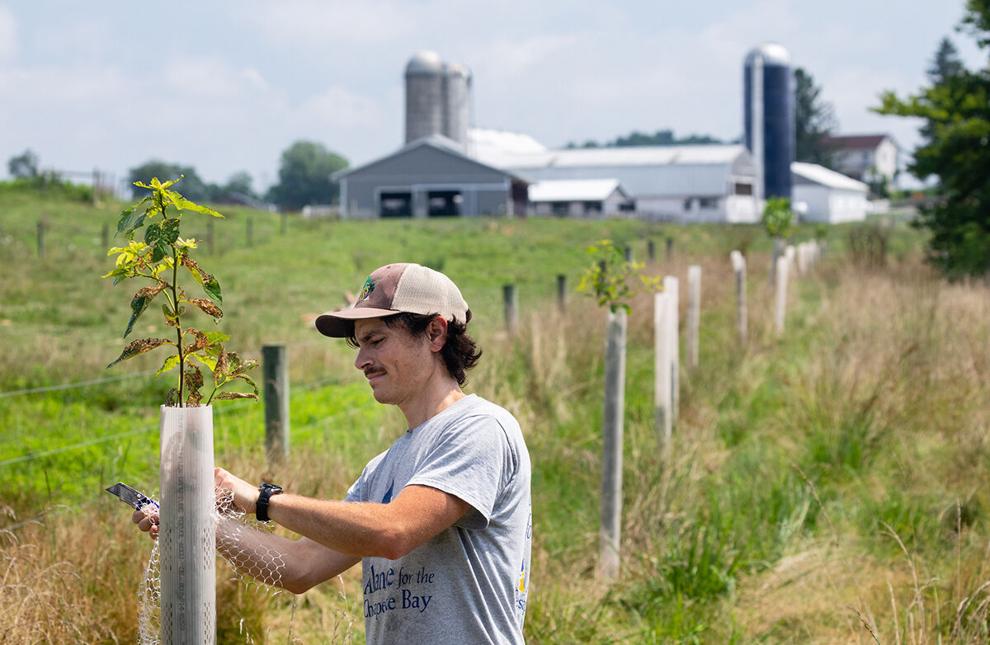 Forested buffers along waterways could go a long way toward improving local water quality, mitigating climate change and saving the Chesapeake Bay. But progress to put them in the ground is sorely lacking.
The most recent data (2019) from the Chesapeake Assessment Scenario Tool are very troubling. Pennsylvania has only implemented 10% of its 2025 goal for forest buffers. Virginia has only implemented 4% of its goal. And while Maryland has achieved 86% of its commitment, its goal was low, at only one-third of Virginia's and one-fifth of Pennsylvania's. While some states may dispute the accuracy of the tool's numbers, no matter how you slice it, implementation is lagging watershedwide.
Forested streamside buffers remain one of the most cost-effective ways to cut pollution from agricultural lands, trapping soil and nutrients before they can pollute local streams and travel farther downstream to the Bay as well as increasing the instream processing of nutrients. Buffers also sequester carbon and can be an important tool to mitigate climate change.
Planting buffers in farm fields is a shared responsibility. Both the U.S. Department of Agriculture and state agricultural agencies must play significant roles.
For years, the federal Conservation Reserve Enhancement Program has been the most important federal program for implementing buffers. The program is a state-federal partnership administered by the USDA's Farm Service Agency, which provides contracts and funding, and the Natural Resources Conservation Service, which delivers technical assistance to farmers. Unfortunately, CREP is languishing.
The 2018 federal Farm Bill contained language by Pennsylvania Sen. Bob Casey to provide substantial improvements to CREP. The new measures would ensure farmers have adequate financial support to maintain buffers and protect their investments. They also ensure that farmers are fairly compensated for expenses associated with buffers, such as installing fencing along streams and providing alternative water sources for livestock.
Instead of increasing access to this essential program, the farm agency under the previous administration created bureaucratic impediments to putting these programs on the ground. In a letter to the U.S. Secretary of
Agriculture in 2020, representatives from Bay-state environmental and agricultural agencies expressed concern about the agency's position that implementation of the new provisions would require a renegotiation of each state's farm agency agreement, saying, "This unnecessary and unwise delay will reduce our ability to meet our stated conservation and restoration goals for water quality and wildlife habitat, an undesirable outcome for all parties involved."
There is no time left for delay. Less than five years remain until the 2025 deadline to have programs and practices in place that restore water quality in local rivers, streams and the Chesapeake Bay.
Planting trees reduces greenhouse gases and improves resiliency to a changing climate. On January 27, 2021, President Biden issued an executive order, Tackling the Climate Crisis at Home and Abroad. This laid out a series of actions for federal agencies to take regarding climate change mitigation and resilience, including directing the secretary of agriculture to collect public input on a climate-smart agriculture and forestry strategy.
Leveraging CREP and its umbrella program, the Conservation Reserve Program, will no doubt be important components of this strategy.
USDA leadership, in partnership with the states, is critical to re-invigorate CREP and accelerate forest buffer plantings. The Farm Service Agency must allow states to take advantage of the new CREP provisions in an expedited manner, update cost-share rates to ensure farmers are adequately compensated and administer the program efficiently and effectively. The NRCS should devote more resources providing outreach and technical assistance to deliver the program.
But the states also need to do their share.
In Pennsylvania, the primary responsibility for getting forested buffers on farms falls to the conservation districts. While they are working hard and have made progress, they are consistently underfunded by state leaders.
That could change. Sen. Gene Yaw has proposed SB 465, developed with the help of the Chesapeake Bay Foundation, Pennsylvania Farm Bureau and Pennsylvania State University, that would set up a structure to accelerate conservation adoption. There is also discussion of using federal stimulus funds. Both could boost the implementation of conservation practices in the state.
Virginia recently increased investment in agricultural conservation programs, passed regional greenhouse gas inventory legislation and added additional incentives to protect streams by using buffers. But the state has yet to provide adequate funding to achieve the level needed. More investments will be needed for Virginia to achieve its 2025 goals.
To address the shortfall, Pennsylvania and Virginia must accelerate outreach efforts to landowners, underscoring that buffers help reduce pollution and provide benefits to them and their communities.
Although Maryland appears to be on track to meet its buffer goals, more investment in this practice that has multiple environmental benefits is important. The Maryland General Assembly just passed legislation that includes a commitment to plant 5 million trees statewide by 2031, along with the resources needed to put that commitment into action. Officials will begin this decade-long effort to plant millions of trees that will sequester carbon and play an important role in efforts to fight climate change and restore the Chesapeake Bay.
Accelerating conservation efforts in all of the Bay states, but especially in Pennsylvania, both at the federal and state levels is crucial to achieving the goals of a healthy Chesapeake Bay and its streams. If Pennsylvania falls short, the Clean Water Blueprint will be yet another failure in a series of efforts to restore the Bay.
We hope the Biden administration's USDA will embrace CREP as a program that is good for farmers, water quality and climate change, as well as provide the necessary investment to increase outreach, technical assistance and funding for implementation.
Beth McGee is the director of science and agricultural policy for the Chesapeake Bay Foundation.
The views expressed by opinion columnists are not necessarily those of the Bay Journal.