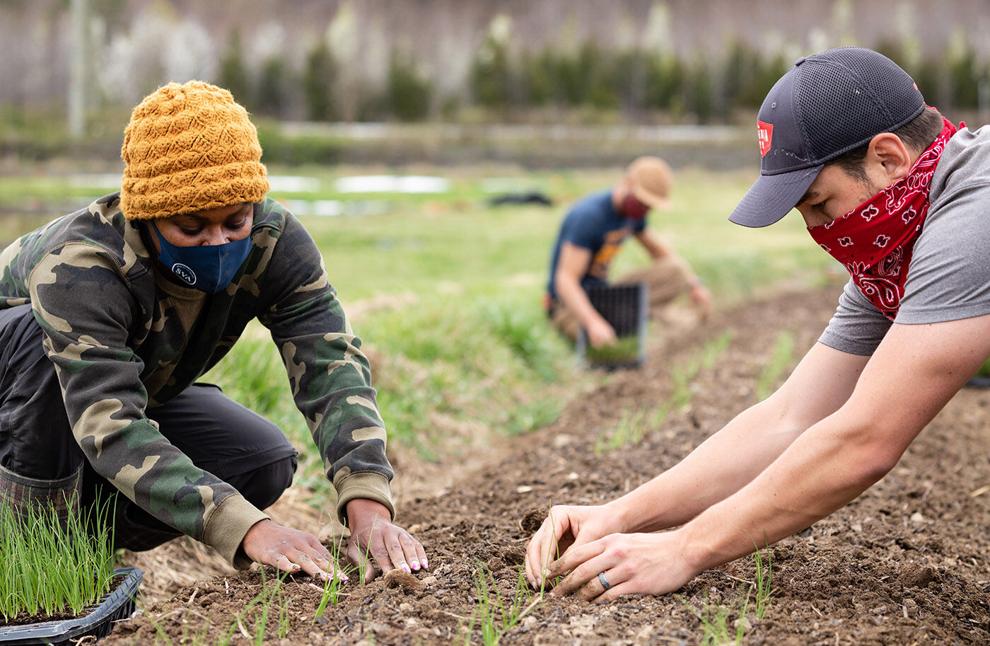 One Saturday morning, a group of trainees reported bright and early to a 6-acre property off the Potomac River. The participants had at least one thing in common: They are military veterans. But the group wasn't there for rigorous drills and combat training. Instead, they were there to learn about sustainable farming.
At its farm in Alexandra, VA, the Arcadia Center for Sustainable Food and Agriculture helps military veterans achieve their agricultural dreams through its Veteran Farmer Program. Here, participants are given the education and support needed to get a farming business off the ground, while also learning how to most responsibly steward their land.
"I love it here," said Monica Newman, a participant in Arcadia's Veteran Farm Fellowship Program. "It's just so much fun learning everything and becoming in tune with your surroundings and the plants."
Newman is a former controlman in the U.S. Navy and, like other veterans, has been looking for a meaningful and rewarding profession since retiring from the service. She enrolled in Arcadia's fellowship program during the COVID-19 pandemic after being inspired by gardening in her backyard. Newman is learning everything from soil health and stormwater runoff to the business side of operating a farm.
Newman's dream is to start a community-supported agriculture program. As a fellow, she is eligible for a quarter-acre plot at the farm after she completes her apprenticeship, which includes ongoing training and support.
"I'm definitely going to do that next year," Newman said. "I have a five-year goal where I'm going to have my own farm, and this is just step one for me."
The Veteran Farmer Program, based at the National Trust for Historic Preservation's Woodlawn-Pope Leighey Estate, is designed for people like Newman, who, due in part to their military experience, are determined, hard-working and in need of a new duty.
The program has three levels of training: a 12-month Reserve Program in the basics of farming; a Veteran Farm Fellowship for state-certified, on-the-job training; and the Veteran Farm Incubator, which helps veterans launch their own mini farms, try out equipment and practice growing techniques for up to three years. The program has helped 120 military veterans since forming in 2015.
Central to all of the programs is sustainability, which the organization sees as a three-legged model of environmental and financial sustainability and social justice. Farmers are taught not only how to reduce pollution on their property and preserve soil quality, but how to do it in a way that is financially beneficial.
"Things like overspraying with fertilizer or chemicals, it's expensive to do it," said Matt Mulder, director of operations at Arcadia. "We try to make the argument with [the farmers] that it's both productive and better for the environment, but it's also better for them."
Much of the work on the farm is done by hand without the use of machinery that can damage soil and burn more fuel. Farmers do little to no tillage, each building is solar powered and composting is done with the help of the company Veteran Compost, which is also run by a military veteran.
"The way we like to see it is that we're stewards of this land," said Joel Fudge, a Marine veteran enrolled in the program. "We want to protect that creek. We want to store as much water as we can. We're not using typical fertilizers that are going to cause algae blooms and make anoxic environments."
Like Newman, Fudge wants to run an environmentally sustainable farm. With a degree in environmental science from Brown University, he is training at Arcadia to supplement his knowledge with hands-on experience. There, Fudge and others can practice sustainability without having the burden of producing a high yield.
"It's just a really beneficial growing environment," Fudge said.
The third leg of Arcadia's mission, social justice, is carried out by growing produce for Arcadia's Mobile Markets, which bring fresh, healthy food at affordable prices to underserved neighborhoods in the District of Columbia. All of the excess produce is donated to local food pantries. The community-driven work, combined with the sustainable mindset, can be a gift to veterans who, after retiring from military service, often want to be a part of something meaningful.
"We've had veterans come in who look at this as continuing their service," Mulder said. "They're serving and protecting the environment, and they're feeding people."
The mental health benefits of being outside and working the farm are also a factor, especially for people who've experienced high-intensity, and at times traumatic, situations.
"Something about working with the soil was just cathartic for me," Newman said. "I just felt better about myself."
Throughout the Chesapeake watershed, opportunities are growing for military veterans to get into farming. According to Arcadia, the average U.S. farmer is 58 and nearing retirement. Meanwhile, the U.S. Department of Agriculture estimates that the nation will need 700,000 new farmers to replace them over the next two decades. Organizations like Arcadia are looking to bridge that gap while instilling the best practices needed to be a farmer today.
In Pennsylvania, the Rodale Institute trains military veterans in organic agriculture. The organization has taught veterans from Pennsylvania, Maryland, Virginia and DC. Some veterans have trained at both the Rodale Institute and Arcadia.
The Pennsylvania Veteran Farming Project also serves as a network of veterans, military members and their spouses who farm and operate agribusinesses.
In Baltimore, the nonprofit TALMAR focuses on the mental health benefits of farming, offering horticulture therapy programs for those who served in the military.
And in the Bay watershed, where agriculture is still a significant source of pollution, the benefits of having farmers trained in and dedicated to sustainable agriculture is clear.
Newman, Fudge and the other veterans at Arcadia are helping to start that trend. They say that there are plenty of other veterans who are ready to continue serving their country this way.
"I know other farmers like myself. We want to make change, we want to help, we want to do more," Newman said. 
Jake Solyst is the Chesapeake Bay Program web content specialist at the Alliance for the Chesapeake Bay.
The views expressed by opinion columnists are not necessarily those of the Bay Journal.