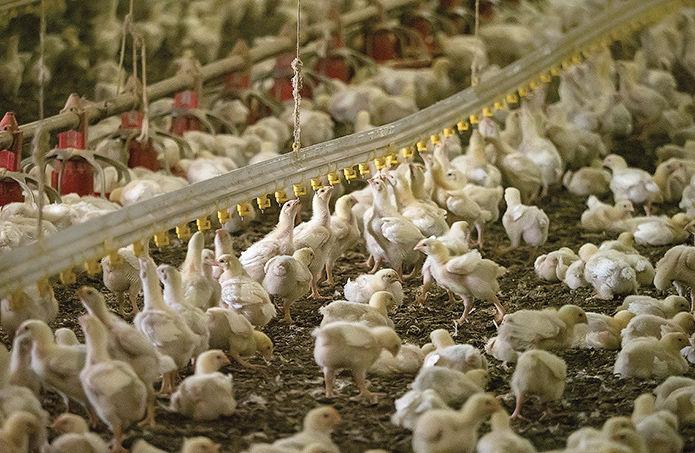 The climate crisis is intensifying. The most recent report out of the United Nations Intergovernmental Panel on Climate Change has outlined clear risks to people and the planet.
Critical ecosystems like the Chesapeake Bay, long an abused outlet for our region's pollution, will face even greater threats under a changing climate. While some take to the streets in protest to demand action, others are content to double down and profit from the crisis.
Cue the Delmarva poultry industry.
Debate about the poultry industry's polluting influence on our region is nothing new. Factory-farmed poultry in Maryland produces 400,000 tons of waste a year, according to research by my organization, Food and Water Watch, which has been sounding that alarm for years. There's no disputing that an unacceptable amount of nitrogen from that waste ends up in the Chesapeake Bay.
Agriculture is the leading source of nitrogen and phosphorus loads to the Bay, producing toxic algae blooms and dead zones. Simply put, the industrialized factory farming model encourages the production of utterly excessive amounts of waste — and much of it ends up in our water. This needs to stop.
Now, the factory farm industry is claiming it can solve its own waste problem. They have dressed it up with the term "renewable natural gas," but we prefer
to call it what it is: factory farm biogas. And the truth is, it's all a ruse.
Factory farm biogas is a false solution to the poultry industry's waste problem, and a false solution to the climate crisis. To create the gas, intermediary companies must concentrate massive amounts of poultry waste from factory farms and slaughterhouses into anaerobic digesters, where microbial processes, in the absence of oxygen, create methane from the waste. The company then refines the methane and transports it via truck to a pipeline.
This is not — repeat, not — "clean energy." Biogas produced from factory farm waste is chemically indistinguishable from fracked gas. Both emit potent greenhouse gases when burned, and both rely on fossil fuel infrastructure for distribution — from pipelines carved through forestland to "bomb trucks" on our highways.
But the Maryland poultry industry has friends in high places. Thanks to industry lobbying, Maryland's signature clean energy program, the Renewable Portfolio Standard, includes factory farm biogas as a "clean" energy source. And because ratepayer dollars earmarked in that program can finance projects in and out of state, that means Maryland utility customers would be funding a polluting waste-processing market that is propped up by a so-called clean energy program.
Two active proposals in Delaware are vying to become the country's first poultry biogas facilities; Maryland dollars could fund both of them. A proposal by Bioenergy DevCo to build an anaerobic digester near Seaford, DE, has the local community and more than 35 statewide groups in an uproar. The second proposed digester, from CleanBay Renewables, would be built in Georgetown, DE. The likelihood that these projects will lead to an expansion of pipeline capacity in that region has made clear the lines being drawn on biogas projects — it's people versus polluters.
A March poll from Goucher College revealed that a majority of Marylanders believe that climate change is having major impacts.
With 2022 an election year for the state's entire General Assembly, as well as the governor's office, candidates are actively debating how to move to a clean energy grid and do it quickly. But what they need to talk about more is what a clean energy grid actually looks like.
In 2020, more than a third of Maryland's "clean energy" dollars went to polluting energy sources, according to a report earlier this year by Public Employees for Environmental Responsibility.
Setting goals for 100% clean energy is critical, but it must be married with appropriate definitions of what counts as "clean." As the poultry industry vies for its share of public clean energy money, it is imperative that we close the definitional loopholes in Maryland's Renewable Portfolio Standard.
Biogas from poultry waste is not clean energy — let's stop acting like it is. Current elected officials and those running for office must commit to removing all polluting energy sources from the Renewable Portfolio Standard and cut the flow of Marylanders' public money to factory farm filth.
Lily Hawkins is the Maryland organizer with the national environmental advocacy group Food & Water Watch.
The views expressed by opinion columnists are not necessarily those of the Bay Journal.