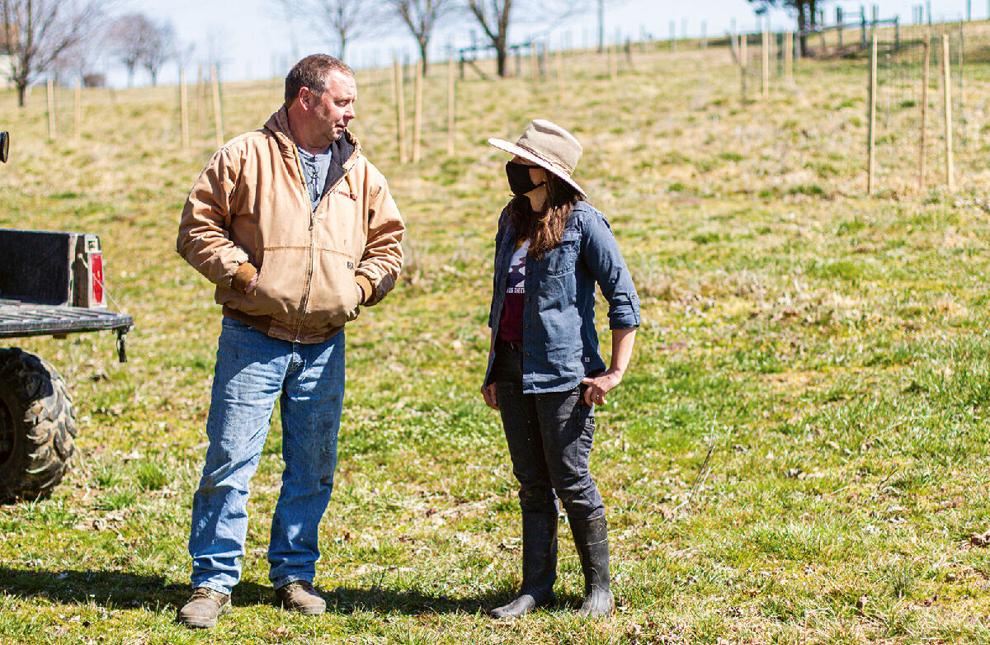 June brings a lot of good things: cookouts, sunny weather, pool parties, ice cream. It also happens to be National Dairy Month, and the Alliance for the Chesapeake Bay is celebrating just how far dairy farmers have come, and where they might be headed next, in the effort to improve the health of the Chesapeake.
Since 2018, the Alliance has partnered with the Maryland & Virginia Milk Producers Cooperative Association, operating under the umbrella of the Turkey Hill Clean Water Partnership. Our goal is to create a dairy product supply chain that prioritizes and supports environmentally responsible practices on farms.
This month we added the crucial final link to the supply chain: a retail grocer. The Giant Food grocery chain has joined the effort with its own initiative, the Giant Clean Water Partnership — joining us in our effort to advance on-farm conservation, transparency and animal welfare for up to 400 MDVA member farms throughout Pennsylvania, Maryland and Virginia. Giant will lend its voice and widespread retail presence (nearly 160 stores in the Bay watershed states) to this important sustainable-dairy initiative.
Completing the supply chain — from the dairy farmers themselves, on to brand-name suppliers (Turkey Hill and MDVA's brand, Maola Local Dairies) and finally to grocery store shelves — gives us what we've aimed for: a scalable model that can be replicated across the country.
"We're focused on local impact, greater purpose," said Steven Jennings, who heads Giant Food's health and sustainability initiatives. "We're committed to creating a better world and that starts with being a leading voice for a healthy, sustainable food supply chain."
In addition to selling Maola and Turkey Hill products in its stores and using co-op milk in its store-brand products, Giant this spring conducted a monthlong campaign selling reusable grocery bags and donating $1 to the Alliance for each bag sold. If you've shopped at a Giant recently, you may have already seen signs on its dairy cases promoting the campaign, getting the sustainable-dairy message to hundreds of thousands of grocery shoppers.
This reflects a change of corporate thinking around the world. Brands like Tillamook and Chobani have run campaigns to help raise funds to restore farmland and rivers. Corporations everywhere are increasingly cognizant of their responsibility to protect the resources they rely on and to serve communities, not just customers.
Supporting sustainability is now very much a bottom-line calculation for corporations and businesses because consumers are more conscious than ever about where their products come from and if they are sustainably produced or manufactured. Their purchasing choices reflect that. According Futerra, a sustainability advocacy organization, 88% of consumers say they want brands that help them make environmentally friendly and ethical choices in their daily lives. Many of those people are even willing to pay more for those brands.
Sustainability is a bottom-line issue for farmers, too. Very few dairy operations refuse on principle to incorporate sustainable and animal-friendly practices. Rather, for most farmers the profit margin is skinny to begin with, and they can't possibly cover costly improvements such as manure-management upgrades, cover crops, stream fencing and streamside buffers.
Sustainable practices, however, are ultimately bottom-line positive. Planting cover crops instead of leaving fields bare, for instance, doesn't just sequester carbon and provide wildlife habitat. It also improves soil health and yields healthier crops. Redesigning a barn to increase space improves ventilation, provides more comfortable bedding areas and ultimately makes for healthier cows — as well as lowering labor costs for feeding, and for cleaning and maintaining stalls.
With funding assistance from the National Resources Conservation Service, Lancaster County dairy farmer Chris Landis — an MDVA co-op member — installed a larger manure pit and redesigned his calf hutches. An improved collection system allowed for increased manure storage capacity, making it possible to apply manure to the fields at the appropriate times. The housing upgrades not only gave the calves more space, but also reduced bedding costs, streamlined feeding labor and improved animal healthcare.
"We've been able to save labor and costs with the increased accessibility and efficiencies of the new facilities," said Landis, fifth-generation owner of Worth the Wait Farms. "The end result is a healthier cow, but overall, the payoff is much higher."
Those five words, "the payoff is much higher," are what our partnership aims for at every juncture in the supply chain, from the farmer to the supplier to the retailer. The Alliance and partners want to see viable farms, thriving suppliers, robust retailers and satisfied consumers who know their choices matter — all of it built on the real bottom line: cleaner water and sustainability for our future. 
Brittany Smith is the agricultural projects coordinator for the Alliance for the Chesapeake Bay.
The views expressed by opinion columnists are not necessarily those of the Bay Journal.