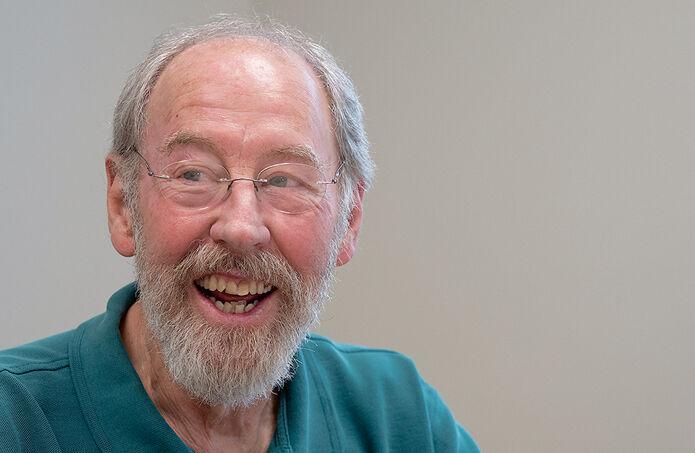 When Mike Kemp arrived in the Chesapeake Bay region in the late 1970s, it was at the dawn of an era of discovery — one that the new Chesapeake Biological Laboratory post-doc would play a critical part in for more than four decades. The ink was still wet on the documents launching the U.S. Environmental Agency's Chesapeake Bay research program, which had been tasked by Congress to determine what was wrong with the nation's largest estuary. While the answers to the Bay's pollution problems may seem obvious today, they were not back then. By the time Kemp died Oct. 19 in Charleston, SC, at 73, he had helped to not only document how and why the Bay was declining, but also got of a glimpse of its recovery.
Kemp was a systems ecologist, which means he worked to understand how all parts of the Bay ecosystem worked together. His research made a mark on a multitude of topics ranging from underwater grasses to nutrient cycles, dissolved oxygen, primary productivity, the interplay of physics and biology, and numerical ecosystem models, including those that helped translate scientific data into explicit goals for reducing nutrient pollution.
As Lewis Linker, the Chesapeake Bay Program modeling coordinator said, "I recall his brilliance at putting together the big picture of estuarine science ... Mike made huge contributions to our understanding of estuarine processes by hewing some of the foundational 'building blocks' of estuarine and coastal water science."
In 1978, Kemp joined the Horn Point Laboratory on the Choptank River which, like the Chesapeake Biological Laboratory on the Patuxent, is part of the University of Maryland Center for Environmental Science. Some of Kemp's early work focused on understanding exactly why the submerged grasses that once blanketed wide swaths of the Bay floor had disappeared. Hypothesized reasons for the decline were diverse and extensive, but Kemp and UMCES colleagues Walter Boynton, Court Stevenson and Robert Twilley used field studies, numerical models and "pond experiments" to compare underwater grass growth with and without nutrients, herbicides and other factors. Their conclusion? Elevated nutrients — which contribute to harmful algae growth and low oxygen "dead zones" — were the primary cause of the decline. Their finding helped to drive the Chesapeake Bay Program's efforts to reduce nutrient inputs. His commitment to science-based environmental restoration led to his receiving the Maryland Governor's Citation for underwater grasses research in 1992.
Kemp's work on the Bay's nutrient problem gained steam in the 1980s and continued throughout his career. At that time, phosphorus was presumed to be the primary nutrient affecting water quality, but Kemp and his colleagues Chris D'Elia, Tom Fisher and Jim Sanders presented some of the earliest multi-study data indicating that nitrogen was a central player. This work directly contributed to the Bay Program adopting goals to reduce both phosphorus and nitrogen, which later became the standard strategy for many estuarine ecosystems worldwide. Kemp leveraged these findings to garner support for research studies that tracked nutrient inputs from land, their effect on the microscopic parts of the estuary, and how these affected fish, zooplankton and other organisms. He then led a project at the Horn Point laboratory involving an enormous network of tanks that became experimental estuarine ecosystems where scientists could measure the effects of nutrients on miniature, controlled ecosystems. In recognition of this groundbreaking research, which served to keep the Chesapeake at the forefront of estuarine science, he was awarded the Odum Award for Lifetime Achievement from the Coastal and Estuarine Research Federation.
Kemp was passionate about the need to synthesize various research findings into comprehensive reviews that could be used by scientists, students and managers. He authored some of the most comprehensive reviews of Bay eutrophication in scientific literature. His 2005 paper, Eutrophication of Chesapeake Bay: Historical Trends and Ecological Interactions, remains in wide use today.
These writings exemplified Kemp's dedication to clearly communicating complex ideas, a skill he worked tirelessly to transfer to his students. It was often on display in meetings with Chesapeake managers and other stakeholders addressing complicated ecological topics and seeking ways to manage them.
"Thank goodness that scientists like Mike Kemp had a stomach for management," said Ann Swanson, executive director of the Chesapeake Bay Commission. "Finding a 'doable' linkage between science and management was difficult, and the meetings were long and arduous. Usually, Mike would remain silent for most of the meeting and then raise his hand at the end to provide a remarkable synthesis of the day and the trajectory forward. He had wit, smarts and a wonderful dry humor."
In a very real way, Kemp's career came full circle from documenting and understanding the Bay's decline to uncovering early but definitive signs of recovery. His work with graduate students in the past decade shed light on how underwater grasses returned to the Susquehanna Flats, an area that had long been devoid of any grasses. The research demonstrated how recovering grass beds help improve local water quality when they reach a certain threshold, helping those beds to expand and accelerate recovery. Later, he helped to discover that when even a small amount of dissolved oxygen enters the Bay's dead zone, it triggers a biochemical response resulting in better water quality conditions than would otherwise be expected.
Always striving to improve the understanding of the Bay ecosystem, Kemp continued — even in the waning days of his battle with Parkinson's disease — to challenge his colleagues to continually revisit assumptions about how estuarine ecosystems work. His lifetime of work showed there is always more to learn and discover.
We have been awestruck by the number of individuals who have reached out to identify Kemp as an inspirational and supportive figure in their careers. As Rich Batiuk, the Bay Program's former associate director for science, analysis and implementation, recalls, "In my more than three decades of working with him, Michael never said 'no' to my hundreds of asks — accessing his research data, sharing his preliminary scientific findings, leading a workshop, co-authoring a paper, talking with managers, presenting to another Chesapeake Bay Program subcommittee or workgroup and more. Michael always placed value on the use of science in decision making and, in his own unique ways, helped infuse science into many facets of Bay restoration. We have lost one of the best, but his scientific contributions and lively spirit live on in Bay goals, strategies and plans."
Walter Boynton is a professor emeritus and Jeremy Testa is an associate professor at the Chesapeake Biological Laboratory. Both worked extensively with Mike Kemp.
The views expressed by opinion columnists are not necessarily those of the Bay Journal.