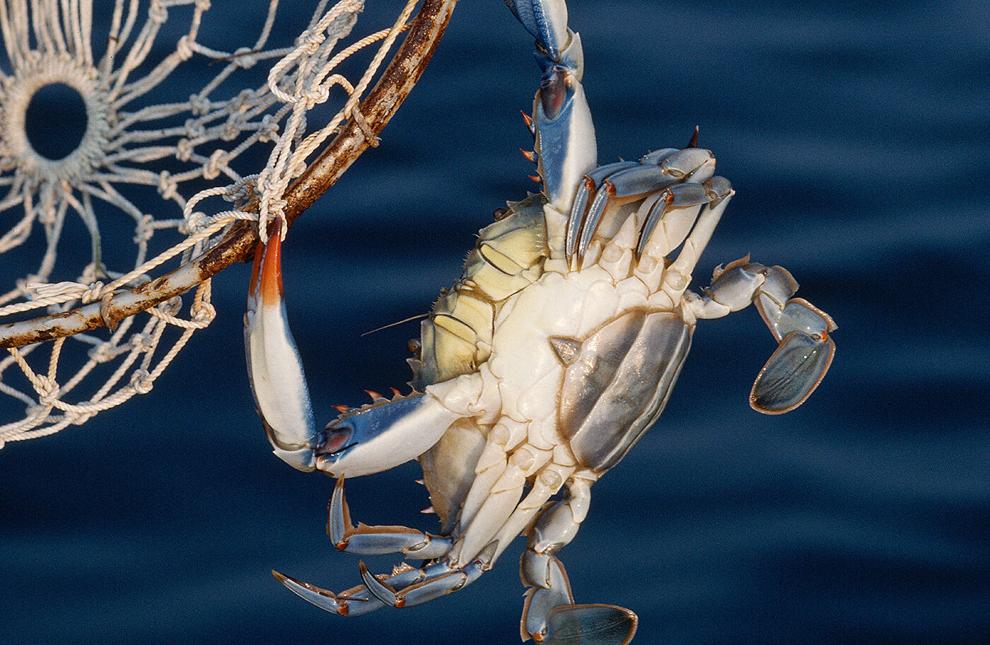 The Chesapeake Bay Foundation's State of the Bay Report came out in early January. The University of Maryland Center for Environmental Science will release their Chesapeake Bay Report Card in June. And the Chesapeake Bay Program is announcing their 2019–20 Bay Barometer now. Are all of these different Bay assessments really, well, different?
The answer: They are, but only slightly. All three entities use similar data sources to calculate their reports, and most of that information comes from the many partners of the Chesapeake Bay Program. Some of the data can be from different years, depending on when the reports are released. For example, the State of the Bay Report comes out every two years, while the Chesapeake Bay Report Card and the Bay Barometer come out every year.
Unlike the other two reports, the Bay Barometer from the Chesapeake Bay Program does not assign a letter grade to describe Bay health; rather, we present the most up-to-date information available for the 31 targeted outcomes of the Chesapeake Bay Watershed Agreement. We aim to report that data in an easily digestible manner, using charts, graphs and progress statements.
Various iterations of the Chesapeake Bay Watershed Agreement have guided the work of the Bay Program for close to 40 years. The most recent version, signed in 2014, commits our many partners to meet a variety of outcomes ranging from blue crabs to environmental literacy to stream restoration. The Bay Barometer presents the most up-to-date data that is available for the outcomes that have measurable targets, which we refer to as indicators.
There are 19 outcomes that have indicators, which are updated on a variety of timelines depending on data availability. You don't need to wait for the most recent Bay Barometer, though, to check on Bay restoration progress! When we receive new data for a particular indicator, it is updated in real-time at ChesapeakeProgress.com.
Out of those 19 indicators, 12 have updates in the 2019–20 Bay Barometer. Here are some highlights:
While there was a 26% decrease in the amount of adult female blue crabs found in the Chesapeake Bay from 2019 to 2020, the overall number (141 million) is still considered to be sustainable and healthy, despite falling below the 215 million target. Researchers estimate that 17% of all female blue crabs in the Bay were harvested in 2019, which falls below the overfishing threshold.
The target for the oyster outcome was reached when 10 Bay tributaries were selected for large-scale oyster restoration. As of 2019, the sites are in various stages of progress, with 788 acres of oyster reefs considered complete in Maryland and 539 acres in Virginia.
Only 66,387 acres of underwater grasses were estimated in the Bay in 2019, a significant decrease (38%) from 2018. Experts attribute the decline to a decrease in widgeon grass, which is highly susceptible to weather impacts and changes in water quality. This marks an achievement of 36% toward the 185,000-restoration goal.
Between 2018 and 2019, approximately 83 miles of forest buffers were planted along rivers and streams in the Bay watershed, marking a 0.09% achievement toward the goal of planting 900 miles of buffers each year.
As of 2019, Bay Program computer modeling tools indicated that between 2009 and 2019, practices are in place under the Bay TMDL to reduce 11% of nitrogen, 10% of phosphorus and 4% of sediment pollution loads from flowing into the Bay.
Between 2016 and 2018, experts estimated that 38% of the Bay and its tidal tributaries met standards for healthy water quality. Additionally, from 2017 to 2018, river flows entering the Bay averaged 70.5 billion gallons of water per day. This allowed for 423 million pounds of nitrogen, 42.1 million pounds of phosphorus and 15,689 pounds of sediment pollution to enter the Bay.
The Bay Program has protected 1.36 million acres of land since 2010, achieving 68% of its target to conserve an additional 2 million acres across the watershed by 2025.
Between 2010 and 2019, 194 boat ramps, fishing piers and other public access sites were opened on or around the Bay, marking a 65% achievement of the goal to open 300 new sites by 2025.
In their effort to develop a comprehensive, systemic approach to environmental literacy, 27% of surveyed local education agencies around the watershed self-identified as "well-prepared" to deliver high-quality environmental literacy programming to their students in 2019. Additionally, 32% of the agencies reported providing a meaningful watershed educational experience to at least one grade level in elementary school, while 38% provided a MWEE to at least one grade level in middle school and 43% provided a MWEE to at least one grade level in high school.
Since 2016, the Chesapeake Bay Program has seen a slight increase in meeting the target of identifying stakeholders of color not currently represented in the partnership. Those that self-identify as people of color rose to 14.6%. Additionally, the number of people in leadership positions at the Bay Program that self-identify as people of color rose to 10.3%.
Each outcome in the Watershed Agreement has a workgroup dedicated to meeting its goals. Want a fun fact? While each workgroup has a coordinator and a staffer to manage the day-to-day work, many of the other members participate on top of their day job — sharing their time and expertise to help move the Bay restoration forward. The members include representatives from federal and state government agencies, colleges and universities, and watershed organizations.
Even if an outcome does not have an indicator in place, there is still work under way. We make sure to highlight the latest and greatest from each workgroup in the Bay Barometer, to ensure their hard work does not go unnoticed. Examples include efforts to restore brook trout, track the status of state-identified healthy watersheds and help underserved communities that are vulnerable to flooding and other impacts of climate change.
The efforts of our many partners to meet the outcomes of the Chesapeake Bay Watershed Agreement are on display each year in the Bay Barometer. It is a vital tool that helps the 18 million people who live in the watershed keep a pulse on Bay health and hold the Bay Program accountable for ensuring our data remain accurate and transparent.
Keep up to date on our progress at ChesapeakeProgress.com, and visit chesapeakebay.net/takeaction to learn how you can help.
Rachel Felver is the Chesapeake Bay Program communications director at the Alliance for the Chesapeake Bay.
The views expressed by opinion columnists are not necessarily those of the Bay Journal.