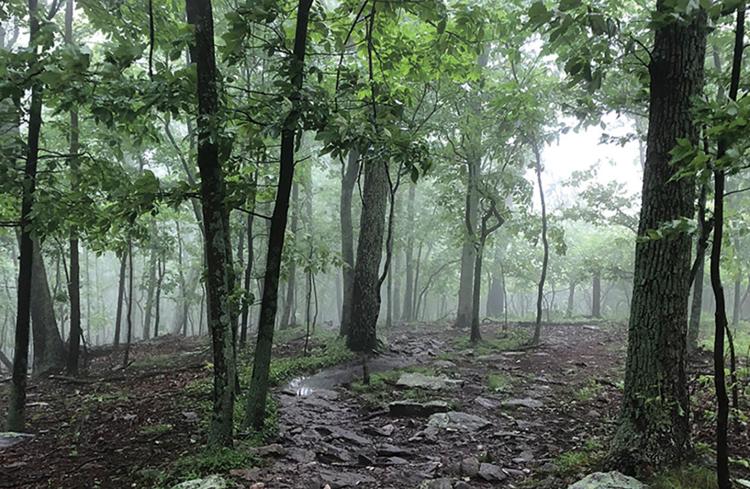 Editor's note: On March 24, the Appalachian Trail Conservancy advised all hikers to postpone their hikes on the Appalachian Trail to avoid potentially spreading COVID-19. After multiple sections of the Trail experienced large crowds the prior weekend, it is no longer a viable space to safely practice social distancing. For information, visit appalachiantrail.org.
A job related to regional Chesapeake Bay planning attracted me to Maryland from New England more than 50 years ago. I worked as a planner at a regional agency, analyzing water and land use issues related to the Chesapeake Bay and its shoreline in the Baltimore region.
When I first came to this region, I had worked on an analysis that found that water quality in the tidal areas of the Baltimore region were in rapid decline. On the land side, the study noted a lack of public open space compared with other bays around the country, as well as some poorly planned shoreline developments.
This connection between water and land became more apparent to me soon after arriving in Maryland, when I visited my brother in upstate New York. On that trip, driving along the Susquehanna River in Pennsylvania and New York, I began to appreciate the sheer size of the Chesapeake Bay watershed. The river, on average, accounts for nearly half of the water in the upper Chesapeake Bay and is quite spectacular in its length, breadth and beauty.
Driving along this important tributary, I realized that the health of the Chesapeake Bay is directly related to good farming practices, forest conservation and the quality of treated effluent from wastewater treatment plants.
In recent years, my interest and fascination with the size of the Chesapeake drainage centers around that portion of the Appalachian Trail that traverses the watershed. The 2,186-mile Appalachian Trail covers 14 states from Maine to Georgia. The Bay portion of this mileage, in Virginia, West Virginia, Maryland and Pennsylvania, makes up almost 25 percent of its length.
Along the way one crosses the mighty Susquehanna, the Potomac, the Shenandoah and James rivers.
At age 78, I am completing a 500-mile, multi-year hike of this area. I plan to finish my last hike near Troutville, VA, the trail's southern terminus of the Bay watershed. The northern terminus of the watershed is west northeast of Port Clinton where streams on the other side begin to flow toward the Schuylkill River and on to the Delaware Bay.
The auto travel time between these points is six hours and, if one averages my 8 miles of hiking per day, it would take about two months to complete the journey. But I completed my goal largely by day hiking from my home in Maryland.
When I began hiking the trail with my sons and friends, I soon became enamored with its interesting geology, varied topography, overlooks that feature views to beautiful valleys below, Civil War historical sites, vast forests, stream crossings, springs and interesting flora and fauna. In regard to the latter, seeing extensive areas of mountain laurel and rhododendron in bloom along with black bears in the Shenandoah National Park were highlights.
The trail is sometimes called the "green tunnel" because of the tree canopy overhead. With much of the trail traveling through protected federal and state parks or forests, wooded areas are dominant and beautiful examples of climax forests are prevalent. As a person interested in woodlands, some of my favorite sights were large groves of mature beech and tulip poplar trees along the trail.
Proper stewardship and environmental education is critically important if we are to improve water quality in local streams and the Bay. As a result, I am encouraging trail management organizations to place small, attractively designed signs for hikers to let them know when they are entering and leaving the Chesapeake Bay watershed. For those unable or unwilling to walk the entire trail, hiking sections of the Bay watershed portion is a worthy and enjoyable goal and a close-to-home adventure. This also allows people to time their hikes to coincide with seasons of the year as a way of experiencing full streams in spring, colorful foliage in fall, improved vistas in winter and warm weather in summer. When scheduling short day or overnight hikes, one can select the best weather and off-peak times when there is less foot traffic.
My hikes along the Appalachian Trail have emphasized to me that we are all stewards of an incredibly large, beautiful and fragile resource — one that I hope we will leave in an improved state for future generations.
Paul Farragut can be reached at pjfarragut@aol.com.
The views expressed by opinion columnists are not necessarily those of the Bay Journal.