Men of African descent have had a relationship with the navigation and economic trade of the Chesapeake since indentured servants arrived in Jamestown in 1619. From the American Revolutionary War to the War of 1812 and the Civil War, black watermen enhanced maritime navigation and trade on the Bay during some of the most critical times in our nation's history. 
Some of the first blacks to be legally classified as American citizens were sailors. In 1796, the federal government began issuing Seamen's Protection Certificates, which defined those who possessed them as American citizens. Nicknamed "Black Jacks," these men worked as equals alongside whites while on the water during the late 18th and early 19th centuries.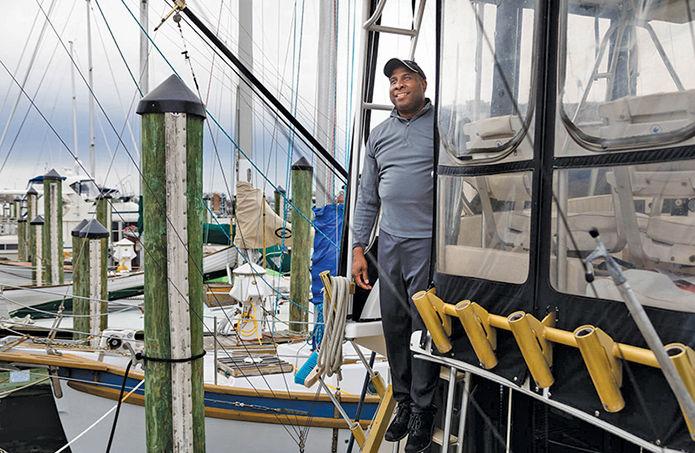 During this time, there were thousands of black sailors, yet very few black skipjack captains. In 1836, a bill was passed that attempted to restrict black labor on the water, but it was largely ignored by white captains and watermen who kept or employed black sailors. This was of considerable risk, as the boats of owners in violation of this law would be seized and sold, with half of the proceeds going to the informer who reported the offense. A law of this nature contributed to a culture of segregation and economic oppression.
Legal or not, blacks continued to work the water as shipbuilders, crew and freight haulers. They also captained subterfuge, which helped slaves to secretly flee using their boats for passage. Sometimes these activities were carried out with the complicity or protection of whites. 
During the Civil War, unlike the Army, the Navy was integrated. Nearly 18,000 men of African descent and 11 women who served in the Navy during the Civil War have been identified by name. At 20 percent of the navy's total enlisted force, black sailors constituted a significant segment of naval manpower and nearly doubled the proportion of black soldiers who served in the Army during the Civil War.
After the Civil War, black labor continued to be an essential part of the Chesapeake region. By 1860, the Chesapeake Bay was the main supplier of oysters in the United Stat
es, providing one of the highest paying jobs for black men. 
For the last century, African American watermen of the Chesapeake Bay have continued to seek out available economic opportunities as commercial fishermen, oystermen and crabbers. Here in the 21st century, the legacy of black watermen is kept alive through the black watermen still working the Bay today.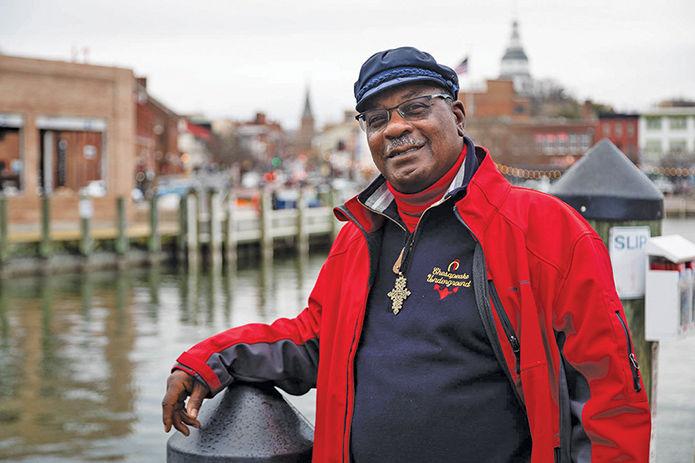 One of these watermen is Capt. Tyrone Meredith, the son of Capt. Eldridge Meredith, who in 2017, was commissioned the 101st Admiral of the Chesapeake Bay by Maryland Gov. Larry Hogan. A fifth generation watermen from Kent Island, MD, Meredith is currently a headboat captain, but started as a mate on his father's boat at the age of 6. "The mate on the boat does everything the captain doesn't do," he said. 
His next adventure on the water was becoming a commercial crabber when he was 12 years old. "Back then, the crabs were really plentiful," he said. "In the early 1970s, some days we would catch highs of 30 to 40 bushels of crabs. In comparison to now, the crabbers are having a hard time. Catching five or six bushels would be a good day now."
During the winter months, he worked as a commercial oysterman, starting around the age of 16 using hand tongs. At 18, he obtained his captain's license and operated one of his father's charter boats, taking fisherman out, which he found to be more profitable than crabbing and fishing.
Eventually buying his own boat, Meredith still operates as a charter boat captain after 30 years on the Bay. During this time, he has observed the effects of climate change and nutrient pollution on the health of the Chesapeake Bay firsthand.
When asked about why he feels there has been a sharp decrease in catch abundance, he responded, "I think the Bay grasses disappeared, and that's where the little crabs hide. So, there's no grass for the crabs to hide [in] and grow. It's almost as if they're crawling in a desert, allowing for larger fish to eat them up before they get big enough to catch." He takes a breath and continues, "Another problem is because of the pollution. The oyster harvest is really low due to overfishing, and oysters naturally keep the water clean." 
As catch decreased, so too did the number of black watermen. "In 1970, around 100 black watermen could be found on Kent Island alone, now you have a handful, maybe about 12, actually left," Meredith said. 
But it's not only the watermen who left. Meredith observed, "At one time, there were 18 shucking houses located on Kent Island — about 1,000 black people were employed across these houses to shuck the oysters and clams. Most of the workers in these shucking houses got older, died off or moved away; their children never picked it up and as they got older, climate change became more apparent and the industry died down."
On top of that, better access to higher education and more stable job opportunities in areas like Baltimore or Washington, DC, played a significant role in the migration of African Americans from the Eastern Shore of Maryland to urban areas more inland.
Nonetheless, Meredith still swears that Kent Island was and remains a hub for black watermen. "I've been everywhere from Maine to Florida, and I've seen more black watermen right on Kent Island than anywhere else."
In contrast, Capt. Marcus Wooley's initial experience with the Bay did not begin as a waterman, but rather through family leisure time. Wooley's parents moved from Texas to the Washington, DC, metropolitan area for reasons similar to those who moved to the Eastern Shore: job opportunities and access to higher education. Since as far back as he can remember, their family always had a boat. Both Wooley and his brothers could drive a boat before they had licenses to drive a car. "Whether we were out for two hours or four, I could do everything maneuvering a boat at the age of 12. I feel like I've just gravitated to the Bay and just love the water."
When he first started going out on the water as a pleasure boater, he very rarely came across other African Americans captaining boats on the Bay. Wooley's first boat purchase was a 50/50 investment between him and his father. This boat, purchased from a dentist, was named The Tooth Fairy. Now a boat captain for more than 25 years, a lot of Wooley's experience comes from taking friends and family on pleasure fishing trips from Baltimore down to Virginia Beach.
An information technology professional by trade, Wooley knew from an early age that one needed to make a certain amount of money to have the discretionary income to afford the lifestyle of sustaining and owning a boat. "When I grew up, the concept of a black waterman making a living on the Bay was not a concept that I understood. I did not see black watermen. I saw a couple of black boat owners, pleasure boat owners, but not earning a living, maintaining a living, being an entrepreneur that worked five to seven days a week on the water. It was not until I became older did I understand there were black watermen on the Chesapeake Bay, a place where I fished all my life." (When this comment was brought up to Meredith, he responded simply by saying, "I had people I would take fishing and they'd be shocked that I was the captain. They would say, 'we'd never seen a black captain operating the boat.'")
Times have changed though, and now Wooley has found himself as one of those entrepreneurs on the Chesapeake Bay. Transitioning out of his IT job, he started a business in the late 1990s working as an independent consultant. He is expanding his business, primarily emphasizing the maritime industry. During the summer of 2017, Wooley joined Airbnb and advertised his boat as a two bedroom, one bathroom floating condo and began accepting clients, just to test the waters. He has also considered other avenues of enterprise on the water, including running tours and taking fishermen out. He is in the process of obtaining his captain's license. He sees himself as a 21st century watermen. "The industry has changed," Wooley said, "just as much as the environment has changed." 
Vince Leggett is the founder of the Blacks of the Chesapeake Foundation, as well as the president and CEO of The Leggett Group USA, an Annapolis-based government relations consulting firm, and a registered lobbyist in the Maryland General Assembly. Leggett is also a historian, writer and cultural geographer of African American legacy and heritage of the Chesapeake Bay.
Commissioned as an Admiral of the Chesapeake Bay in 2003 by former Maryland Gov. Parris Glendining, Leggett has been teased by his colleagues as being the only admiral who does not own boat. He made a great comparison, saying "My experience is that a boat is a black hole you pour water into and you need big money to keep it up. For me, I have a lot of respect for people that make that financial commitment. I have friends who own Corvettes, Maseratis and Ferraris and spend the same amount of money that these guys are spending on boats; maintaining them and keeping them polished. It's just a matter of priorities."
He continued, "What I have found, from an African American perspective, is that exposure is a big part of it. And as we look for ways to diversify the industry, I think for men like Captain Meredith and Captain Wooley to stay on the Bay, they need to find different ways to make it work. The day they quit, we're closed."
Leggett stresses the importance of merging STEM (science, technology, engineering and mathematics) and STEAM (science, technology, engineering, arts and mathematics) education with cultural relevance for youth, to connect them to environmental stewardship and the open waters. He also said it is imperative to have more African Americans, and African American organizations, like Blacks on the Chesapeake, serve on some of the executive boards of maritime organizations and be included in the halls of government to ensure that everyone has an opportunity to be aware of the available resources and decision making processes, to ensure that economic and cultural gaps are filled.
Leaders like Meredith, Wooley and Leggett continue to pave the way for future black watermen, leisure boaters and entrepreneurs to partake in recreational experiences and the billion-dollar maritime industry. Perhaps their role is best summed up by Meredith and Wooley agreeing that, "The boat captain does everything. He's a mechanic, he's the janitor, the tour guide, sometimes the doctor, you wear all kind of hats, and that's work."
Darius A. Stanton II is on the staff of the Chesapeake Bay Program Diversity Workgroup.
The views expressed by columnists are not necessarily those of the Bay Journal.