The spotted lanternfly, an exotic insect that feeds like a vampire on the sap of fruit orchards and hardwood trees, has been detected for the first time in Maryland, setting off alarm bells in the agricultural industry.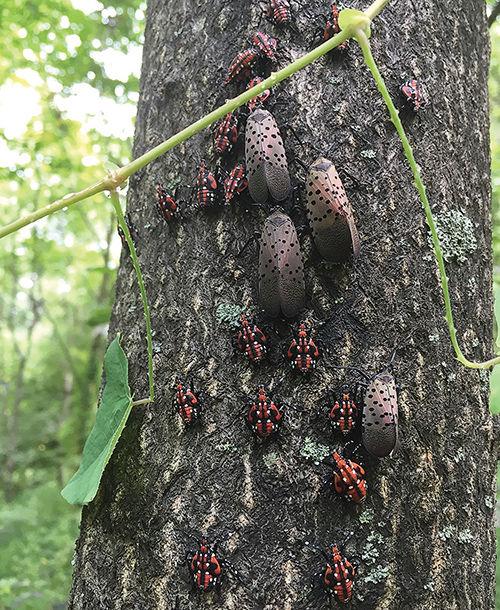 The Maryland Department of Agriculture announced Oct. 25 that it had found a single adult specimen in a trap in the northeastern corner of Cecil County, at the northern end of the Bay. The county borders Pennsylvania and Delaware, two states where lanternflies had previously been discovered.
Maryland officials said they are moving to stop the invasion in its tracks.
"It's something we're looking to do our best to keep our eye on," said Kim Rice, program manager for plant protection and weed management. "If we can eradicate it, we're certainly going to try."
But Rice acknowledged that lanternflies (Lycorma delicatula) have several advantages working in their favor. The Asian imports have no known predators in the region and can expand into new areas by hitchhiking while in their egg stage on the underside of vehicles or train cars.
Allowing the invasive pest to claim even a toehold would be too much, Rice said, because of the risk it poses to agriculture. Lanternflies feast on 70 different types of plants and crops, including apples, peaches, oaks and pines.
And lanternflies may take a bite out of the state's wineries and breweries: Hops and grapes also are on their menu.
Doris Behnke is a University of Maryland extension agent based in Cecil County, and she owns a winery called Turkey Point Vineyard in the same county. The lanternfly has been on her radar since its first U.S. appearance in Berks County, PA, in 2014. When that state blanketed 13 southeastern counties in a quarantine last year, it was a "real eye-opener," Behnke said.
She quickly joined the chorus of Maryland agricultural officials and trade groups warning farmers and others to be on the lookout.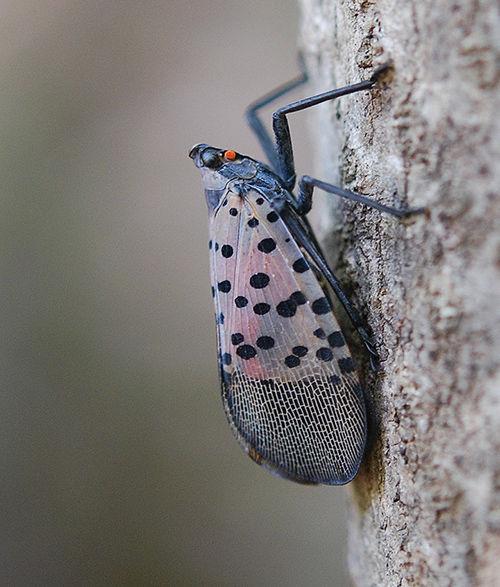 "It's a scary thing because there's no known control for it right now" beyond some insecticides that only appear to be effective shortly after lanternflies hatch, Behnke said. "They're not picky eaters. They attack trees and vines, and it doesn't have to be a certain time of year because they don't go after the fruit."
After the species' presence was verified in Virginia, Delaware and New Jersey, it seemed only a matter of time before Maryland joined the list, she said. In October, that's exactly what happened.
Behnke's vineyard is located on a family farm going back five generations. Growing grapes is already challenging enough in Maryland, with the unpredictable weather and recurring pests, she said. Now, she worries that a lanternfly invasion could set the industry back.
Since it's such a new threat, the full impact on vineyards and wine quality is "unclear," said Joseph Fiola, a University of Maryland grape expert, in a special industry alert in September before the lanternfly's presence was confirmed. But he warned that damage from feeding coupled with winter cold stress could kill vines.
As adults in the summer, lanternflies hop from leaf to leaf, using a strawlike mouth to extract sap from tree bark and plant stems.
"It's like draining the gas tank," Behnke said. "Once they drain that gas tank, depending on the time of year, there's a point that the plant, tree or vine can't build up that energy anymore."
Their victim of choice is a fellow Asian invasive, the tree of heaven (Ailanthus altissima). During the winter, lanternflies slather the trees with masses of eggs that resemble brownish-gray splotches. But they're not too picky about this either, often resorting to any smooth surface. Experts suspect that the first lanternflies to reach North America hitched a ride on a shipment of stone from their native China.
But they are perhaps best known — and despised for — the sticky, sweet fluid they excrete. Referred to as "honeydew," the lanternfly's excrement has been known to cover park benches, patio furniture, children's play equipment and other surfaces. The goop also invites the growth of a sooty mold that can get so thick that it blocks a host plant's access to sunlight, Behnke said.
The bugs themselves look like demonic butterflies. Measuring an inch long by a half-inch wide, they have large, colorful wings. The front set tends to be beige with block dots. The back wings are two-tone — scarlet with black spots at the bottom while striped in black and white at the top.
Maryland and U.S. agricultural officials have set up 15 traps at strategic locations along the state's borders to monitor the lanternfly's movements. But they're not sure whether any regulatory actions will be needed until a fuller picture of its whereabouts emerges. A quarantine like the one in Pennsylvania would limit the movement of plants and outdoor household items out of the affected area.
"We don't know what we have yet," Rice said.
The lone captured insect was a male, so it did not produce any egg masses, she added.
In the meantime, officials are imploring the public to collect any lanternfly adults, nymphs or eggs they might find and report it at DontBug.MD@maryland.gov. The insects should be placed in a plastic bag and frozen to kill and preserve them.