The roadsides, rest stops, interchanges, traffic islands and even urban intersections across Pennsylvania may soon look a little more unkempt or sprout what passing motorists may mistake for weeds out of control.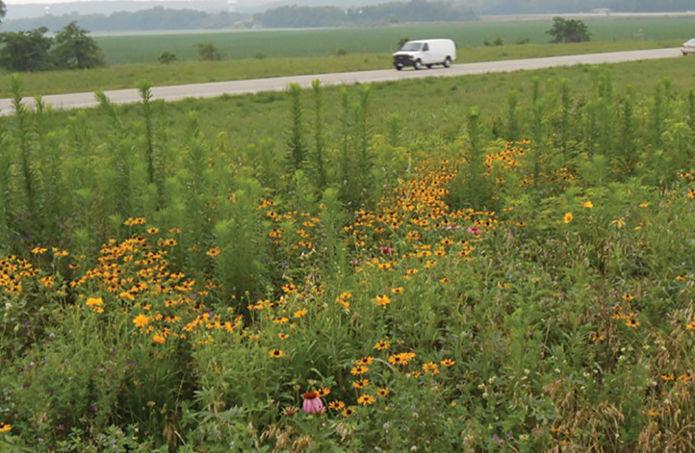 But it's really "conservation mowing" and carefully planned plantings as part of a new initiative by the Pennsylvania Department of Transportation to help struggling bees and other pollinators that are vital to the state's agriculture.
PennDOT is reaching out to civic and environmental groups, scouts, gardening clubs and willing individuals in a search for volunteers who can establish and maintain carefully sited pockets of plantings and small meadows as part of the agency's Pollinator Habitat Plan.
It's an expansion of the agency's highly popular Adopt-A-Highway program aimed at litter cleanup and the Adopt-And-Beautify program that plants splashes of colorful flowers along roads and intersections.
The new project aims to establish key plants that provide food and support the reproductive cycle of pollinators such as bees, bats, hummingbirds and other species. The highway agency also will do less mowing. This "conservation mowing" will encourage pollinator plants to grow.
State and federal agencies have been given marching orders to help pollinators under a presidential memorandum by former President Barack Obama in 2015. With 110,000 acres of scattered rights of way, PennDOT is positioned to make a difference.
"We really need the public's help," said Toni Zawisa, a biologist in PennDOT's Environmental Analysis Unit. There is no funding allotted for the program, so success will depend on groups of volunteers to obtain plants and seeds, as well as conduct maintenance.
Groups such as Pheasants Forever are already on board to install meadow plantings at suitable sites. So are Master Gardeners.
The striking decline of honey bees has been well documented. But the threat to pollinators extends to many other species. A federal ruling is expected this month on whether the monarch butterfly should be listed under the Endangered Species Act. Also being considered are the yellow-banded bumblebee, regal fritillary butterfly and frosted elfin.
Pollinators are not just pretty creatures in the landscape. In Pennsylvania, they are vital to the state's agriculture industry, especially fruit and vegetables. The number of crops dependent on pollination in Pennsylvania, about 75 percent, is near the highest of all states. There are more than 300 species of bees that pollinate crops in Pennsylvania.
But habitat loss, fragmentation of landscapes, pesticide use and introduced diseases have done a number on pollinators nationwide. Pennsylvania has fared better than most with its smaller farms and variety of habitat, "but we still have our problems," Zawisa noted.
To do its part, PennDOT will modify its mowing techniques on roughly 58,000 acres of rural roadside rights of way — which is to say, there will be less of it, allowing milkweed and other native plants favored by pollinators to grow up.
"A lot of people believe that beauty is a mowed lawn. As we modify some of our practices to accommodate pollinators, people may see less of that. This is a way of enhancing pollinator habitat and the diversity of these species throughout the state," Zawisa said. The public may also see more spot spraying of herbicides to weed out invasive plants along roadways.
Close-cropped mowings will continue right against roads to maintain safe sighting conditions for motorists. And no plantings will be made in the medians on interstate highways.
PennDOT also will continue its practice of cutting trees in the rights of way, called "daylighting." Done initially for safety reasons, opening the rights of way to more sunlight encourages milkweed and nectar-producing plants.
Plantings to attract bees, butterflies and other pollinators along roads will not cause more of them to collide with vehicles, Zawisa contended, because roadside plantings give pollinators what they are looking for and less reason to fly across roads looking for habitat. "When you put in pollinator habitat, research has shown that vehicle contact is lower than without," she said.
And with less mowing, fewer deer will be attracted to roadsides, likely cutting down on deer-vehicle collisions, she said. That's because deer are drawn to the tender new growth that constant mowing leaves in its wake.
The new plantings will also add color to the routes. For example, a preferred pollinator mix includes 21 types of wildflowers mixed with grasses.
Interested in signing up as a volunteer? An application may be found online here. The application, which ideally includes a description of the project and a sketch plan, needs to be sent to the roadside specialist in your PennDOT district. Phone numbers of districts are on the form. Individuals may be assigned to a group project.