If a tree falls in the forest, Joan Maloof hears it. Sometimes, she even hears it before it has fallen.
It is with this sense of arboreal fatalism that she writes letters to the Maryland Department of Natural Resources year after year, imploring the agency to withdraw its forestry division's latest plans to cut down old trees on the Eastern Shore.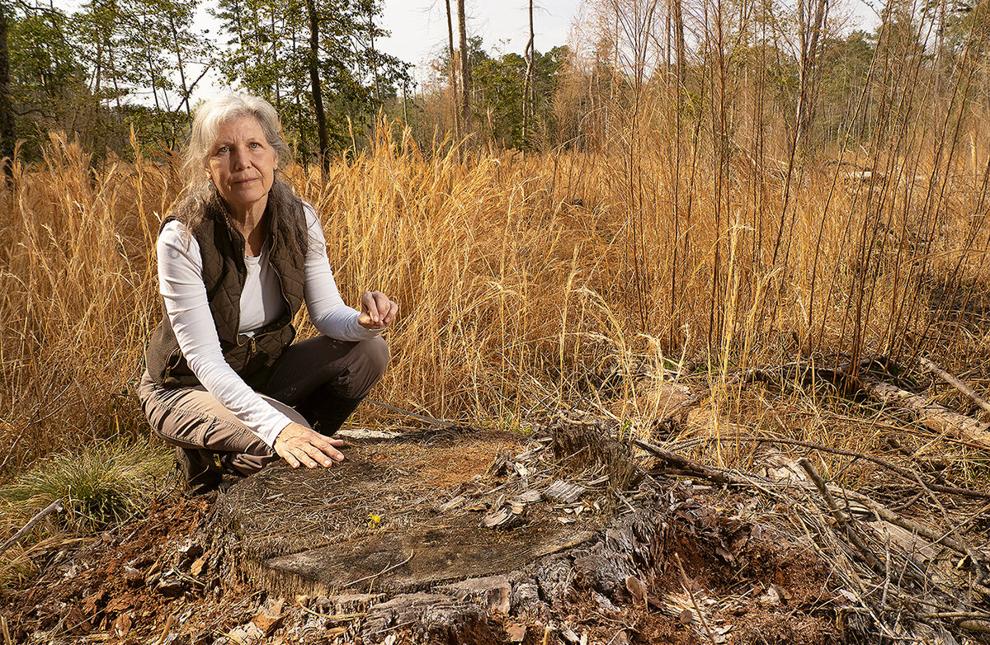 She writes. They cut. Nothing ever seems to change.
This year, the retired Salisbury University biology and environmental sciences professor hopes to break that cycle. Maloof opposes the felling of 120 acres of woodland in the Pocomoke State Forest, where some trees are believed to be nearly 100 years old.
"This is the kind of stuff we're talking about here," Maloof said as she tromped through one of the shady tracts that's set to be logged. "[These are] some of the last older patches. There's the holly and the understory trees."
Her stance was joined by dozens of conservation organizations, including the Audubon's Mid-Atlantic office.
Chances appear slim that they'll get their way, though. Mike Schofield, manager of Chesapeake forests for the DNR's Maryland Forest Service, says there are no plans to heed commenters' objections to the cutting.
"There isn't anything in there of substance that would warrant a change in our minds," Schofield said. "Although I can sympathize with people's attraction to the idea [of] older trees, the reality is the forest is full of older, larger trees. The areas [where] we are conducting the harvest are areas that are designated for fiber production."
The long-running back-and-forth underscores the challenges and tensions involved with operating a public forest.
For some members of the public, forests are recreational and ecological oases, where activities such as hiking and birdwatching mingle with the environmental benefits that trees provide, such as capturing carbon dioxide from the atmosphere. For others, the forest is their livelihood, and trees, if managed sustainably, are as much of a commodity as corn or soybeans.
"Those balances need to be struck, and I believe they are in our sustainable forest management plan," Schofield said.
The 18,000-plus acres of the Pocomoke State Forest lie mostly in Worcester County, but also in small portions of Wicomico and Somerset counties. The Maryland Forest Service manages it along with what is collectively known as the Chesapeake Forest Lands, which consists of more than 75,000 acres spread across dozens of tracts in six counties.
Across those two state forest entities, the Forest Service prohibits cutting on about 10,000 acres of woodland, or about 10% of its Eastern Shore holdings, Schofield said. Much of that is considered old growth, he added.
Dave Wilson, a Worcester resident and longtime environmental advocate, asserts that the state could be doing more to protect older trees in the region. The amount of acreage that critics want spared from the state's harvest plan represents just 5% of the 2,400 acres being targeted for thinning or clear-cutting in the document, he pointed out.
"It doesn't make much sense to those of us who are concerned about biodiversity" to keep allowing mature forests to be cut down, Wilson said.
The 120 acres, however, does comprise the entire allotment of clear-cutting in the Pocomoke Forest in the annual work plan. The remaining 143 acres there is reserved for thinning.
In the Chesapeake Forest Land, about 1,900 acres of forest is set for a first or second thinning, and 150 acres is planned to be clear-cut.
Within the clear-cut areas, Schofield said, about 6% of the existing trees will be left standing. Those trees will help seed and regenerate the forest.
Older forests tend to have a greater variety of trees and animal life than their younger counterparts. And studies show that the older a tree is, the better it is at trapping carbon.
After the Forest Service released a draft version of its annual work plan earlier this year, the Pocomoke cutting proposal drew 52 comments, with support from forestry industry members and opposition from environmentalists.
"Trees, like all species, have a biological age limit," the Dorchester County Forestry Board wrote. "During the comment periods, DNR often receives negative comments mostly aimed at the harvesting of mature timber. …[But] conservation — the wise use of natural resources — trumps preservation any day. A hands-off approach is not the answer."
After her retirement in 2011, Maloof founded the Old-Growth Forest Network, a national nonprofit that seeks to protect at least one forest in each of the 2,370 U.S. counties where conditions are suitable for forest growth. Since then, the group has added 118 forests in 24 states to its network.
But Maloof, also a Worcester resident, has found less success in her own backyard.
"You're just shaking your head," she said. "It's like, why are they going to do this to this public forestland?"
If finalized, the annual work plan would be in effect from July 1, 2021, through June 30, 2022.