They are asleep for the winter in ugly little egg cases that look like splotches of dried mud plastered on all manner of smooth outdoor surfaces. They are found on trees, park benches, decks, walls, cars and rocks.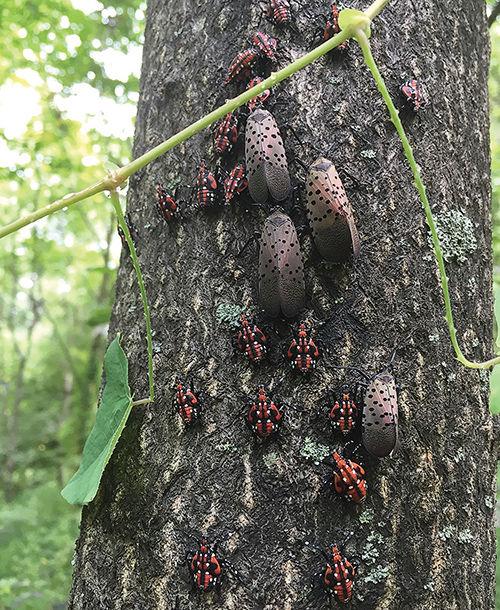 Experts believe that the latter, stone shipped from somewhere in its native China, was the vehicle on which the invasive spotted lanternfly (Lycorma delicatula) first hitched a ride to Pennsylvania a little more than three years ago.
Since the lanternfly's arrival, agricultural agencies and extension offices have been sounding the alarm and asking for help in reporting it and killing it, hoping to stave off its spread to other states in the Bay watershed. Important crops in the region at risk include apples, peaches and grape vines, as well as hardwoods such as maples, walnuts and some pine.
Come spring, the destructive sugar-water-excreting leafhoppers will emerge as nymphs and feed on crops, trees and vines, puncturing the stalks and trunks to suck out phloem – the tissue that conveys sugars and other nutrients down from the leaves. The insects' excrement, called honeydew, is like that of aphids, but more plentiful; it attracts sooty mold and borers, which together snuff out what life is left in the weakened fruit tree, maple or grape vine.
In the half-dozen hardest hit southeastern Pennsylvania counties, orchardists and vintners are trying to keep up with the scourge, and suburban residents say their neighborhoods are covered in goo.
The sticky honeydew covers everything outdoors; trees and patio furniture drip with it, even pets, said Emelie Swackhamer, a Penn State horticulture extension agent in Montgomery County — just southeast of where the infestation was first reported and remains widespread.
"They are just disgusting," she said. "[You] can't even sit outside without getting it in your hair, on your clothes."
Agencies have set up hotlines and websites with a profusion of photographs and information about the bug's behavior and life cycle.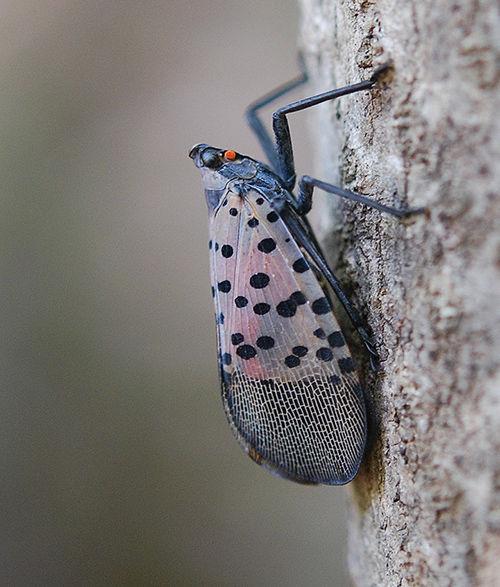 The public involvement has been extraordinary, said Fred Strathmeyer, a deputy secretary at the Pennsylvania Department of Agriculture. The department has received 18,000 calls and emails since the insect was first sighted in Berks County in 2014.
Even so, controlling the spread of spotted lanternfly hasn't been successful so far. The state quarantined six towns at first; by November, it included 13 counties. Industries and individuals in quarantined counties need a permit from the state agriculture department to move an extensive list of items from the area, basically anything where egg masses could be attached – including firewood.
Although the only confirmed infestations are in southeastern and central Pennsylvania, one live adult has been found in Delaware and a dead one was reported in New York. Maryland, which borders Chester and Lancaster counties, appears to be next in line.
"We are 100 percent certain that they will be in Maryland, probably by spring," Strathmeyer said. "We have been working with other states for the last three years. Our conversations have been a little more intense lately because it is spreading."
Observers say it's too early to predict what damage the spotted lanternfly will do to crops in Pennsylvania, but the state has gotten help from the U.S. Department of Agriculture — $5.5 million in the last three years — to help with containment, research and public outreach.
Federal entomologists are working with their counterparts in South Korea and China to learn more about the insect's habits and life cycle. South Korea has been struggling with an infestation since 2006 and has had some success in containment — though the entire country, nearly the size of Pennsylvania, is infested to some degree.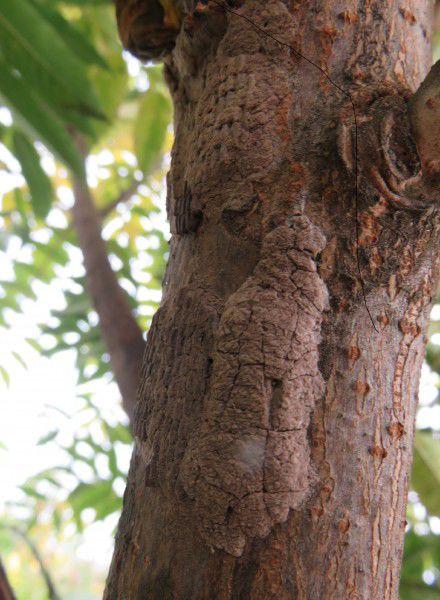 Research at Kutztown University suggests that the lanternfly needs to feed on tree of heaven, also known as ailanthus — an Asian tree species, also invasive, that was brought to the United States centuries ago — to reach sexual maturity. Lanternfly nymphs that had fed exclusively on plants other than ailanthus did not produce viable eggs.
Some affected orchard businesses have seen their yields reduced, Strathmeyer said, though grapes seem to be the hardest hit so far. While only time will tell if the grapevines themselves are dying off, some vineyards are already reporting crop loss, claiming the lanternfly infestations turn the grapes bitter and unmarketable.
"It would be nice if they can be eradicated, but unless Mother Nature does it her own way, I don't see that happening," said Lee Spencer, an orchard owner in the affected area.
How to spot a spotted lanternfly
In winter, egg masses are the only hint of the insect's existence. The brownish-gray mudlike splotches are found mostly on smooth, dark objects, said Mary Kay Malinoski, an entomologist with University of Maryland Extension. Females lay the egg masses, each containing 30–50 eggs, throughout the fall — often choosing light-colored tree bark that provides good camouflage.
"Ever since it showed up in Pennsylvania, everybody has been pretty concerned," Malinoski said, adding that it has affected vineyards, nurseries, vegetable growers and even some hops growers. "It's happening so fast, and we haven't figured out what it's going to do."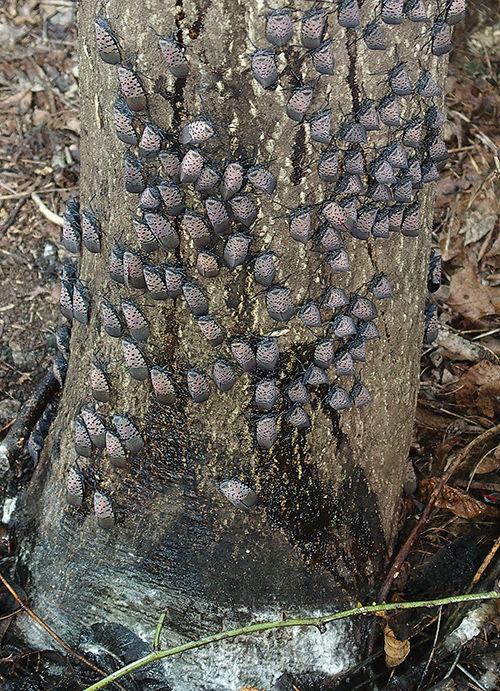 Officials are asking people to check their vehicles for egg masses between September and May and to not move patio furniture or nursery stock from a quarantined area.
In spring, freshly hatched juveniles look like enameled jewelry: shiny black with white spots for the first three stages, or instars, of its life cycle. Just before it becomes an adult, it turns bright red with white spots. Adults, the most visible and recognizable stage, start emerging in July. They are about 1-inch long and 0.5 inches wide, with light brown, spotted wings that flash white and red when they fly or hop.
Even if the insects aren't visible, the sticky sweet honeydew is a sign of infestation, as is the sooty mold that grows in the lanternfly excrement. As it grows, the mold looks as if soot has settled on leaves and stems of the plant. It blocks sunlight, interfering with the plant's food production.
Controlling egg masses is simple, provided you can find them. Scrape them into a plastic bag or container with enough rubbing alcohol in it to soak the egg mass. There are several methods to kill adult lanternflies on plants, including directly applied pesticides. One promising method involves clearing a wooded area of 90 percent of the insect's favorite tree, the ubiquitous tree of heaven or ailanthus, then treating the remaining ones with a systemic pesticide, which kills both tree and insect.
To report lanternfly sightings in Pennsylvania, call the state Department of Agriculture's Invasive Species Hotline at 1-866-253-7189. Alternatively, take a picture of the specimen and email it, with the date and location of the sighting, to badbug@pa.gov. The department also encourages citizens to submit (dead) physical specimens. To download the form that must accompany a mailed specimen, go to agriculture.pa.gov and click on "spotted lanternfly" in the Hot Topics column.
The University of Maryland Extension has an online form on its website for that state's residents to report sightings and submit photographs: extension.umd.edu/learn/ask-gardening.
In New York, report findings to the Division of Plant Industry at 800-554-4501; or email digital photographs to: plants@agriculture.ny.gov, or contact a local Cornell Cooperative Extension county office on this list: cce.cornell.edu/localoffices.