Not long after Sterling Rollings bought a 100-year-old cottage in Portsmouth, VA, on the Elizabeth River — his first waterfront property — his shoreline began retreating.
The change was gradual at times, an inch or two of grass giving way to murky mud, and stark at others. Nor'easters churning up raucous waves would eat several inches from the edge in a day. By the time Rollings called the Elizabeth River Project early this year for help, the jutting point of his shoreline had receded by about 3 feet.
"In the year and a half it took me to redo the house, I watched the shoreline disappear," said Rollings, who had retired to work on renovations.
The Elizabeth River Project, it turns out, was looking for people just like Rollings — property owners who might be interested in nature-based erosion solutions known as living shorelines. Despite the growing acceptance of living shorelines as the preferred method of erosion control during the last 40 years, some areas of the Chesapeake Bay and its rivers still feature miles and miles of coasts hardened or "armored" with rocks and walls. Many of them are on private land.
A Virginia law that went into effect in July now requires landowners to install living shorelines when they plan coastline construction, unless the "best available science" indicates the site would not be suitable for such an approach. Maryland enacted a similar mandate in 2008.
Rather than hardening the shores with concrete or stone riprap, living shorelines create natural edges that receive the water's ebb and flow and, over time, can be more resilient in the face of rising sea level and powerful storms. They also create habitat for wildlife and filter polluted runoff from the land.
But persuading landowners to make the switch from traditional shoreline stabilization methods can be difficult, even as the new mandate will require many of them to do so.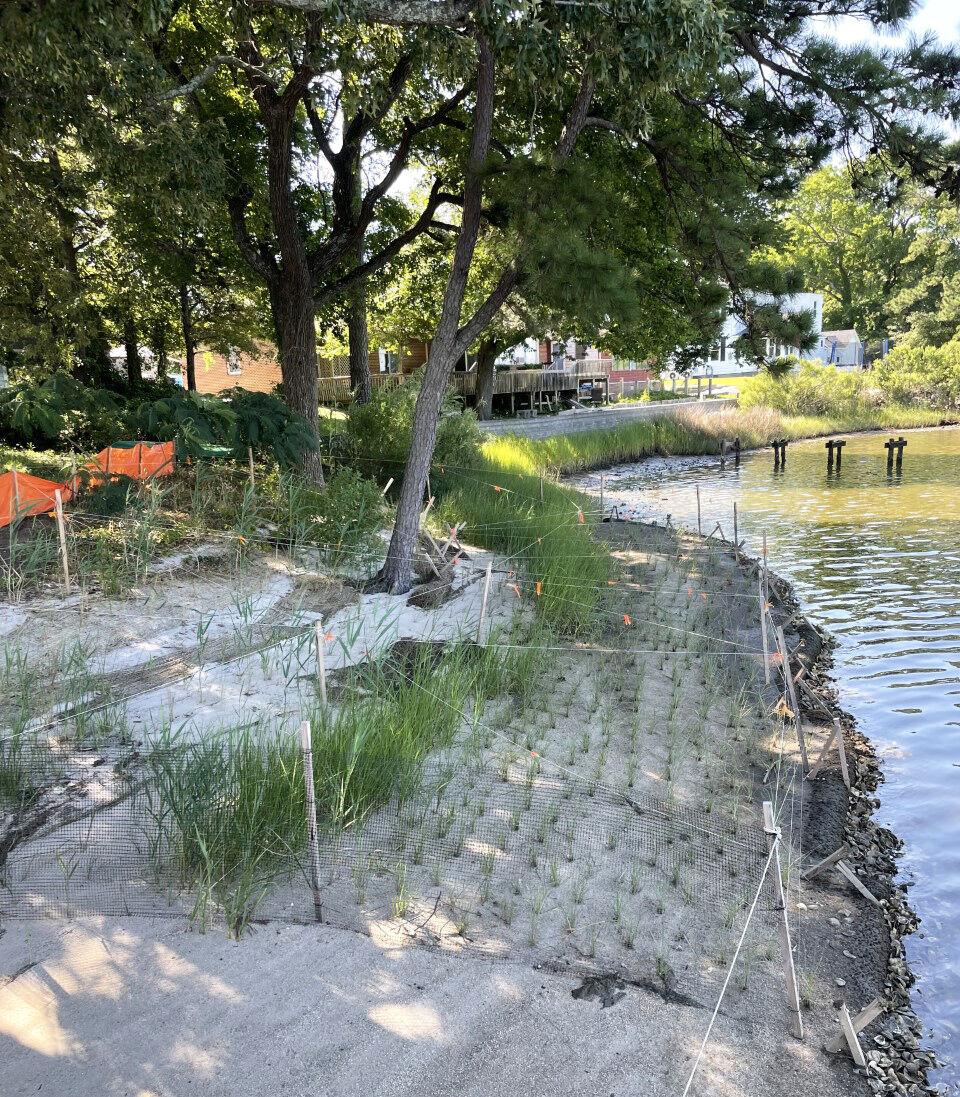 One study showed that property owners were mostly swayed by what neighbors had on their shorelines — often vertical retaining walls called bulwarks or revetments of piled rock — rather than science.
"If your neighbor has a revetment, you will, too," said Joe Rieger, deputy director of restoration for the Elizabeth River Project, summarizing the study's findings and his own experience trying to get living shorelines installed near Norfolk. Living shorelines have "long ago gotten acceptance by the environmental community and universities, but it just hasn't caught on to the degree that we'd hoped for."
Funding private projects
That lukewarm reception is one of the reasons the Virginia Environmental Endowment gave the Elizabeth River Project and James River Association more than
$1 million to help make the decision easier for landowners. The money has been combined with local grants to help offset the costs of construction and has funded a dozen living shoreline installations on each of the rivers.
In the process, the Elizabeth River Project has been training staff from the James River Association on how to install the practices.
"The idea was to cross-train someone while doing on-the-ground projects at the same time," Rieger said. "It's building a larger coalition around living shorelines."
VEE executive director Joe Maroon said his organization puts living shorelines at the top of a list of practices that could make the most impact in the James River watershed. Improvements on private lands can help localities reduce their share of nutrient pollution to the Chesapeake Bay and, since 2017, local governments can get credit for new living shorelines that achieve such reductions.
Since 2017, the organization has granted about $3 million to construct them, including at public parks and, now, on private properties. "The hope in our mind is that it will result in more landowner acceptance and use by professionals in the near term," Maroon said. "Natural infrastructure solutions like living shorelines are not just the future but the present as well."
In Rollings' case, the program funded three-quarters of the cost of installing his living shoreline. The total cost came to about $22,000, compared with a $27,000 quote Rollings got from a contractor to install a protective layer of riprap around his coastline.
On Rollings' shore, where a hybrid approach was used to create habitat and protect against erosion, oyster "castles" replaced riprap to hold the sand in place. The concrete blocks, shaped like square sandcastles with corner towers, serve as substrate for wild oysters and ribbed mussels while protecting surrounding sand and plants from washing away.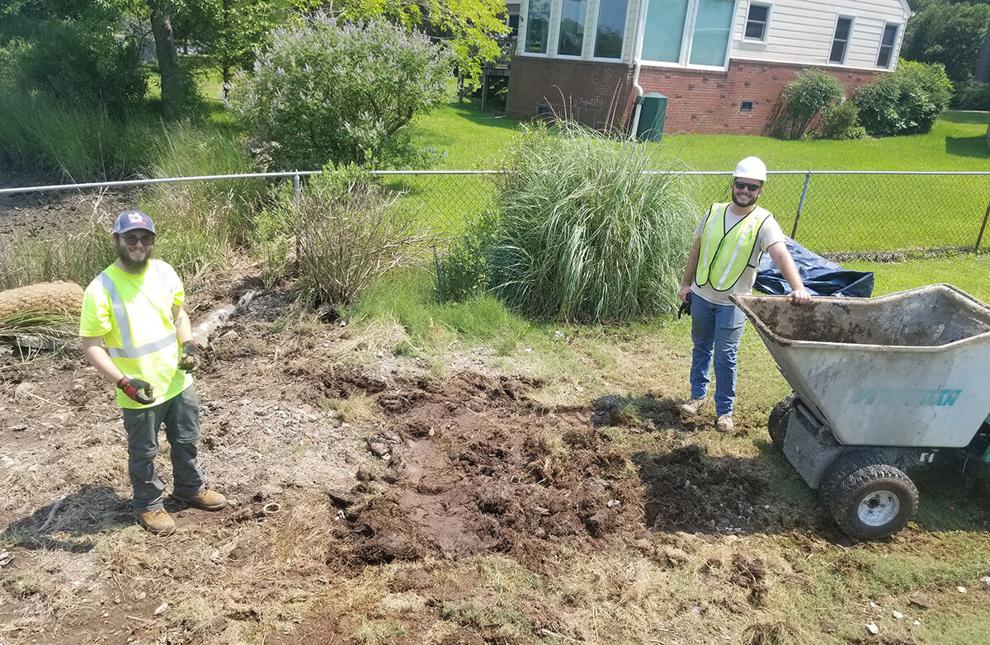 Workers — including Rollings and Elizabeth River Project volunteers— used wheelbarrows to carry 80 tons of sand to the shoreline, piling it behind the oyster castles to restore the beach. Rollings estimates the project added back the 3 feet of shoreline he had lost, replacing intermittent grass (the geese had already done a number on it, Rollings said) with a beach where his grandchildren play, and natural areas where underwater grasses grow tall.
But Rollings' said his favorite outcome so far has been the shrimp.
"I don't know if the shoreline has a lot to do with this, but the last three weeks, I've been going out and throwing my cast net and putting 30 or 40 jumbo shrimp in my freezer every night," said Rollings, whose wife on one occasion steamed, buttered and served the shrimp right away. "I'm gonna tell you what — they're some kind of good, too."
Science shows storm resilience
There are still plenty of factors keeping more living shorelines from taking hold along residential coastlines.
In addition to landowners being more likely to do what their neighbors are doing, many residents may not believe that living shorelines will protect their properties as well as armored approaches.
Scientists, convinced of the ecological value of living shorelines, have been studying their resiliency against storms and sea level rise to combat that message.
Now, "there is plenty of evidence indicating that living shorelines, if constructed properly, perform well and recover quickly from storms," wrote Donna Marie Bilkovic, assistant director of the Center for Coastal Resources Management at the Virginia Institute of Marine Science, in an email. Conversely, there are "lots of examples of failed armored structures after storm-overtopping caused bank scouring."
One study in North Carolina found that marshes with and without protective sills, which would be considered living shorelines, buffered estuarine coasts from erosion better than bulkheads during a Category 1 hurricane. Hurricane Irene in 2011 damaged three-quarters of the bulkheads in the study area, while no damage was detected at marsh or marsh sill sites after the hurricane, the study found.
Property owners aren't likely to consider how their shorelines perform under worse-case scenarios. But they always consider the cost of a new project. Living shorelines don't always cost less, but many localities offer property owners incentives or cost-share programs to install them. These are similar to programs that encourage homeowners to add rain barrels or rain gardens that help absorb stormwater running off their properties.
Ryan Walsh, lower James restoration coordinator for the James River Association, said the dividends that living shorelines deliver for water quality makes him eager to get more on the ground.
"From a restoration perspective, what's really exciting is that the [best management practices] that make up living shorelines have basically blown every other BMP out of the water," Walsh said.
Under the VEE grant, Walsh has been working alongside experts from the Elizabeth River Project for the past two years to learn the particulars of installing living shorelines. The practices emerged years ago as a common-sense solution for residents along the Elizabeth River, where, as Rieger put it, sea level rise "has been in everyone's face for the last six or seven years."
"Since World War II, we've lost over 50% of our wetlands on the Elizabeth River. With sea level rise, we could lose 30% of our remaining wetlands in the next 50 years," Rieger said. "We're on the cusp of this change where it's going to become a norm to have a living shoreline, but we've already gained significant momentum."
Unlike a seawall that only aims to keep the water out, living shorelines allow wetland areas to migrate upland as the water rises.
In the Lower James River, the shoreline makeup is different. From Richmond to the Bay, the majority of properties on the shore are rural or agricultural. Living shorelines can still decrease the amount of nutrients running off those properties and improve their long-term resilience, Walsh said.
'A perfect opportunity'
Walsh has been learning firsthand that, even after a landowner agrees, installing living shorelines isn't easy. The permitting process can be harrowing and the physical work is arduous — especially when you choose volunteer labor and lower costs over deploying machines that can tear up a property's lawn.
On one project, Walsh pushed wheelbarrows of sand the equivalent of 9 miles in one day, according to his fitness app. Another bottleneck is that not many private contractors are trained to install living shorelines or want to do it. In-water work must be done in conjunction with the tides and storms, which can make the work unpredictable and last for several weeks.
"This is brutally heavy labor, so there are instances where contractors hire some guys and they wheelbarrow sand and decide they don't want to do it anymore," said Walsh, who is now training teams of volunteers to help with projects in the Lower James.
Pandemic-fueled shortages of labor and of some materials have temporarily exacerbated these issues. Many marine contractors, for example, can make more money installing new docks than creating living shorelines.
But the funding from VEE enabled Walsh and Rieger to install projects as demand trickled in over the past two years. They didn't have to hunt down grants for each property, which expedited the timeline for several projects.
The Elizabeth River Project has already completed its 12 living shorelines under the grant, many with Walsh's help. The James River Association is more than halfway through its list of projects. Meanwhile, the organizations are leading workshops to lure not only volunteers but also industry professionals into the world of living shorelines.
"There is a perfect opportunity for someone to start a small business around this. We would welcome more people to help with construction and design," Rieger said. "At the end of the day, the best is when you come back a year later and it's this awesome marsh, and the homeowner is happy."