A creek in Northern Virginia is going on a pollution diet, and residents might feel the belt-tightening this time. That's because it could lead to limits on a compound that's as beloved on U.S. roads as it is in our meals: salt.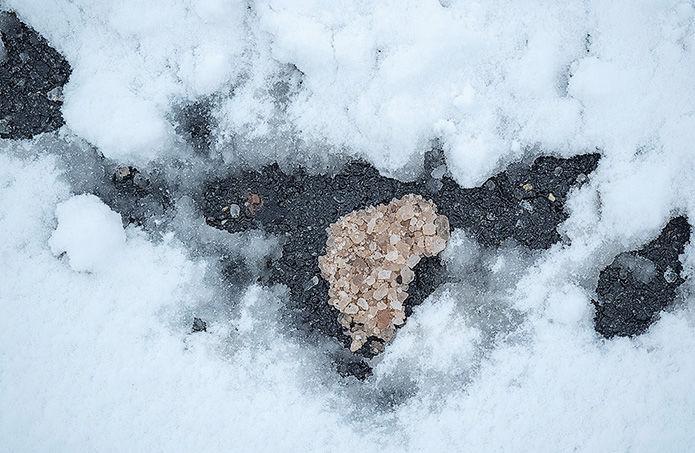 After spending decades studying Accotink Creek — which drains a 52-square-mile swath of midsize homes and commuter-crowded roads in Fairfax County, VA — scientists couldn't ignore the impacts that road salts were having on a freshwater creek whose critters weren't accustomed to the brinier waters.
At the end of May, the state Department of Environmental Quality approved a pair of new pollution limits for the creek, called total maximum daily loads, or TMDLs. One aims to reduce the amount of pollution-carrying sediment that runs through the creek, which is a tributary to the Potomac River. The other addresses the waterway's high chloride concentrations — in what appears to be the first salt-related TMDL in the Chesapeake Bay watershed.
The salt that is spread on roads in winter is sodium chloride, typically made up of about 40 percent sodium ions and 60 percent chloride ions. As it washes off roads and into streams and groundwater, the compound not only increases salinity but also concentrations of chloride in the water. Studies around the country have found that, as indicators of salt increase, streams begin to lose their most sensitive species first, insects like mayflies, then amphibians and fish.
This is not the first attempt to regulate the pollutants plaguing Accotink Creek. In 2011, the U.S. Environmental Protection Agency imposed a TMDL on the Accotink watershed, but, in a lawsuit brought by the Fairfax County Board of Supervisors and the Virginia Department of Transportation, a federal judge invalidated the TMDL, ruling that the EPA's methodology for measuring sediment flow was flawed. Opponents of that TMDL also said that stormwater retrofits would have been too costly for homeowners and businesses in the creek's watershed.
But the high stakes decision made Accotink Creek one of the most extensively monitored watersheds in the region — and the first to show the statistical symptoms of road-salting routines that are common throughout the Bay region.
In developing their own TMDL for the Accotink — which will require some permit holders in the watershed to address their salt use — state regulators are casting a wider net. They want the entire region to reconsider how it spreads salt and how that affects local streams.
"You don't stop applying salt at watershed boundaries, so the problem is more widespread," said David Evans, nonpoint source coordinator at the DEQ. "We started looking at water quality data throughout the region, and the patterns were the same as in the Accotink."
Early in the process, Evans said his team reached out to more snow-laden U.S. regions where officials are a few years ahead on treating road salt as a pollutant. Minnesota's Twin Cities, for example, adopted a chloride management plan in early 2016 that addresses salt application in the metro area, where 39 waterbodies are listed as impaired by chloride.
The DEQ decided to take a similar approach, convening a group of nearly 70 stakeholders from across Fairfax and Arlington counties to develop a salt management strategy that will benefit more than the Accotink.
The key, officials learned from other regions, is to get everyone who cares about road salt in the same room to rethink how they use it. The effort can also help regulators understand what's feasible without putting public safety at risk.
"This project comes with a lot of expectations, not only from you guys in this room but also from the public and politicians," said Will Isenberg, TMDL and assessment coordinator with DEQ, at the outset of a meeting in June. "The more thorough we can be in these recommendations, the better."
The strategy document that results from these meetings will be a reference point for officials regulating chloride in streams. It will also recommend how cities or private contractors could benefit their bottom lines by rethinking salt applications.
Joe Wood, Virginia staff scientist with the Chesapeake Bay Foundation, commended the state's approach to a problem that is "likely ubiquitous across Virginia's urban watersheds."
"I think the DEQ recognizes that, if they had the resources to go assess all the watersheds, they'd have lots of impairments," Wood said. "This process helps us get a feel for who the stakeholders are and what the logistical challenges are going to be for those people."
Wood said one obstacle is that scientists in this region haven't studied chloride as a pollutant as much as they have nitrogen or phosphorus. One study by scientists from Virginia Tech and Maryland's Towson University found that some of the stormwater management practices that curb nutrient pollution, such as planting forested buffers alongside streams, don't have the same effect on chloride.
Two of the salt management strategy's workgroups will focus on creating a suite of practices aimed at keeping chloride out of the water. But it will be up to residents and cities — and the agencies that spend millions of dollars spreading salt each year — to implement them.
"In terms of how this might affect our operations, it's potentially huge," said Scott Crafton, MS4 program manager for the Virginia Department of Transportation's maintenance division.
VDOT budgeted more than $210 million for its anti-icing program last winter, which covers almost 130,000 miles of roads in nine districts. Virginia has the third largest state-maintained highway system in the country, behind Texas and North Carolina.
Crafton said VDOT has been "very progressive" in adopting best management practices, some of which are filtering down from the Northeast, to reduce salt's impact. One of those practices is spreading liquid salt brine, which contains less chloride than rock salt, on roads to keep snow and ice from sticking and make easier work for plows.
He thinks some of the low-hanging fruit for reducing salt applications could be in the hands of private contractors that are hired by homeowners' associations or mall parking lots to spread salt. A few contractors have been involved in the salt strategy meetings so far, and DEQ officials said they are continuing to reach out to get more of them involved.
VDOT, along with Fairfax County, the city of Fairfax and the U.S. Army's Fort Belvoir, could be required to do more when the new chloride limits for Accotink Creek are worked into their permits, which will be up for renewal in a couple years. But plenty of other organizations have a stake in how much salt is on the roads or in the waterways.
The water authorities in Fairfax and Loudoun counties, for example, want to make sure their sources of drinking water aren't laden with salt, which can corrode pipes, affect taste and require additional processing. Agencies that spread salt to keep the roads safe for drivers also see the compound's corrosive impact on roads and related infrastructure as it piles up in the winter months, damaging vegetation and vehicles.
"We are learning as we go," said the DEQ's Evans, "but [reducing salt applications] does seem to be a true opportunity for a win-win if public safety can be maintained and environmental and other harm can be reduced — while providing cost savings to public and private organizations."
Any win-wins that come out of this process are likely to be hard-fought, as the group tries to balance the concerns of environmental organizations, such as the Friends of Accotink Creek, with the political pressures facing county decision makers. Not having the roads ready for icy conditions has felled more than one politician.
The DEQ wants more of those decision makers to get involved in the strategy process. They also hope they'll spread the word, even among residents who might not know the impact of spreading salt on a sidewalk near a storm drain.
The message? Too much salt is not only bad for your body. It could also be bad for your local water body.