Cover photo: Oliver Griffin, Fred Pinkney and Raquel Wetzell (left to right) electrofish in the Anacostia River just below the Pennsylvania Avenue bridge in Washington, DC. The three U.S. Fish and Wildlife Service biologists are collecting tiny fish to measure their levels of PCB contamination. (Dave Harp)
Fishing can be a solitary sport, but not so much when it's done for science.
Fred Pinkney, senior biologist with the U.S. Fish & Wildlife Service, had two companions with him when he went fishing in the Anacostia River recently. Flanking him as he waded into the murky water were Oliver Griffin and Raquel Wetzell, also Fish & Wildlife biologists.
Pinkney lugged a suitcase-size battery pack and transformer on his back and pushed a yellow pole with a metal ring on it ahead of him that transmitted an electric shock strong enough to stun but not kill fish. Griffin and Wetzell wielded dip nets to scoop up any temporarily immobilized prey that floated to the surface.
"Got one!" Griffin called out. His catch: a palm-size baby bluegill.
Pinkney and crew weren't fishing for dinner. This was one of their periodic fish checkups to help determine when it will be safe to eat what comes out of the Anacostia. For years, people who fish in the District's rivers have been warned not to eat any striped bass, carp or eel they catch there and to limit consumption of several other fish species.
The fish — and indeed the entire Anacostia River — are contaminated with PCBs (polychlorinated biphenyls). These long-banned chemicals were once widely used as coolants and insulators in electrical equipment and are now associated with cancer and other health problems. Though no longer produced, these chemicals don't break down, so they remain a persistent health threat.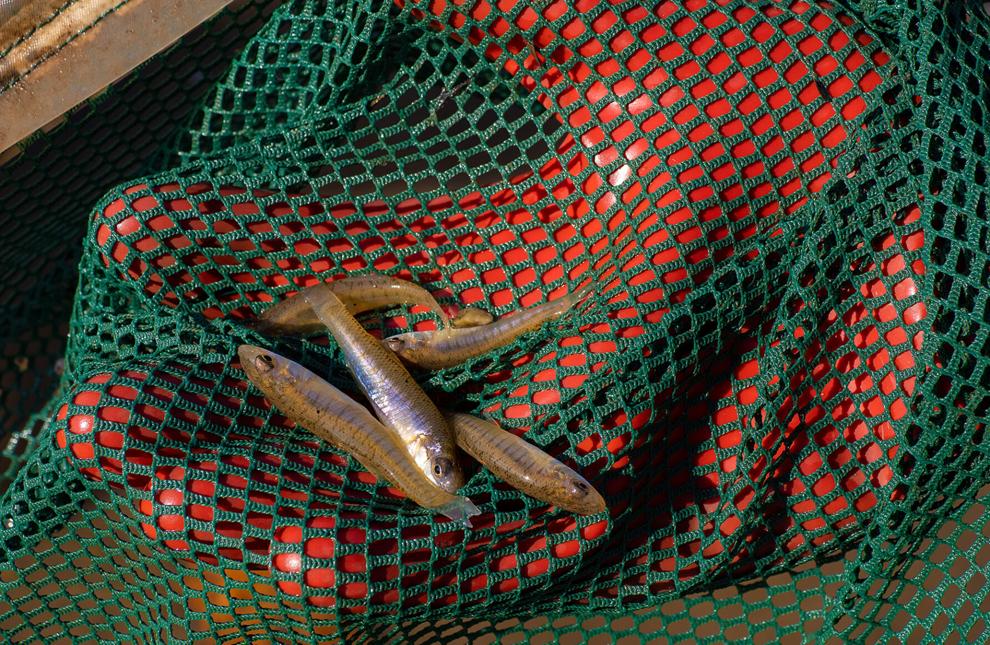 The District settled in 2020 on a plan for a partial cleanup of the river's PCB hot spots. It proposed to dredge or cap and treat contaminated bottom sediments at 11 sites with the highest levels of PCBs along a 9-mile stretch of the lower Anacostia.
The start of the work, though, is still two or three years away. Government scientists and contractors have been collecting hundreds of samples of fish, water and sediment to help update and refine the plan for dealing with the PCB-laden river bottom. Once that investigation is complete, officials will need months more to draft a detailed roadmap to remediation, with time allowed for public review and comment.
"I know stakeholders want it earlier," said Dev Murali, remedial project manager for the District's Department of Energy and Environment. But with preliminary cost estimates for this partial cleanup at $35.5 million, he added, "we need to make sure that we get this right."
He and some others, though, are worried that the effort being put into removing or neutralizing PCBs could be for naught unless more is done soon to halt the continued runoff and seepage of PCBs from contaminated land in an upstream tributary in Maryland.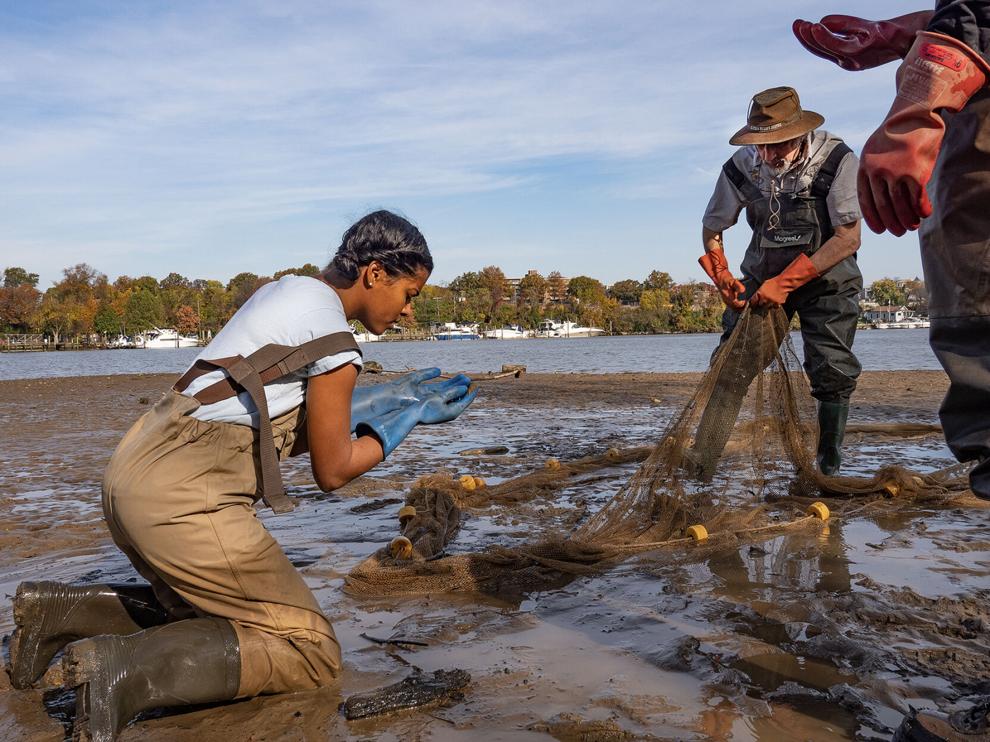 "If you leave the stuff there, it will continue to bleed whenever it rains," Murali said.
For a long time, it was generally believed that PCBs in fish primarily came from sediments  — eating worms, clams and other bottom-feeding creatures — or by PCBs released into the water from the sediment.  That was the initial basis for the District's cleanup plan. But researchers have found in recent years that PCBs dissolve in water and can also come from land sources, and while those concentrations are low compared with what's buried in the sediments, they are more readily available to be ingested by fish directly through their gills or indirectly through the aquatic food web.
Fish-based detective work
Researchers using passive water samplers and freshwater mussels, have identified Lower Beaverdam Creek, which joins the Anacostia near the Baltimore-Washington Parkway interchange with U.S. 50, as the major source of fresh PCB contamination. Although it represents only about 15% of the river's flow, the creek accounts for nearly 75% of the PCBs getting downriver, researchers have estimated.
A search is underway to track down where those PCBs might be coming from. To aid that effort, Pinkney and colleagues have collected forage fish, such as tiny mummichogs and banded killifish, from the river and its tributaries. The finger-size fish tend not to roam, so the contaminants they pick up likely came from close by.
In a recent report, Pinkney found that PCB levels in fish collected from two short stretches of Lower Beaverdam Creek were 15 and 20 times higher, respectively, than in the same species sampled from the Anacostia's northeast and northwest branches. Fish caught between those two stretches and others captured a mile or so upstream and downstream contained much Lower levels.
"It's hard to get cause and effect in field studies, Pinkney noted, "but when you see a pattern like that, the idea is there's contamination [there]. These fish don't move more than half a mile [so] they're reflecting what's coming down first from the source area."
One of the stretches with highly contaminated fish is near the creek's confluence with the Anacostia. There, Lower Beaverdam flows through the premises of Joseph Smith & Sons, a metal scrap and recycling business that's been in Capitol Heights for decades. Soil sampling on the property detected PCBs in 11 different places, including one spot on the creek bank with very high levels.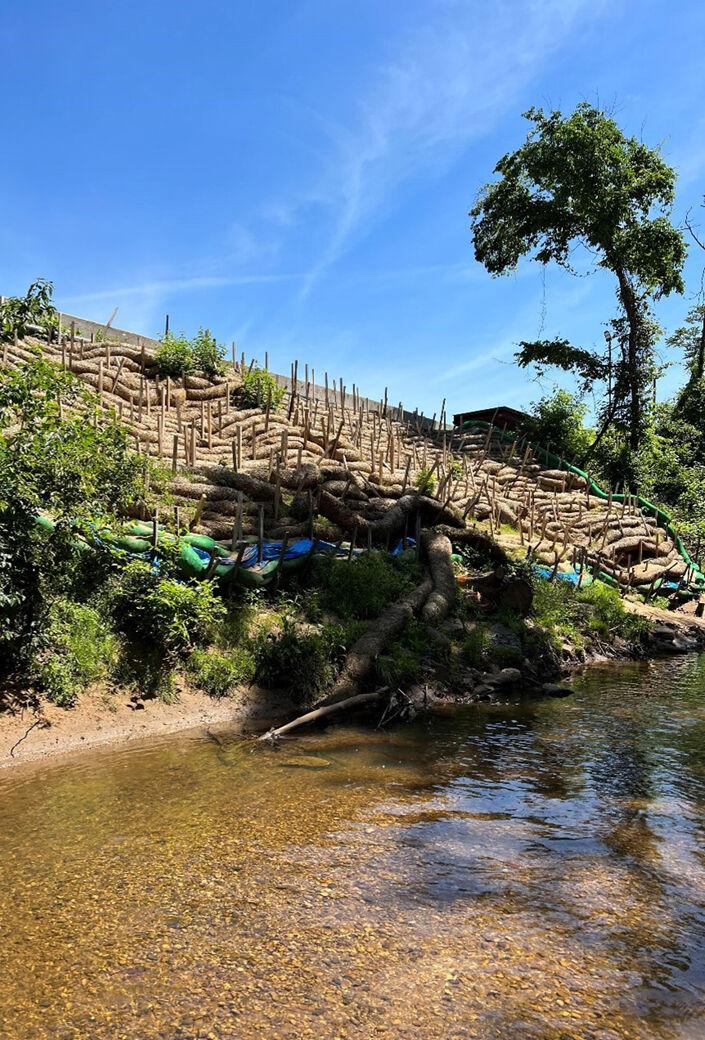 That soil was dug up and hauled away in March, according to the Maryland Department of the Environment, and an eroding bank at the site was temporarily stabilized. State inspectors have continued to sample soil and groundwater at the scrapyard to get a better understanding of the extent of contamination before settling on what more is to be done.
"Things are progressing in a rapid manner here," MDE toxicologist Mark Mank said in March during a briefing to the Leadership Council for a Cleaner Anacostia River. He said the scrapyard owners have been "working collaboratively" with state regulators in removing the contaminated soil and in accommodating sampling amid its business operations.
Authorities have yet to pin down the source or sources of PCBs where highly contaminated fish have been collected farther upstream. On a recent morning, Pinkney's sampling crew found the trash-strewn creek running bright orange from muddy runoff, even though it hadn't rained in days. The water was so opaque they couldn't find any fish using electrofishing gear. MDE spokesman Jay Apperson said the U.S. Environmental Protection Agency plans next year to "conduct extensive stormwater surveillance" of the storm drain network in the area to try to find where PCBs may be washing off the land.
Murali, the sediment remediation manager, said he's frustrated by the lack of progress so far in tracking down and eliminating those upriver sources of fresh PCB contamination. He's also worried that the standards applied by the EPA and MDE for cleaning up PCBs in soil aren't stringent enough and that some PCBs will be left behind to seep or run off into the creek. The level of PCBs that the EPA deems safe for aquatic creatures is many times Lower than what's considered acceptable in soils.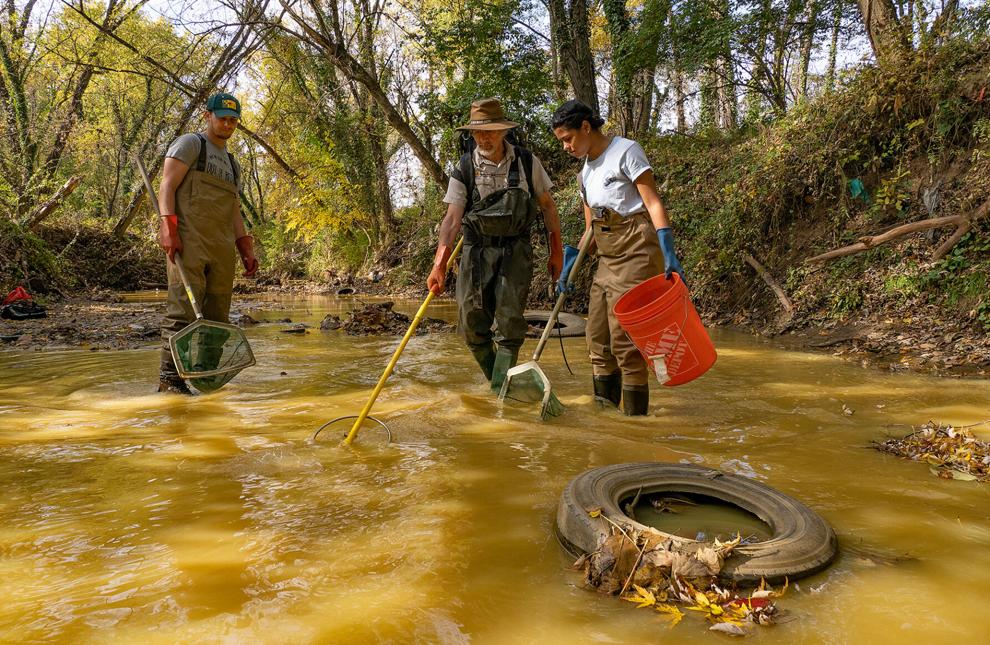 "I wish they were more aggressive in their approach," Murali said, calling the limited soil removal at the scrapyard a "Band-Aid." While removal of soil with even low levels of PCBs may be costly, he said, "If we're going to do something right, go big. Because at the end of the day, our success depends on how well the sources are controlled."
MDE's Apperson replied to a request for an interview with an emailed statement.
"PCB releases to the Anacostia have occurred over decades, and discrete actions would not immediately net results," Apperson wrote. A report detailing the extent and severity of contamination at the scrapyard should be finished soon, he added, after which MDE will work with the EPA to weigh remediation options. He said it was premature to say what might be done.
Calls for a combined effort
Upal Ghosh, an environmental engineering professor at the University of Maryland Baltimore County who has studied the Anacostia's PCB problems, said Murali's concerns are legitimate.
Drawing on the data gleaned to date, Ghosh and colleagues modeled all of the PCBs getting into the river and their impacts on fish. From that, they concluded that the District's plan for dredging or treating PCB hot spots in the river bottom would not, by itself, make locally caught fish safe to eat anytime soon.
Dredging and putting down a layer of clean sand could reduce PCB levels in the water in some places, they said in a December 2021 presentation to the Leadership Council for a Cleaner Anacostia River. But if PCBs keep washing into the river from the creek, Ghosh warned in an interview, they will recontaminate the cleaned-up areas "in no time, in two or three years."
Getting PCBs out of Anacostia fish, he said, will require a combined effort. The contamination from the creek needs to be stopped, or at least sharply curtailed, he explained, and the hot spots on the river bottom cleaned up. In his presentation last year, he predicted that doing both could cut fish PCB levels in half in five years.
Then, it will largely be up to the river itself.
"You can't clean up the whole river," Ghosh explained, because the hot spots aren't the only problem. There are also vast areas with low or moderate PCB contamination. For those, he added, "ultimately you have to depend on natural attenuation." With fresh PCBs cut off, the river would deposit a layer of clean — or at least cleaner — sediment on the bottom and bury the remaining PCBs too deep to get into the water again.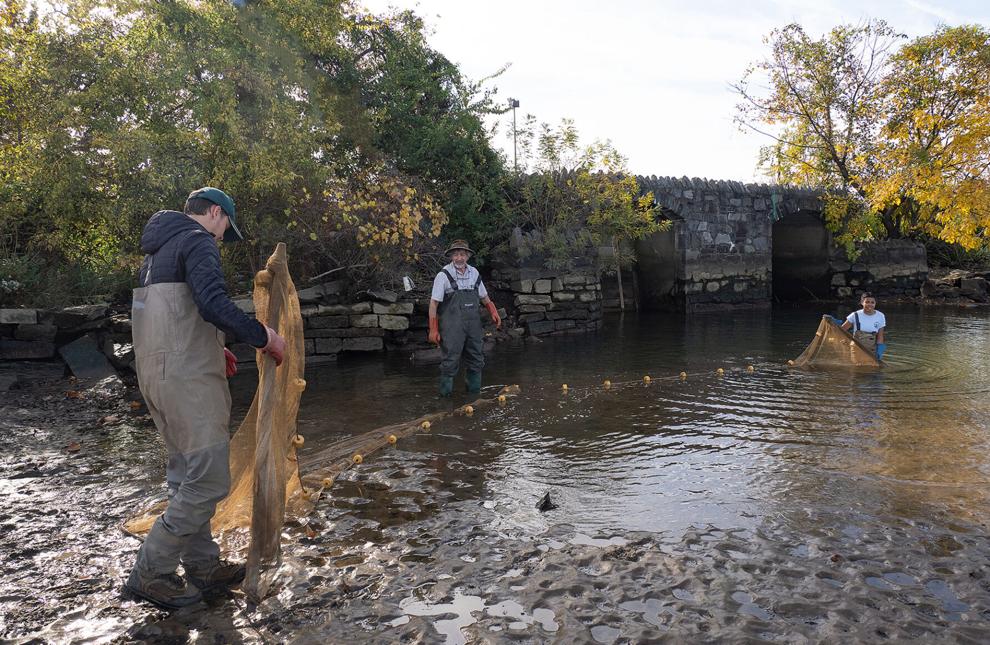 PCB levels in fish have declined some already, a sign of that slow natural recovery process, but not enough to render them safe to eat. Ghosh said his research suggests that consumption advisories could be eased, if not lifted altogether, with a two-pronged cleanup effort.
"But if sediment on the [bottom] keeps getting contaminated," he warned, "we'll never get there."
Pinkney said he hopes the sediment cleanup isn't postponed until all of the PCB sources upstream can be found and addressed.
"My feeling is you can do both at the same time," he said. "It's very important to stop the ongoing contamination. But I think if you're waiting for complete control until you do anything in the tidal river, you're not serving the public's interests [by not] doing anything in their lifetime or their grandchildren's lifetime."
The District is underwriting the sediment project costs for now while seeking funding from the businesses and landowners found responsible for putting the PCBs in the river. The creek cleanup needs a similar commitment of upfront resources, Ghosh suggested.
"This is something that is screaming for help," he concluded, "and I don't know if it is rising to the level of importance for the policy makers to askfor money for this."