A Pennsylvania power plant — accused of being one of the most polluting plants in the nation and the recipient of several fines for fish kills — is facing legal challenges once again. The Brunner Island power plant, located along the Susquehanna River just south of Harrisburg, may be the target of a lawsuit alleging that the plant is illegally discharging contaminants from coal ash into a Susquehanna tributary.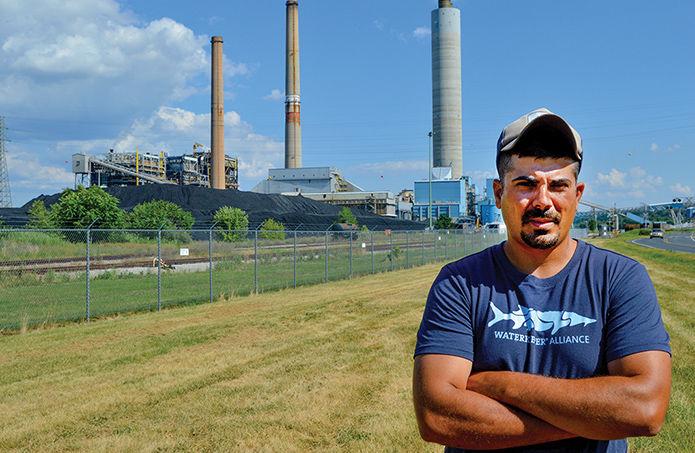 In August, four nonprofit environmental groups filed a notice of intent to sue Talen Energy, the plant's owner.
The Environmental Integrity Project, based in Washington DC, filed the notice on Aug. 29 on behalf of the Lower Susquehanna Riverkeeper Association, Waterkeeper Alliance and PennEnvironment. Court papers assert that the discharges violate the federal Clean Water Act and Pennsylvania's Clean Streams Law. The notice includes Riverkeeper water quality data as well an analysis of several years of company-collected results from monitoring wells on the property.
The notice contends that a coal ash pond and landfill on the island have been leaking contaminants into Black Gut Creek and groundwater for years.
Coal ash is a byproduct of burning coal for power. Though not considered a hazardous waste, it can contain chemicals and metals that pose health risks for people, as well as fish and wildlife. A "pond" is where the coal ash is mixed with water and stored; a landfill contains only dry ash.
Brunner generates 445,000 tons of coal ash annually, according to the notice.
Ted Evgeniadis, the Lower Susquehanna Riverkeeper, said he and other waterkeepers began building a case in February. In addition to citing contaminants found in the monitoring data, Evgeniadis said there is an outfall near the seeps that is not recorded on any permit from the state Department of Environmental Protection. Both the DEP and Talen Energy declined to comment for this article because of the potential litigation.
"Talen Energy knows what's going on," Evgeniadis said. "What I saw was groundwater seeps directly discharging into the waters of Black Gut Creek. If you go back into the records, the seep that we found and where we recorded our samples is in direct proximity of seeps that were previously recorded years ago."
According to Evgeniadis, water samples he collected from seeps on the creek have registered high levels of arsenic as well as other pollutants such as boron, ammonia and lithium. 
Coal ash contaminants drew attention in 2008 when 1.1 billion gallons of coal ash slurry breached a dam in Tennessee. Gray sludge covered nearly 300 acres of land, and flowed into the Emory and Clinch rivers, tributaries of the Tennessee River. The breach caused fish kills in the Tennessee River and destroyed 12 homes.  
Another plant in Pennsylvania, also owned by Talen, spilled 100 million gallons of coal ash and water into the Delaware River in 2005. The company paid nearly $1 million to the DEP for damages to natural resources, after a cleanup took place with a price tag of $35 million.
Talen Energy came to an agreement with the Sierra Club earlier this year when that group also threatened to sue the company for similar water pollution problems. The agreement in March was outlined in a consent order stating that the plant would stop burning coal and complete its transition to natural gas by 2029. In return, the Sierra Club agreed not to initiate or participate in any actions, discussions or processes related to Brunner's transition to natural gas.
The plant added the capacity to burn natural gas in 2016 in addition to coal. Talen has indicated that the facility will continue burning coal at some level up until the 2029 deadline.
Some of the data collected on behalf of Sierra Club, such as engineering and hydrology studies, are being used as evidence in the current intent-to-sue documents. 
"The Brunner Island plant is a poster child for the public health hazards posed by coal ash dumps across the country," said Mary Greene, deputy director of the Environmental Integrity Project. "It is also a compelling example of why power companies need to take responsibility and halt groundwater pollution."
Coal ash storage along the Virginia side of the Potomac River has also stirred recent controversy when Dominion Power planned to close some of its ash ponds by draining them into a Potomac tributary. Dominion and other power plants were looking to close their storage ponds to comply with a 2015 federal rule — the first of its kind — to regulate discharges of coal residuals to ground and surface waters.
In response to the debate, Virginia legislators passed a bill this year that required companies with coal ash pits in the Chesapeake watershed to consider recycling their contents rather than allowing the ash to be permanently stored in place. The law stops short of requiring recycling, though.
Talen Energy Corp. and state or federal regulators have 60 days from the time of notice to address accusations, Evgeniadis said. Attorneys will file a lawsuit if the claims are not addressed at that time.
The U.S. Environmental Protection Agency imposed coal ash regulations under President Obama in 2015, the first year that the contaminants were regulated. The 2015 rules required companies to monitor and publicly report the contamination of groundwater by coal ash landfills and ponds. The Trump administration in July, though, issued proposed regulations to roll back the Obama era rules.