On a whirlwind tour up and down the hilly streets of Takoma Park, Daryl Braithwaite was showing off how the city has been working to slow rain that rushes down the roads by instead allowing it to slowly soak into the landscape.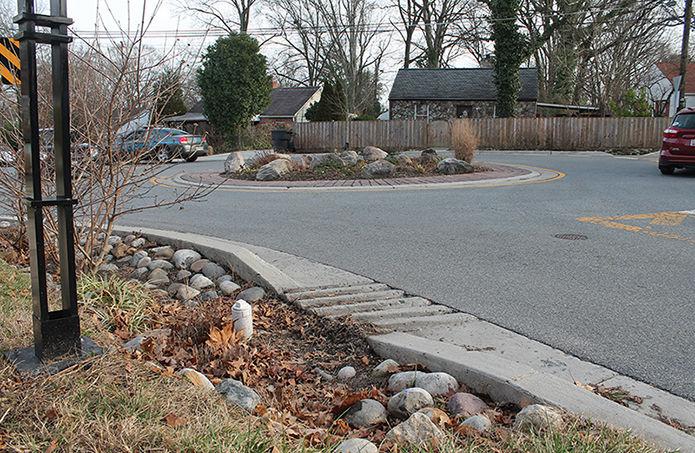 Street roundabouts have been re-engineered to capture runoff while plants soak up the water. Other projects have been worked in along sidewalks, a path that connects a school with the city's recreational center, and tiny plots of undeveloped land. Each of these acts like a tiny sponge every time it rains, soaking up excess rainfall and — when it's not raining — they add to the community's aesthetics. 
Officials in the 2.2-square-mile Maryland city have many more projects on the drawing board, but they'll all come at a cost, not only to install, but also to make sure they keep working — and remain good-looking community assets and not weed-filled ditches — over time.
"One of the things we've had to figure out is the maintenance schedule because those can easily get overgrown with weeds and filled with litter," Braithwaite said at one of the sites, noting that the city had hired a landscape company to remove sediment, trash, weeds and do basic maintenance.
The city of 17,000 is able to do that because two decades ago it became the state's first municipality to enact a "stormwater utility" — a fee on properties to help fund stormwater management projects that now generates nearly a half-million dollars a year. 
It's a relatively new tool in the long-running battle to manage what happens to rain once it hits pavement. Urbanization fundamentally changes natural systems where rainfall once soaked into the ground or was absorbed by plants. Instead, the pavement that replaces trees and meadows shunts it into stream channels — often picking up a variety of contaminants along the way.
This has often created its own problems. In some places, it led to downstream flooding and degraded streams that suddenly were subjected to periodic bursts of eroding water after each rain event. Indeed, scientists have established a direct relationship between land cover and the biological condition of local streams. Typically, the higher the level of urbanization, the lower the biological health of a stream. 
Early stormwater measures
To minimize the flooding problems, many states and municipalities began requiring the construction of stormwater detention ponds by the 1960s, though their performance was often poor. In the early 1990s, the U.S. Environmental Protection Agency stepped in, requiring municipalities with more than 100,000 people to have discharge permits for stormwater. Smaller systems were covered starting in 1999.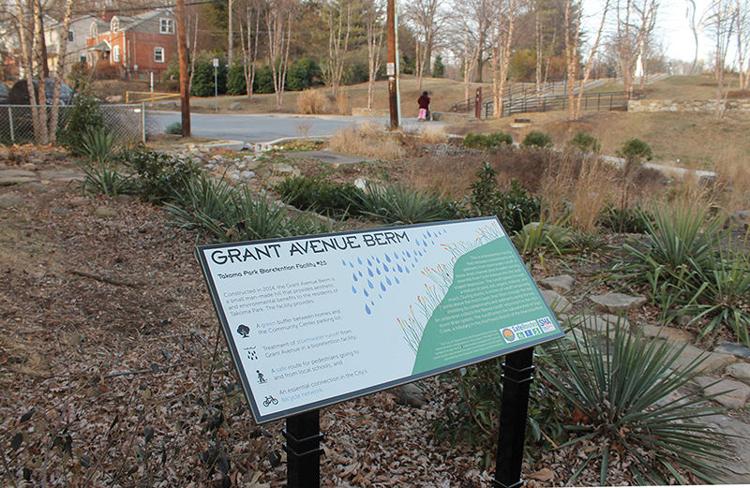 Previously, discharge permits have been required for industries and wastewater treatment plants, but not stormwater. The new permits set forth expectations for stormwater control, monitoring, public education and other items, putting new burdens on local governments. The were criticized by some as a costly new unfunded mandate from Washington, DC, while environmental groups saw them as an initial effort to regulate a long-overlooked problem that was polluting, and destroying, the nation's streams.
When the regulations came, Takoma Park took a different tack. The regulatory responsibility actually fell on Montgomery County, not the city. But city officials nonetheless decided to take over the stormwater management program themselves.
"We want to do the best we can," said Bruce Williams, the former mayor and a member of the city council in the 1990s. "There is always a willingness to push the envelope. That is what our residents want. That is what the elected officials want. And that is what the staff tries to do."
It established the state's first stormwater utility in 1996 to fund that aspiration. Since then, it's not only helped them install and maintain new runoff controls but also to undertake such fundamental tasks as mapping their stormwater system — which dates to the 1800s — to understand where everything is.
"There are stacked slate-stone trenches underground for some of our stormwater systems where they basically channelized a stream," Williams said. Some even run under houses. Now, he said, "we know the system inside and out."
The entire system is inspected every few years using video cameras to help identify current — and likely future — problems.
A stormwater utility, or authority, is a mechanism that raises money specifically for maintaining a municipality's stormwater, generally through some type of fee on properties. Nationwide, stormwater utilities have been used to help maintain systems since at least 1974 when the city of Bellevue, WA, began assessing a fee. Many more popped up after the EPA's stormwater regulations in the early 1990s. The number has more than doubled in the last decade to more than 1,600, according to a survey conducted last year by Western Kentucky University. 
In the Chesapeake Bay region as of 2016, there were 18 stormwater utilities in Maryland; 28 in Virginia, seven in Pennsylvania; nine in West Virginia, two in Delaware, and one in the District of Columbia, according to a survey by the Choose Clean Water Coalition, a group of grassroots organizations working on water quality issues in the Bay watershed.
Fighting the 'rain tax' label
That's not to say utilities are without controversy: Critics deride them as a "rain tax." The Maryland General Assembly required the 10 largest jurisdictions to charge fees to cover stormwater costs in 2013, causing a backlash — "When it rains, it pours tax dollars in Maryland" chided one headline. Lawmakers later backed off the fee requirement, but said that municipalities still had to come up with ways to show they are funding stormwater obligations under the federal Clean Water Act.
Proponents of such utilities, though, say the "rain tax" label is unfair. After it hits the ground, rain picks up pollution as it runs off paved surfaces, damaging the health of receiving streams. Local governments end up spending money to manage that runoff and clean it up.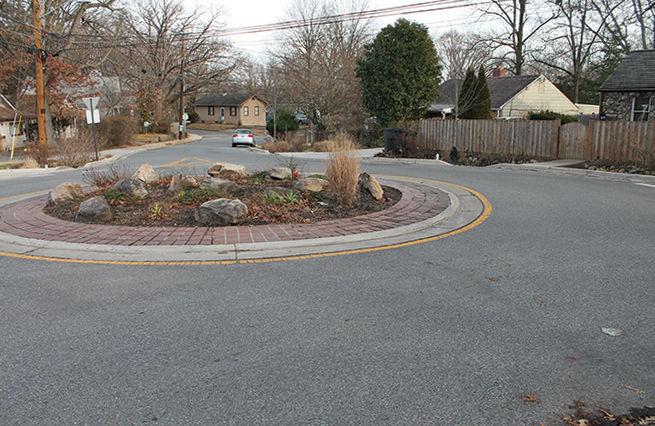 "Just as a property owner pays a water bill that covers municipal costs to provide potable water, including the costs of building out and maintaining underground infrastructure, private property owners must also contribute to the cost of managing the pollution and flood risk created by the impervious areas they own," Choose Clean Water said in a recent white paper about stormwater utilities.
And in some of the municipalities that have had utilities the longest — including many of the cities in the Hampton Roads area near the mouth of the Bay — officials say the fees have helped their communities grapple with stormwater management. 
When Virginia took over responsibility for overseeing the federal stormwater program in the early 1990s, the state General Assembly recognized it could be a burden for many communities. So they authorized, but did not require, them to establish stormwater utilities. 
"The state basically said, 'we'll give you the tool, the stormwater utility, to meet the financial obligation, but you guys figure out the details on how much money you need and how are you going to collect it and how are you going to manage it,'" said Eric Martin, public works director for the City of Chesapeake.
But even then, it was controversial, at least for some places, said Martin, who was working in another Hampton Roads community at the time. "It was the 'rain tax,' " he said. " 'Why am I paying for cleaning up the rain?' They used that even then."
But ultimately, most of the major cities in the Hampton Roads area opted to establish stormwater utilities in the early 1990s. Martin said it has led to a dedicated budget and sustainable staffing that is not subject to year-to-year battles to secure general fund revenue. Without the fee, he said, "you'd be in direct competition with public safety and schools, which is never a good place to be because those are certainly very important programs."
Tied to source of pollution
Another benefit of stormwater utilities, advocates say, is they are more directly tied to the source of pollution than general fund revenues. The Choose Clean Water white paper pointed out that if a community is funding stormwater work out of its general fund, a private property owner with a high assessed value but a small impervious footprint pays a disproportionate amount for stormwater maintenance, while tax-exempt properties may pay nothing at all even though they may have large amounts of impervious surfaces. 
There's a variety ways to establish fees based on impacts. A widely used method is to establish a fee for residential units based on the average amount impervious cover for a dwelling in the municipality. That rate can be expanded to commercial operations based on their amount of impervious cover: If they have four times the imperviousness of an average home, their fee would be four times greater.
Other methods are used as well, such as estimating the actual amount of impervious cover for each property, which can also encourage developers to reduce impervious cover on new projects. But that also requires a more intense data collection to be set up.
Tricky issues need to be sorted out as well. How will the stormwater fee be billed — with other bills such as sewer and water, or separately? Should religious institutions, colleges or government agencies be assessed?
"The details are challenging," said John White, stormwater engineer with the City of Norfolk, which has had a stormwater utility since 1996. "The key is to develop a program that is fair and can be shown as fair and equitable to the entire citizenry."
One key for public acceptance is making sure that people recognize they are getting something for the fee. In Norfolk, for instance, the fee has allowed the city to ramp up the popular — and highly visible — street-sweeping program.
"Everything that gets swept up doesn't go down to the rivers and streams around the city. But it also is a popular program that has a lot of visibility," White said, "to the point that people now perceive it as an entitlement. If the weather prevents us from sweeping, we hear about it."
Provide incentives
A common element for many stormwater utilities is that they can incentivize action by landowners. In many places, businesses can get credit for taking actions beyond what they are required to do. "There's a way for people to get their bill down if they're contributing to meeting our water quality goals," Martin said.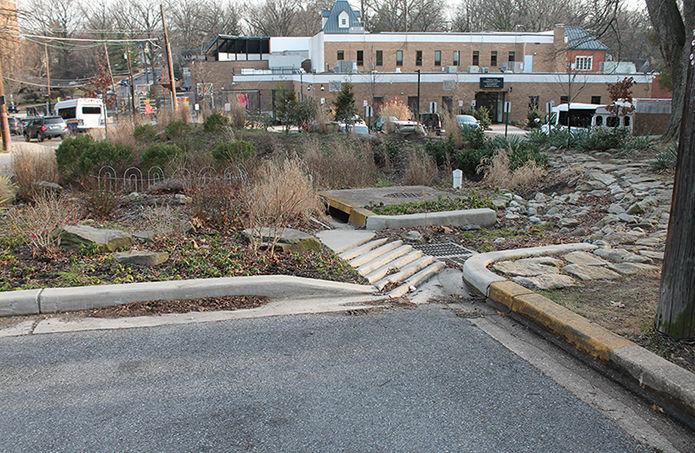 One of the challenges for many cities, White noted, is that a lot of development took place in the 1950s and earlier — prior to any regulations. The fees can be especially effective at triggering new actions in areas that were built before modern stormwater requirement regulations.
"You will see acres and acres of parking that have no trees, or any form of softening of it," White said. By removing some of that pavement, property owners reduce runoff — and their stormwater fee. "It gives people a potential to take of some of that impervious area and get some trees and vegetation growing in there."
Some communities even provide a rebate for household actions such as rain gardens. But there can be drawbacks from a management perspective if the scale of action is too small, Martin said. "There's an overhead to running that level of program," he said, noting that staff time needed to inspect small actions to ensure they are maintained and functioning can be significant.
While stormwater fees typically support dedicated staff including engineers and maintenance personnel, they likely won't remain static over time as cities face new regulatory burdens, including the Chesapeake Bay cleanup effort.
Nationwide, a survey by Western Kentucky University found that only 32 percent of stormwater utilities charged enough to adequately fund stormwater needs.
As a result, they don't always end the competition with other programs. If other programs are also facing increased costs, municipal councils may be reluctant to increase stormwater fees at the same time that others are rising.
Martin said transparency in programs is also critical to maintain support and show the money collected is being used for the stated purpose. "That's certainly an obligation we have," he said. "The money's all kept separately. It doesn't mix, co-mingle with any other pots of money. It's budgeted separately. It's reviewed by the council and approved separately with the operating budget and the capital budget. We're able to clearly show that we didn't put it anywhere else where it shouldn't have gone."
That type of dedicated funding, White said, provides "kind of a laser focus on the stormwater issue."
"Overall, I think the stormwater utility is well received."
The Choose Clean Water Coalition white paper, Paying for Stormwater Management in Chesapeake Bay Communities: Policy Recommendations, contains a useful discussion of policy issues related to stormwater utilities. It can be found on the coalition's website at:  choosecleanwater.org/stormwater.
Key Steps for Creating a Stormwater Utility
Establish the method for assessing fees: The vast majority of municipalities establish a fee based on an "Equivalent Residential Unit" or ERU, which is based on the average amount of impervious cover associated with a home in a community. Commercial developments are assessed multiples of that rate based on their amount of impervious cover — a convenience store may be 2 ERUs, a grocery store 10.
Other methods used in some places establish a fee based on the actual amount of imperviousness per parcel, or by trying to estimate the combined stormwater contribution from both pervious and impervious surfaces. Those are tied more directly to actual impacts, but also are more difficult to calculate.
Adopt an ordinance: The ordinance provides the legal authority for a municipality to establish a utility.
Determine how much the fee should be: Although stormwater utilities are increasingly common, many do not fully cover the cost of maintaining stormwater programs. Cities considering a utility need to carefully assess costs associated with stormwater needs that include capital expenses, maintenance, regulatory compliance, flood control and other related goals to ensure the fee collects enough revenue. Nationwide, the average stormwater fee was $5.14 per month in 2016.
Provide credits/exemptions: Many municipalities offer credits that reduce stormwater fees for landowners who voluntarily install runoff control practices, usually from a list clearly described by the community. Exemptions are often given for properties with no development.
Provide adequate public information: Stormwater fees are sometimes derided as a "rain tax." Communities considering a fee need to carefully craft outreach efforts up front that make the case to the public about the need for the fee, its benefits and that the rationale for the fee structure is fair.
— Sources: "Funding Stormwater Programs," US EPA; "Paying for Stormwater Management in Chesapeake Bay Communities: Policy Recommendations," Choose Clean Water Coalition