Some rural Maryland residents subjected for decades to sand and gravel mining and related industrial activity in their midst are challenging the continuation of one such operation originally approved more than 50 years ago.
Tracey Garrett, a longtime resident of the Lothian area in Anne Arundel County, and Patuxent Riverkeeper Fred Tutman complain that people living along narrow, two-lane Sands Road have been forced to deal with intense heavy-truck traffic that fouls their air and threatens their health and safety.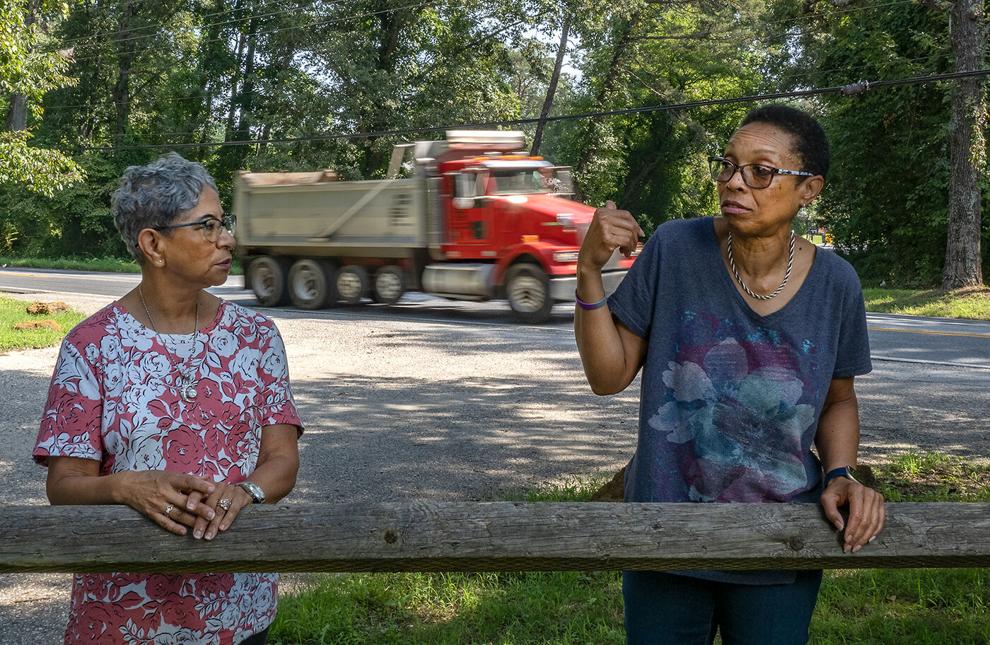 On July 21, they filed a petition with the county seeking a hearing on whether to revoke or modify the special zoning exception granted in 1967 to the owner of Westport Reclamation. They contend that the site is no longer being mined and has since been undergoing reclamation, with 75–100 truckloads of dirt brought in daily. The site is also engaged in unpermitted activities, the petition contends, including the acceptance of construction debris and resale of soil for use in composting.
"The citizens of Sands Road have the right to a quality of life free from the air, water and noise pollutants that put our health at risk," Garrett said in a press release announcing their legal challenge. "Our environmental and human rights are being constantly violated and jeopardized."
Westport Reclamation is just one of a string of industrial scale operations along a short stretch of Sands Road paralleling the Patuxent River, including a large sand and gravel mine and two former mines undergoing reclamation, plus a pair of closed rubble landfills. Though the area is zoned for rural-agricultural land use, sand and gravel mining is allowed with a "special exception" to the zoning code. Records show that the county has repeatedly approved or renewed special exceptions there over the decades, despite objections at times from neighbors.
Tutman contends that the cluster of such facilities has turned Sands Road into an environmental "sacrifice zone," with a significant number of nearby residents who are people of color or have below-average incomes. He said they are challenging Westport's continued operation first because they think they have the strongest case for getting its approval rescinded or revised.
"Lothian has too many burdens from long-standing facilities here that add to local air and water pollution — plus way too many trucks on the same roads shared with local residents," he said. "How much is too much and how long is too long? The county owes it to citizens to review and correct this special exception that was created way before most of our present-day environmental regulations existed."
Lori Rhodes, deputy Anne Arundel County administrator for land use, said a hearing is to be scheduled on the residents' petition. She said she planned to attend because county officials have similar questions about the longevity of these operations.
"We are focusing on the uses that were never allowed," she said, "but we're also looking at the [authorized] use itself to see how long it should be continued. I don't understand how mining can go on that long."
Last year, responding to residents' complaints, the county twice notified Belle Grove Corp., the company that owns the Westport Reclamation site, that it was in violation of the zoning code. County inspectors have reported seeing what they considered unpermitted activities there, including composting, recycling concrete and storing wrecked cars and other debris.
The county filed a lawsuit in March accusing the company of going beyond the scope of its special zoning exception. The county is seeking a $30,000 penalty and an injunction barring those activities that it said were not permitted. A hearing is set Aug. 4 on that lawsuit in District Court in Glen Burnie.
Anthony Gorski, lawyer for Belle Grove, said company representatives had met with county officials, made some adjustments to the operation and hoped to continue talks to resolve any remaining issues.
"We think we're in compliance," Gorski said. He disputed some of the county inspectors' observations and said if the residents do get a hearing on their petition, the company would argue again that the operation is in compliance.