A six-lane highway clogged with traffic and exhaust. A massive waste incinerator that measures its pollution in tons. A phalanx of smoke-spewing manufacturing plants.
For decades, residents of south Baltimore's Westport neighborhood have lived alongside and worked for the heavy industries that helped power the city's economy. But in recent years, it has become clear that their health has paid a devastating price for the toxic air they breathe.
"It seems like everybody has asthma here or breathing issues," said Keisha
Allen, a longtime resident and community activist in the blue collar, largely African-American community. They also are plagued by higher death rates from heart disease, lung cancer, respiratory disease and other afflictions linked to air pollution than the rest of the city.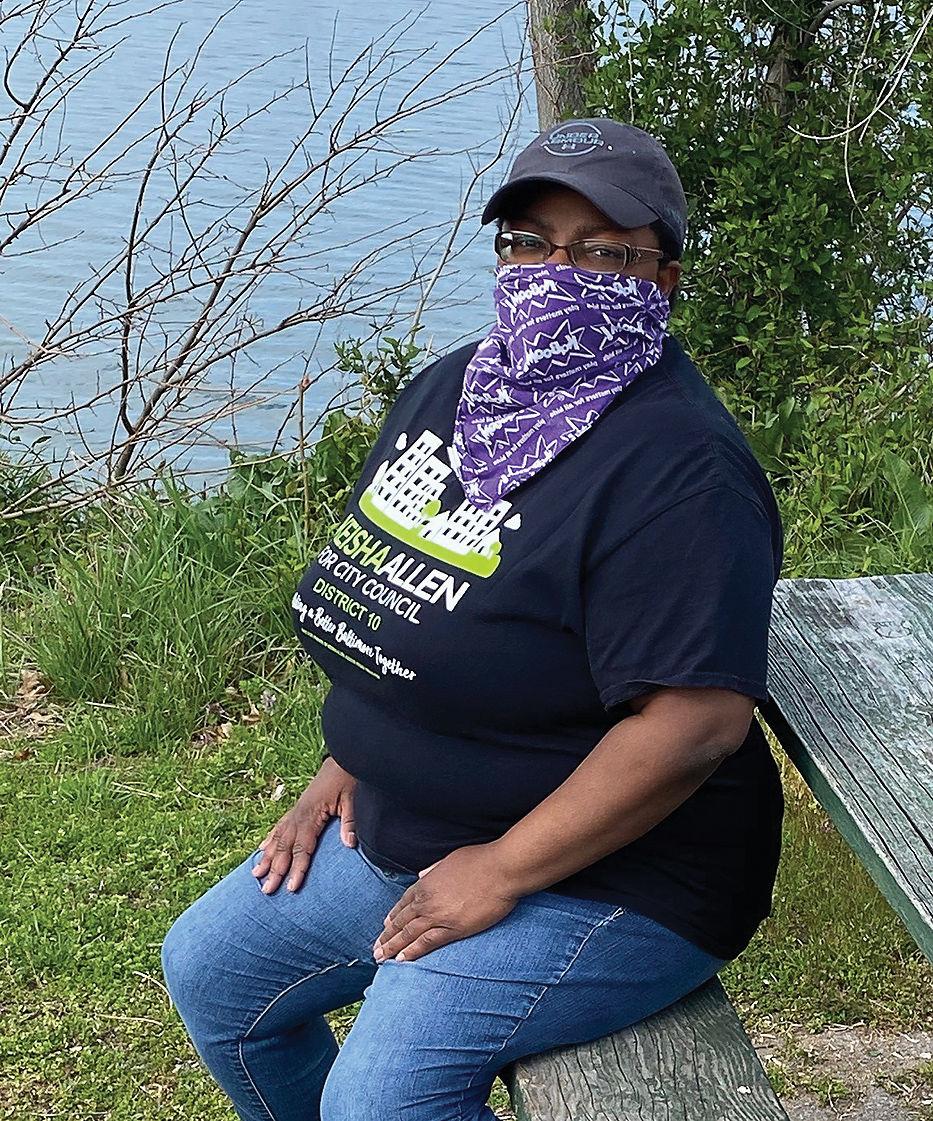 Now, it's happening again — but with a disease that kills in days instead of months or years.
Emerging research suggests that breathing chronically polluted air may lead to a higher risk of dying from COVID-19, the disease caused by the new coronavirus. People living with compromised air quality tend to live in low-income neighborhoods and communities of color, and they're more likely to have pre-existing health problems that put them in even greater jeopardy, public health experts say.
"If you already have an underlying risk from air pollution, you are going to be at higher risk from COVID-19 and a higher risk for mortality," said Sacoby Wilson, a professor at the University of Maryland's Institute for Applied Environmental Health. "What COVID-19 has really done is pull back the veil of structural inequality in this country."
Many communities like Westport struggle with poor air quality in the mid-Atlantic, encompassing millions of residents across several states, a review of air-monitoring records shows. And in many cases, they are the same places with the highest coronavirus death rates, according to data reported early in the pandemic.
A leading public health expert said the deadly virus marks another disparity for communities of color, highlighting the urgency to address longstanding economic and health barriers there.
"COVID amplifies the injustices in our society," said Dr. Aaron Bernstein, director of Harvard University's Center for Climate Health and the Global Environment. "In our era of more frequent pandemics, the ideas of building resiliency and community health around the world couldn't be more important."
What about after the coronavirus? When future outbreaks start to spread — and they will, epidemiologists say — it may be even more difficult for such communities to defend themselves on the current trajectory.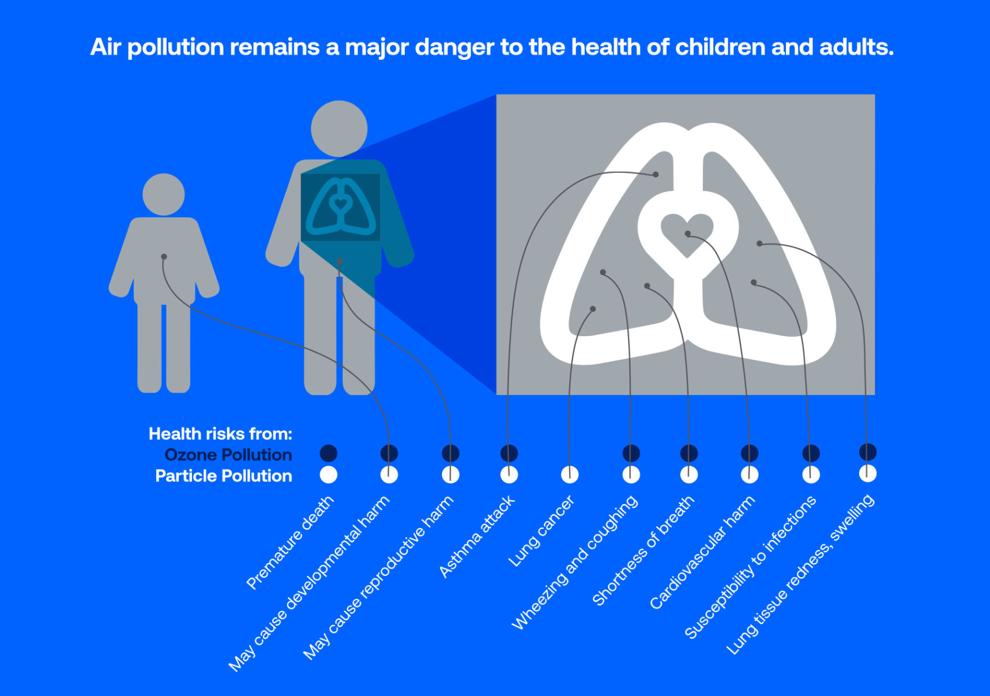 A growing threat
In April, the Harvard University T.H. Chan School of Public Health announced the findings of a nationwide study that examined exposure to fine particulate air pollution, the soot emanating from vehicle tailpipes and power plant smokestacks.
It found that small differences in pollution levels can send the death rate soaring. Longtime residents in a county with high amounts of airborne particulate are 15% more likely to die from the disease than those from places where the level is just one microgram per cubic meter less.
The Harvard study was not peer-reviewed, meaning it hadn't gotten a stamp of approval from other scientists before it was released.
But a German study linked higher death rates in certain parts of Europe to higher levels of another common pollutant: nitrogen dioxide. "These results indicate that the long-term exposure to this pollutant may be one of the most important contributors to fatality caused by the COVID-19 virus in these regions and maybe across the whole world," wrote Yaron Ogen, the study's author.
Neither study could explain exactly why there are more deaths occurring in such places — whether the pollutants are helping to spread the virus or whether decades of exposure to poor air quality weaken the body's defenses. But few experts are questioning the broad findings of the studies because there is already a strong body of evidence tying air pollution to a laundry list of health consequences, including asthma, heart disease and lung cancer.
"There's going to be more people living in those communities who are going to have diseases associated with air pollution," said Dr. Janet Phoenix, a public health expert at George Washington University. "They're going to be more vulnerable when a respiratory disease like this comes through."
Unsafe to breathe
Emissions of nitrogen oxides from fossil fuel combustion — which are a major driver of ozone and particulate pollution — have decreased significantly over the past two decades. That's been a boost for the Bay's health, as those emissions are a major source of water-fouling nitrogen to the estuary.
But those reductions haven't necessarily translated to improvements for people in many areas. Pinpointing the geographic areas where someone might be at higher risk because of bad air is complicated, especially in the mid-Atlantic. Air quality varies widely depending on where someone is breathing.
In its annual State of the Air report, released April 21, the American Lung Association found that 150 million people in the United States, or nearly half of the population, live with polluted air. That total has increased steadily over the organization's last four annual reports, said Kevin Stewart, director of environmental health, advocacy and public policy.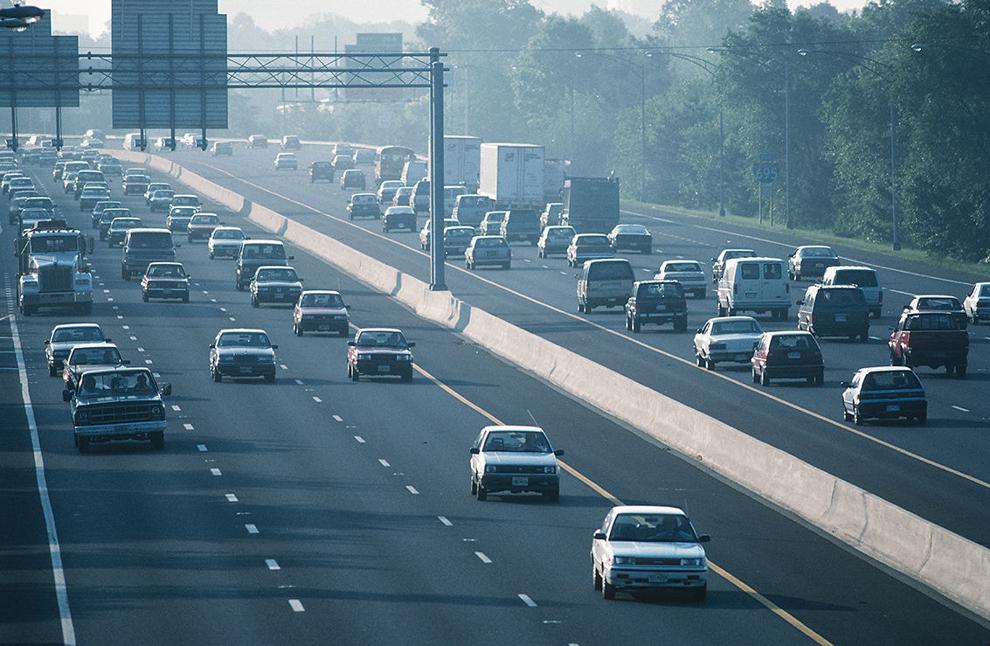 "We're going in the wrong direction," he said. The nonprofit tracks two ubiquitous pollutants, particulates and ozone, and classifies a region's air quality as polluted if it gets a failing grade for one or both. "We shouldn't be adding more people at risk if we're truly solving the air pollution problem."
Particulate levels don't show up in high levels in the sprawling DC-Baltimore metro, home to nearly 10 million residents. Particulate levels have been improving for 13 consecutive years in the 40-county urban area as industries improved emissions from diesel engines and coal-fired power plants, according to the American Lung Association report.
But air improvements haven't been split evenly among the population. While particulate pollution has decreased, ozone has remained stubbornly high in urban areas largely because of relentless vehicle traffic. Ozone, a key ingredient in smog and a byproduct of different types of emissions mixing in the atmosphere under certain meteorological conditions, has been linked to several respiratory illnesses.
The DC-Baltimore region ranks 20th worst for the pollutant among the more than 200 U.S. metro areas tracked in the report.
Air-quality sensors are costly, so most states rarely have more than one or two locations per county where measurements are taken. Maryland, for example, operates 24 monitors. But eight of its 23 counties don't have one.
Distinguishing air quality differences from one neighborhood to another is the goal of a $500,000 study set to begin soon in Richmond. Volunteers coordinated by the Science Museum of Virginia will install 30 sensors around the city and examine the air for three years.
The racial and ethnic disparities among coronavirus patients underscore why the information needs to be collected, said Jeremy Hoffman, the museum's chief scientist.
"By being able to look at [air quality] through the lens of this crisis, we see how acute it really is," he said.
Prince George's, the only suburban Maryland county with a majority black population, has had troubling numbers since the start of the pandemic. Its populace makes up about 16% of the state's total inhabitants, but it had seen 20% of all coronavirus-related deaths through April 23.
Those numbers are preliminary, at best. Because disease testing has been so uneven, the true racial and ethnic burdens of COVID-19 may not be known until long after it has passed.
What is known is that Prince George's was one of the many localities in the DC-Baltimore area to get a failing grade for ozone. It received an "A" for particulates, though.
That trend — low particulate levels but high ozone — is the case for much of the mid-Atlantic, including suburban areas. In Maryland, the association not only gave Baltimore County an "F" for ozone, but also its suburban counterparts, Cecil and Harford counties. The only county with a failing grade for the pollutant in Virginia was Arlington, located on DC's doorstep.
Like water pollution, air pollution doesn't stop at political boundaries, Stewart said. In Pennsylvania's Lancaster County, for instance, densely packed livestock operations spew large amounts of ammonia into the atmosphere, where it transforms into particulate pollution. But those totals don't fully account for the county having some of the highest levels of sooty air in the Chesapeake Bay watershed, Stewart explained.
Lancaster demonstrates that poor air quality doesn't exclusively separate along racial fault lines either. The county is more than 80% white.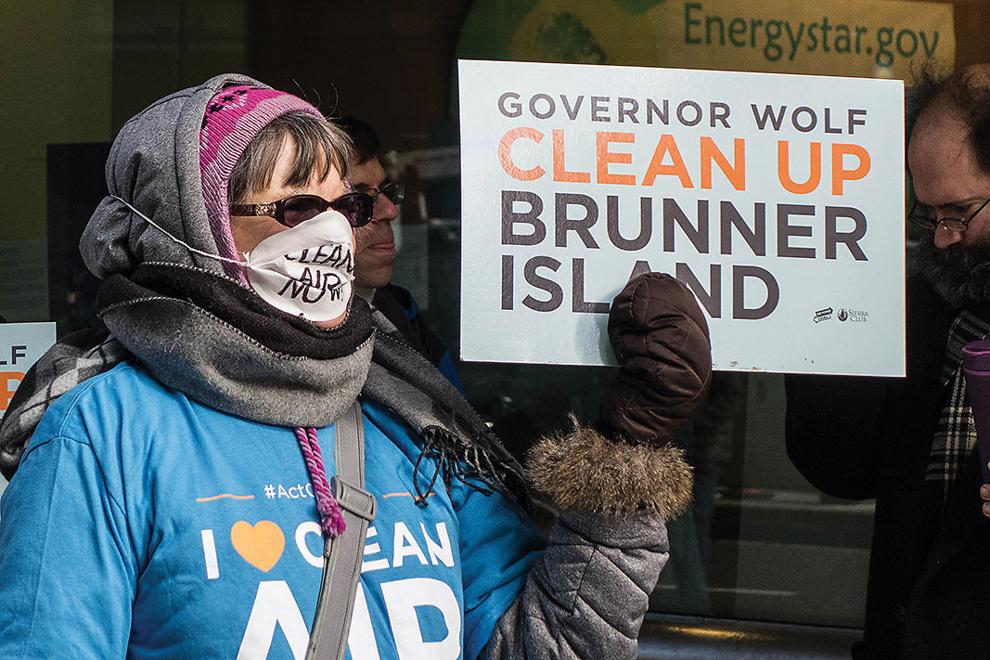 A good share of that tainted air drifts in from industry-heavyweight Pittsburgh and traffic-choked Philadelphia and Baltimore, he said. Last year, Maryland, Delaware, New York and three other northeastern states sued to force the U.S. Environmental Protection Agency to order a curb on power plant emissions from upwind states in the Midwest. They argue that the imported pollution is complicating their efforts to reach smog-reduction goals.
A Massachusetts Institute of Technology study published in February added a new layer of urgency to the debate, finding that more than half of all premature deaths from poor air quality are tied to air wafting in from a different state.
'Very concerning'
The EPA threshold for particulate pollution is 12 micrograms per cubic meter, averaged over three years. The closest air monitor to an industrial area in the DC area, called Buzzard Point, recorded an average concentration of 8.2 in 2018, the most recent year for which information has been reported.
All good, right? Not so much, one local activist said.
"Just because it doesn't go above the red line doesn't mean people aren't feeling the impacts," said Rhonda Hamilton, a longtime resident of the southwest DC community.
A short walk around the vicinity is like running a gauntlet of air-pollution sources. Among them: a concrete processing plant, a power station, several active construction sites and a labyrinth of highways.
A 2016 community health assessment conducted by the District of Columbia's health department found higher rates of heart disease and cancer near Buzzard Point. Residents also reported higher rates of asthma than the rest of the city.
Hamilton said she suspects the air monitor readings shared publicly don't show the spikes in pollution she can see with her eyes. Many residents can't escape the bad air either, she added. Because they lack central air-conditioning, they keep their windows open day and night or use window units that don't filter particles from the incoming air.
The demographics of the neighborhood's 2,000 residents — largely African American, with high  unemployment and great financial stress — all but prime it to be a hot spot for COVID-19, public health experts say.
The latest coronavirus figures seem to corroborate what many researchers and health advocates had feared: The disease is taking a heavier toll on African-Americans. Much data has yet to be reported, but the information available to date shows racial disparity. Although blacks represent 14% of the population in states reporting racial and ethnic breakdowns, they account for 33% of all deaths, according to an Associated Press analysis.
Baltimore's Westport neighborhood is part of the 21230 ZIP code, where 88 coronavirus cases had been documented by the state as of April 23. That's around middle of the pack for the city. But, Allen notes, the ZIP also contains whiter, more-affluent neighborhoods that are farther from the biggest sources of air pollution.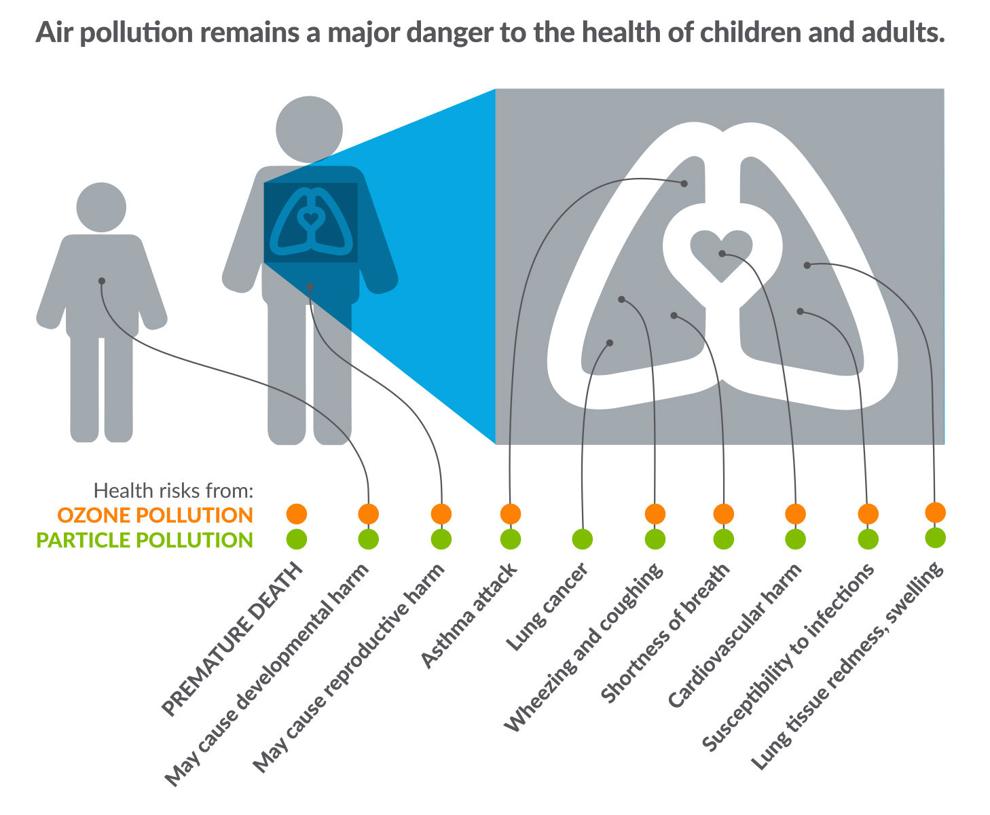 The disease's racial gaps have been stark in the nation's capital. Blacks make up about 45% of the population. But as of April 22, they comprised 80% of the 127 coronavirus-related deaths.
Ward 6, where Buzzard Point is located, has been one of the hardest-hit parts of the city. Out of the eight wards, it had lost the second-most lives to the disease, with 23, through that period.
"For me, it's just been very concerning," said Hamilton, who considers herself relatively healthy but finds herself getting winded on long walks. She also has been diagnosed with sleep apnea, which new research has shown has ties to air pollution as well. "I just pray and hope we get the additional resources we need to address these health disparities."
Some local governments have begun devoting more of their limited resources to vulnerable communities in recent weeks.
DC Mayor Muriel Bowser, for example, ordered the city's Department of Health Care Finance to review claims data to identify people with underlying health conditions and check in on them to see if they have coronavirus symptoms. Such individuals are more likely to be people of color, according to long-standing health research.
After the crisis ends, Bowser said at a recent press conference, she hopes that the city will redouble its efforts to mend economic, housing and education inequities "that have led to these tremendous disparities that this pandemic has put a spotlight on."
In Maryland's Anne Arundel County, officials began hosting online health equity dialogues with dozens of representatives from nonprofits, the clergy, education and the government sector. The mission, officials said, was to gather information on ways to break down traditional health-care barriers that people of color often face. 
A dirtier future?
Public health officials and social activists worry that communities of color will face even greater health and economic disparities in the pandemic's wake — that will make them more vulnerable to the next sweeping viral threat.
The coronavirus is certainly a health crisis, Bernstein said, but it's also an environmental wake-up call.
"With COVID, nature is really trying to tell us something," he explained. "It's trying to rid us of a dangerous delusion we have that our health is separate from our environment."
Climate change is setting the stage for pandemics to spring up more often and pack a heavier wallop on society, climate research suggests. Hotter weather is expected to boost ozone levels, increasing the amount of underlying conditions awaiting the next pandemic.
Animals, insects and other living creatures are predicted to be displaced as some parts of the world warm or get flooded. That could put them in contact with new species, potentially allowing diseases to jump across barriers in new ways.
In some ways, the effects could be complex, even conflicting, expert say. Milder winters could temper the ferocity of flu seasons. But if people grow complacent with the disease, they may skip getting flu shots, making them more vulnerable when they catch it.
The authors of the Harvard air pollution study concluded with a stark warning, arguing that their results "underscore the importance of continuing to enforce existing air pollution regulations during the COVID-19 crisis." Failing to do so, they added, may "potentially increase the COVID-19 death toll and hospitalizations."
The Trump administration has spent most of its three years in power rolling back environmental regulations with the hope of spurring further economic growth. The federal government has attempted to lift several air quality protection efforts, including pulling out of the Paris climate accord and nixing the carbon dioxide-cutting Clean Power Plan.
The coronavirus hasn't stopped the regulatory overhaul. About a week after Harvard's study went public warning of the potential dangers of tiny, airborne particles for COVID-19 patients, the administration acted in an ongoing review of the pollutant. Brushing aside a strong consensus among scientists, the Environmental Protection Agency refused to strengthen controls on particulates.