Rick Middleton didn't fancy himself an environmental lawyer when he graduated from Yale Law School in 1971. That category didn't exist.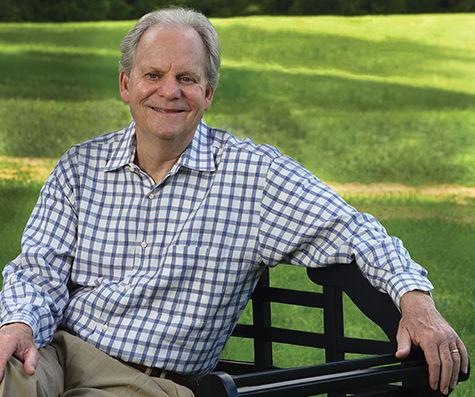 The United States had only just commemorated its first Earth Day, and the future founder of the Southern Environmental Law Center still felt like a fish out of water in New England's semi-industrial corridor, pining for the bucolic valleys around his Alabama hometown of Birmingham. But during those years, he began to realize two things: The South had something worth saving, and no one else was doing it.
This spring, Middleton, 72, is retiring after leading the SELC to become the Southeast's largest environmental law firm, employing more than 80 attorneys and 140 employees in six states, from Virginia to Alabama. The SELC's longtime deputy director, Jeff Gleason, has come out of retirement to lead the organization, headquartered in Charlottesville, VA.
Three of the SELC's nine offices are in Chesapeake Bay portions of Virginia and Washington, DC, where the nonprofit's work on air pollution, wetland protections and coal ash waste, to name a few, have left an indelible mark.
Roy Hoagland, who was a Virginia staff attorney and Virginia executive director at the Chesapeake Bay Foundation through the 1990s, recalled watching the SELC grow from a two-office suite on Charlottesville's downtown mall into a leading litigator for Virginia's environmental community and "a highly respected, legal powerhouse."
Hoagland said water quality advocates in the state were "pretty crippled" and unable to pose legal challenges to industrial discharge permits before the SELC's work led to changes in the mid-1990s. It was the SELC's team of lawyers that led a successful, nearly 15-year battle against a proposed King William Reservoir slated to provide drinking water to Virginia's Lower Peninsula by flooding more than 1,500 of acres of farms and forests to form what would have been the commonwealth's second-largest lake. The nonprofit also had a hand in forming the organizations that would become the Virginia Conservation Network, an umbrella organization for many of the smaller environmental groups the SELC still represents.
"It wasn't that they had one attorney working on these. They invested a number of attorneys over the life of these debates," said Hoagland, who is now senior program officer at the Virginia Environmental Endowment. "They became the lead litigation arm of the environmental community in Virginia."
The SELC's work in Virginia is indicative of its state-based efforts to balance an on-the-ground presence with advocacy for regional and national environmental priorities. Middleton said advocates in one state "only see part of the elephant" that is SELC's larger body of work.
"The major value of a regional model is you can have that local presence, and you can easily take what works in one state and export it to other states," Middleton said.
That local presence has proven key, he said, particularly in the South. For the last 33 years, as the SELC established offices in each state, its attorneys have practiced what a journalist might call "beat reporting" — or, in this case, "beat lawyering," developing expertise by handling the same topics over many months or years.
The lawyers would make a habit of attending commonplace utility commission meetings where decisions with sweeping environmental implications were made amid the doldrums of everyday proceedings. Middleton tells of a female lawyer who faithfully attended meetings of an all-male commission in Atlanta, GA, for six months before a member said one day: "I want to hear what that nice lady from the Southern Environmental Law Center has to say."
Middleton, grinned as he told the story, with his Alabama accent coming through.
"It's just great lawyering. You've gotta be polite, you've gotta stick with it, and you've gotta show 'em you're not crazy," he said. Today, "we know more about the way utilities operate than any other environmental organization in the country. [For years,] we were the only people in the room."
Jean "Jeanie" Nelson, president and executive director of the Land Trust for Tennessee — and a friend of a friend who became a SELC board member — said that from the beginning, Middleton built the Southern-minded organization around relationships.
When he was first forming the organization, "he flew down to Nashville to see how deep my caring was for these places," Nelson said. When she asked what sort of issues he was thinking of championing, Middleton mentioned billboards going up along the scenic highways near a national park in her state, an eyesore more than an environmental problem that got to the core of preserving the South's unique character. "I really hate to think what the Southeast would be like if it weren't for SELC."
Billy Want, a professor at the Charleston School of Law and a friend of Middleton's since law school, said Middleton's care in choosing who to hire at SELC is just as "legendary, as are the results."
Middleton went beyond checking a person's provided references. He would find contacts that weren't listed and ask how the applicant treated his or her administrative assistant — "a good indicator of what kind of person they are," Want said.
Growing up in Birmingham at a time when the city was the focal point of the civil rights era, Middleton gleaned a deep sense of place and a conviction "that it's worth fighting for what's right and against what's wrong."
"You learned that, to make a place good, you've got to focus on correcting the bad — along with preserving the good," he said.
The same principles applied to the early environmental movement, which was weaving its way into federal policies just before Middleton returned to Alabama, a couple years out of Yale, to work in the state attorney general's office. Yale had been a hotbed of activism in the late 1960s, with civil rights demonstrations bleeding into Vietnam War protests. Environmentalism found fertile soil there, too.
The federal Clean Air Act of 1970 gave industrial facilities a few years to ratchet down emissions with a suite of new regulations, and, Middleton said, "the big question was whether people were going to enforce this new law."
A fresh face in the Alabama attorney general's office, Middleton took on the task. His first case — against the Tennessee Valley Authority, the country's largest polluter at the time — went to the U.S. Supreme Court.
"It was really only when I started doing that work that I knew, 'This is exactly what I want to be doing,' " he said.
He went on to work for seven years at the Sierra Club Legal Defense Fund, now Earthjustice, one of a handful of environmental law firms in DC at the time. Some of his fellow Yale alumni had founded another law firm, the Natural Resources Defense Council. The community in DC had a small-town feel, but it had very little grasp of — or interest in — the issues affecting the South.
"Environmental law had been invented, but no one had stepped forward to take it to the South," Want said. "It was unclear whether it could succeed, but Rick had a vision. And he didn't have any competition."
Middleton saw the University of Virginia as a hub producing some of the South's most prominent leaders, which is one of the reasons he got his bachelor's degree there. That's also among the reasons he settled on Charlottesville as the headquarters of the SELC. The university town of fewer than 50,000 in the shadow of the Blue Ridge Mountains seems to have inherited a bit of the intellectual outdoorsmanship for which its longtime neighbor at Monticello, Thomas Jefferson, was known.
"There's just a certain mix of people here," Middleton said from his Charlottesville office early this year. "There's a great love of the land and of beauty, mixed in with just a lot of people who understand the importance of environmental policy."
Middleton's 36-year-old twin daughters were 11 when his family moved into an 1870s farmhouse just outside of town, with views of Shenandoah National Park. Or, at least, there should have been views. In the early 1990s, despite air pollution restrictions like the ones Middleton had helped enforce in Alabama, "there were still 33 days in the summer that I could not even see those mountains."
Once the law center got off the ground, reducing air pollution again became a priority for Middleton, including an SELC case to close loopholes for power plants that won at the U.S. Supreme Court. "We're extremely proud of that," he said
Middleton's organization has opposed potential rollbacks of some of those federal laws today. But now, "there hasn't been a day in 15 years that I haven't had a crystal-clear view of that mountain."