A pioneering plan to revive a faded waterfront community park using sand and silt dredged from Baltimore's harbor took a couple of small but significant steps forward this week.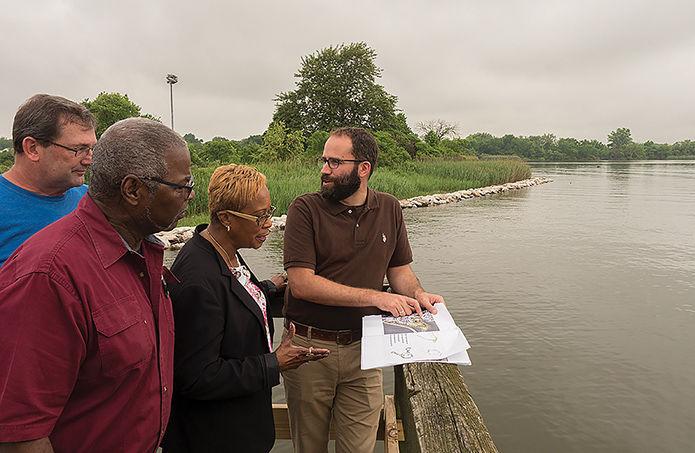 Community leaders in Turner Station, a historically African-American neighborhood in Dundalk southeast of the city, received their first donation Monday night toward their proposal to restore the shoreline of Fleming Park using material previously shunned by other communities.  And they heard a ringing endorsement of their plan from a prominent local official.
The park was once a popular spot for crabbing, fishing and just strolling along a boardwalk overlooking Bear Creek, a tributary of the Patapsco River. But over the decades, the waterfront has become overgrown with dense stands of the invasive plant, phragmites. The old wooden walkway has deteriorated.
The group is seeking funds to replace the park's reedy, rocky shoreline with a marsh that would support native vegetation, waterfowl and other wildlife. Community leaders hope to use dredged material from harbor shipping channels to create the wetlands, build a berm along the waterfront and re-landscape the park's playground. They'd also like to rebuild the boardwalk.
Carmera Thomas, Baltimore program manager for the Chesapeake Bay Foundation, presented a $30,000 check to leaders of the Turner Station Conservation Teams at the group's November meeting. Thomas said she hoped the gift — from one of the foundation's funders, who wished to remain anonymous — would serve as seed money to attract more financial support.

John "Johnny" Olszewski Jr., elected earlier this month as Baltimore County executive, stopped by the meeting to congratulate the group on receiving the donation. He praised their park overhaul plan, with words that community leaders hope signal a potential financial contribution from the county after Olszewski takes office in Decem
ber.
If the community can corral the needed funding and regulatory approvals, it would mark the first time that material dredged from the bottom of the Baltimore harbor has been placed on land in a residential neighborhood. Turner Station community leaders say they welcome it and expect it to be carefully screened to ensure that the muck brought ashore contains no toxic materials.
Gloria Nelson, president of the Turner Station Conservation Teams, said she was "overwhelmingly excited" by the donation, which she said she hoped would grow eventually into enough funds to start designing the park project.
"We'll be knocking hard on your door for the county's support," she told Olszewski.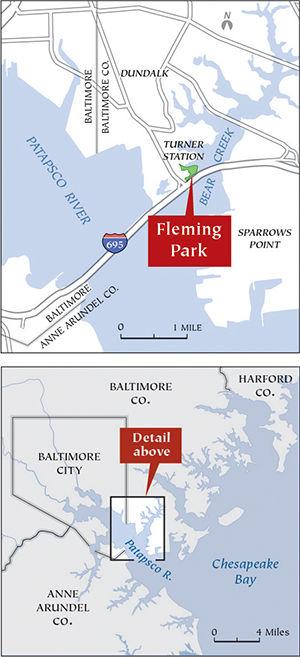 Isaac Hametz, research director with the landscape architecture firm Mahan Rykiel Associates, who has worked with community leaders on their plan, said that the dredged material would be used to bring back recreational opportunities in the park and prevent some flooding, a growing threat as sea level rises.
The group hopes that Turner Station will be one of 10 communities selected nationwide by the U.S. Army Corps of Engineers for a program intended to demonstrate beneficial uses of dredged material. They are seeking $1 million in federal funds. But that money would need to be matched by an additional $670,000 from other sources.
The county has budgeted about $750,000 toward shoreline stabilization at Turner Station and one other nearby community. But county officials have concentrated until now on putting riprap or large boulders along shoreline. While that might reduce erosion, it degrades near-shore water habitat and drives away much of the wildlife that might otherwise frequent the shoreline, such as turtles and waterfowl.
Earlier this year, Vince Gardina, then the county's director of environmental protection and sustainability, said he was concerned that creating a marsh along the shoreline would be more expensive than placing riprap and might actually allow more erosion. But Gardina has since retired, and community leaders and their partners say they have been working to win over county officials, with apparent success.
Olszewski, who hails from Dundalk and once represented the community in the state legislature, said as he left the meeting that he'd been briefed on the project and looked forward to partnering with the Turner Station group on its effort to revamp the park.
"These are the kinds of projects we need to be exploring [in the] long term in Baltimore County," he said, "particularly as we deal with issues of climate change, and neighborhoods are struggling with flooding challenges." In addition, he noted, it could improve the quality of life in the neighborhood and sustain or enhance property values.
"My administration will be open to supporting this project and projects like it in the years ahead," Olszewski said.
Until more funding can be secured, Hametz cautioned, the community's dream of a makeover for its park is still a long way off. But, he added, "this is an exciting milestone for us all to celebrate."