He wants to shut down a trash incinerator, reduce his city's waste to zero, increase the amount of affordable housing and get abandoned mattresses and old furniture off the streets.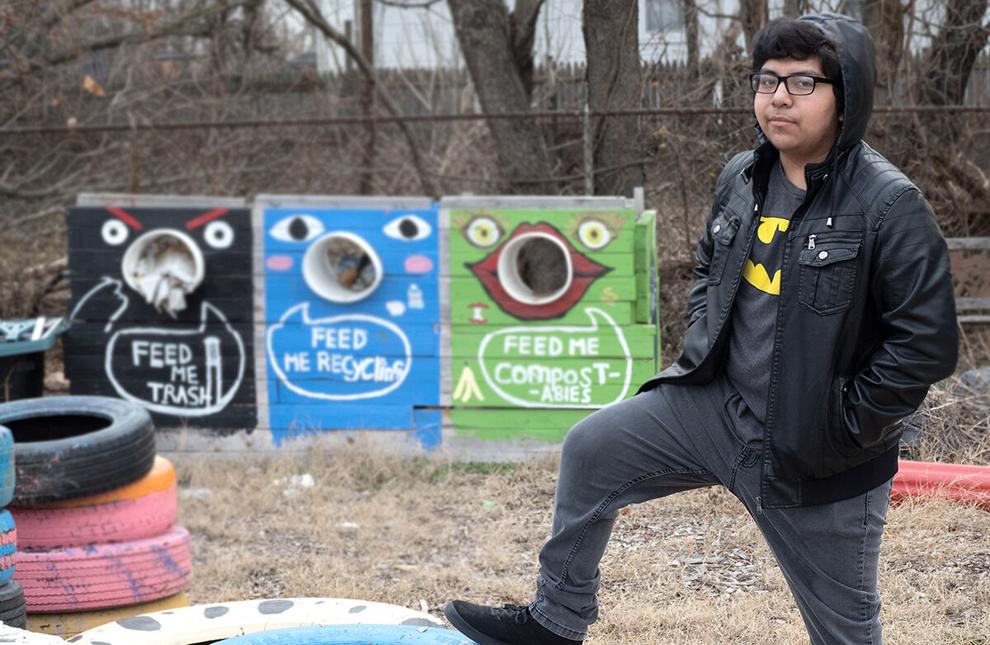 Carlos Sanchez-Gonzalez, a 16-year-old high school sophomore from South Baltimore, doesn't just aspire to these things. He already has results.
As a prominent member of Free Your Voice, a youth advocacy group focused on environmental justice, Sanchez-Gonzalez helped to persuade the Baltimore City Council last year to put the city on a path toward generating near-zero waste by 2040. The plan calls for the eventual closure of the Wheelabrator trash incinerator, a major source of air pollution near his home.
And, as a youth leader for the South Baltimore Community Land Trust, he has helped to build support for a program that is transforming several derelict properties into affordable, environmentally friendly housing.
For his efforts, Sanchez-Gonzalez was honored as a Youth Environmental Champion during the Naturally Latinos conference in December. The event is hosted by the Audubon Naturalist Society, a longstanding environmental group in the Washington, DC, region.
"A bunch of people told me the work I was doing was important, but I never really thought about it until I won the award," he said.
Below are excerpts from an interview with Sanchez-Gonzalez, edited for length and clarity.
How did you get interested in environmental advocacy?
Carlos: When I was younger, my parents couldn't work, and things started going downhill. I remember seeing in front of me literally a bunch of envelopes of things they'd have to pay. I thought I really want to help so I started looking at different ways [to make money]. Then I got introduced to [a job opportunity through] Free Your Voice by my brother and to the Zero Waste initiative. When I was born, I had asthma, and I wasn't sure why. Now that I've been working with them, it connects the dots.
What was your role in promoting the "zero waste" plan?
Carlos: The plan was developed a little bit before I joined. I spoke at many council meetings about the plan. I helped with pushing the plan forward and making sure it got implemented correctly.
So, going downtown, putting on a tie?
Carlos: [Laughs] Most of the time I would be dressed casual because I'd just be coming out of school.
Was that intimidating, to be a young person and speak before the most important body in the city?
Carlos: I was really scared of messing up. But at the same time, I realized there were people there to support me, and they were helping me along the way. I didn't feel I was really capable of doing this kind of change. It really helps knowing that what we're doing is not just going to benefit one or 10 people. It's going to benefit many people.
Why does "zero waste" matter to you?
Carlos: I live in the Lakeland community, and I see a bunch of trash and plastic bottles, especially in the alleys. I know friends and family who have asthma and lung cancer. Just knowing that there is a way to prevent this or bring down the number of people who have lung cancer or asthma motivates me to keep going.
Is it about closing the Wheelabrator plant or is there more than that?
Carlos: It's not just about bringing down that incinerator. It's making sure that the city and other places stop relying on burning and burying trash and understand there are other alternatives for our waste.
Like what?
Carlos: Something that really sounds promising to me is having more markets for things to be picked up and recycled. Currently, we don't have a recycling facility for mattresses and furniture. The only options are leaving it outside or throwing it into a dumping ground. We need to create policies and infrastructure for these things to be recycled.
Justice and equity seem to be a common thread in your efforts. Why is that?
Carlos: The reality we live in is that people in low-income communities get looked down upon. Wealthy people make the decisions, and that isn't right. For example, the Wheelabrator incinerator was put in the center of South Baltimore without community residents having a say in that decision. It was just placed there, and we're the ones who end up having to pay with our lives. It costs $55 million in health damages every year [according to a 2017 study commissioned by the Chesapeake Bay Foundation].
How has the pandemic affected your work?
Carlos: It's been kind of difficult. We're not really working at it as much because of COVID. There's Zoom, but to what extent? When the internet is not working, it starts messing up.
How do you juggle your environmental work with schoolwork, household chores and having a life?
Carlos: Free Your Voice has a partnership with the school. When it comes to learning, my team is really understanding. It's not something like, "Oh, you have to be here." If you're struggling, you can communicate with them. You've got to work on yourself sometimes. As of right now, I've got 30, 40 minutes in between what I may be doing on that day. So, during that time I try to do as much classwork as I can.
What kind of work do you want to do after you graduate?
Carlos: I haven't really thought about it. I really find development to be important. Something I really want to do is join the Marines for two years. I've also been looking into real estate wholesaling and becoming an entrepreneur. That would help me continue this project we're working on [with affordable housing and Zero Waste].
Does your Hispanic heritage influence you as an environmentalist? If so, how?
Carlos: I see that race could possibly be a reason, but there are definitely other reasons. This is not just me who goes through this [being affected by environmental degradation]. It's a problem that affects everybody.
Do you worry that environmental issues take a backseat for many people?
Carlos: It is true. There are many other problems out there that people find more important than others. But this is what sticks with me: If we can't take care of our planet, what keeps us alive, how will we be able to fix anything else?
This video from the Audubon Naturalist Society profiles the Environmental Champions of the 2020 Naturally Latinos conference.