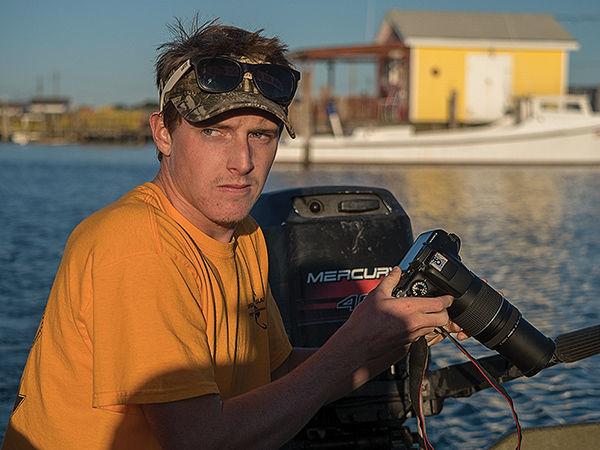 Like most high school seniors, Cameron Evans is at the edge of change. He's anxious about whether to major in photography or politics, annoyed about having to go to the dentist, animated when talking about the Yankees, his favorite team.
But most seniors don't worry if they'll be able to go home after leaving for college; or if they'll have a home at all after the next hurricane. Evans does; he lives on Tangier Island, or what's left of it, in the middle of the Chesapeake Bay.
With no organized after-school sports to play at the Virginia island's small combined school, and no girls to date because he's known them all since kindergarten, Evans heads out most afternoons in a small skiff toward what remains of the Uppards, part of the Tangier settlement that was abandoned in the 1920s.
He has to stride carefully, over broken glass and severed tree limbs, pieces of hunting trailers and mud-crusted oysters. He uses his camera, a 16th birthday present, to document what has been lost.
On a recent visit, he found a headstone in the encroaching water: "Polly Parks, "Born 1876, died 1913." He wiped the mud off Parks' marker, as he has done before, and again placed it on higher ground, at least higher for now.
"If we don't get help, this is what is going to happen to us. Our houses could wash away. Our graves could wash away," Evans said as he laid the headstone in marsh grass. "And then there will be nothing to remember us by."
Tangier and its surrounding archipelago of islands are washing away at a rate of 15 feet a year. In what Evans calls his "small lifetime," he has seen more than 40 feet of high ground wash away on the Uppards alone. Along with that, the islanders have lost hunting trailers, possessions and even the buried skulls and bones of those who once made their home here. Politician after politician has promised to help build a seawall on the east side of the island to protect its business district and harbor, where island men set out to work the water and their wives help tend the crab shedding tanks. And yet, there is no wall, no protection. Every storm takes more. Soon, there won't be more to give.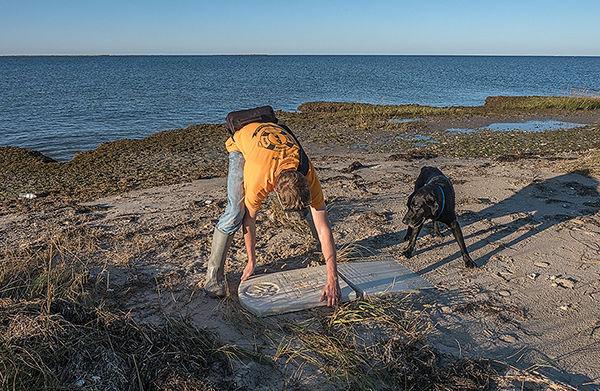 The threat to Tangier's future has been well-documented in recent years, as scientists and journalists declared the 400 islanders "climate refugees." Reports from the U.S. Army Corps of Engineers and others project their remaining time in years, not decades.
But it made national news again last spring, when President Donald Trump called the island town's mayor, James "Ooker" Eskridge, after he appeared on CNN and declared he loved Trump like a brother and said the island could use a strong leader to build the wall. Trump, who has called climate change a hoax and whose administration is rolling back federal policies aimed at mitigating it, told Eskridge he needn't worry about rising sea level. "Your island has been there for hundreds of years," Trump said on the phone, according to Eskridge, "and I believe your island will be there for hundreds more."
The Trump phone call focused national attention on the island's predicament — Eskridge later debated former Vice President Al Gore on CNN. But what it hasn't brought is a wall, much to the frustration of old-timers as well as students like Evans, who ponder their futures.
Eskridge said that, for the sake of future generations, he tries to remain optimistic. "Don't lose hope," he tells the youth. But it's difficult, especially when Smith Island, just to the north in Maryland, has received more than $20 million in funding to shield it from erosion and rising waters — including $11 million to rebuild a marshy wildlife refuge.
Tangier's seawall was once budgeted at $4 million; now, though, the Corps is talking about a more expensive project, likely $50 million, to armor the entire island. Eskridge doesn't object to that. He just doubts there's time, given the speed at which the Corps moves. The agency must wait for Congress to authorize the project and then appropriate the money to carry it out. The state committed $1.2 million for the $4.2 million wall in 2012, but the federal match never materialized. Despite lobbying from Virginia officials of both parties, Congress has never funded the project.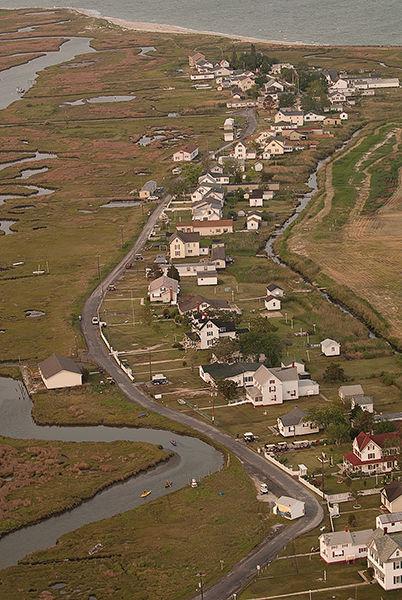 "We have families here. This is a thriving community," Eskridge said. "They spend all this money to protect habitat for birds on Smith…and all the while, we've been trying to get this piece of seawall. If you're going to do it, do it. But if not, stop talking about it."
Tangier Island was home to American Indians long before the English explorer John Smith "discovered" the cluster of islands. In the early 1700s, three families from Cornwall settled there — Crockett, Pruitt and Parks. Their descendants remain, as does the accent, a mix of Cornwall and a Virginia twang.
Once, the island had more than 1,000 people in eight towns, with livestock and even an opera house. Today, three towns remain, clustered on one fishhook-shaped strip of land one mile wide and three miles long. Marshland hems in the island roads that connect the villages; the asphalt is barely wide enough for vehicles. Residents favor scooters, golf carts
and bikes.
The island had a major moment in the War of 1812. The British had a large base there with a camp for 12,000 troops. Tangierman Joshua Thomas, an itinerant Methodist minister known as the "parson of the islands," took them to task right after they burned Washington, DC, and were headed for Baltimore. He told the British they would lose. Thomas' prophecy came true, and the surviving British troops passed back through Tangier in defeat to tell him so. In 1821, a hurricane destroyed the British fort. Subsequent storms, including Isabel in 2003, have left their mark; even a high tide can bring flooding to yards and roads.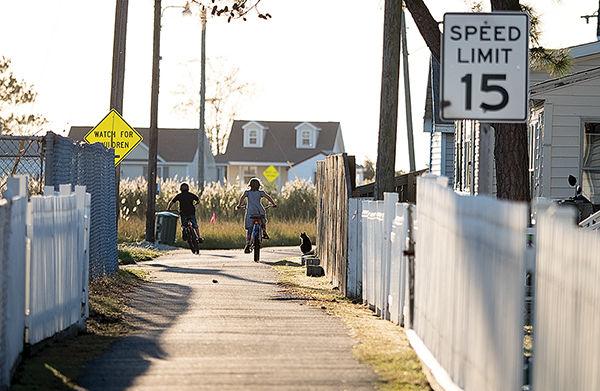 For the island's high school seniors, the seawall is a concern that intrudes on their more typical teen cares about who's taking whom to prom or what they'll do after graduation. Taylor Pruitt, a friend of Cameron Evans, said she sometimes discusses the topic with her father, a longtime waterman, but her mother always changes the subject. For another friend, Isiah Creedy, the topic isn't taboo, but the answer is the same: God has a plan. Pruitt plans to leave the island and study forensic science; she will move to a big city, she said, "somewhere where everybody doesn't know everything about you." Creedy plans to stay, taking a job working on the water in some capacity.
Evans is in between, sure to leave for college in the Virginia Beach area — he's choosing between two — but figuring he'll come back.
That doesn't surprise his mother, Hope, a Tangier native who went away to college in Delaware. She returned to marry her high school sweetheart, Norwood, who grew up on neighboring Smith Island. In addition to Cameron, they have a daughter, Lacee, 7. For years, Norwood crabbed and Hope tended to his shedding shanty, where they supervised crabs about to shed their shells to become soft crabs, an expensive delicacy regionally. Now, Norwood is a lineman with the electric utility.
"I couldn't wait to leave, but I went away to school and found it wasn't for me," she said. "I just wanted to be on the island.
"Cameron doesn't want to go too far from home," his mother added. "He loves Tangier. He wants to come back as much as he can."
The seawall comes up in class at the island's combined K–12 school. Principal Nina Pruitt said that she and the teachers are truthful with their 60 students about all sides of the conversation on climate change. Duane Crockett, who teaches civics and government, said that in exploring with his students what governments do for local communities, he has to add a rueful note to the textbook: The government hasn't helped Tangier.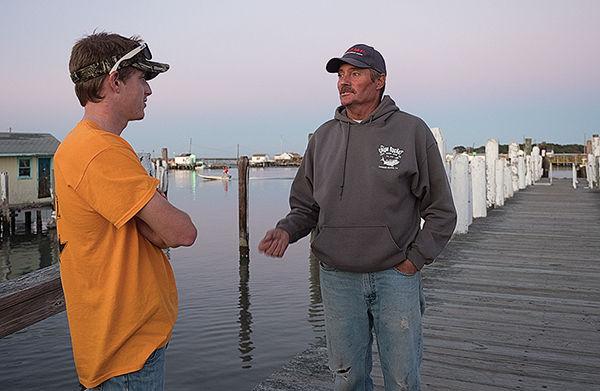 "We have wasted so much time discussing the causes that we are ignoring the effects," said Crockett, who has his eighth graders write letters to all of their state and federal representatives asking for a wall.
Many respond, including Rep. Scott Taylor, a Republican whose district includes Tangier, who said he was doing all he could. "I save them all," Crockett said of the letters. Pointing to the back of his small classroom, he said, "I have a lot of promises in that cabinet."
Cameron Evans, with his sandy-brown hair and bright blue eyes, is an "old soul," his principal said, tied in with Tangier's natural rhythms in a way she has seen rarely in her more than 30 years with the school.
Evans is an avid waterfowl hunter; there are 22 different species on the island. He's also been selling some of his wildlife photos to tourists. The teen knows he has had a childhood like few others. And not just because he knows everyone on the island of 400 — their pets, vehicles, habits, boat names and family history. Once, walking the Uppards, he stepped over a body. He only knew what it was, he said, when he saw the skull. He knows it could happen again. And yet, he still comes, walking over clumps of sod that were once ground, stepping over dead trees.
"There are not many places like this that have a natural disaster occurring every day," he said. "All that land is just gone, and it could have been avoided."
On his way back to Tangier after one such visit, he steered his skiff away from a Corps barge dredging the channel to keep it navigable. He cut the motor and drifted through open water, 40 or 50 feet across. Five years ago, he said, a storm broke through and created this channel. A seawall, he said, would have prevented it. And, it could prevent more loss.
Asked about climate change and sea level rise, he initially responds the way many skeptics do, saying, "I'm not a scientist." But like Eskridge, he doesn't dismiss the idea entirely; he just thinks erosion is the bigger problem.
In a way, Evans and Eskridge are not wrong. The erosion is noticeable, while the sea level rise is almost imperceptible. In the Bay, it will add 2 feet or more to everyday tides by around 2050. But erosion changes Tangier daily.
Evans talks about the melting glaciers near the poles, which scientists say are making the seas expand and rise. It makes sense, climate change, the senior mused recently. But the actions the world needs to take to reduce global warming are slow in coming, if at all, and will be too late to help Tangier, he reasoned. If every house put in solar panels, the island would still need a wall.
The teen is on a first-name basis with his congressman, and he's shown his photos to Virginia Sen. Tim Kaine during the Democrat's visit earlier this summer. He tells them all the same thing: He doesn't want his future to be a guessing game. He wants more years, hundreds of them, for the island. He hasn't given up hope.
"I'll never leave this place," he said of Tangier, "and I hope this place will never leave me."