The shaggy Red Devon-Angus and doe-eyed Jersey cattle surrounding Virginia farmer Matt Rales are more than the sum of their parts — though their meat will eventually be sold by the pound. To Rales, they are tools to tangibly address climate change, and he wants to prove they're up to the task.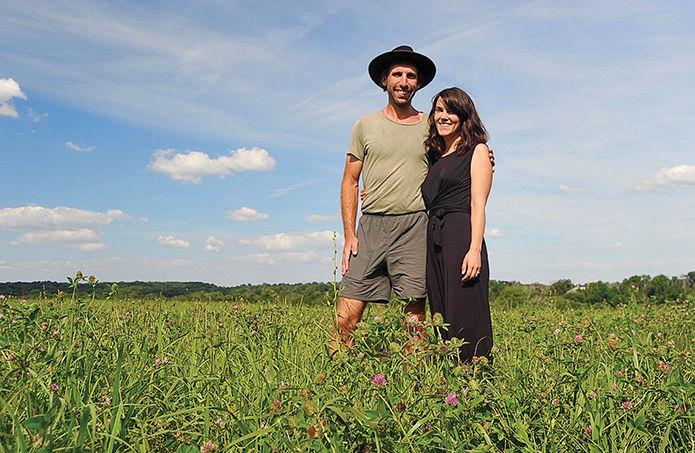 Rales, who runs Another Perfect Day Farm with his fiancée, Abigail Fuller, has begun transforming the nearly 800 acres he purchased in 2016 into an ecosystem at peak performance: one that better filters water and sequesters carbon — and does so by feeding a growing herd of cattle.
The practice Rales uses is called rotational grazing. It entails systematically rotating animals through fields, often one small section at a time, allowing their manure to fertilize one area while the remainder rests and grows vegetation.
"We use the animals as a tool to create soil that can more effectively infiltrate water and cycle atmospheric carbon," the 34-year-old Rales said as he walked the animals toward their watering trough. "The byproduct of that is healthy, grass-fed beef."
A growing body of research suggests that this type of farming could help turn back the clock on climate change. Through photosynthesis and the development of deep root systems, the perennial grasses associated with the grazing system convert atmospheric carbon into soil carbon — pulling it from the atmosphere and storing it in the soil. They also promote water quality by reducing erosion and absorbing nutrients.
Rotational grazing is not new to the Chesapeake Bay region. Nearly 200 grazers are listed in a regional directory of grass-based farms, and they have plenty of anecdotes to share about fields that no longer suffer from standing water or dry spots, as well as cows that no longer need dietary supplements. The Chesapeake Bay Program, the state-federal partnership that drives the Bay restoration effort, considers rotational grazing a nutrient-reducing best management practice.
But Rales is going further than most farmers in an attempt to document the benefits that many have reported anecdotally. He also wants to create a broader market demand for the services this type of farming can deliver to the surrounding environment.
One of the first things Rales did after buying the mix of pastures and former cropland in Virginia's Fauquier County was to take a point-in-time "snapshot" of its soil. He hired a company to extract 4-foot-deep soil cores at about 100 locations throughout the farm, collecting 88 data points from each of them. The Soil Information System study cost about $100,000, Rales said. The cost is one reason that Trimble Agriculture, which conducted the study, typically works with larger farming operations interested in applying costly fertilizers with precision.
Rales invested in the study for his relatively small farm because he believes that, "What gets measured gets managed." Knowing everything from the amount of water available to plants to the levels of calcium and carbon nestled beneath the grassy surface will help Rales to graze his cattle with precision, addressing each component of the soil's makeup to painstakingly improve it.
To accomplish the most progress in the least amount of time, Rales is applying what some might call an extreme version of rotational grazing. At the peak of grass-growing season this summer, he was shifting 300 head of cattle to fresh patches of grass — a feat that involves moving electric fencing and convincing the cows that he has greener pastures to offer — as many as four times a day.
This is where the soil study comes in handy. Rather than applying chemical fertilizers in response to some of the soil's trouble spots, Rales allows the cows to linger in a patch of land where invasive species are thriving, eating away at it over time.
In contrast, he moves the cows quickly through a place where soil compaction is a problem. As much as 99 percent of the farm's acres are resting while the cattle munch, fertilize and trample the remaining fraction. Done properly, this leaves behind a matted carpet of plant matter and manure-based nutrients that improves soil health over time.
Rales' intense engagement with animal agriculture, though driven by his interest in chipping away at climate change, was at first a surprise to his and Fuller's vegetarian and vegan friends.
What Rales and Fuller are doing "is turning the thought that 'animal agriculture is bad' on its head," said Aria McLauchlan, co-founder of Land Core USA, a Los Angeles-based organization that advocates for national and local policies promoting soil health. "They're doing so many things so well and so thoroughly."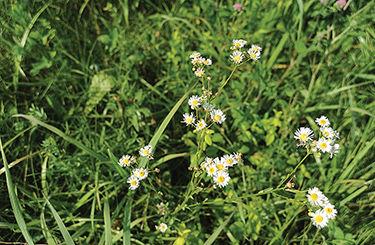 McLauchlan said farmers like Rales make her work easier. She advocates for federal programs and market-based incentives that recognize how " regenerative agriculture" benefits more than the farmer's bottom line. The term refers to a system of farming principles, including intensively managed grazing, that increases biodiversity, enriches soil and improves watersheds.
A documentary filmmaker, Fuller is uniquely equipped for explaining their goals for the farm without getting too far into the weeds. At 32, Fuller is the youngest and only female director of Netflix's Emmy-nominated series, Chef's Table, having produced episodes on some of the world's top chefs.
"People always ask me if I'm actually farming," said Fuller, who moved to Virginia from Los Angeles about a year ago but still spends almost a third of her time traveling for work. "I move the cows with him and help out, but I'm more focused on growing the farm's communications and outreach."
For now, a majority of the farm's meat is sold through Hardwick Beef, an aggregator that sells online and to restaurants and shops around New York City. Responding to local demand, the couple has also started hosting pop-up sales in the District of Columbia, along with occasional tours of the farm.
Rales comes to agriculture with more experience — in both farming and business — than many others in their mid-30s. He knows how to interpret the soil test data, and he has plenty of ideas about how to fund a farm that's producing not only beef but also dividends for the environment. His recent purchase of the farmland is the culmination of years he spent studying how to manage animals in harmony with the environment.
Rales grew up in Potomac, MD, and earned a degree in environmental science at Middlebury College in Vermont. He worked with a business partner, Charles "Chuck" Kuhn, the founder of JK Moving Services, based in Sterling, VA, to purchase the pair of properties that comprise the farming operation.
"I've come to the table with some capital. A lot of farmers today inherit the land, but that wasn't the case for me," Rales said. "Now, I'm trying to come up with strategies to help it make sense until we can get to the point that we're self-sustaining."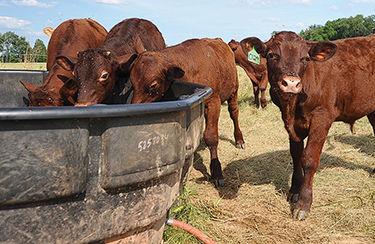 Farming is as much an intellectual exercise as a physical one for Rales. He learned the ropes of growing better grass during three years working for sustainable agriculture savant Joel Salatin at Polyface Farms in Virginia's Shenandoah Valley. He has also worked at farms in Zimbabwe, Botswana and California and run a "suburban farm" in Potomac, MD, serving some of Washington, DC's top restaurants, such as Komi and Marcel's by Robert Wiedmaier.
"More than anything, I spent a lot of time reading," said Rales, who liberally quotes Allan Savory, a Zimbabwe ecologist who popularized the idea that well-managed grasslands can sequester enough atmospheric carbon to reverse climate change.
Rales and his business partner plan to enroll much of their 1,500 acres in conservation easement programs. The voluntary agreements, which compensate landowners in exchange for limiting the development or use of a property, would provide additional income to the farm.
But that's just one of the ways in which Rales aims to rely on more than beef sales for revenue. He also hopes to monetize the work the farm is doing for the environment by receiving payments for the "ecosystem services" it provides.
In an ecosystem services market, businesses or jurisdictions pay landowners to develop or preserve features and practices that benefit the environment to offset the impact of pollution elsewhere.
One way in which Rales might receive ecosystem services payments is to participate in Virginia's wetland mitigation program. Federal and state rules encouraging "no net loss" of wetlands have fueled a growing market for mitigation banks that developers pay into when it's not possible to avoid removing wetlands elsewhere.
Looking down from the pasture onto one of two streams that run through Another Perfect Day Farm, it's easy to see the potential. A sprawling floodplain below could be turned into a wetland, Rales said, measuring between 85 and 120 acres. But he is still conflicted about the idea.
"From a financial perspective, we'd have more income [from the wetland restoration] to develop a larger grazing operation that can positively affect the land," he said. "But, at the same time, you're sort of taking this land — that, in my mind, we could be improving in an even more dramatic way — out of commission."
This coming year, possibly in the spring, Rales will test his hunch that grazing cattle could be the land's best use by running another sweeping test of the soils. Two years into the operation, a scoop of earth already comes with signs that it's improving: long roots that are penetrating deeper into the ground, and more dung beetles, earthworms and fungi.
One pasture that had been resting in late summer was a picture of diversity, dotted with Queen Anne's lace, black-eyed Susan, Indian grass and the occasional monarch. But, for all of these things, that picture still can't tell us about the soil, Rales hopes the data will do the talking.