In a muddy bend of the Nansemond River, hidden amid Suffolk's bustling business district, lie the rotting remains of old wooden boats.
From bugeyes to barges, logboats to tugboats, canoes to crabbing skiffs, these vessels helped to resurrect this Virginia city after the ruinous Civil War. They hauled oysters and scallops up and down the mid-Atlantic, supplying hotels and restaurants from Chicago to New Orleans, all the while transforming Suffolk into an industrial powerhouse of maritime trade.
In time, though, as railroads began to supplant traditional riverine shipping lanes, these vessels were abandoned near the wharfs they once serviced. They sank beneath the surface and settled onto the river bottom — lost to living memory.
Until now.
Local history buffs exploring the riverbank stumbled across the submerged wrecks a few years ago during an exceptionally low tide. Today, archaeologists are studying and cataloging the Nansemond "ghost fleet," reconstructing the city's neglected maritime past.
Brendan Burke, president of the Maritime Heritage Chapter of the Archaeological Society of Virginia, worked the site last fall.
"Suffolk's history in its purest sense is maritime history," Burke said. "It's based literally upon the Nansemond. The [river] was the reason Suffolk exists. It put Suffolk's legs under it and stood it up as a modern industrial city in the commonwealth."
Burke is also a research associate for his alma mater, Longwood University, and invited his former professor, Brian Bates, to join him in studying the ghost fleet.
"The curious thing is, it was hidden in plain sight," said Bates, executive director of the college's Institute of Archaeology. "You look out there and you see just a bunch of little bumps sticking out of the water at low tide. But then when you actually get above it, you go, 'Wow, that's actually a boat. And there's another one.' "
Even Suffolk natives, some of whom fished that very spot for years, had no idea what lay beneath.
Retired mechanical engineer and amateur historian Kermit Hobbs, 76, was one of the first to discover the wrecks. In 2014, a friend told him he'd found an old dugout canoe on the banks of the river and Hobbs, intrigued, went to check it out.
In March 2017, Hobbs mentioned the dugout to a fellow history buff and the two of them trekked out for another look. As luck would have it, they hit the site at low tide and noticed wooden stakes jutting from the mud flats.
Hobbs returned a few days later when a full moon tugged the tide even lower and launched his drone out over the flats.
"That's when I saw the outline of several boats," Hobbs recalled. "Some of them were estimated to be about 80 feet long. Well, I was excited."
He uploaded his aerial footage to YouTube and called around to find someone who could tell him more about the river's history.
"But nobody ever really knew anything that could help me out," Hobbs said. "So I just pretty much left it there."
A year and a half later, a Smithfield couple and members of the Archaeological Society of Virginia working on a logboat registry happened upon his video.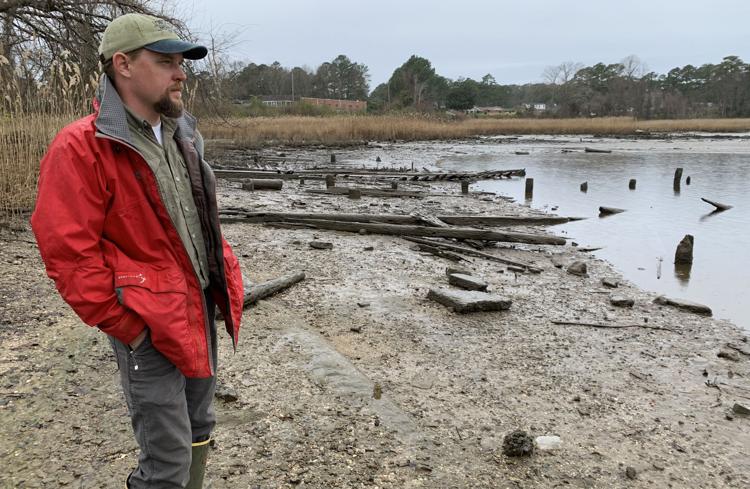 The canoe — or, more properly, the logboat — was retrieved and put on display at the nearby Riddick's Folly House Museum.
Eventually, Burke saw the video, too. "We realized that there was a diversity of vernacular — watercraft types — there in the Nansemond River," he said. "We also realized that what met the eye was probably just the tip of the iceberg."
Wooden bones
Burke and Bates assembled a small team; took tape measures and cameras; pulled on waders and muck boots; and spent several weeks last October cataloging 13 wrecks ranging in length from roughly 15 feet to 100 feet. What they couldn't eyeball, they detailed with sonar and a 3D laser scanner.
"What we ended up finding is a collection of derelict wooden vessels that had been [discarded] at the end of their useful lives," Burke said. "And that sounds like the end of the story, right? A bunch of junk.
"But that's where archaeologists begin our research — when something goes into the ground or into the ocean or into a river, into mud, and we pull out the stories that get forgotten. Pull out the parts of our heritage that are misunderstood, or not understood at all."
The archaeologists consulted with ship experts to identify the various types of workboats by what little remains of their wooden bones.
The most accessible wreck is a schooner-rigged bugeye, native to the Chesapeake Bay and one of only 25 known to be built. In its heyday. This vessel stretched about 50 feet from bow to stern, although others were bigger. 
Bugeyes had shallow drafts built to navigate the tidal rivers, inlets, sandbars and guts of the Chesapeake. But they could also sail on the open ocean through the canny use of a centerboard that could drop through the boat bottom to provide lateral resistance, preventing the vessel from blowing sideways.
During a recent low tide, the bugeye's keel and curved frames lay on the riverbank like the spine and ribs of a giant, decayed beast, next to rotting pilings.
"To me," Hobbs said, "it looks like an old trilobite fossil."
Log-bottom boats like the one retrieved from the riverbank are a famous style in the Chesapeake, Burke said, but have deep roots in African culture.
To build it, tree trunks in groups of three, five or seven are held together with iron pins, then hollowed out and fitted with a sail. When they weren't used for oystering and fishing, logboats hauled a variety of cargo: firewood, watermelons and chickens. They were a vessel of the working man, not the wealthy.
"The appeal to me," Bates said, "is that it seems like these are more close to the average person or the average circumstance sometime in the past. It's a bit of the story that doesn't often get told."
Oystering legacy
Burke pored over library records, historical documents, vintage fire insurance maps, old Suffolk "snapbooks" and the like to piece together a history wholly at odds with modern Suffolk's downtown business district of fast food restaurants, motels, pharmacies and gas stations, as well as the din of traffic, car horns, sirens and train whistles.
More than a century ago, he found, a major business epicenter took root on the Nansemond waterfront complex, located at the site where the ghost fleet now sits: a big packing house, cannery and wharfs. Workboats navigated the tidal river, up and down the Chesapeake and Atlantic. A Standard Oil terminal stands near an icehouse.
A towering figure of that age was William Norman McAnge, a man Burke calls "an entrepreneur's entrepreneur."
Originally from South Carolina, McAnge arrived in Suffolk around 1880 with the means to lease hundreds of acres of river bottom to grow oysters and to build the packing house and the wharfs.He then leveraged them into a local empire.
"He's often quoted as having taken the oyster industry from the bucket trade to the barrel trade," Burke said. "He was a master of systems, as most entrepreneurs are. They don't just do one thing — they're able to assemble systems and get multicomponent parts working smoothly."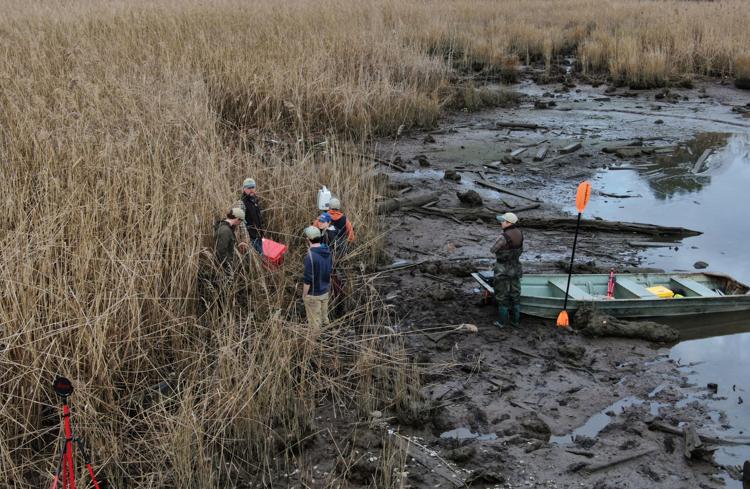 Americans, for instance, were consuming canned oysters. But McAnge had fresh oysters iced and packed into barrels to ship to far-flung cities where customers were willing to pay top dollar for oysters on the half-shell.
"That changed the nature of the industry and began to grow it in new ways for Virginia — which, of course, in the post-Civil War economy, was on its knees," Burke said.
McAnge also had interests in wild oyster fisheries here and in North Carolina, as well as the ocean scallop fishery out of New Jersey. The riverbanks near the ghost fleet are still littered with century-old oyster and scallop shells.
He ran his own fleet of oyster boats and was involved with the trucking industry. He was instrumental in bringing the telephone to Suffolk — likely, Burke said, to keep in close contact with customers. He also helped bring in the automobile and earned one of the city's first speeding tickets. He operated a kiln to burn oyster shells for lime to fertilize Virginia peanut fields.
The riverfront complex began to falter sometime after World War I as five railroad lines offered faster shipping, and major nearby ports had deep-water terminals to handle big cargo vessels. Workboats became obsolete. Many were discarded, some as recently as the 1930s.
"In the early 1900s, it probably seemed like a perfectly reasonable thing to do," Bates said. "It was probably quite informal — maybe one person let their boat die there and then someone else did the same thing. And after a while people figured, 'Well, OK, this is where the boats go to die.' "
Every port city has an old ship dump, Burke said, and many put them to good use. San Francisco, downtown Manhattan and London, for instance, are built atop old ships. In Alexandria, VA, ships were scuttled and buried to help expand land along the Potomac River shoreline. A handful of 18th-century vessels have been found there under the foundations of modern buildings.
"They were wonderful ways to create cheap real estate," Burke said. "What is rare is when they're well-preserved and they're accessible to archaeologists."
Much of the Nansemond riverfront got paved over. The remains of the packing house now lie under a Super 8 parking lot. But the boat graveyard lingers.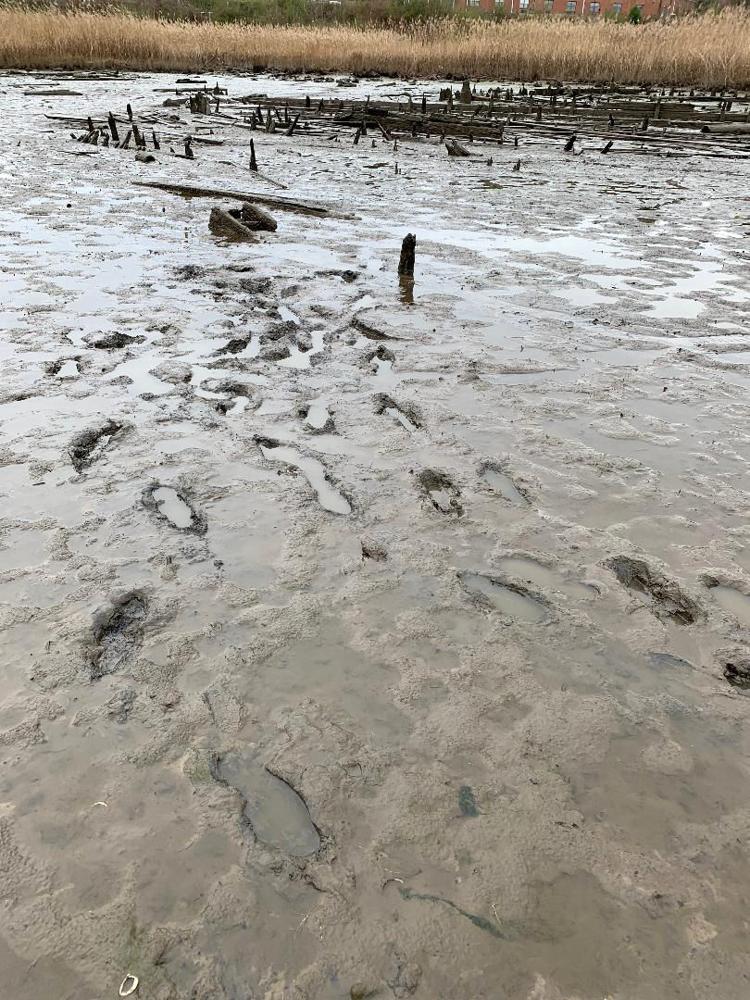 The wrecks won't be removed from the Nansemond — their water-soaked wood would dry to dust, and preserving them would be far too costly. Burke is preparing a report for the Virginia Department of Historic Resources, which provided an $11,000 grant for the study. He hopes it will serve as a reminder of a common sea-faring history.
"Every one of us has a significant maritime chapter in our past," Burke said. "If you dig back, everyone on every continent — no matter how landlocked you are, no matter how much of a mountaineer you are — you've got a sailor in your background. You've got somebody who made a momentous voyage onboard a boat from one place to another. Somebody that worked in the Atlantic trades, in the maritime trades. It's a human thing. It's universal.
"The boats are neat. But it's the people and their stories — that's the reason why we do this."
Tamara Dietrich is freelance writer based in Virginia.