When he was a teenager packing for a family vacation in the Maine woods, Rich Batiuk brought along some light reading.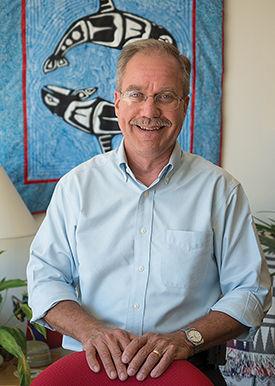 Among the stack were William Warner's epic blue crab story, Beautiful Swimmers; Rachel Carson's wake-up call about pesticides, Silent Spring; and James Michener's classic, Chesapeake — nearly 2,000 pages of reading in all, mostly describing a waterbody hundreds of miles from his home in Massachusetts. Nonetheless, during rainy days, he would perch in the cabin's loft, flipping pages.
Batiuk, who was born in Abington, PA, and grew up in New York, Colorado, Alabama and finally Massachusetts, settled on his career goal early in high school.
"It bugged the heck out of my sisters," he recalled. "They said, 'You already know what you want to do.' I wanted to come down and work on the Chesapeake."
By the time he retired at the end of July, Batiuk had helped transform a vague notion that the Chesapeake needed to be cleaned up into a scientifically based understanding of what a "clean Bay" would look like — and he helped orchestrate a pollution control plan to make that vision a reality.
Still, as Batiuk wrapped up his 33-year career with the Environmental Protection Agency's Chesapeake Bay Program Office, he acknowledged that the Bay's restoration is far from complete. But, he added, the legally tested framework he helped to develop has put the region on a trajectory few other major water bodies can boast: measurable progress toward a cleaner future.
"The Gulf of Mexico is heading in the wrong direction, and Lake Erie is repeating itself back into the 1970s," Batiuk said. "Our dead zone is shrinking, our underwater grasses are coming back, our rivers are running cleaner."
Batiuk spent his entire career in the EPA's Bay office. Most of that time he headed its science programs, where he coordinated work among the region's scientists to support management decisions made by the multitude of Bay partners. In coffee– and donut-fueled meetings — federal agencies are prohibited from buying food, so he bought it himself — he would press scientists to focus their work and reach consensus on issues such as how much light underwater grasses need to grow, how much oxygen fish need to survive and how much fertilizer and manure crops actually need.
"Rich pushed himself really hard. His work ethic was phenomenal," said Bill Dennison, vice president for science applications with the University of Maryland Center for Environmental Science. "But more importantly, he pushed all of us, and we kept working harder. It was sort of a motivator."
Batiuk racked up tens of thousands of miles driving across the Bay watershed to meet with state and federal officials, as well as environmental and industry groups, to explain the research behind the cleanup and to persuade them to buy into the often-daunting goals that resulted.
"This program was built from the ground up with the states at the table, and keeping that program together takes exactly what Rich did," said Jeff Corbin, who often worked with Batiuk while holding various positions with the Chesapeake Bay Foundation, state of Virginia and the EPA. "And it is not easy. Not all the information that EPA ends up delivering is a present inside of a box. … Rich was able to carry that message, not just the public message, but the scientific message, better than anybody."
Batiuk's interest in the Bay stemmed from reading related articles in National Geographic and a general fascination with shallow waters. "I always wanted to be Jacques Cousteau, but in the shallow waters," he said. "I liked the edge of the tide where you could see the bottom."
That he would have laid out his life's work while still a teenager wouldn't seem unlikely to those who know him. A workaholic and meticulous organizer, Batiuk was known for making detailed, long-range plans — often stretching years into the future.
Ann Swanson, executive director of the Chesapeake Bay Commission, an advisory panel of state legislators, recalled a trip to France where she and Batiuk were making presentations at a conference. She thought they'd chat during a two-hour train ride.
Instead, she recalled, "Rich has two notebooks out, and his calendar out, and then another calendar out. One of his calendars was a to-do calendar. He was not just writing a to-do list, but cataloging it by days when he would look up information and get answers back to people. At the same time, he is systematically taking care of emails," she said. "I never saw anything like it."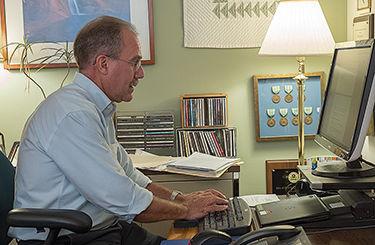 He was known for putting in long days. Nick DiPasquale, former director of the Bay Program Office, usually showed up for work at 7:30 a.m. "Rich was invariably already there and probably had been there for about an hour," he recalled. "When I left in the evening, at 5:30 or 6 o'clock, Rich's car was always there. I started to think he just parked his car there and rode his bicycle back and forth to work."
Batiuk's path to the Bay Program started at American University in Washington, DC, while he was pursuing a master's degree in environmental toxicology. While there, he attended a lecture about the Bay and met Kent Mountford, a biologist working with the EPA's newly created Chesapeake Bay Office. Mountford encouraged him to apply for an internship there. Batiuk won the Annapolis-based position in spring 1985 and never left, working his way up from intern to EPA staffer to the office's associate director for science, a position he held since 1996.
Early in his career, he began working with other scientists to identify habitat requirements for living resources in the Bay — the water quality conditions that various fish, shellfish and aquatic grasses need to survive.
Over the years, Batiuk continued to press scientists for more precise definitions of those conditions. That eventually produced a remarkably detailed plan that divided the Bay into 92 segments and, for each, set out the different oxygen needs for species living near both the surface and the bottom; the amount of light needed to sustain underwater plants; and the amount of algae (chlorophyll a) needed to both provide food for fish, crabs and oysters yet curtail harmful blooms.
Once adopted by states, those standards became the basis for limiting the amount of nutrient pollution that could reach the Bay. It was a plan unlike one for any other coastal water body, and many didn't like it at first. EPA headquarters, Batiuk said, "thought we were crazy."
Environmentalists were initially opposed, too. Traditional water quality standards were typically based on concentrations of pollutants in the water. Batiuk argued that wasn't realistic because concentrations of the pollutants in this case — the nutrients nitrogen and phosphorus — naturally fluctuate widely. Unlike pollutants such as toxic chemicals, it wasn't their concentration in the water at a given time that was important, but rather the total amount that entered the system over a period of time. Under the Bay system, these standards would become the tool to limit the annual loads of water-fouling nutrients and, in turn, support aquatic life.
After months of meetings, Batiuk's concept won.
"Rich is a skillful advocate, but an honest advocate," said Roy Hoagland, who was serving as vice president with the Chesapeake Bay Foundation at the time and initially opposed the idea. "You don't get false information from him, and you get his rationale and you get his big picture. And then he also listens."
Wastewater treatment plant operators came on board, too. Batiuk's approach allowed more flexibility in their operations.
"You can't build a regulatory program on a standard that people can never meet," said Chris Pomeroy, who represented wastewater utilities in Virginia and Maryland. "Rich brought an honest scientific approach to the problem and he was always careful to listen and to understand what people's questions and concerns were. He deserves a lot of credit for holding the partnership together and making as much progress as has been made."
Indeed, Corbin said, if the region had adopted standards based on nitrogen and phosphorus concentrations rather than total loads, "we would still be fighting over those numbers after 20 years."
"Extrapolating back into how much oxygen fish need or how much grass a crab needs, it makes perfect sense now. But that path was not laid out for Rich or anyone to grab and implement. They had to develop that."
After those standards were in place, Batiuk turned his attention to crafting a cleanup plan.
Working with others in state and federal agencies, they created the Chesapeake Bay Total Maximum Daily Load — often referred to as the Bay's "pollution diet" — which identifies the maximum amount of nitrogen and phosphorus the Bay can receive and still meet water quality goals.
The Bay TMDL is driving the cleanup plans that are now under way. While thousands of TMDLs are in place around the country, the Bay plan is dramatically different. It not only defines maximum loads, but requires states to write detailed plans about how they will be achieved, establishes two-year check-ins to monitor progress and includes "consequences" that the EPA can impose if progress is lacking.
Forging the plan was a grueling, multi-year process among states and stakeholders. Batiuk and Robert Koroncai of the EPA's Region III largely led the effort and made extensive trips throughout the region to explain the plan to often skeptical groups.
The crush to meet an end-of-2010 deadline for finishing the TMDL, completing internal documentation, tweaking state water quality standards and responding to thousands of comments led Batiuk and others to work nearly round-the-clock that December. Batiuk became seriously ill. His voice remained rough for months.
"I remember being in my pajamas on Christmas Eve in front of a fire, feeling like crap," Batiuk said, working away on a card table in the family room of his home. "I was sitting there editing line by line, parts of the TMDL." Then, barely able to talk, he would get on the phone with colleagues in Philadelphia to give them his edits.
Less than two weeks after it was adopted, the plan was challenged in court by agricultural groups, homebuilders and others who feared it could lead to similar TMDLs elsewhere. But the years of stakeholder outreach ultimately paid off.
All four judges who heard the case at the district and appeals court level backed the TMDL, praising it as a model of "cooperative federalism" between the EPA and states. In 2016, the U.S. Supreme Court declined to hear an appeal.
"Looking back, it was actually healthy to go through the lawsuit and show that in fact, from a legal standpoint, from a technical standpoint, and from a scientific standpoint, it was robust," he said. "Yes, it dragged out a long time, but it closed that door. It was sort of like, 'We're all over that. Let's focus on implementation.'"
Afterward, Batiuk continued to bring science to bear on the implementation of the TMDL. After a 2011 report by the National Academy of Sciences raised questions about the Bay Program's ability to track whether reported cleanup actions were actually in place and working, he led a multi-year effort to develop protocols for verification.  Starting this year, cleanup actions will not be counted toward TMDL goals unless states use that process to verify them.
Batiuk also oversaw the Bay Program's "midpoint assessment" of the 2025 cleanup goals — an effort that incorporated new science into updated computer models and put a new focus on climate change and the release of nutrients from behind the Conowingo Dam. The assessment showed that the restoration effort has made progress, but it's not on track to deliver the clean Bay he spent years working to define.
Still, Batiuk points to hopeful signs. He wrote his master's thesis about underwater grasses, and the Chesapeake today has three times as much of that critical habitat than it did then. "I never thought I'd see 100,000 acres of underwater grasses," he said.
Many openly wonder how the cleanup effort will fare without Batiuk's ability to organize and explain the science, as well as find solutions that all parties can buy into. "Nobody is irreplaceable except for Rich," Hoagland said. "I don't know how they will replace the talent and skill set he has brought to the Bay Program."
Batiuk still plans to be involved. But, at least for a while, he'll use his hands rather than his head. The avid hiker and angler plans to work as a volunteer with Trout Unlimited and the Appalachian Mountain Club.
He and a colleague, Holly Greening, former executive director of the Tampa Bay Estuary Program, are launching a consulting service called CoastWise Partners. Their stipulated fee: "We'll work for (good) food!"
But after decades of long days, Batiuk also hopes to find more time for fishing (he calls it "resource monitoring") and traveling. He doesn't plan to walk away from the Chesapeake, though. "It's been in my life's blood since I was a teenager," he said. As he wrapped up final days in the office, he still had a collection of National Geographic magazines on his shelf with the Bay-related articles that helped lead him to the Chesapeake.