Growing up in Newark, NJ, Atiya Wells didn't really connect much with nature.
As an adult, though, she got hooked. She took her first hike with her husband after moving to Baltimore to start her pediatric nursing career. After their daughter was born, Wells began organizing hikes in area parks for preschool children. She also signed up for a self-paced naturalist course to help her identify what they encountered on their outings.
"I got so into nature," she recalled with a laugh. "The first thing I learned is that dandelions are edible!"
She noticed, though, as she enrolled in more outdoor education classes, that she was the only Black person taking or teaching them. That lack of diversity, she learned, is a legacy of the trauma Black people experienced when they were enslaved and of the violence visited upon them while outdoors then and since.
A few years ago, Wells set out to change that. She formed a nonprofit group, Backyard Basecamp, then launched BLISS Meadows, working to reclaim a 10-acre tract of mostly wooded land near her home in Northeast Baltimore. Her aim is to connect urban families — especially people of color — with the nature in their midst and empower them to explore further.
"I think having community green space is really important," she said. She also wants "to get more folks that look like me involved in outdoor education" and to learn about growing and eating healthy food.
All of those goals are coming together in BLISS (Baltimore Living in Sustainable Simplicity) Meadows. Wells said she discovered the site as she was searching for someplace close by where she could get outdoors regularly. Google Maps indicated that there was a city park she'd never heard of a few blocks from her home.
Walking there, she found an unmarked, untended nearly 7-acre patch of forest. It had been donated to the city sometime in the 1970s, she learned later, after plans to develop it fell through. Though officially a city park, nothing had been done with it lately, not even a sign identifying it as such. Trees grew where houses had been planned.
Hiking through the woods to its northern edge, Wells came upon a pond and a large, overgrown vacant lot. The two tracts seemed ideal to fulfill her vision for a community garden, environmental education center and a place for children to play and be in nature.
With help from Baltimore Green Space, a nonprofit group that promotes preservation of urban open space, she found and contacted the lot's owner, who'd originally wanted to build a community of tiny homes there. She persuaded him to let her farm it instead and use it for the outdoor programming she had planned.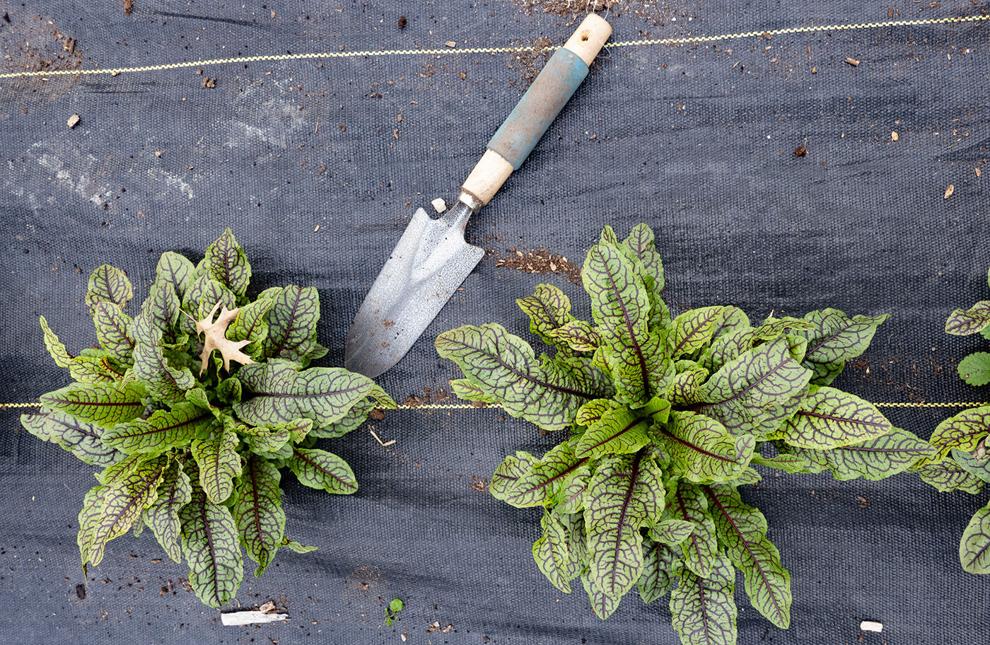 She said she wants to re-instill the knowledge that "our grandmothers and great-grandmothers knew as far as edible medicinal plants go," but which has skipped a generation or two since. It's especially needed, she said, in the "food deserts" that exist in much of the city like her Frankford neighborhood, where grocery shopping options are limited.
Wells said she drew inspiration, insights and valuable tips from Farming While Black, the 2018 book by Leah Penniman that offers a how-to guide for African-heritage growers. That's where she first learned about pioneering Black agricultural scientist George Washington Carver, whom she had not been taught about growing up, she said.
"I wanted to have an organization that is based on recalling these stories and telling these stories to kids," she said. "They need something to look forward to, to see themselves as being great."
From dream to reality
Last year, Wells said she set her sights on an abandoned house on an adjoining lot and envisioned it as a year-round hub for classes and other activities to take place indoors when weather dictates. She crowdsourced a fundraising campaign that quickly brought in $60,000 to help buy it.
The coronavirus pandemic this year upset Wells' plans somewhat, forcing the cancellation of all programs at BLISS Meadows through spring and summer. She also began overseeing at-home learning for her children, ages 7 and 3, adding to a workweek already divided between BLISS Meadows and weekend nursing shifts at Mount Washington Pediatric Hospital.
Work went on at BLISS Meadows, though, to cultivate the land. With a grant from the Chesapeake Bay Trust, she hired a contractor to grade the meadow to improve stormwater drainage and carve out space for an outdoor amphitheater. It's planted in red clover now, in an effort to improve the health of the compacted soil.
The urban farming continued as well, with the bounty provided free to neighboring households.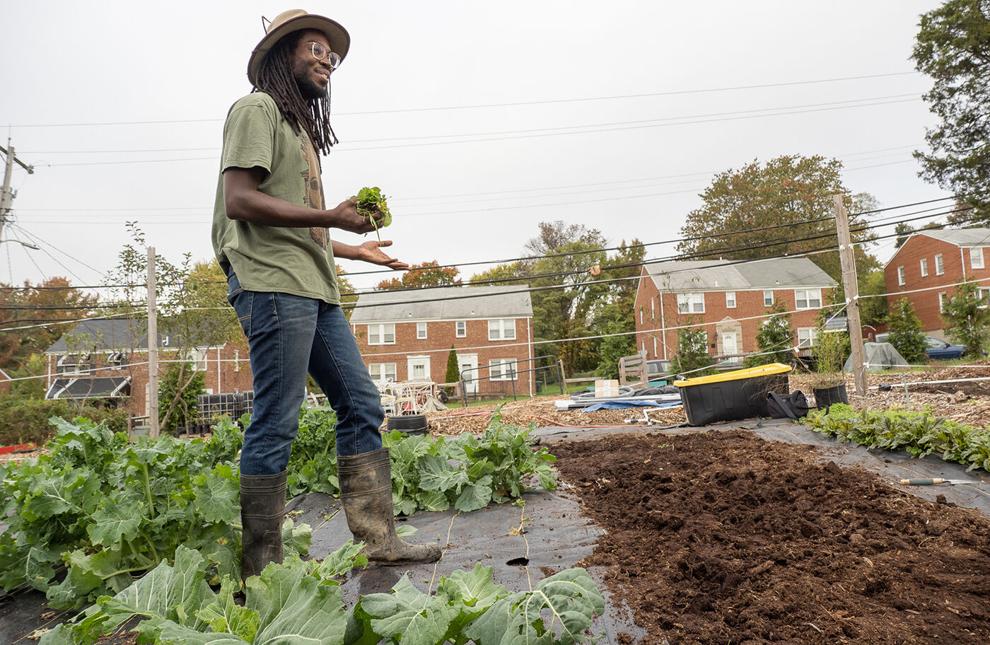 On a recent visit, lush green rows remained of fall produce: red-veined sorrel, collard, kale and Swiss chard — guarded by an electric fence to ward off deer living nearby in the woods.
The last of the summer crops — peppers — was harvested recently from the garden, which is situated on a patch of ground that's rich in organic material from the earlier disposal of wood chips there.
Farmer Jordan Bethea, a volunteer who then signed on as a contractor for Wells' nonprofit group, said he plans to survey the neighborhood before next spring's planting. He wants to refine the mix of crops to meet the preferences of local residents and "to make sure we are supporting each other."
"I've been getting very interested in what it takes to feed a community," Bethea said, as he took a break from installing animal-proof fencing around the base of the chicken coop. Like any farm, BLISS Meadows is vulnerable to losing chickens to nocturnal visits by foxes, which den in the woods nearby.
Besides deer and foxes, there have been sightings in the woods of red-tailed hawks, barred owls and a big black snake. There are two small ponds, created by a prior owner, one of which is dubbed Peace Pond, with a bench placed beside it for quiet contemplation. Goldfish swim in it, Wells said, and it's frequented by frogs and a box turtle. Plus, she said, "there's a great blue heron that stops by now and then."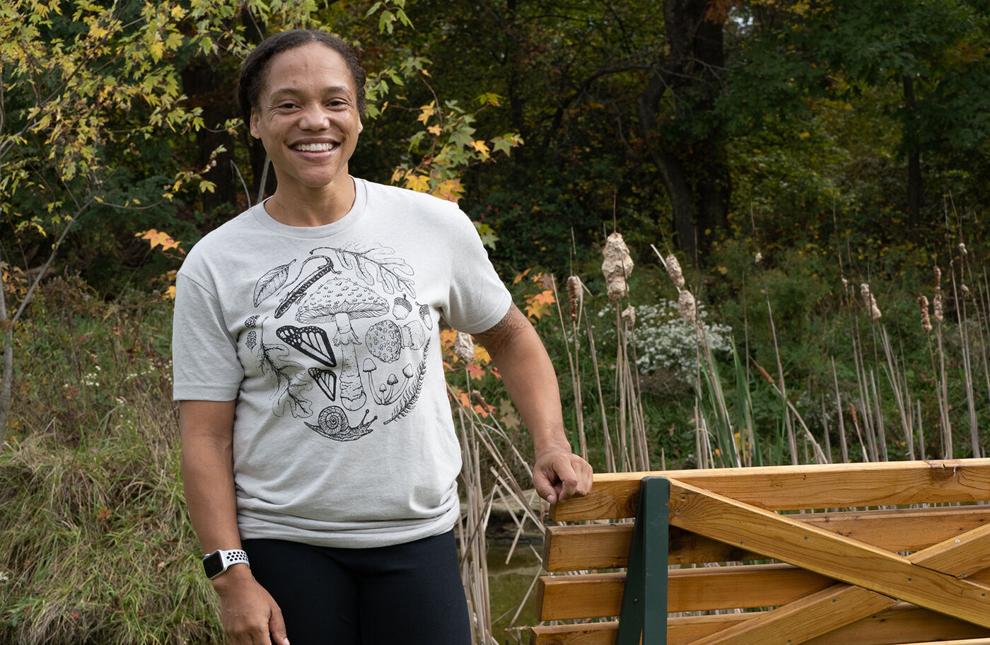 To flesh out their environmental education programs, Wells has enlisted the help of Rose Brusaferro, an expert in sustainability education. Brusaferro, another volunteer turned contractor, said she's hoping to cut trails through the woods, set up an outdoor classroom and create a nature play space for children with a music station, mud-building station, balancing logs and a climbing area.
"With those three things, we can get rolling really well," Brusaferro said.
"Kids just need that time to sit and be and play with things, not really just hiking through," Wells added. "They want to look at every leaf and engage with every stick and just enjoy being outside."
Forging ahead
Wells said she'd also like to set up a campsite in the woods, a place where Baltimore children and their families can learn how to pitch a tent and have one– or two-night sleepovers to help urban dwellers get comfortable with the idea of going camping.
To help remove underbrush in the woods, Wells said, they'll enlist BLISS Meadows' three Nigerian dwarf goats, named Lego, Loki and Bagel. "They cleared the spot where they're penned now," she said.
The forest work is still subject to approval by the city's Department of Recreation and Parks, which retains title to what's officially known as the Barbara and Parkwood Park, named for the streets it intersects. But the BLISS Meadows team has formed a park friends group recognized by the city and pledged to maintain the space.
"It's the only real park we have in our neighborhood," Wells noted. The next nearest, Radecke Park, is all ballfields.
Wells said she's also entered into a partnership with the National Park Service, which will provide technical help on planning for the woods and better serving the community's needs.
Despite the pandemic, Wells said BLISS was still able to offer gardening workshops and a bird-banding presentation.
"We grew potatoes this year," Wells said, "and one day the kids were helping Jordan harvest potatoes. It's become a real community green space, which is what we want it to be."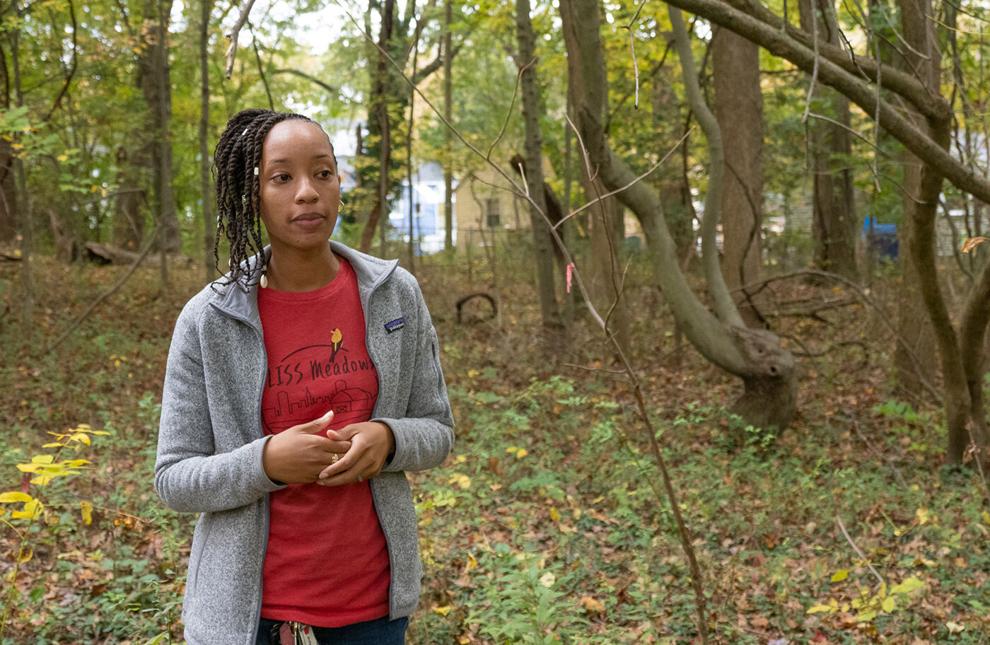 Next year, she said, they'd like to broaden the offerings to include teaching survival skills to neighborhood families, including making rope from yucca plants growing on the site and weaving baskets from the invasive English ivy they hope to uproot from the woods.
Wells also hopes to have a pair of beehives on site next year, to go with the orchard she wants to establish, building on the apple and pear trees already growing there.
Her next big challenge, though, is raising the funds needed to rehabilitate the house that she aims to turn into an education center. To achieve that using the high green standards she'd like to incorporate, could cost as much as $500,000. "We're almost halfway there," she said. "My goal is to have the house complete by this time next year. I think we can do it. But if not, we can do enough."
Within the next five years, she said, she'd like to start a Forest School at BLISS Meadows, a local branch of a national nonprofit dedicated to getting preschool children and their parents outdoors.
She's also got an eye on daylighting the buried, culverted stream on the property — the headwaters of Biddison Run, a tributary of the Back River that flows underground through the woods. She also wants to plant sugar maples, so children can experience tapping the trees' sweet sap and making syrup.
And she's angling to get the zoning changed for the property from residential use to "community open space farm," a designation that formalizes its current use.
"We hope this space lasts forever," she said.