When Larry Bannerman was a kid, he and his friends used to go crabbing in a cove off Bear Creek, a tidal tributary of the Patapsco River that bordered their Baltimore County neighborhood.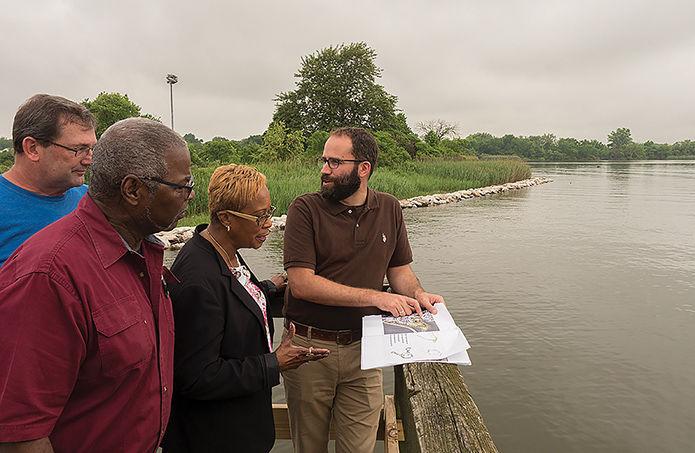 That was more than five decades ago. These days, you almost need a machete to reach the water at Fleming Park in Turner Station, a historically African-American community southeast of the city, just inside the Baltimore Beltway. Other than a pier jutting out into the creek at one spot, the rest of the shoreline is walled off by dense stands of phragmites. The invasive wetlands grass obscures some wooden pilings, all that remains of a boardwalk that once skirted the water.
"We'd come down here in the morning and by lunchtime we'd have a bushel of crabs," he said. "Right over there, there was a boathouse," he recalled, pointing toward Clement Cove on the north side of the park. "They used to have dances and everything when we were little."
Today, community leaders hope to reclaim their waterfront access and enhance the park, using a material that's historically been shunned by other communities — sand and silt dredged from the shipping channels in Baltimore's harbor.
"I'd like a boardwalk and the shoreline enhanced, where we can get back on the water," said Gloria Nelson, president of the Turner Station Conservation Teams, recently as she and Bannerman, chairman of infrastructure, traffic and safety for the group, walked around the 16-acre park and talked about the plan for giving it a makeover.
With design help from Mahan Rykiel Associates, a landscape architecture firm, they propose to use sediment pumped in from the harbor bottom to transform the reedy, rocky shoreline into a marsh that would support native vegetation, waterfowl and other wildlife. They also want to use some of the dredged material in a playground in the park, to give children some low mounds to run up and down.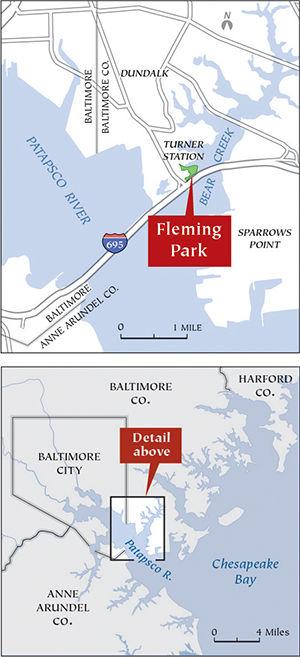 "Essentially, you don't have a waterfront park here because you don't have access to [water]," said Isaac Hametz, Mahan Rykiel's research director, who's working with the community on the plan — which has the support of a host of public agencies, area companies and the nonprofit Chesapeake Bay Foundation.
If the community and its partners can secure the funding and regulatory approvals needed for the proposed park upgrade, it would mark the first time that material dredged from the harbor's bottom has been placed back on land in a residential neighborhood — and in this case, at the residents' request.
That level of acceptance has been a long time coming. The Maryland Port Administration has been toiling for decades to melt public resistance to placing the harbor's dredged material on land anywhere near people. Part of that hostility has been sensory — the muck can give off a rotten-egg sulfur smell when it first comes out of the water. But there's also been concern about contaminants from two centuries of shipbuilding and manufacturing along Baltimore's waterfront.
It took the port 14 years to overcome lawsuits and public opposition to using dredged material to create Hart-Miller Island, which sits out in the Bay just off the Baltimore County shore. The port now has approval to place harbor material in a pair of diked containments at Masonville Cove in industrial southern Baltimore and at Cox Creek, near the mouth of the Patapsco.
Masonville Cove was a precedent of sorts. The port won the nearby community's approval to use dredged material by pledging to reclaim what had once been a recreational beach used decades ago by residents. Port contractors removed tons of debris and contaminants along the shoreline, then created a waterfront nature park with an environmental education center. But unlike the Fleming Park plan, Masonville Cove is physically separated from Curtis Bay by busy highways and rail lines. It's reachable only by vehicle and has limited hours for use by the public.
It's notable that Turner Station would be the place to push the envelope on public acceptance of dredged material. The community developed after World War I, as black steelworkers found themselves excluded from new housing built elsewhere in the Dundalk area of Baltimore County. It has hung together, despite decades of abuse and neglect — an injustice that in some ways is being belatedly acknowledged. The county recently posted signs there honoring Henrietta Lacks, of recent book and movie fame. A resident of Turner Station, she unwittingly gave her cells for use in medical research that's led to some life-saving breakthroughs, though she never benefited herself or even knew about it.
Today, the neighborhood is sandwiched by industry, with Dundalk Marine Terminal to the northwest and the former steel mill complex on Sparrows Point across Bear Creek, now being redeveloped as a hub for shipping, manufacturing and distribution. It's a community that might understandably be suspicious of being dumped on again, of being taken advantage of.
This project, though, came together with the consent and even encouragement of community leaders. It grew out of a design research collaborative that Mahan Rykiel led last year in partnership with the port administration and other public and private entities. The firm enlisted four graduate student interns to think creatively about how and where to use material dredged from shipping channels.
"They brought a landscape design lens to what for us has been an age-old challenge — finding places to put the stuff," said Kristen Fidler, chief of outreach, policy and permits in the port administration's office of harbor development.
Seeking ideas, Hametz and the interns met with several of the MPA's citizen and stakeholder advisory committees. One of the groups they met with was the "harbor team," which advises the port on the placement of dredged material. Nelson and Bannerman, who represent Turner Station on that team, suggested doing something at the park, according to Fidler.
"We were thrilled and so pleased that they were open to that possibility and saying that they're a welcome recipient of it," Fidler said. "We've… really worked hard together to address the stigma that harbor-dredged material is scary. Folks are now recognizing that it's a resource of value that can be reused in a variety of different ways."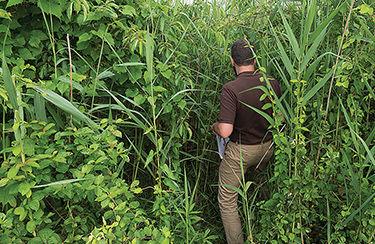 Per guidelines recently developed by the Maryland Department of the Environment, the Fleming Park dredge material would be tested and screened to ensure that people aren't exposed to contaminants that linger in some sediments, Fidler said. Indeed, Hametz suggested, the dredged material might even help remediate legacy pollution from when Bethlehem Steel occupied Sparrows Point, leaving heavy metals and other contaminants in the bottom mud of Bear Creek. The sediment placement and native plantings, he said, could help keep contaminants from being stirred up by waves.
First, though, the project needs to secure funding and regulatory approvals. Toward that end, the Turner Station Conservation Teams, with the help of Mahan Rykiel, submitted a proposal in March to the U.S. Army Corps of Engineers, seeking inclusion in a congressionally authorized pilot program to demonstrate the beneficial use of dredged material.
The group is asking for $1 million in federal funds, to be matched by $668,000 from other sources, to create the marsh habitat at the park by spreading a thin layer of dredged material in the shallow water along the shoreline. Sediment would be pumped up from navigation channels and deposited in depths of no more than 2 feet, and more likely just a few inches.
The Corps plans to select 10 projects nationwide for funding, out of nearly 100 proposals in the running. Even if Turner Station makes the cut, those funds would only pay for spreading about 2,600 cubic yards of dredged material, which is just a portion of what's envisioned for the park makeover.
Hametz said the overall plan calls for using about 10,000 cubic yards — enough to fill three Olympic size swimming pools — to create marsh along 2,600 feet of shoreline and build some small mounds in the playground. To make the park more resilient to storms and rising sea level, Hametz said, another 10,000 cubic yards could be used to build an earthen berm around the waterfront. The total cost, likewise, would be significantly more.
Getting local funding may be a challenge, though. Baltimore County officials have yet to be persuaded to spend their money on a project like this involving the placement of dredged material.
"It's sort of a nice intent, but we don't think it's practical at this point," said Vincent J. Gardina, county director of environmental protection and sustainability.
The county has budgeted about $750,000 toward shoreline stabilization at Turner Station and one other nearby community. But to date, the county has focused on doing shoreline projects that will control erosion and reduce nutrient pollution. Gardina said he's concerned that using dredged material this way could actually release more nutrients and other pollutants into the water, at least in the short term, and that it could be much more expensive to do and oversee.

Hametz said he and Turner Station leaders hope to meet with county, state and federal agency officials to answer their questions and concerns about the project and persuade them it's worth doing. The elected officials they've met with so far have been interested and supportive, he noted.
If it comes together, the makeover of Fleming Park won't provide much of a solution to the port's need for places to put dredged material. More than 1 million cubic yards gets excavated every year in the harbor alone, Fidler said, and nearly 5 million cubic yards gets dredged annually to maintain the shipping channels serving Baltimore, from the Chesapeake & Delaware canal at the head of the Bay to Cape Henry where it meets the Atlantic Ocean.
But the Turner Station project's value, its proponents say, isn't in the volume of dredged material it would use — it's in the example it can set. Maryland officials hope it will inspire more "beneficial use" and "innovative reuse."
Indeed, the state Department of Natural Resources is looking to map sites all around Maryland that might benefit from a similar thin-layer placement of dredged material. Jackie Specht, a fellow with the National Oceanic and Atmospheric Administration who's working at the DNR, is spearheading the effort.
"We wanted to take that idea and run with it and do a similar model," she said, "[to find] sites where we do frequent dredging but don't have suitable placement sites."
But for supporters of the Fleming Park project, it's about more than just a physical renovation of a tired recreation site. Doug Myers, Maryland senior scientist at the Bay Foundation, said that's why the Annapolis-based foundation has stepped up to be a partner in the effort.
"The Chesapeake Bay Foundation's vessel, Snow Goose, could dock here and take kids out," he said. "We could do oyster gardening here and place those oysters onto the Fort Carroll restoration site [near the mouth of Bear Creek]. There's a lot of opportunity for us to get engaged more with the community, have the community have more access to the Bay the way they used to."
"There are just so many opportunities for the community in this project," Gloria Nelson said. "We want to bring it to life and hope we see it within our time frame, so that we can have an opportunity to enjoy it."
Whether at Turner Station or somewhere else, Hametz said, something has to be done with all of the material dredged from the bottom of the Bay and its rivers and creeks. Given the difficulties finding places its disposal, it makes sense to try to work out beneficial uses for it like this, he added.
"This isn't just a Baltimore County problem," Hametz concluded. "It's a Baywide problem, and we're going to have to find creative solutions if we're going to continue to live near the Bay."